/ Source: TODAY contributor
Let the circus begin! As the season begins, I, like many others, frantically fret about what to wear — but I also gather my thoughts and consider what trends I expect to see emerge on the fall 2008 runways. It's called "fashion forecasting," and many reporters will be asking "What will the trends be?"
Truthfully, I don't possess a crystal ball, and really must reassess after the 80 to 90 plus shows present. However, I still must answer this question on the spot. Now I know some of you reading this may be scratching your gorgeous heads, thinking: How? Well, it's similar to women's intuition. You keep your psychic eye on the current of fashion and listen carefully to designers as they discuss their mood, travels, celebrity muses and inspirations in months leading to the "tents." The "tents" refer to Bryant Park in New York City, where a majestic world magically appears twice a year. Here's a peek at the first entry in my notebook:
Fall fashions will be ...
SeparatedDresses have made a big comeback over the past few years, but designers are eager to put a fresh feel down the fall runways — styling will play a major role, as pieces will prevail over the soft and easy simple frocks of spring and seasons past. The front row will be watching to see how pants, skirts, tops, knits, jackets and accessories are mixed and matched. Stay tuned!
StreamlinedThe trend to tone down and tame volume continues. Big and baggy will be replaced with traditional tailoring and more body-conscious silhouettes. Even relaxed pieces with a loose feel will most likely be cinched with belts to embrace the feminine, hourglass figurations. It's time to toss your tents, ladies — celebrate your curves!
SeasonlessWith global warming helping to push along this function-meets-fashion movement, expect to see elements blend together. White ensembles, florals, chiffons and sheers, and maybe even the return of a bare leg could pop up against the backdrop of winter's luxurious layers. This week's catwalk may help you shop more wisely this spring, as those items will most likely be fall staples!
The hot tickets
Alexander WangAt just 24, he's the new, cutting-edge kid on the fashion block and the rule-breaking "real-life" designer helping young Hollywood look hipper than ever. Kirsten Dunst, Kate Hudson, Rachel Bilson, Keira Knightley, Reese Witherspoon, Mischa Barton and Blake Lively are just a few fans who adore his casual-chic designs. And with the launch of his new handbag line this month, the fresh-faced designer is on everyone's "one to watch" list.
Herve LegerFrom the red carpet to the runway, celebrities such as Victoria Beckham, Kate Bosworth, Jessica Biel, Lindsay Lohan, Rihanna and countless others have been helping to revive interest in Herve Leger's iconic, curve-contouring bender dresses this year. While the line has been kept out of the public eye for the past decade, under the direction of BCBG MaxAzria Group's Max Azria and his wife, Lubov Azria, Herve Leger will hit the New York runway for the first time ever.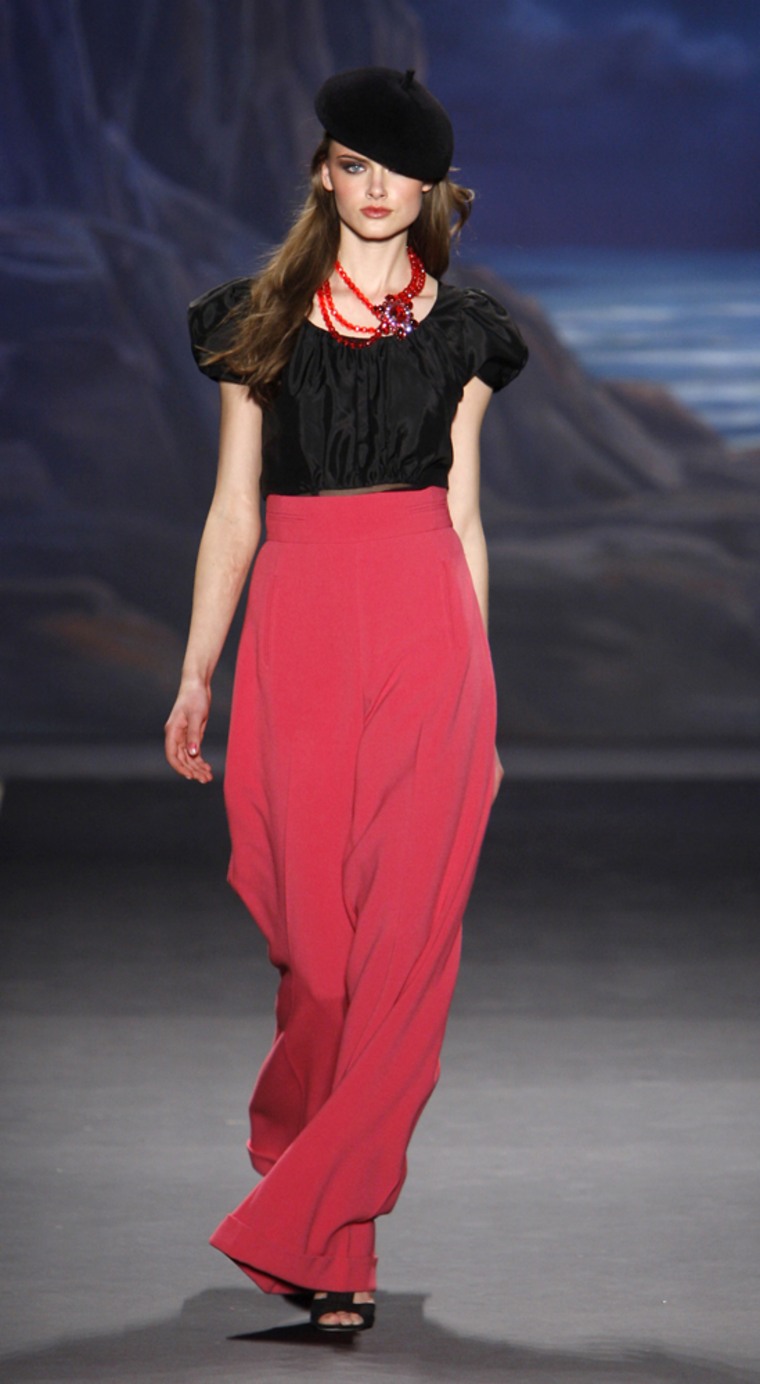 Encounters from the front row
It's day one of Fashion Week. It's pouring buckets of rain, there isn't a cab in site, and I barely make it from the Douglas Hannant show to BCBG. Just then, a little ray of sunshine sat next to me. And for the record, Joss Stone was so much fun to have as a seat mate. With reporters rushing to ask her crucial questions such as "How long will you keep your hair brown for?", Joss gleams as she sweetly replies, "Oh, you never know, I may wake up tomorrow and decide it's time to change." She turns to me and giggles, "I'll never quite understand" and reveals that she secretly wishes to be asked about the potential inspiration the show may provide for her future videos.
Then the lights dim. She is truly a girl when it comes to fashion, squealing when she spotted her favorite looks — eager to tell me she couldn't get enough of the minis. I then pointed out that she had the longest legs ever to show off with those hemlines, and shared that my personal must-have would be the platform heels the models were galloping down the catwalk in (because I am a pip-squeak). She said, "I know! I'm a freaking giant, but I love them too anyway!" Ughh, so not fair. But I still adore her, as we air-kiss goodbye, because she couldn't get enough of my little two-pound Maltese, Goochie.
"But wait!" you say — "What about the show?!" Spring did blend into fall, for a seasonless feel, as beautiful neutrals and soft fabrics blended in with heavier textures. And yes, we should be breaking out the ThighMaster this summer, as those minis left nothing to the imagination. But to leave you with a positive — pantyhose are back. Yes, nude sheer stockings tried to offer their best nod to winter. While you may not seek warmth from them, you will be able to consider a skirt even if you might have forgotten to shave your legs! Shh, it will be our secret.