We're in the swing of awards season and one thing is clear: Gowns are no longer a given. Everyone from established icons like Jennifer Aniston to renegade newcomers like Lorde are skipping the LBD in favor of glamorous tuxedos and sleek suits. And it doesn't stop at eveningwear. As TODAY's Tamron Hall has proved more than once, pants can look just as professional on working women.
What's your take: Would you love to see Jennifer Lawrence look dapper at the Oscars — or is it enough with all the suits? Let's take a look back in history at the high points in menswear for women and see how the current crop stacks up.
Coco Chanel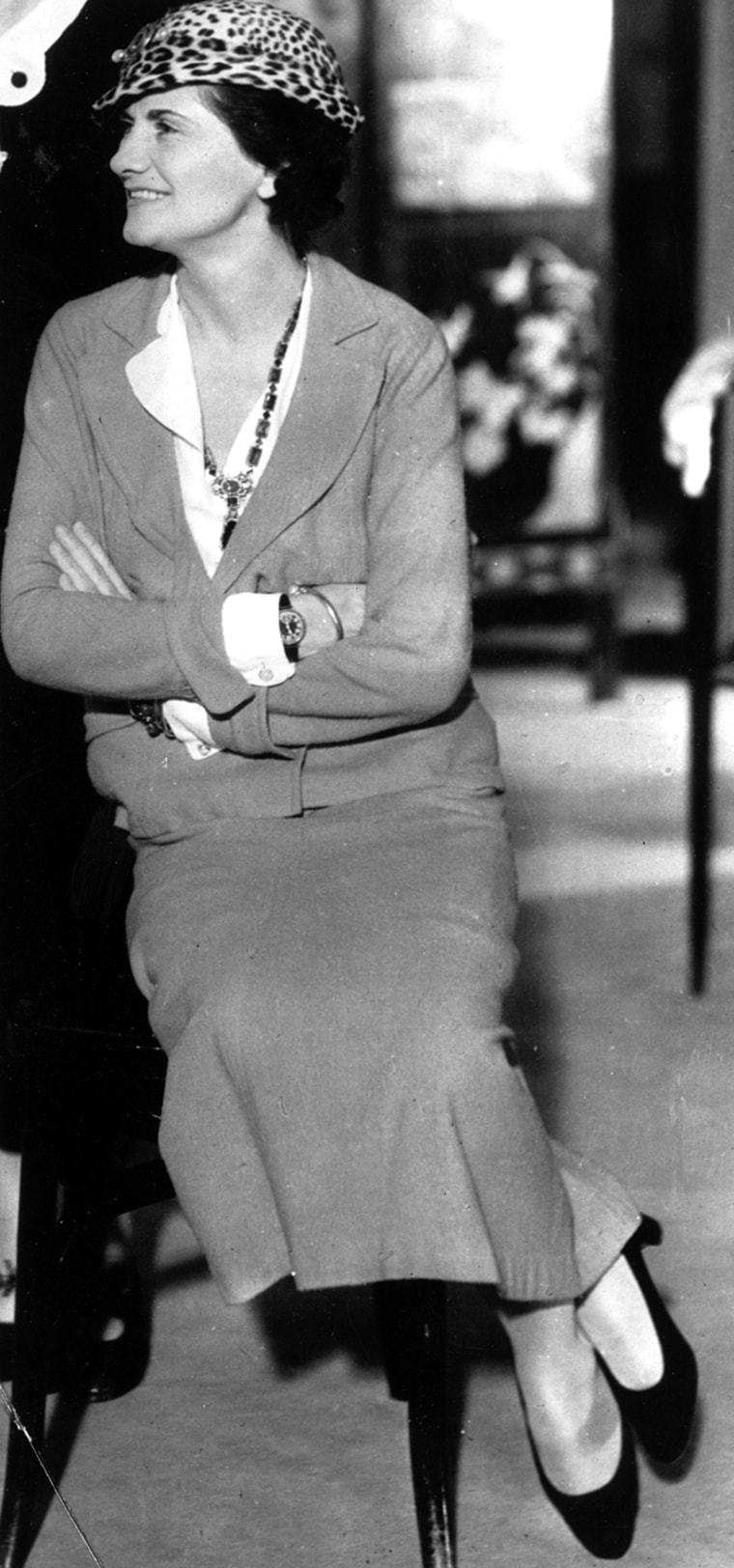 The mother of the menswear movement, French designer Coco Chanel made it okay for women to wear trousers and jersey — a fabric normally reserved for men. The inventor of the iconic Chanel suit knew that there's nothing chicer than a boxy wool jacket, trim sleeves and embellished buttons.
Marlene Dietrich

Etched eyebrows, finger waves and a suit and tie ... Dietrich's signature style blended the masculine and feminine both on-screen and off, defying the sexual norms of the 1930s. Her only Oscar nod was for the film "Morocco," where she performed a cabaret in a white tie and kissed another woman. 
Katharine Hepburn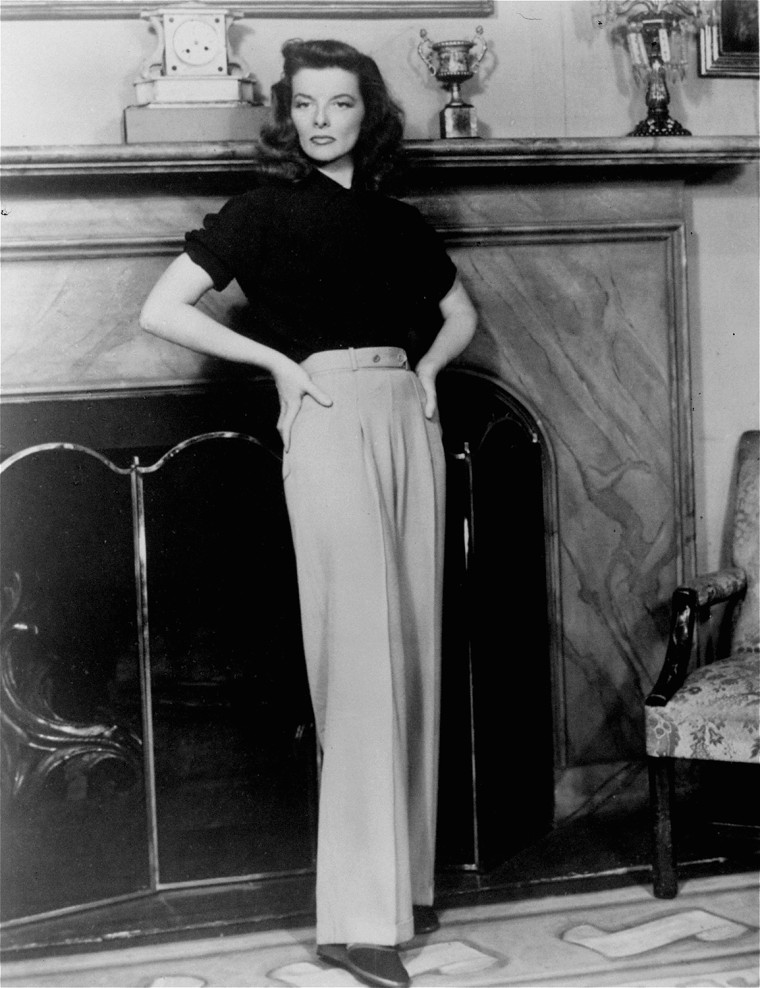 While Dietrich's suiting was meant to scandalize and subvert, Hepburn's slacks and jackets represented a subtler form of seduction. Known for her elegance, the actress continued to favor menswear-inspired silhouettes throughout her life, accessorizing her tweeds and button-downs with loafers, oxfords and even a briefcase.

Yves Saint Laurent's Le Smoking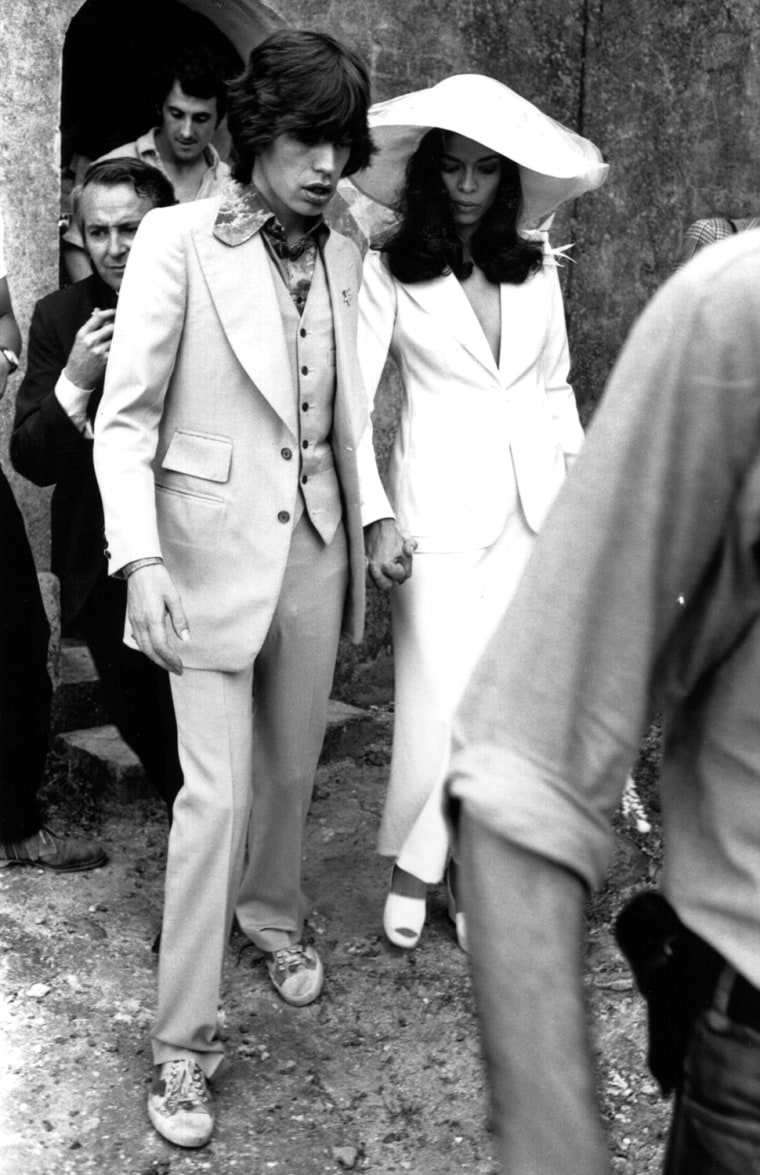 By the early 1960s, pants were a popular choice for daytime dressing, especially in pastel colors and piqué fabrics. Still, it was Yves Saint Laurent who made menswear utterly à la mode with his 1966 collection of haute couture tuxedos. Critics and customers responded rapturously to Le Smoking and its influence still lives on today. They loved the empowerment, the ease, and the custom flourishes the designer gave each suit (a cummerbund here, a jaunty bowtie there, etc.). Its ready-to-wear descendants are still a key component of the YSL brand.
Fun fact: Bianca Jagger's white wedding suit was a version of Le Smoking, worn braless and with iconic irreverence. 
Diane Keaton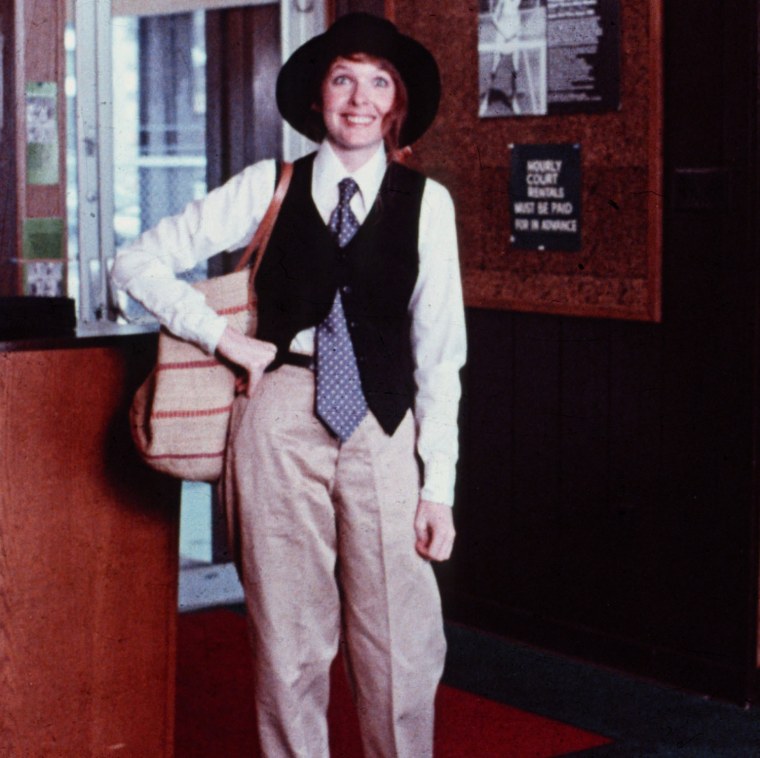 In 1977's "Annie Hall," Keaton dressed much as she did in her real life: wrinkled button-downs, mannish vests, boyish blazers, dotted ties and pleated trousers. It was the furthest thing from disco fever and it inspired a generation of women to steal from their boyfriend's closets.
Grace Jones
Perhaps no one wore a 1980s power suit more powerfully than Grace Jones, who is best known for her androgynous allure. This decade's ideal suit featured expensive fabrics, lofty shoulder pads and a take-no-prisoners attitude, representing the modern working woman (commuter sneakers optional.)
Kate Moss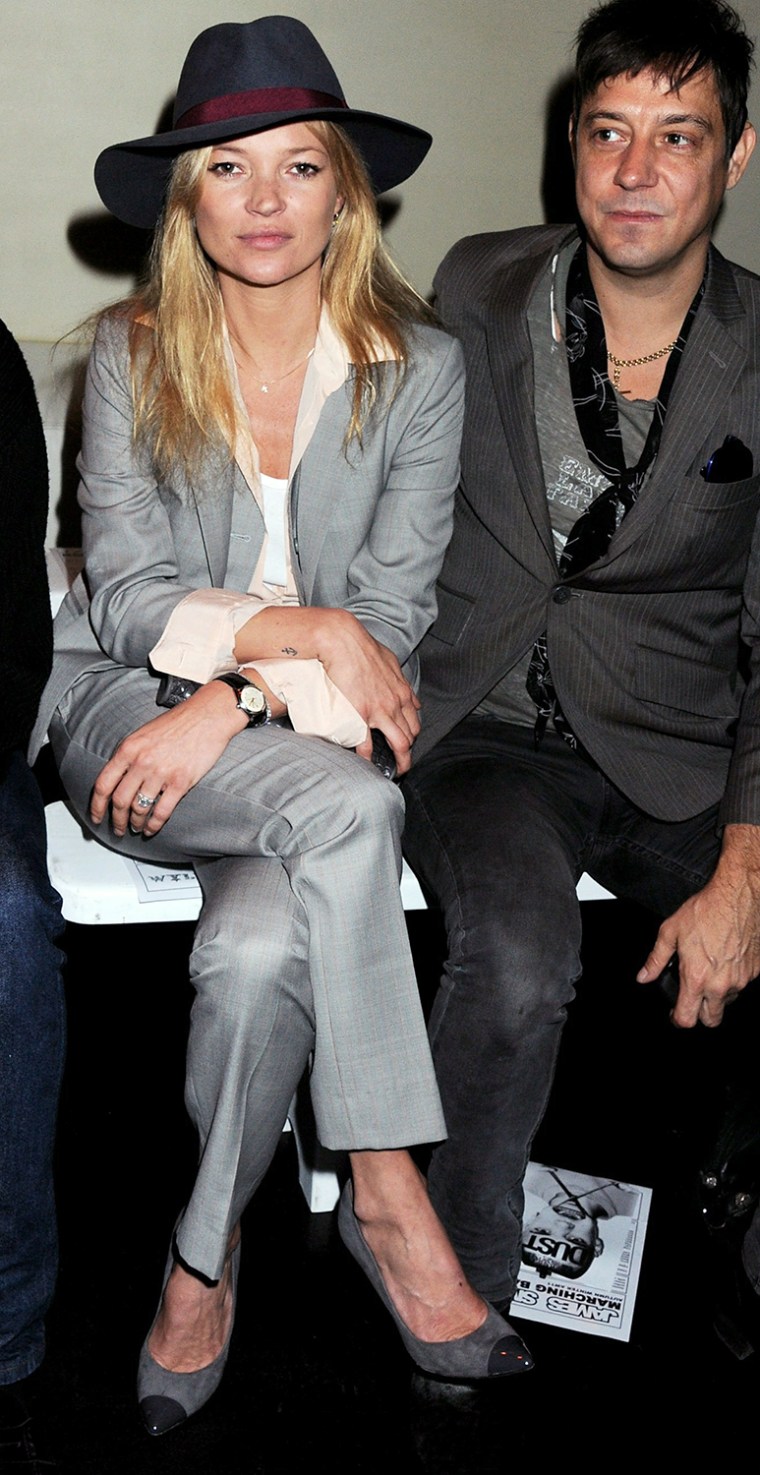 Her earliest modeling photos, shot by Corinne Day in 1990, are pure, irresistible tomboy. And Kate Moss has worn her share of menswear ever since, including this effortlessly glamorous metallic silver suit.
Oprah Winfrey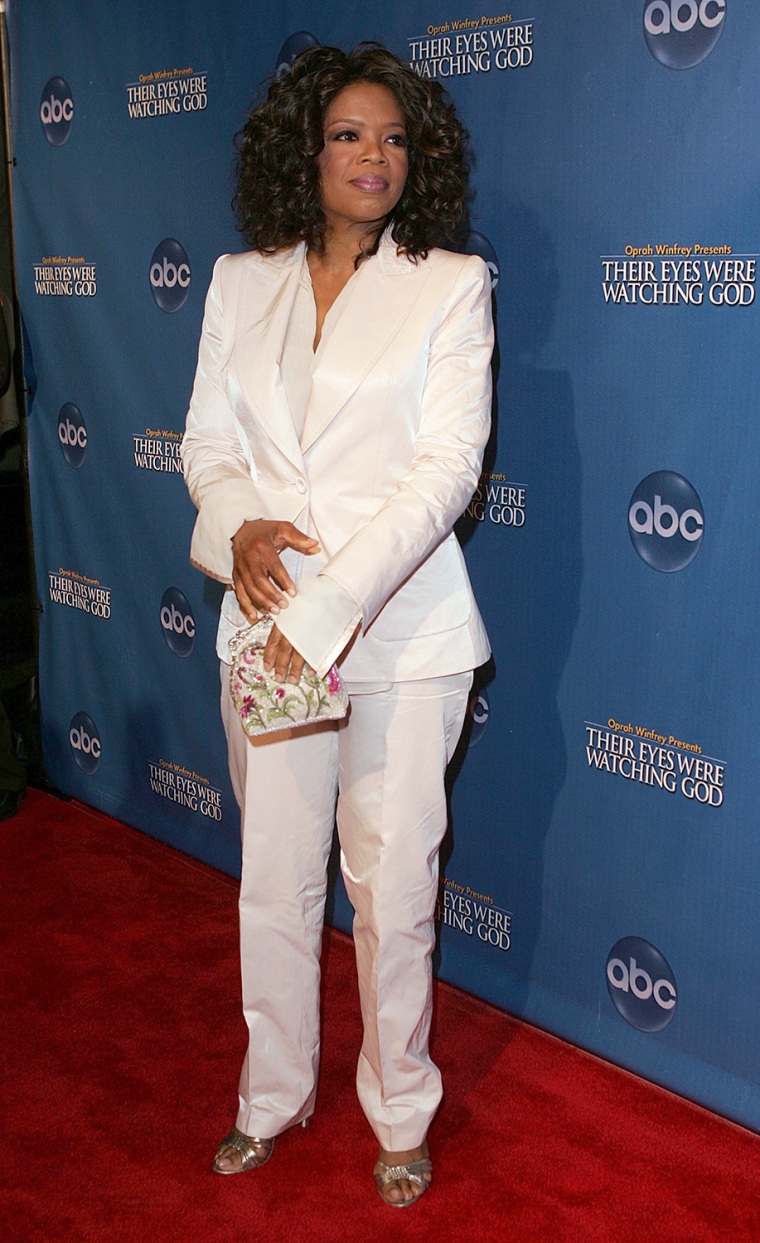 She was the queen of the new millenium, and brought a new suit shape into the forefront: Not as severe as the 1980s or as unstructured as the 1990s, this suit was a happy medium: sleek, single-breasted and very flattering.
Angelina Jolie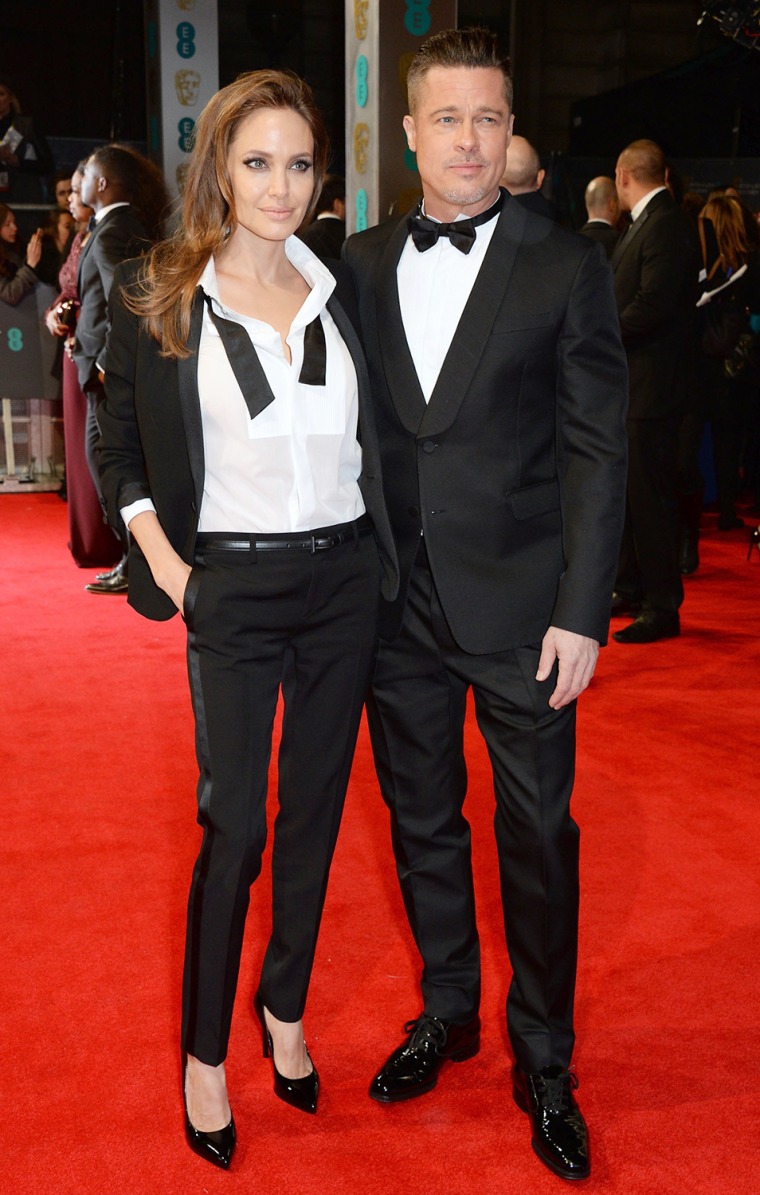 She directs movies, flies helicopters, raids tombs and knows how to wear menswear with irreverence (as she proved at the 2014 BAFTA Awards) — is there anything Mrs. Brad Pitt can't do?
Salma Hayek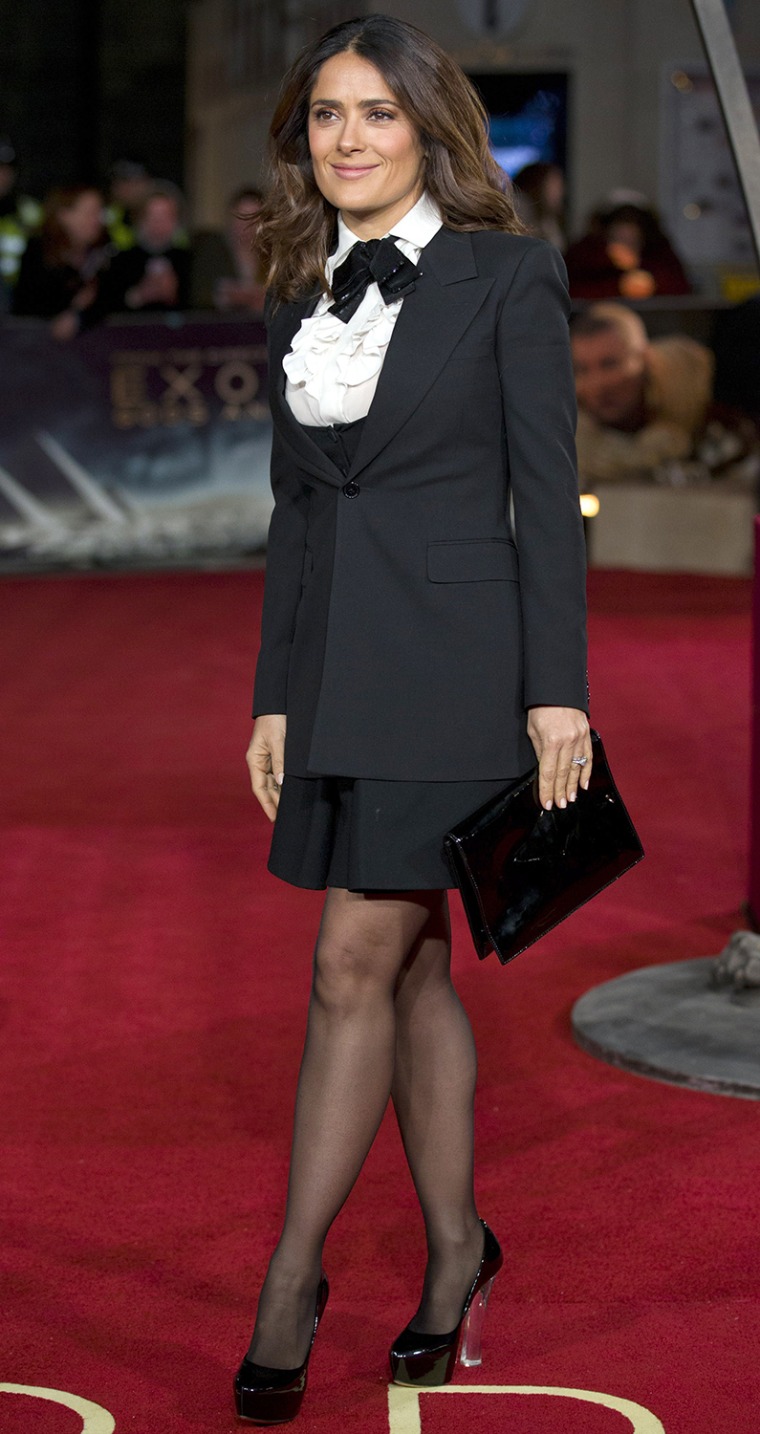 She's married to a fashion magnate and takes the style risks to prove it. Case in point: Hayek's recent choice of wearing a perfectly tailored Saint Laurent look to a recent movie premiere.
Lorde at the Golden Globes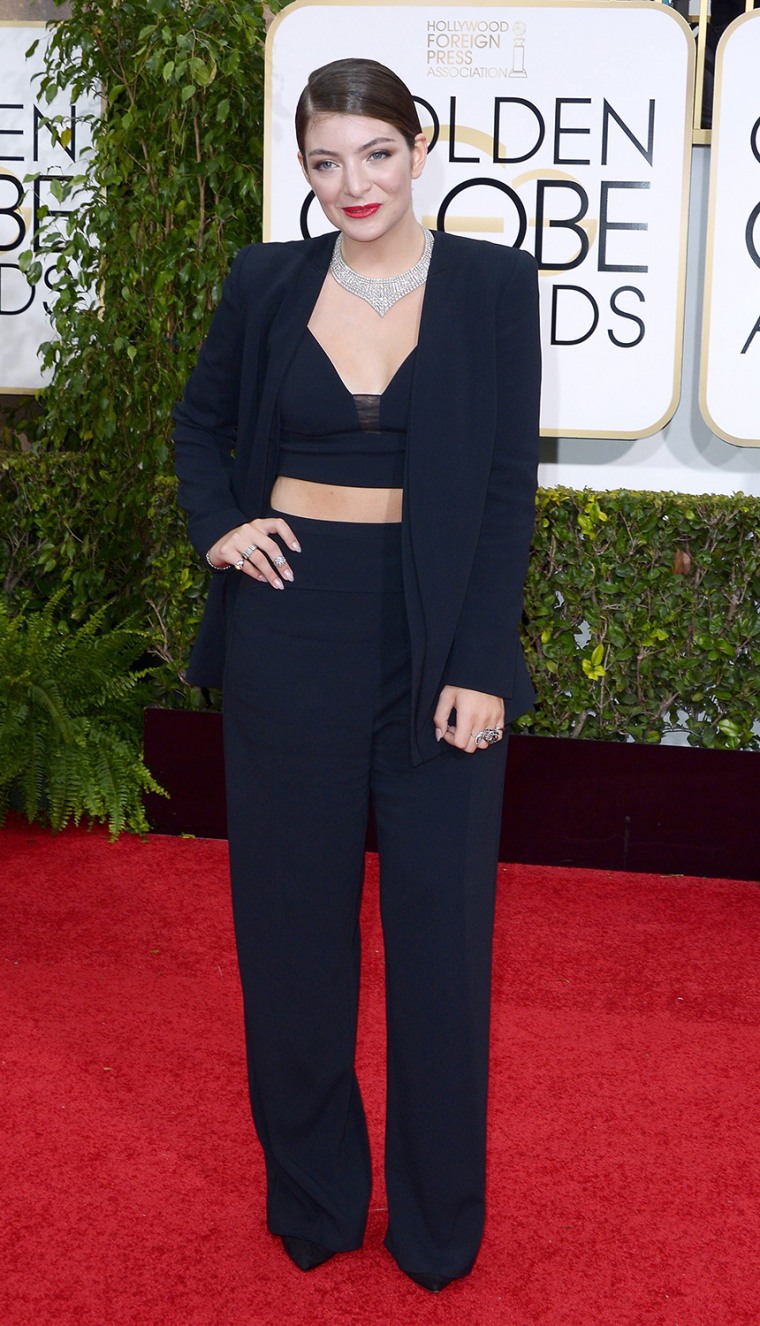 What would Saint Laurent think of pairing le suit with le crop top? We'll never know, but we're loving Lorde's edgy and youthful take on eveningwear.
Jennifer Aniston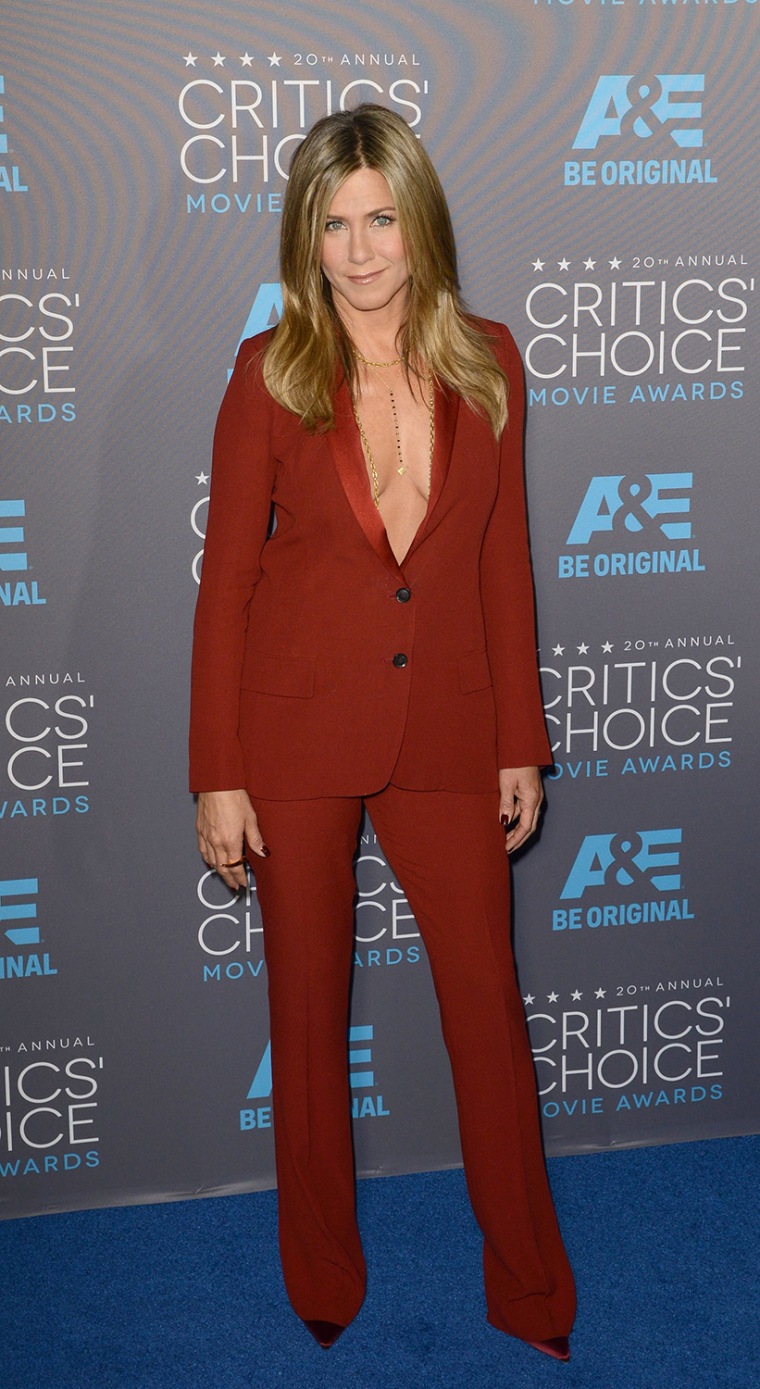 No one knows how to inject sex appeal into a suit like Jen (hello, body chain!). And we have to give her credit for expanding the color range beyond black into this rich sienna at this year's Critics Choice Awards. Bonus points for committing to the palette with matching footwear.
Emma Stone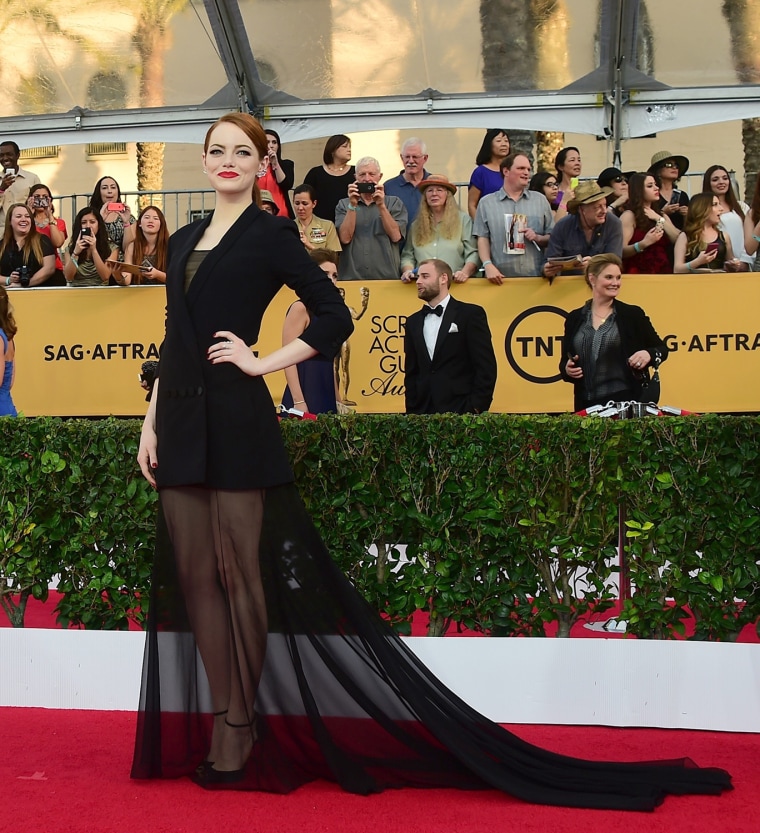 Proving you can play the menswear game while still showing some leg, Stone's Dior "tuxedo gown" at this year's SAG Awards may pave the way for more hybrid silhouettes.