Deanna Cook was already on the bus, en route to a track meet with other members of her high school's varsity team. But just as they were about to leave, a school official stopped the bus and asked Deanna, 15, to get off. She wasn't allowed to attend the meet.
The reason? She had been banned from all school activities for wearing braided hair extensions.
Deanna Cook and her twin sister, Mya, are at the epicenter of an ongoing dress code debate that has sparked outrage around the country.
It all began when Deanna and Mya, both sophomores at the Mystic Valley Regional Charter School in Malden, Massachusetts, came to school with box braids. The common African-American hairstyle often involves weaving hair extensions into a person's natural plaits to strengthen and extend the life of the braids.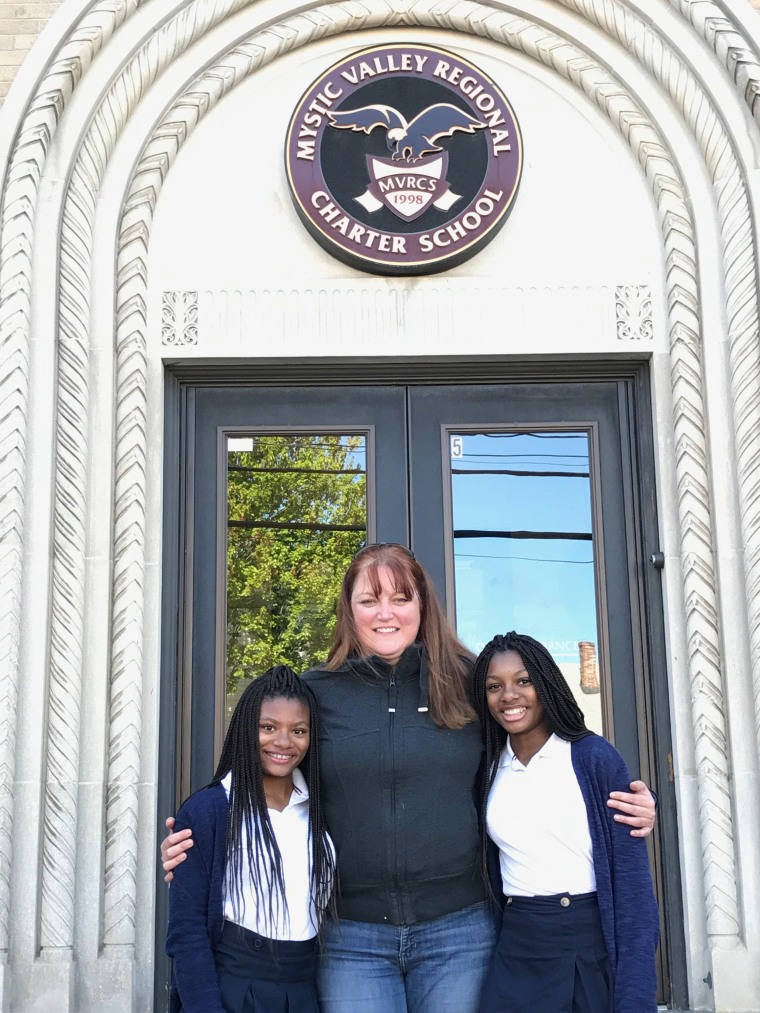 School officials told the girls their style of braids wasn't allowed, pointing to a dress code policy that bans hair extensions.
This rule "feels so wrong on so many levels," the girls' dad, Aaron Cook, told TODAY Style. "This very much feels like a part of the policy that was written in isolation, without input from folks of different ethnic diverse backgrounds. The policy needs to be revised."
The girls, backed by their parents, refused to remove the braids and faced multiple daily detentions as a consequence. Eventually, their parents put their foot down with the school.
"We responded to the school that our kids will not be attending any more detentions because it feels punitive in nature," Cook said.
But the detention letters kept piling up, and the girls have been barred from all school events and activities. Deanna can't participate in track meets while Mya is banned from her softball team, and neither are allowed to attend prom.
"Prom might sound like a silly thing, but [these are] their developmental years," Cook said. "This is their high school experience."
He added that it's not so easy for Deanna and Mya to remove their extensions, which have been tightly woven into their natural hair.
"People have the wrong concept of these extensions. They think there's like a snap in the back where you can just unbuckle them and take them off," he said. "What we're talking about are finely braided hairs that are added to the braids of my daughters' [hair] to extend the life of the braids, to improve the strength of the braid, to help them take care of their hair."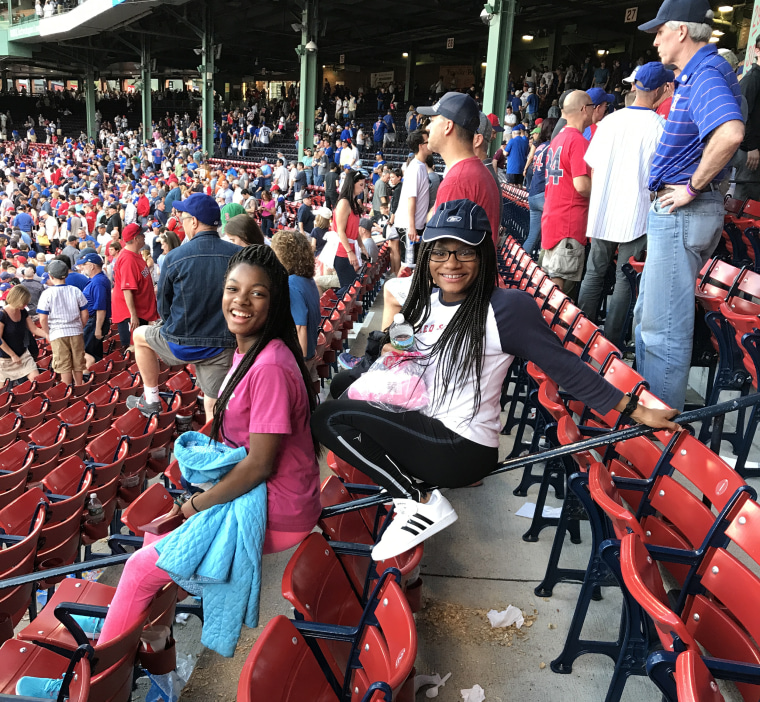 Ray Howell, a spokesman for Mystic Valley Regional Charter, emphasized in an email to TODAY Style that "the policy prohibits artificial extensions, not braids. Braids are allowed."
He also provided a letter that school director Alexander Dan sent to all parents on May 12. In the note, Dan insisted that the school's ban on hair extensions is not intended to single out black children.
Rather, he argued that hair extensions, which can be pricey to have done in a salon, could highlight economic differences between students.
"The specific prohibition on hair extensions, which are expensive and could serve as a differentiating factor between students from dissimilar socioeconomic backgrounds, is consistent with our desire to create such an educational environment, one that celebrates all that our students have in common and minimizes material differences and distractions," he wrote. "Any suggestion that it is based on anything else is simply wrong."
Cook didn't buy this explanation.
"I don't feel that this is an economic or materialist issue," he said.
He maintains that the policy unfairly targets black students, and also sends a harmful underlying message to children of color.
"It says that you don't matter," he said. "That your hair, because it does not conform to a societal view of 'normal,' needs to change … The school's mentality is that you have to [conform], you have to adhere to this societal norm, and my wife and I and our kids strongly disagree with that."
Cook said that he and his wife, Colleen, have tried to resolve the issue with the school, but to no avail.
"We met with the school twice in person, and we got nowhere," he said. They also wrote a letter to the school's board of trustees, "asking for them to pause the disciplinary process until we could all meet as adults," but they got "no response, no feedback."
Frustrated by the school's handling of the situation, the Cooks got in touch with the Massachusetts chapter of the ACLU. On Tuesday, the ACLU filed a complaint to the school on behalf of Deanna and Mya Cook, calling the school's policy "discriminatory."
The Cooks' story has garnered major publicity in recent days, with interview requests and social media comments pouring in from all over the country. In light of all this scrutiny, the Cooks told Deanna and Mya that it would be completely understandable if they wanted to stop pursuing the issue.
"[The girls] both looked at us and, without batting an eye, said, 'Guys, you're crazy. We're not stopping. This is wrong. It needs to change, and we need to help change it,'" Cook said, adding that their "ultimate goal is to come out of this with a stronger, more diverse school."
And in the meantime, the girls just want to resume their lives as busy high school students. Mya wants to go to prom, and Deanna wants to run track this weekend.
"This is the state finals," Cook said. "She'll miss it if she's not reinstated to the team."
RELATED:
Mom wants apology from school after daughter, 9, is sent home because of her hairstyle
Teen shuts down body shamers who commented on her prom photos
School that barred 7-year-old's dreadlocks changes dress-code policy