As if it isn't enough that we worry about toning our arms, legs, stomachs and behinds, the latest trend is all about working out our faces.
Yes, you read that right.
When I first heard about this new trend, I'll admit I was a bit baffled. I learned about facial exercises and even face yoga, but I'd never considered trying either one. Until I heard about FaceGym, a boutique gym inside of Saks Fifth Avenue in New York City, where a trainer works out your face for you, and all of a sudden I was joining the face-exercising bandwagon. It wasn't cheap, though: A treatment at FaceGym starts at $70.
"FaceGym is a noninvasive facelift. We use muscle manipulation and lymphatic drainage to lift, tone and sculpt the face, so you see a really tight, lifted, plump look. You'll see a sculpted jawline and you'll see a sculpted cheekbone, a nice natural contour and an eyebrow lift," explained Elle Ferik, my trainer for the session.
Dr. Dennis Gross, a New York City-based dermatologist, wasn't so sure.
"Although these facial workouts massage the skin and claim to lift, tone and tighten facial muscles. I am very skeptical," Gross told TODAY Style.
Still, I was down to try it. Before heading to FaceGym, I had to do some research to get an idea of what I signed up for. And let me tell you, I was nervous. A lot of the videos showed people getting their faces slapped, whipped and even pinched. As someone who admittedly has a very low tolerance for pain, the anxiety was creeping ever higher.
Once I arrived, we started off with a warm up, which included a nice neck and shoulder massage by rolling a ball on and around my face. This may have been my favorite part because it instantly released a lot of the tension and sinus pressure I was feeling. It felt like I had taken allergy medicine or used a nasal spray by the time she was done.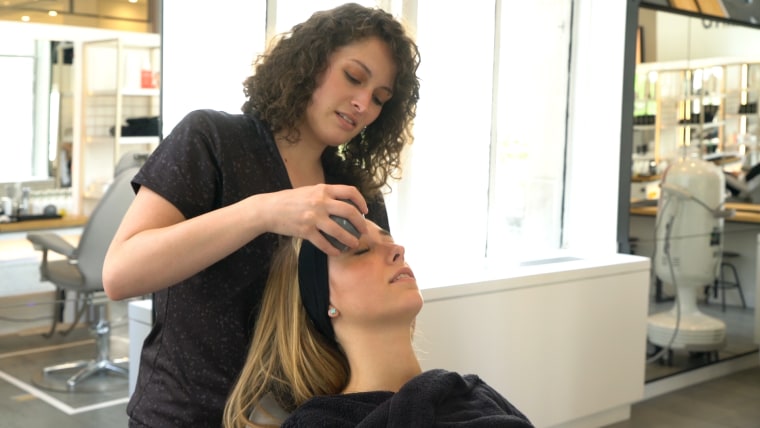 Next up was the cardio phase and, just like a good run or spin class, your face is supposed to sweat. This included everything from "piano fingers," which are little taps on your face to get the blood moving, to "animal fingers," which is a claw-like movement to shock the muscles into detoxing.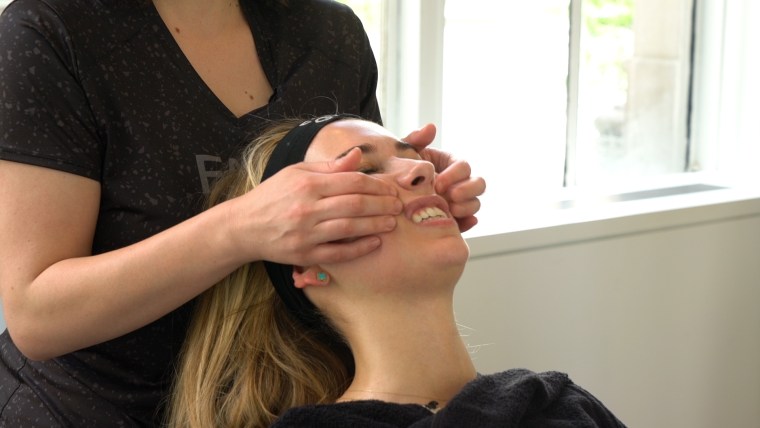 While these movements may look like they hurt, they honestly didn't. It's similar to how a karate chop to the back doesn't sound relaxing, but actually feels great when a masseuse does it during a massage.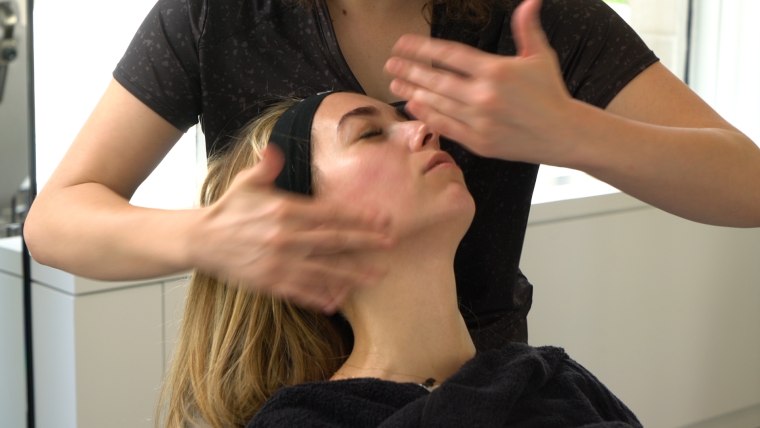 Then came the sculpting, which is said to drain the lymph nodes and help make your cheekbones and neckline look more defined. And it's really the perfect word for it since the trainer used her hands to mold my face as if she was forming cookies or dumplings.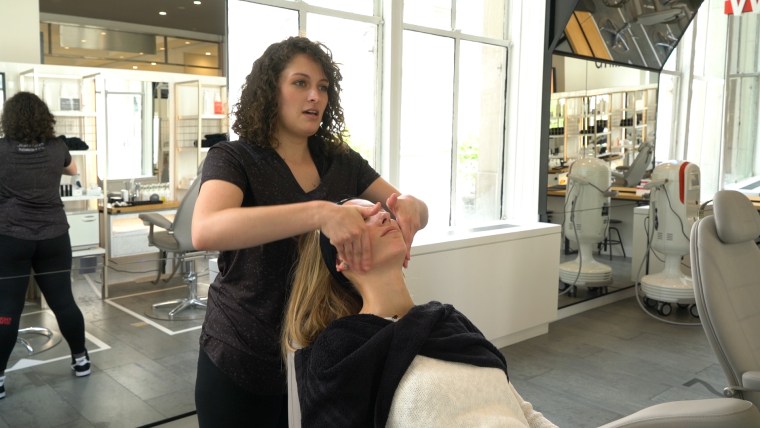 After these first few steps, my curiosity got the best of me and I had to take a glance in the mirror. I swear I noticed that my eyebrows were lifted and my cheekbones were so defined, it looked like I had given myself a Kim Kardashian-style contour when in fact I had no makeup on at all.
It was onto the noninvasive tools next, which were probably the least comfortable part ... but not quite painful. The muscle-stimulator tool, which looks like an electric razor without the blades, felt like pins and needles all across my face. The radio-frequency tool, which looks like a medical laser, felt like I was putting my face right in front of a hot, open oven. There was also a gold face roller, which is supposed to help serums soak in and penetrate the skin's surface.
Finally, it was time for the cool down. By that point, my face certainly needed it. It was sweaty and red, but, then again, so am I after a workout. My trainer used some serums and rubbed a calming jade gua sha stone on my face, which felt quite lovely.
I wasn't quite sure what to expect at the end, but when I looked in the mirror, I have to admit: I loved the results. My skin was glowing, my jawline and cheekbones looked more defined, the tension in my jaw was gone and my sinuses felt completely clear. I was so happy afterward, I couldn't stop sending selfies to show my friends and family.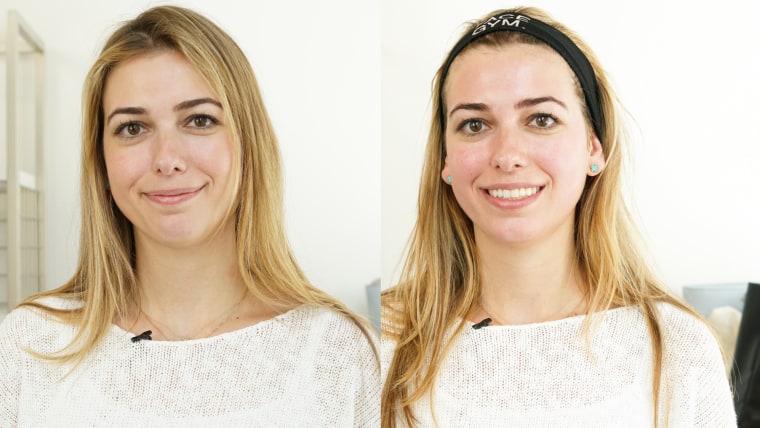 And while I absolutely loved the results and enjoyed the experience, the doctors I spoke to aren't sure facial exercises are beneficial at all.
"While these exercises might increase blood flow, which is beneficial for fighting wrinkles, the repetitive movement of facial muscles actually makes wrinkles more defined — especially on the forehead, crow's feet and eleven lines (in between the eyebrows)," Gross told TODAY Style. "I have also not seen any hard evidence that these exercises actually stimulate collagen production enough to make a noticeable difference."
Dr. Gayle Misle of San Francisco agreed.
"You exercise your facial muscles every day when you eat, talk and smile," said Misle, who owns the medical spa Reviv. "Why should you be so sore? It's because you overworked your muscles."
She had a point. The next day, my cheekbones still looked defined, but my jawline area was definitely sore. But isn't being sore the sign of a good workout?
Misle explained that while one person could potentially have positive results from facial stimulation and electric currents, there is no evidence that it's actually effective.
So, maybe it's not exactly a miracle worker, but I still had a great experience. And if it makes me feel like I have Kim Kardashian's cheekbones for a couple of days, maybe I would try it again.