Our editors independently selected these items because we think you will enjoy them and might like them at these prices. If you purchase something through our links, we may earn a commission. Pricing and availability are accurate as of publish time. Learn more about Shop TODAY.
It's OK to admit if you're more than a little curious about eyelash extensions, especially now that this beauty trend has extended beyond your favorite celebrities to the moms at your kids' soccer games.
"Women love extensions because they can make lashes appear fuller and younger looking, while completely eliminating the need for mascara," Clementina Richardson, a celebrity lash artist and founder of Envious Lashes in New York City, told TODAY Style. But while the idea of a simplified makeup routine sounds great, there's still the question of whether extensions healthy and safe or if they're worth the time and money.
It's clear that not everyone sees eye to eye.
Heather Muir, beauty director of Real Simple and Health magazines, has been wearing extensions consistently for the last eight years. "I'm hooked! I can wake up and start my day eye makeup-free, yet still look done. Plus, they give me a confidence boost," she said.
But some medical professionals warn that safety often comes down to finding an experience technician.
"No doubt, this person needs to be well trained, as I'm seeing more and more patients with injuries caused by extensions, some of which can threaten a woman's vision," said Dr. Rebecca Taylor, M.D., clinical spokesperson for the American Academy of Ophthalmology. "Anyone who experiences an infection, any inflammation, an allergic reaction or a noticeable loss of natural eyelashes should see an ophthalmologist immediately."
Here's a guide to the pros and cons eyelash extensions pros and cons along with a few tips on how to prepare and maintain them.
What are the different types of eyelash extensions?
Made of mink, sable, faux mink, silk, cashmere or synthetic acrylic, extensions come in a range of material and curl options.
"It's important the curl on your extension follows the curl of your natural lashes, which is why I consider the application process an art, never a one-size-fits-all procedure," said Richardson. "With so many different face shapes, it's important for your lash stylist to figure out the best look for you and your lifestyle."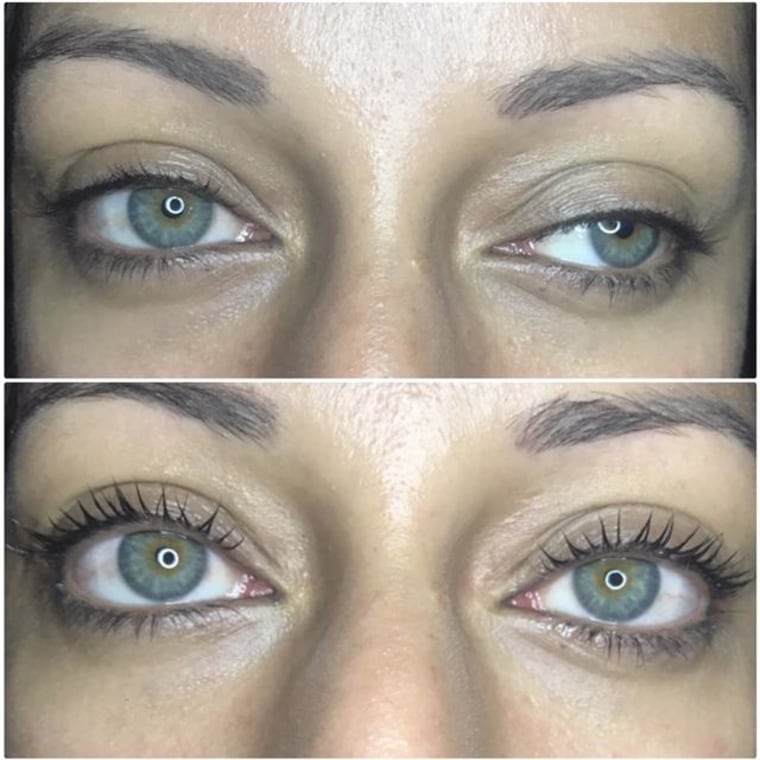 How long do eyelash extensions take to apply?
"The initial process lasts about two hours, while touch-ups, recommended every two to three weeks, can take up to an hour," said Richardson. A single lash extension, ranging in size from 6 to 18 millimeters, is painstakingly attached — one by one — to the base of the natural eyelash.
How much do eyelash extensions cost?
No matter what your extensions are made of, your bank account is going to take a hit. Pricing varies depending on where you live and your technician's level of experience, but anticipate shelling out anywhere from $150 to $350 for a full set of lash extensions (80 to 150 lash extensions per eye), and then another $75 to $100 for touch-ups every two to three weeks.
"You might want to consider a partial set, which will cut the cost and time in half, while still adding thickness to your existing lashes," said Jennifer Garcia, a senior lash stylist at Maud's of Beverly Hills in California. "And although natural hair is more expensive, if you're allergic to animal fur, it's best to stick to a man-made material."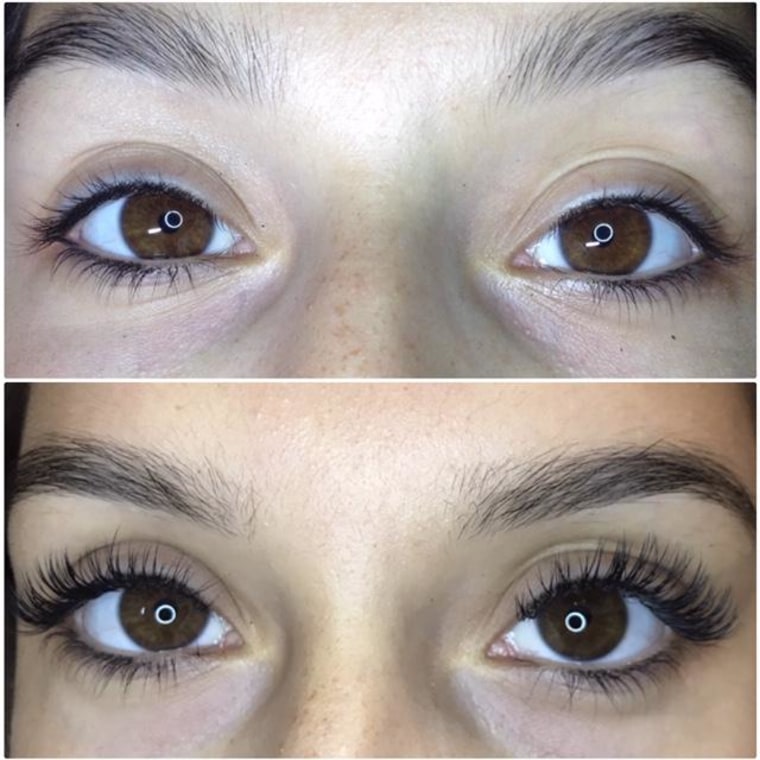 Are eyelash extensions painful?
You may feel anxious with tweezers operating so close to your eyes, but you shouldn't feel any discomfort. "Your eyes are closed throughout the process," Richardson explained.
How long do eyelash extensions last?
Sad to say, but you'll lose the extension when you lose your natural lash, which is about every 6 to 8 weeks. "Women shed about 20 lashes per week," said Garcia.
Are eyelash extensions safe?
"Lash extensions are easier to mess up than to get right," said Richardson. A quick view of YouTube videos ("Lash Extension Horror Stories!") confirms there can be some serious consequences if you fall into the hands of an inexperienced technician. Someone lacking in training can use too much adhesive, resulting in clumped lashes, or they can glue a single lash extension to multiple natural lashes, resulting in even more clumping or even breakage.
"Lashes grow at different rates — if you glue two together when only one is ready to shed, it can pull out the other prematurely," notes Richardson. Which is why it's important to research your technician. Find out how long he or she has been applying extensions, read online reviews, look at his/her before and after Instagram photos and confirm he/she's state licensed and working at a reputable establishment.
Extension adhesives that contain formaldehyde can trigger an allergic reaction, so it's important your technician uses a medical grade, formaldehyde-free, non-irritating glue. "If you notice any burning or tearing during the application, ask your lash stylist to stop immediately," said Taylor. The gel patches used to hold down your lower lashes, which may contain ingredients including collagen, aloe and hyaluronic acid, can also cause irritation, especially if you have sensitive skin (some stylists prefer to use medical-grade tape to cover the bottom lashes, but even the tape's adhesive has been know to cause allergic reactions).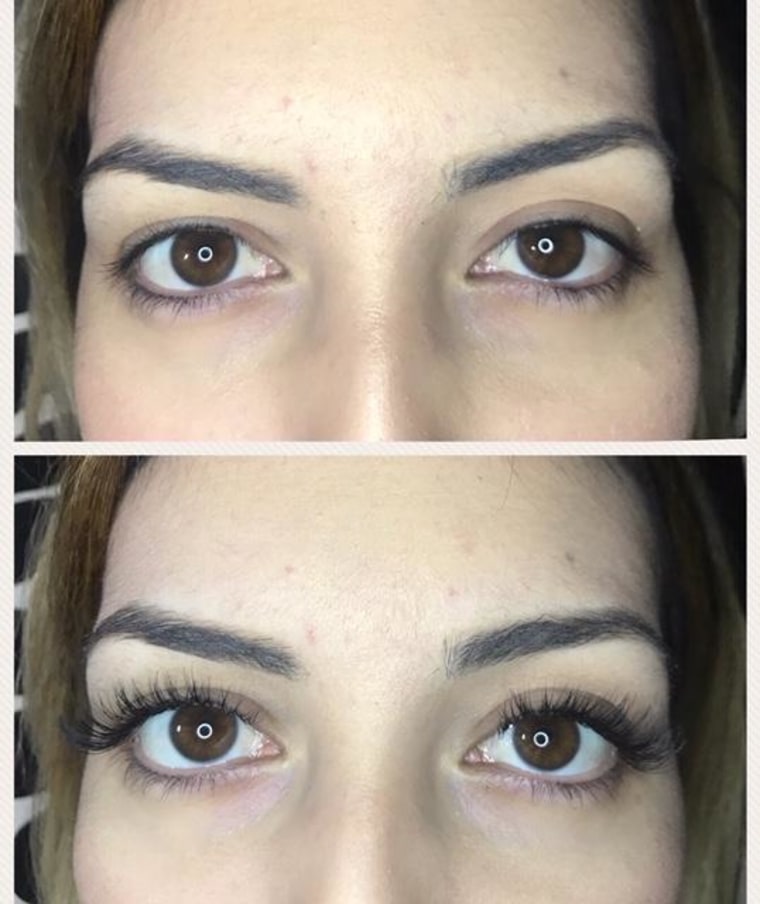 Dr. Joshua Zeichner, director of cosmetic and clinical dermatology at Mount Sinai Hospital in New York City, told TODAY Style that he's "not a fan" of the beauty treatment.
"While they look attractive, they can be associated with allergies and irritation of the skin and can cause harm, sometimes permanently, to your natural eyelashes," he said.
Beyond glue issues, there's also traction alopecia to think about. "It's when the natural lash is lost — either temporarily or permanently — due to the tension and grip the extension has placed on the natural lash," said Taylor. "You have to remember eyelashes serve an important purpose; they sweep debris away from your eyes, preserving your vision. Losing them temporarily is harmful enough, but if they never grow back, you're setting yourself up for a lifetime of eye issues."
Can I wear mascara with eyelash extensions?
Lash extensions allow you to ditch your mascara, eyeliner, and lash curler, saving you time in the morning. "Mascara can clump on extensions, but if you feel the need to stroke on a few coats before a big night out, be sure to apply a mascara that's water-based, contains conditioning ingredients like vitamin B5, and is formulated for easy removal," suggested Garcia. She recommends Xtreme Lashes Length & Volume Mascara.
Xtreme Lashes Length & Volume Mascara, $28, Amazon
How to take care of eyelash extensions:
If you notice your new lashes are flaking off, there's a good chance something has interfered with the adhesive bond. Avoid getting your lashes wet for the first 24 – 48 hours, as water can weaken the glue before it has the chance to set. Steer clear of oil-based eye products, cream-based eyeliners and waterproof mascaras, which can be difficult to take off even under normal circumstances. Never use a cotton pad or swab, which can snag the extension, pulling it out.
If you're a stomach or side sleeper, consider a silk or satin pillowcase along with a nightly application of a lash topcoat. "I see a big difference in lash retention rates when clients use a sealer to help defend against dirt, oil and makeup," said Richardson.
Beauty7 Excellent Lash Coating Essence for Eyelash Extension, $14, Amazon
How to clean eyelash extensions:
Use an oil-free lash cleanser formulated specifically for eyelash extensions, as some products contain ingredients that can weaken the bond and cause extensions to shed prematurely.
Mary Kay Oil-Free Eye Makeup Remover, $16, Amazon
Also available for $17 at Walmart.
Muir recommends this makeup remover because it's oil free and shouldn't ruin the adhesive bond of the extension. "In the morning and evening, I gently brush my extensions with a spoolie to keep them clean and detangled," said Muir.
Colored and lower lash line extensions:
Colored lashes are in fashion this season, noted Richardson, who likes to choose hues that complement a client's natural eye color. "For example, purple will make green eyes appear more intense and brown eyes larger, while green paired with hazel eyes creates a beautiful wash of color," she said. Applying colored lashes will add about 30 extra minutes to the process, as they require more thought in terms of placement.
"Eyes are not naturally symmetrical, one may have more lash density or the lashes may grow in different patterns," said Richardson. "Colored extensions draw more attention to the eyes and it's pretty noticeable when one eye holds more color than the other, so the goal is to keep the upper and lower lashes looking even."
Another big trend? Adding extensions to the lower lash line.
"Most women apply extensions — black or colored — on their upper lashes only, but bottom extensions are now gaining in popularity as they make your eyes appear larger by creating balance with your upper lashes."