Since Cara Delevingne stepped out on the runway with her enviously full brows, the beauty scene has arguably been all about the eyebrows. And now the emphasis on brows has taken a new turn, with people embracing shaving slits, or cuts, into their eyebrows.
Known as eyebrow slits, it seems a bad eyebrow wax may suddenly be trendy (again, that is) as both men and women on social media seem to not only be rocking them, but also posting pics of their sparse-looking brows for the world to see. #Eyebrowslits has thousands of posts on Instagram and it's gaining quite the chatter in the Twitter sphere.
But of course, these little brow cut actually started quite some time ago, especially in hip hop culture among artists like Big Daddy Kane, and later popularized by Vanilla Ice.
RELATED: Vanilla Ice's 'To the Extreme' turns 25: Revisit his unforgettable '90s looks
Rapper Bow Wow also rocked the look back in the day during the early part of his career.
Soccer superstar David Beckham even sported the look back in 2001, giving eyebrow slits their debut on the soccer field.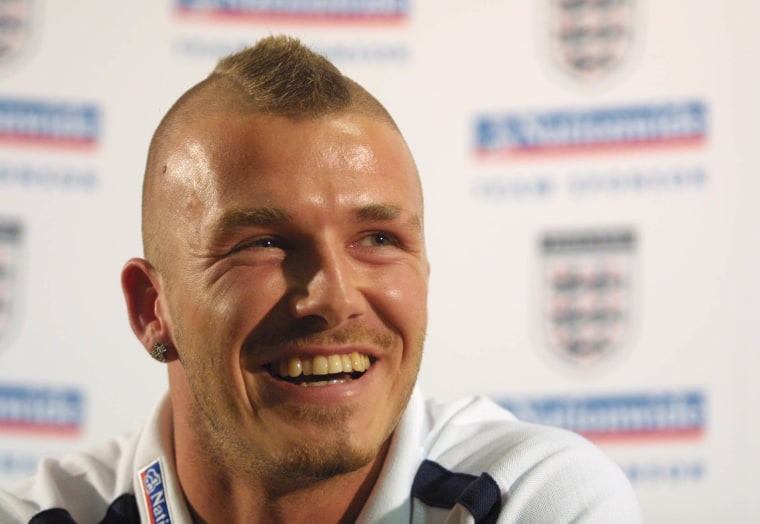 RELATED: Fashion Flashback: The evolution of eyebrows through beauty history
Earlier this year rapper Soulja boy posted several pictures of himself on Instagram with different variations of eyebrow slits.
It seems there's no real way to take part in trend. The placing and number of the slits is completely up to the individual, giving people the chance to use their eyebrows as another form of self-expression.
RELATED: 9 hair-raising eyebrow trends from 'guybrows' to bleach
However, it seems the public may actually be furrowing their brows at this trend with hundreds of people speaking out on Twitter against the comeback of this trend. While it may have been cool back in the day, it definitely seems to be a bit more hair raising now.