It's odd enough to pay someone to rip your hair out, but then add getting buck naked or watching a stranger inspect your hair growth and the discomfort level soars. Have no fear: TODAY Style asked waxing specialist and aesthetician Marta Grochowska of New York City's Haven Spa to graciously answer all of the most pressing (and embarrassing!) questions.
How much should you tip for a wax?
While most people tip between 10 to 20 percent for a wax, staff would really like you to tip anywhere from 15 to 25 percent for a job well done, Grochowska said. For a quick brow wax (that may be priced at $10 or less), a couple of dollars for tip is fair and appropriate. But consider that services like a Brazilian wax, that take extra skill and care, may be worth a more generous tip if you're happy with the technician's work.
RELATED: How much should you tip your hairstylist? And other hair salon etiquette questions
Is there anything you need to do before getting a wax?
For a facial wax, it's essential to avoid tanning, exfoliating or used any types of acid-containing products for 48 hours beforehand, Grochowska said. If you use the prescription acne medication Accutane, she warned, you should not be waxing your face at all.
For a body wax, you'll also want to refrain from tanning the area for 48 hours before and after the treatment. Don't come to the appointment drenched in sweat from the gym or wearing thick lotions, as either could effect the wax and possibly even hurt the skin, said Grochowska. If you're getting a Brazilian, it's extremely important to spend extra time cleansing the areas that are going to be waxed — specifically between your labial folds and buttocks. (Hey, we said it's awkward!)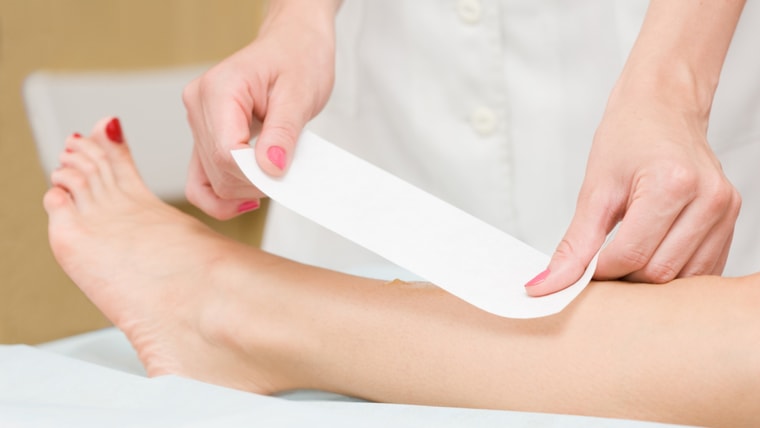 Can you get a bikini wax when you have your period?
Yes, technically you can, but only if you're wearing a tampon. No matter what feminine products you use, keep in mind that waxes do tend to hurt more during that time of the month, so it's recommended to reschedule for another time.
"I would say a few days before or after your period is ideal — you're just more sensitive during your period," said Grochowska. "By 'a few' I mean two or three days before or after."
RELATED: Everything you need to know about nail salon etiquette
What client behaviors drive staff nuts?
What clients do: It's not unusual for someone to whip out a phone to take a selfie or video during their appointment totally unannounced.
"Many chat on the phone the entire time and never look down once, then complain about the style results afterward," Grochowska said. And some waxing clients are notorious for coming in when hair is too short and still expecting a perfect job.
What staff wants you to do: Ask if you can take photos or videos beforehand if you that's something you really think your friends need to see — but most waxing pros much rather prefer you abstain altogether. Don't talk on your phone or text the entire service, or else you may not see what is happening or be able to communicate preferences and will end up with a wax you don't like.
Make sure you wait the appropriate length of time for your hair to grow out, which is usually four weeks for most people or closer to three weeks during the summertime, said Grochowska. And, for the love of all things holy, spend an extra moment cleaning up before you come in for a Brazilian — many salons even have personal wipes available for this specific purpose. Grochowska suggested asking the salon if they are available beforehand and arriving a few minutes early to refresh your nether regions in the bathroom before you hop on the table.
See, that was pretty painless.