It's often difficult to get that salon look at home and especially under a time crunch in the morning. Instead of spending too much money on blow outs, here are a few tips from Alli Webb, the founder of Drybar, for the perfect blowout at home.
A clean start 

Starting with clean hair is important. The blowout will not last unless you wash it just prior to blow drying. This will get rid of a majority of the oils and help get it bouncy, give your hair volume and keep it lasting longer.
Straight with some body and wave
If you are someone with frizzy or curly locks, it's important to start off working in 1 or 2-inch sections. You have to perfect each section before you move on to the next, or else you'll end up with some sections looking styled and some looking messy. Start at the root of the hair and work your way to the tip to seal in the ends.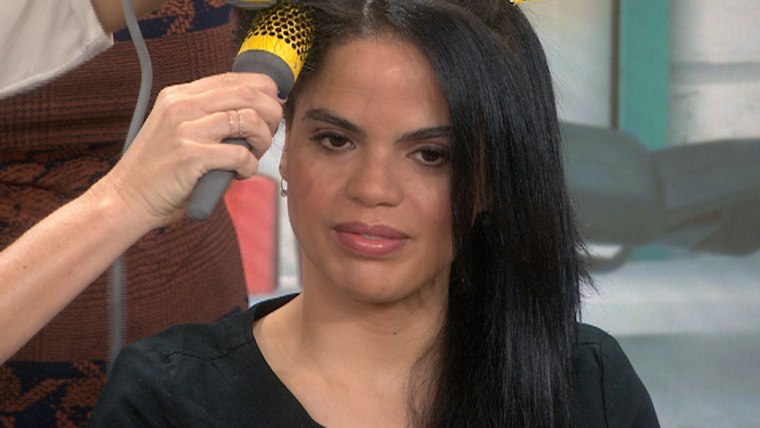 Use a lightweight cream from the middle of your section to the ends to help smooth curls and add shine. Look for a smoothing cream, but nothing too heavy. Be careful not use too much product near the root, and you only need a small amount to help the whole process.

Blow dry with a medium ceramic brush (using a ceramic barrel brush is key). The hot air from the dryer will heat up the brush to help smooth out the cuticles. The ceramic in the brush will heat up evenly throughout the length of the brush, which allows for a consistent blowout. 

Dry the sides of your hair in vertical sections, away from your face. For volume, especially at the crown, blow dry in horizontal sections. You can also set hair with Velcro rollers for added volume at the crown of your head. 

When heated from the dryer, the ceramic brush almost acts like a hot iron really sealing in the brush shape and shine. 

Seal in the style with a flexible hold hair spray by either spraying directly in the hair (4 to 5 inches from your head) or by spraying it on your fingers and running through the hair (this also a great trick for taming pesky flyaways). 

This will get the finished look on the ends and prevent frizz. Do this a few times to really get a great smooth look!

Loose, tousled waves
For someone with long, thick hair, you can easily add more volume and bounce, even if your hair is normally straight. All you need is a blow dryer and a hot curling iron (a 1-inch iron is a standard size). Work from front to back, using your finger to create clean lines that sections the hair off. Seeing the back of your hair is essential, so make sure you have a mirror behind you to make sure you are covering ever section.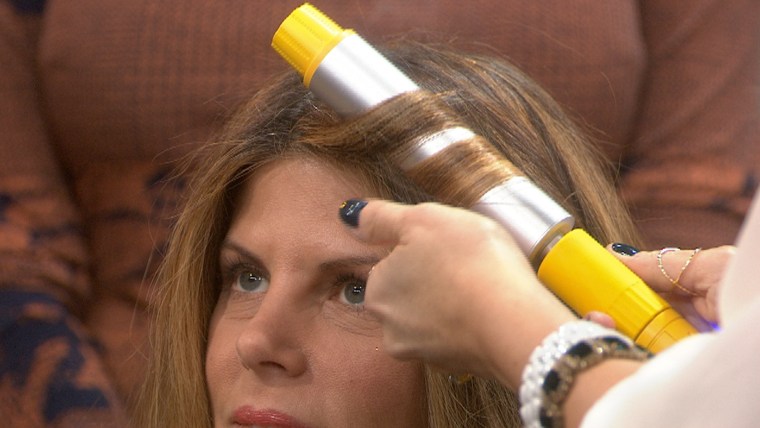 Add a volumizing product to help with hold and staying power. 

Blow dry hair with with a medium barrel brush and build the curls with the blow dryer and brush. Hair has memory, so building in the curl with the blow dryer and brush will help the style last.

Once your hair is dry and bouncy, divide it into sections again, starting in the front and then begin curling.

For more traditional curls, hold the iron horizontally when curling (don't forget to wrap the ends up in the iron).

For looser, beachy waves, hold the iron vertically. Alternate curl direction, especially in the back so curls aren't too unified and perfect. 

After curls are set, spray all your hair with a flexible hold hair spray to lock in curls. Lift hair and spray throughout for full coverage. 

Tousle a bit, and go!

Tips for both styles 

Be sure your dryer is always aiming and blowing down the hair shaft which will help lay the cuticle of the hair down for ultimate shine. 

Roll your brush through to the very ends with each stroke, and move the brush up and down the section of hair until hair is smooth, dry and shiny. 

Always perfect each section before moving on to the next.

Have a handheld mirror nearby to check out the back of your hair. It's an important area that everyone sees.
Work in clean 1-2 inch sections.

Start at the front with your hairline or bangs before moving to the back. 

It's hard to get cowlicks out once they have dried in their natural place, so be sure to tame them before using the blow dryer and styling.