Drew Barrymore let it all hang out on Monday when she shared a candid selfie revealing bushy brows and greying hair.
By Tuesday, the Hollywood star, who's about to start filming Season 2 of her Netflix horror-comedy hit "Santa Clarita Diet," was remedying the situation at the beauty salon — with daughter Olive, 4, in tow.
Barrymore, 42, posed for a salon selfie with Olive that she shared with her Instagram followers.
The actress explained that her naturally dark hair was wrapped in foil to dye it back to the honey-blond color of her character, perky zombie Sheila Hammond. And Olive? She was sporting dye-less foil alongside mom just to be supportive.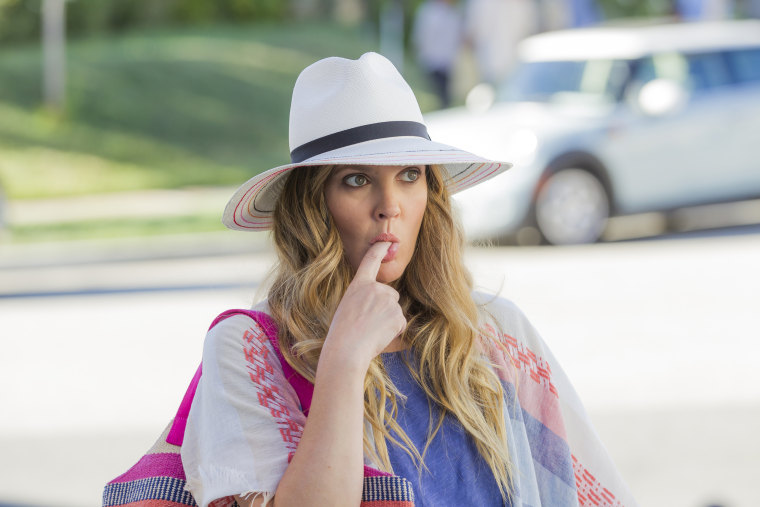 "Ok first! Hair. With @traceycunningham1 round one #santallaritadiet. Olive is hanging! And Tracy puts conditioner in foils on her for solidarity," Barrymore wrote.
Just the day before, the mom of two earned raves for her decidedly unglamorous selfie.
"OH MY GOD How did I let it get this bad," Barrymore wrote in the pic's caption. "Base and brows needed. Must become her. #santaclaritadiet here we go again. Season two."
Back in January, Barrymore revealed that taking on the role of the self-actualized Sheila — who embraces her new life as an undead person who eats human flesh — helped her to lose 20 pounds.
"I had let myself go due to personal circumstances and I thought, I could come alive with Sheila," she told TODAY.
"It was a really great goal line for me, because as much as the weight loss everything's very subtle, it's attitudinal, it's empowerment, it's confidence," she continued. "It was such a blessing to come alive with her and it really was so positive for me."
On Wednesday, Barrymore was back at work trying to shed a few pounds for Season 2.