Usually it's students who find themselves fighting against school dress codes, often labeled as sexist, racist or just plain unfair.
The roles were reversed for a mother of a high school student in Houston who told NBC affiliate KPRC that she was unable to register her daughter because school officials asked her to leave the property due to what she was wearing.
Joselyn Lewis was wearing a T-shirt dress featuring a picture of Marilyn Monroe and a headscarf when she she was trying to enroll her daughter in the school and an unidentified administrator at Madison High School asked her to leave.
"She went on to say that she still couldn't let me on the premises because I was not in dress code and I still didn't understand what that meant," Lewis told KPRC. "She said that my headscarf was out of dress code and my dress was too short."
Lewis had just come from Lamar High School, where her daughter was previously enrolled, and said she did not have an issue there.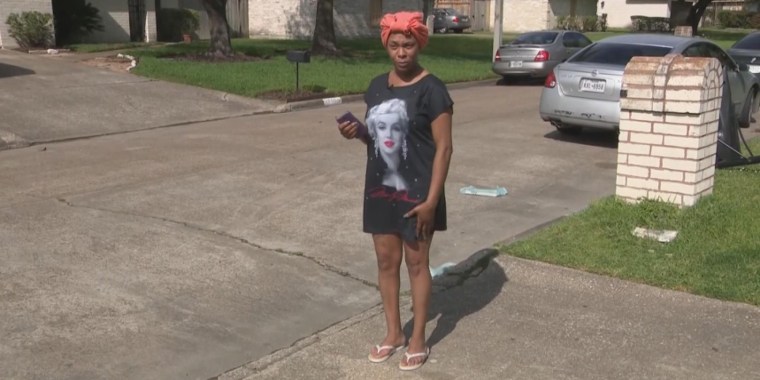 "I mean, I didn't understand why my headscarf and my dress would conflict with me enrolling someone in school,'' she said.
Calls and messages seeking comment from Madison High School principal Carlotta Outley Brown were not returned. But on April 9, a day after KPRC reported the story, Brown issued a memo addressed to "all Madison parents and guests" outlining a new dress code for school campus visitors.
The letter said that school administrators will turn away anyone who shows up wearing pajamas, hair bonnets, shower caps or hair rollers. Also prohibited are leggings (unless they are covered in the front and back), saggy pants or torn jeans that reveal someone's bottom, and dresses "that are up to your behind."
"Parents, we do value you as a partner in your child's education," Brown wrote in the note. "However, please know we have to have standards, most of all we must have high standards."
Lewis said she covered her hair because she was in the process of getting it done and that her dress was a suitable length because it was not shorter than her fingers.
"I wanted to see proof of where it says parents can come dressed a certain way, but it wouldn't show me that,'' Lewis said. "I wouldn't leave, so they called the police department. They called them on me and I guess he was coming to tell me to leave, but I was already on the phone with the school board."
The "parents responsibilities" section on Madison High School's website did not have any guidelines listed as far as dress code and appearance for parents at the time of the incident.
Instituting dress codes for parents has become a topic of discussion at schools in recent years.
In January, a Tennessee state representative proposed a dress code for parents visiting the state's public schools after hearing enough "horror stories" about the parents showing up in lingerie or short shorts. Several school districts in Florida have also considered dress codes for parents.
This story was originally published on April 11.