In honor of National Cat Day on Tuesday, Uber, an app-based ride-hailing service, partnered with the meme-factory Cheezburger and the American Society for the Prevention of Cruelty to Animals to launch their very own kitten delivery service. For $20 (and one day only) cat lovers in Seattle, San Francisco, and New York had the opportunity order up 15 minutes of snuggle-worthy time with furry felines. For those taken by the cat in question, Uber agreed to transport prospective cat owners to a local adoption center to see about turning those 15 minutes of loving into a life-long relationship.
We're talking about cats here, so the Web predictably exploded upon hearing the news that people's love of Internet cats could be hand-delivered to their door, and its possible not everyone had their kitty requests answered. There isn't yet an estimate on how many of the visits may lead to actual adoptions, Alison Jimenez, ASPCA director of media and communications, told NBC News. The demand for the cats, she admitted, has been "overwhelming," to say the least.
But what about the kittens? Driving around all day and meeting strangers is exhausting for adult humans, let alone baby animals. So while this high-tech cat-delivery system might sound exciting, is it good for the cats?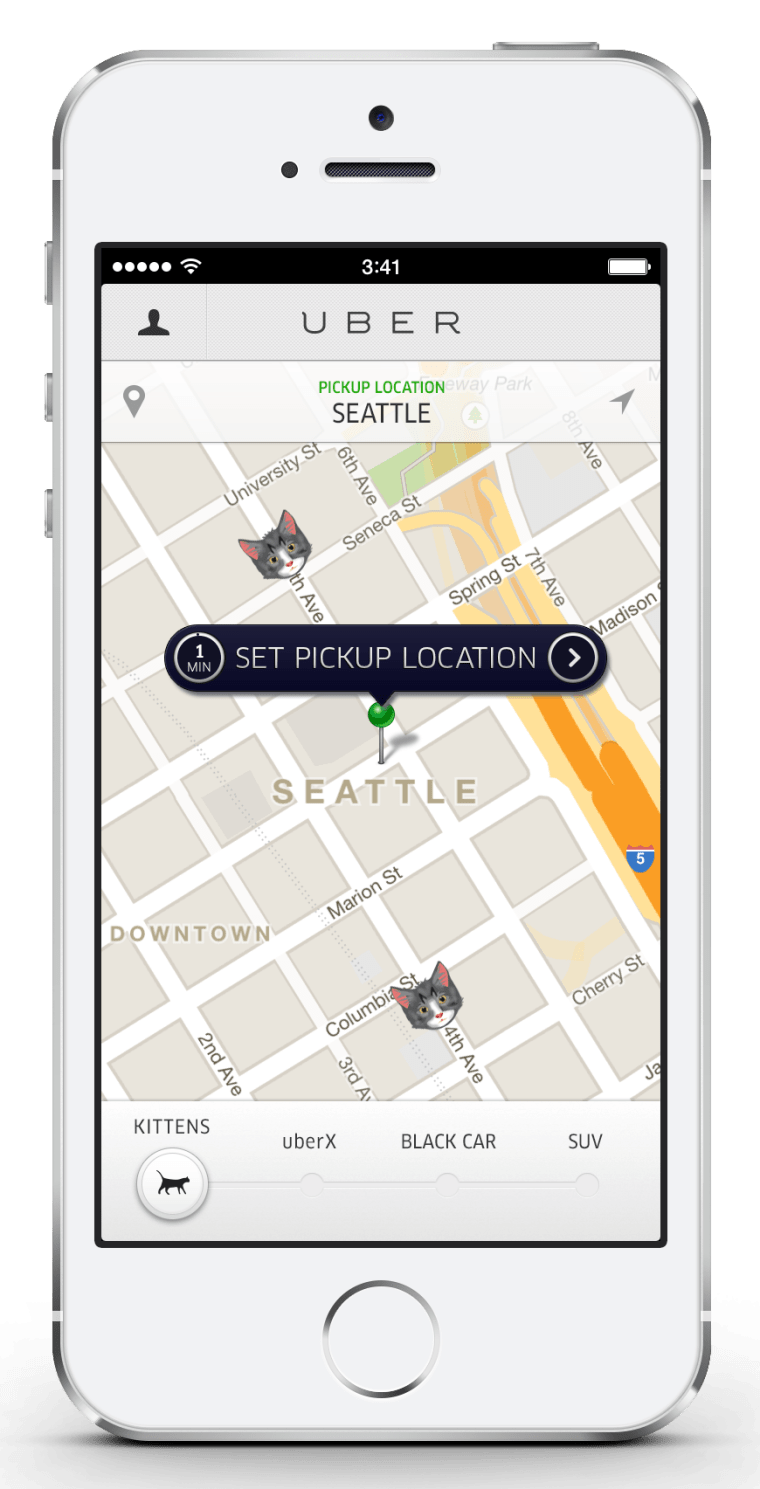 Jimenez said the organization has taken appropriate precautions to ensure the security and well being of all the cats being delivered on Tuesday. Each kitten is escorted by an experienced handler from the organization, and all the cats have been assigned "shifts" to make sure that no single cat has to attend too many meet-and-greets. While there aren't hard-fast-union rules mandating that a kitten is only allowed to meet a certain number of humans before their allotted break time, Jimenez said it's not hard to tell when the kitten has had enough.
"Kittens in particular are a lot like puppies," Jimenez said. "They can only go out for so long before they end up tuckering themselves out and need to go nap."
PETA, meanwhile, told NBC News that it was fine with the new cat-delivery system as long as Uber, Cheezburger, and the ASPCA keep the right goals in mind.
"A kitten isn't for 15 minutes but for life, so hopefully, these interludes will lead to a real home for a real cat for the rest of his or her life," Jordan Uhl, a media liaison for PETA, told NBC News in an emailed statement. "PETA urges careful screening of all adopters, just as should occur with the adoption of a human child."
If this newfangled type of feline accessibility works too well, true cat lovers have another cause for concern entirely: could an effective infrastructure for cat deliveries make it too easy to not actually own cats, but just have them dropped off when we feel like petting them for a few minutes? Would this brave new world of instant gratification turn us all into fair-weather cat lovers who'd rather order a kitten off GrubHub than deal with the unpleasant responsibilities of kitty litter and visits to the vet?
Representatives from Uber and Cheezburger were not immediately available for comment on this story. Jimenez, however, said that the ASCPA is mindful of this concern, and wouldn't want to turn such a seamless cat-delivery system into a "regular occurrence" for fear of discouraging actual adoption.
"We're pushing for adoption," Jimenez said. "That's definitely the ultimate goal. Playing with them for 15 minutes is the introduction so that we're able to open up the conversation." 
The ASPCA website offers tips for adding a pet to your home.