After two seasons of longing looks and stubborn (but polite) breakups, "Downton Abbey" fans finally got what they wanted: a wedding for Lady Mary and Matthew Crawley, played by British actors Michelle Dockery and Dan Stevens.
Season 3 kicked off Sunday night with the aristocratic family preparing for the nuptials, but not without a little drama (competitive servants, scheming grandmas, and tuxes in need of hemming – the usual). But the real highlight was seeing eldest daughter Mary walk down the estate's majestic stairs in a simple, elegant crème lace wedding gown (it almost made up for the lack of a real honeymoon bedroom scene).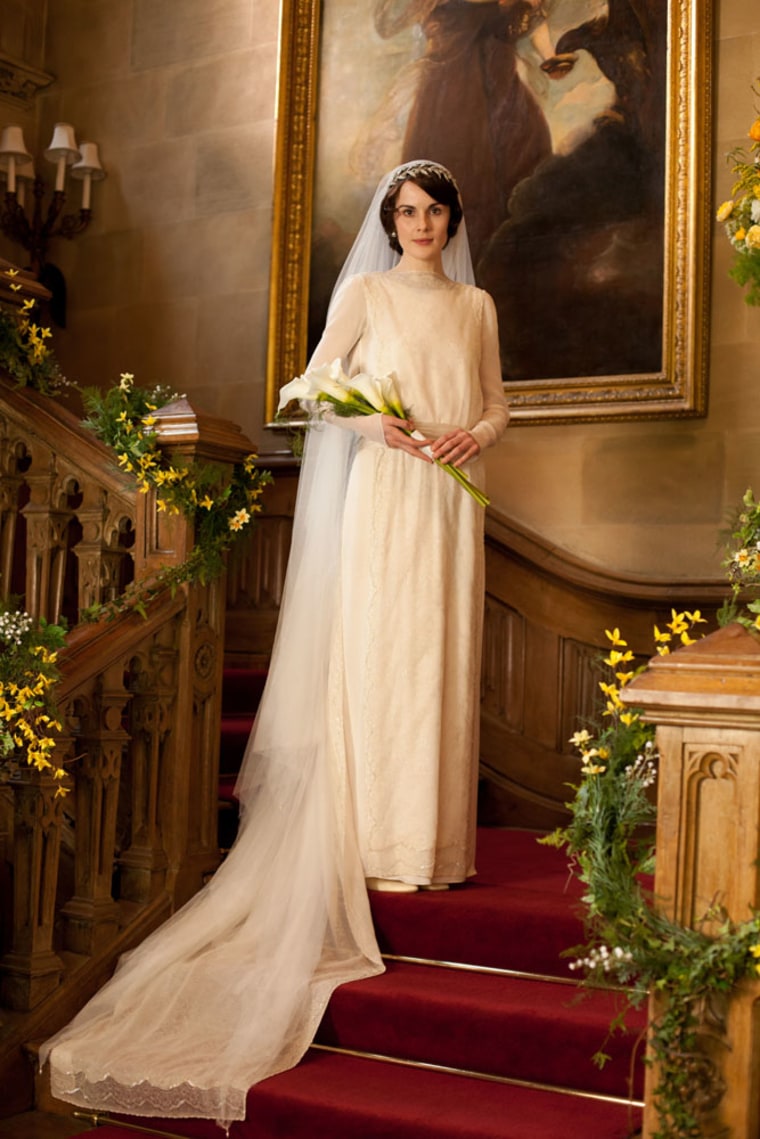 PBS' Masterpiece Theatre hit has been praised for its period piece fashion, and the costume designer went all out for Mary's dress: it was the show's most expensive outfit to date, according to Entertainment Weekly. The gown, which took eight weeks to produce, featured delicate rice pearls and Swarovski crystals, while the vintage veil was accented with a $200,000 45-carat floral diamond tiara by U.K. jeweler Bentley & Skinner. Mary topped it all off with a bouquet of white Calla lilies.
''Sometimes the character can be quite hard," costume designer Caroline McCall told Entertainment Weekly of Lady Mary. "I wanted her wedding dress to have a bit of softness. I wanted her to look really romantic, really elegant."
What did you think of Lady Mary's wedding gown? Were you a fan? Let us know!
Rina Raphael is a TODAY.com senior editor who demands more Lady Mary and Matthew Crawley makeout scenes.
More from TODAY:
'Downton' effect: Lingerie brand sells out after show mention
Lady Mary ... naked? 'Downton' star graces Vanity Fair cover
'Downton Abbey' starts new season with a wedding, financial woes
What will the most daring brides wear next season? Perhaps some dramatic pleats, a headband, or maybe even the color pink!