"Something happening in this house is actually about me!"
Those were the famous last words of perennially overlooked middle sister Lady Edith on Sunday night's episode of "Downton Abbey" as she watched the house transform into party mode in anticipation of her wedding.
After always coming up short compared to her sisters, it was finally Edith's day. And the show's costume designer, Caroline McCall, tried to even the score by giving her a radiant wedding look.
"Edith [has] always been a little bit awkward, but I wanted us to see her on her wedding day as absolutely stunning, so that's the way I went with her dress," McCall told Grazia.
Beaming with the anticipation of her upcoming nuptials, Edith, played by actress Laura Carmichael, looked stunning in a sleek, long-sleeved satin dress, a "Grecian style that suited [the actress]'s figure perfectly," McCall told Elle UK.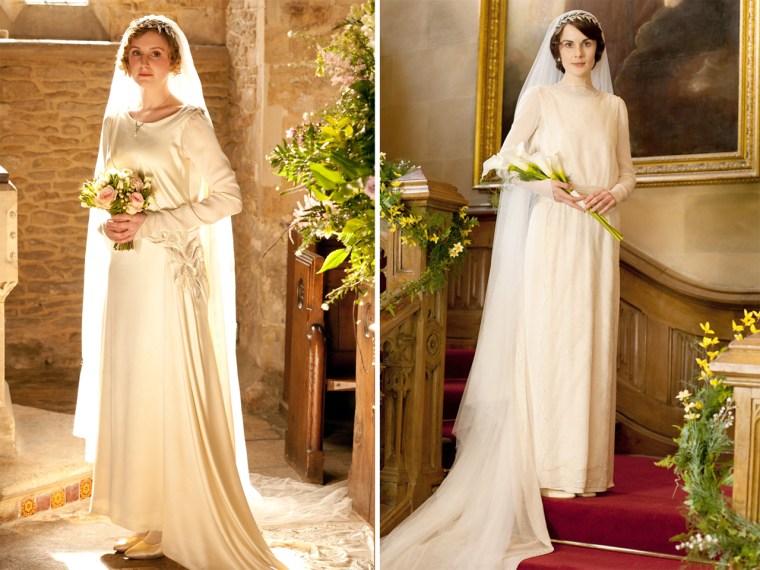 Adding to the romantic look was a long, intricately embroidered train that coordinated closely with the delicate features of the dress.
"We carried through the details from the train onto the dress, on the shoulders and on the hip, using appliqué, embroidery and crystals," McCall told the magazine.
Edith's wedding outfit was very similar to the soft crème lace dress her sister Lady Mary donned last week for her long-awaited wedding to Matthew Crawley in the show's third-season premiere.
Both women also sported a sparkling 45-carat antique tiara by U.K. jeweler Bentley & Skinner.
But, unfortunately for Edith, that's where the similarities ended. While Mary walked down the aisle to a happy ending, her sister once again found herself the victim of bad luck as (spoiler alert!) her groom bolted at the altar.
And instead of proving a lucky charm, the $200,000 tiara was thrown on the floor, yet another symbol of Edith's sadness.
More from TODAY:
'Downton Abbey' doesn't love all its daughters equally
Lady Mary's 'Downton' wedding outfit cost over $200K
'Downton' star: Lord Grantham is a 'bit of a dinosaur'