Dorothy's blue gingham dress and white blouse from "The Wizard of Oz" is a Halloween costume favorite, and now, if you have a cool half a million dollars to spare, you could buy the real deal. Julien's Auction House in California is putting the original outfit worn by actress Judy Garland in the 1939 film up for sale.
The iconic costume traveled from the yellow brick road to New York City to make its media debut on TODAY Thursday.
The starting price is $200,000, but "we estimate it at $400,000 to $600,000," said the auction house's Darren Julien.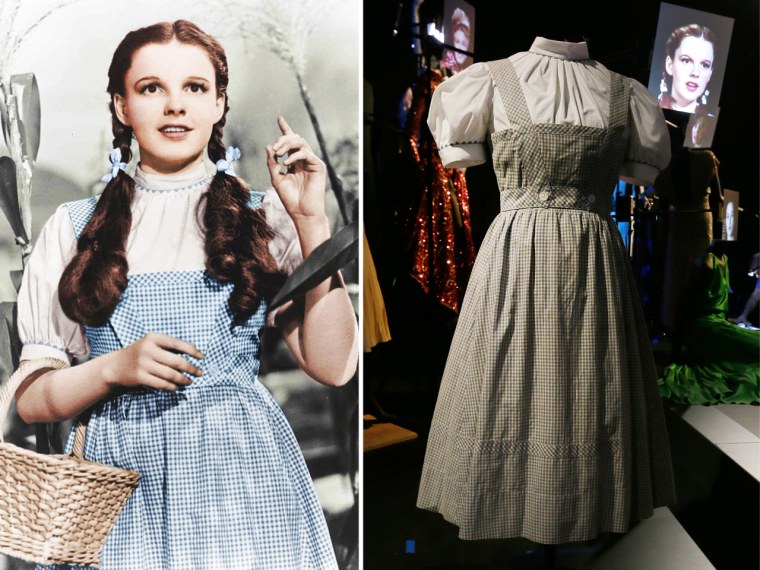 The pinafore is part of the "2012: Icons and Idols Hollywood auction" — an enormous sale on November 9 and 10 of more than 800 lots of film memorabilia, as well as items from Hollywood stars' personal and professional lives.
Two dresses from "The Sound of Music," a video of Marilyn Monroe singing "Happy Birthday" to President John F. Kennedy, and two slices of royal wedding cake will go under the hammer in Beverly Hills next month.
Story: Marie Antoinette's supposed slippers sell for $81,275
Die-hard fans and serious collectors won't be the only ones to bid, according to Julien.
"People are starting to collect pop culture in the hopes that it will continue to increase in value," he said.
The simple dress worn by Garland was the work of legendary Hollywood costume designer Adrian. According to the fantasy film, it was made by Dorothy's Auntie Em, so to make it look authentic, Adrian made the garment from cheap gingham on a treadle sewing machine.
Although several identical dresses were created for the production, Julien's Auctions claim it was the only version used in the film and is the only complete dress still in existence 73 years later.
The short, puff-sleeved blouse has a label inside reading "Judy Garland 4461."
In one of the seams, there is a hidden pocket where Judy kept her cigarettes.
It has been claimed that Garland had to wear a painful corset to look flat-chested and fit into the youthful costume, which is being sold by an anonymous New Jersey couple. The husband purchased it in 1981 for his wife, who loved the film.
Story: Ring that once belonged to Jane Austen sells for $236,557 
To give an idea of what "Oz" memorabilia can sell for, the film's famous ruby slippers were expected to garner $2-$3 million at auction last year. A group of "angel donors" headed up by Leonardo di Caprio and Steven Spielberg purchased them for an undisclosed amount on behalf of the Academy of Motion Picture Arts and Sciences.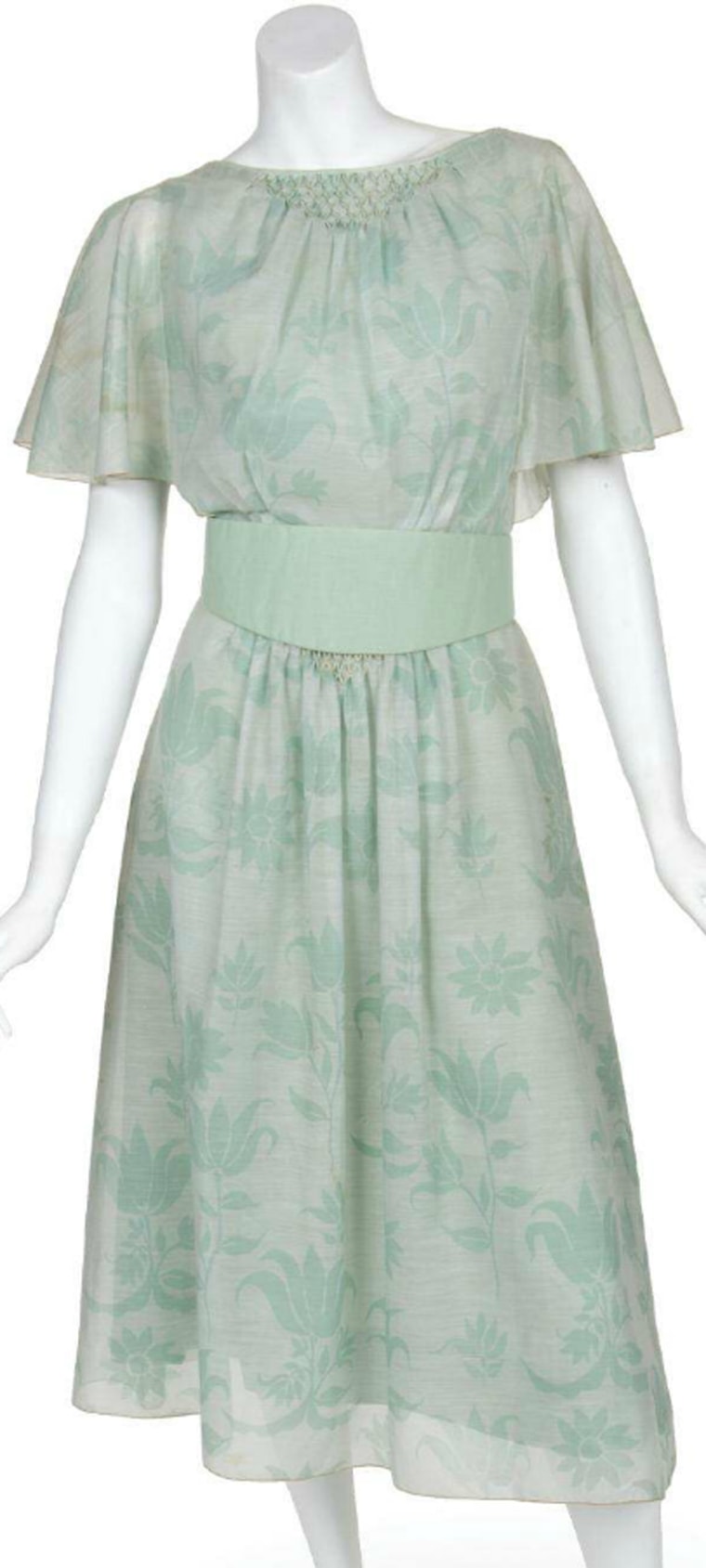 Julien's also displayed two rare dresses from "The Sound of Music." 
"Like 'The Wizard of Oz,' there's very few items that are available from 'The Sound of Music,'" Darren Julien told TODAY.
The demure green, floral dress Julie Andrews wore as Maria in the 1965 film is expected to fetch $40,000 to $60,000. Andrews wore the butterfly-sleeved confection while singing "The Lonely Goatherd," in the gazebo while singing "Something Good" with co-star Christopher Plummer and while Plummer sang "Edelweiss." The dress has a "20th Century Fox" label attached at the waist.
Another dress was worn by Charmain Carr in her role as Liesl von Trapp as the children sing "Do-Re-Mi" and is expected to sell for $8,000 to $10,000.
John F. Kennedy's birthday celebration film is a media treasure in the auction's collection: Shot by a member of Ella Fitzgerald's band, it shows Marilyn Monroe's famous serenade to the president.
"It's 50 years since Marilyn passed away and the love affair still goes on; people can't get enough of her," said Julien's Martin Nolan.
Story: The jewels of reclusive heiress Huguette Clark go on auction
Though there's no sound in the film, which was shot less than three months before Monroe's death, it's expected to sell for $5,000 to $8,000.
Some of Monroe's personal photographs and makeup will also be featured at the auction.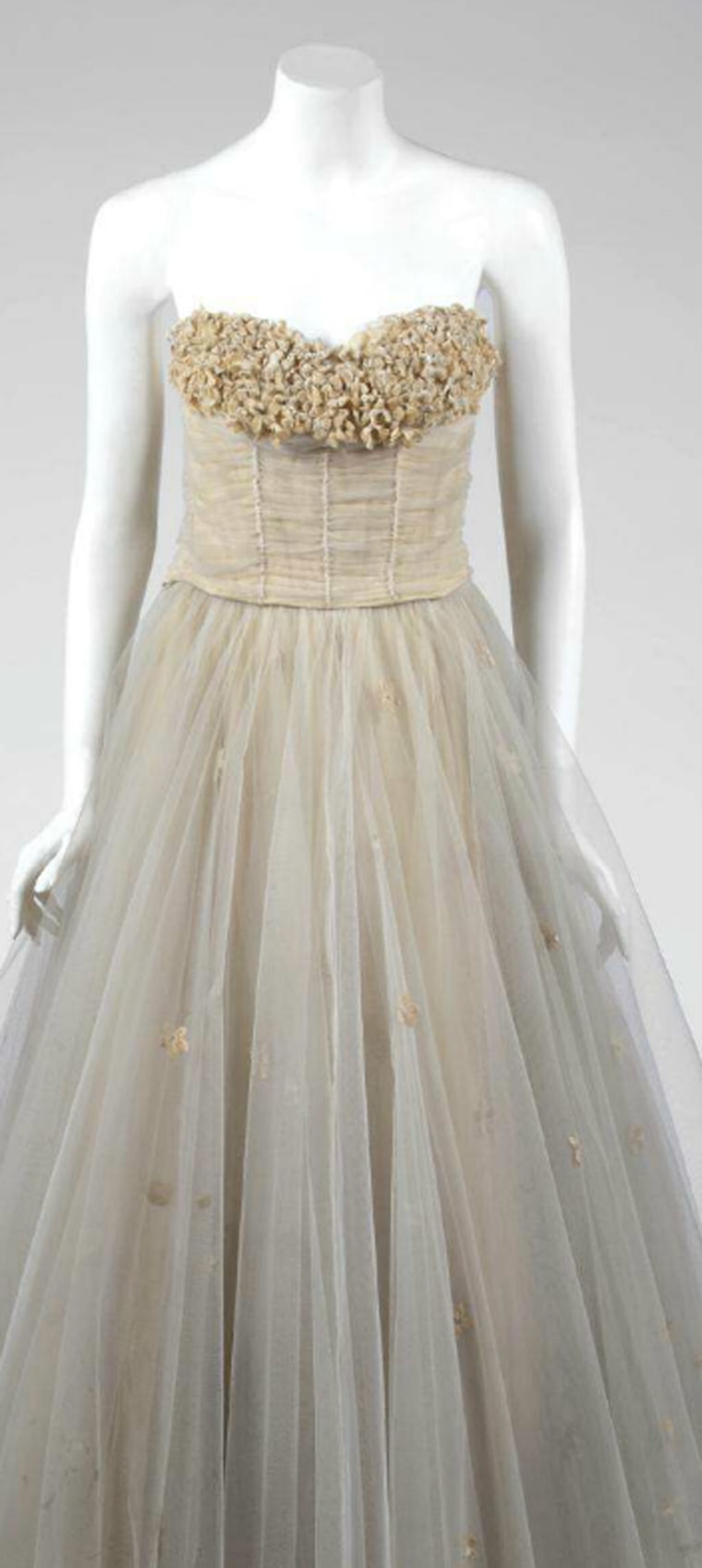 Among other costume highlights will be a yellow gown designed for Elizabeth Taylor in the 1951 film "A Place in the Sun," estimated to sell for $20,000 to $30,000. The style became the template for popular 1950's prom dresses. Designer Edith Head won an Academy Award for her costumes in that movie. 
Auction hopefuls will also bid on Bruce Lee's weaponry, clothing, and jewelry, a special effects costume worn by Superman Christopher Reeves, and Angelina's Jolie's "Girl, Interrupted" costume.
In addition to Hollywood memorabilia, a couple of royal slices of souvenir wedding cake will go under the hammer; one from the 1981 marriage of Prince Charles and Princess Diana, and another from the 2011 wedding of Prince William and Kate Middleton.
"This is where you can't have your cake and eat it too," joked auctioneer Nolan.
He added that the confection was well "past its sell-by date." Despite being preserved in a freezer and on dry ice, it is no longer edible, he said.
Given that the last piece of Charles and Diana cake the Julien's duo sold went for $6,000, one hopes it wouldn't be consumed anyway.
After wrapping up their media appearances in New York City, the iconic dresses and costly cakes will return to Beverly Hills. A free public exhibition will be held at Julien's Auctions from November 5 to 9.
More: First look at Banana Republic's Anna Karenina collection 
Cosmo's beauty awards honor best in beauty, skincare 
Michelle, Ann pick similar shapes, somber shades at final debate