Don't sweat it. Easier said than done, right? With all of the beautiful sunshine and fun activities of summer comes the major ick factor.
We love getting a little color in our cheeks, but gleaming with sweat? No thanks. Here's how to instantly look cool as a cucumber.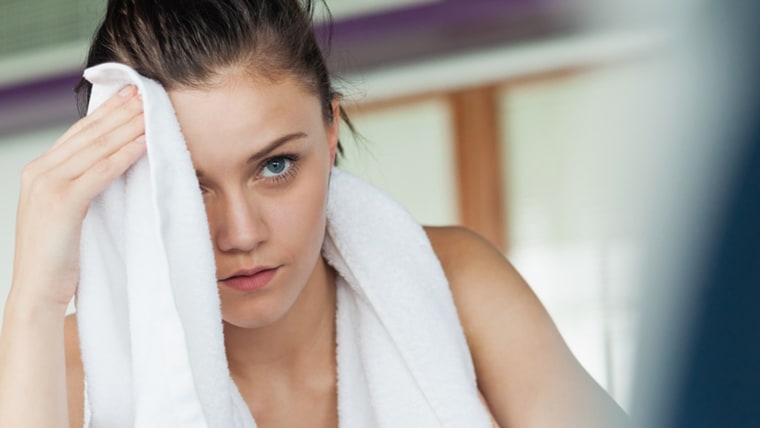 1. Update your skin-care regime
The combination of sweat and sunblock will clog pores and make skin feel oily unless the routine is switched up for the summer months. "Start by using a gentle, non-soap cleanser in the morning and evening to give your skin a thorough cleaning," says makeup artist Liz Fuller of Makeup Artistry. "Be sure to exfoliate several mornings a week as well to help clean out pores."
And just as you do with winter coats and boots, Fuller recommends putting the thicker creams and lotions at the back of your medicine cabinet to break out lighter, oil-free formulas. It allows skin to breathe better, she says.
2. Don't use bar soap
The binders that hold a bar of soap together have a high pH balance, which will strip the water and natural oils from your skin, says celebrity aesthetician Renee Rouleau. "Your skin cells need to stay moist in order to be healthy and without water, your skin will pump out more oil to compensate for the water loss," Rouleau says.
3. Prep your skin
"Papaya is also a great natural mask for oily skin and I always recommend using it to my clients with oily skin. All you need to do is simply mash it up, apply it to your face and let the magic begin!" says Jessica Scantlin, lead celebrity makeup artist of Blushington Makeup & Beauty Lounge. The natural enzymes found in papaya help to draw out oil without stripping the skin or causing damage.
4. Don't wear makeup when you work out
"The combination of sweat and makeup can clog pores and block the evaporation, making the sweat on your face more visible and leading to breakouts," says Dr. David E. Bank, a dermatologist and author of "Beautiful Skin: Every Woman's Guide to Looking Her Best at Any Age." Bank suggests wearing a sweatband to keep hair off of your face and to prevent sweat from dripping down.
5. Switch to a gel moisturizer
Switching to lightweight products can allow skin to breathe and rid it of extra oil. A heavy cream may be your answer in winter, but a gel moisturizer will answer your prayers in the warmer weather, says celebrity makeup artist and bridal expert Ashlee Glazer. The formula is lighter and more breathable.
6. Always start with primer
If you're taking the time to put on a beautiful face, you probably would like it to stay. But if it's too humid, that makeup is going to melt right off! Oil-free primers are great for controlling shine and making makeup last, says celebrity makeup artist Tomy Rivero.
7. Keep your foundation light
"Use a lightweight tinted moisturizer or BB/CC cream in lieu of foundation," says Fuller. "Just enough to even out the skin." Afterward, she suggests dusting a loose powder to set. This will help absorb any additional oils that may be lingering on the skin. Even if you choose not to use any foundation or cream, Fuller says to still dust powder onto your skin to help create a barrier for oil and sweat.
8.Try a setting spray on long, hot days
A setting spray will be your new best friend! Use after moisturizer, before primer, after foundation, and once again after you powder to fully set the makeup, says Glazer. The layers ensure a waterproof look throughout the day.
9. Blot, blot, blot
On-the-go blotting papers are hygienic, grease eliminators that will diminish shine for a no-makeup feel, says Vanessa Elese, an Emmy award-winning celebrity makeup artist and beauty expert. But she has one rule: blot, don't rub.
10. Prevent sweat in those difficult areas
"I do makeup for a lot of brides in the summer and sometimes they are just sweating in my chair! A lot of times it's their upper lip that's sweating or just underneath their breasts," says Fuller. "I use a solid antiperspirant on their upper lip to help stop the sweating. I swipe it over the skin and then pat it in and wait a few minutes. Same goes for under their breasts." She says it's a quick and easy way to stop sweating. You can also use a spray antiperspirant on feet or behind the neck and on the inner thighs.
11. Prevent chafing
Another great thing about the hot summer months is the opportunity to rock your flirtiest outfits. However, form-fitting summer frocks come with a problem all their own: chafing. It's an issue that many women experience, but few talk about.
"Throw any curvy lady in a maxi dress, skirt or moderately tight shorts and a few hot and sweaty hours later, her thighs will be rubbed raw. That's not the kind of friction a woman is hoping for when she puts on her sexy clothes and, unfortunately, there aren't a lot of products that can help," says sex expert and Bravo reality star Dr. Emily Morse. Use an antioxidant-rich cream that transforms into a light natural powder to keep these intimate areas dry. Morse recommends Emily & Tony's Down Under Comfort onto your inner arms and thighs and you'll be good for the day.
12. Cool down
Peppermint and eucalyptus oils are the perfect mix of cooling relief, says Elese. Wet a washcloth and sprinkle a few drops of each oil for immediate cooling relief. "The homeopathic remedies of these oils signal the body to instantly cool and, even better, stay cool."