When you buy food for your pets, you trust that what's on the label will be in the package. But that's not always the case, according to tests done at Chapman University in Orange, California.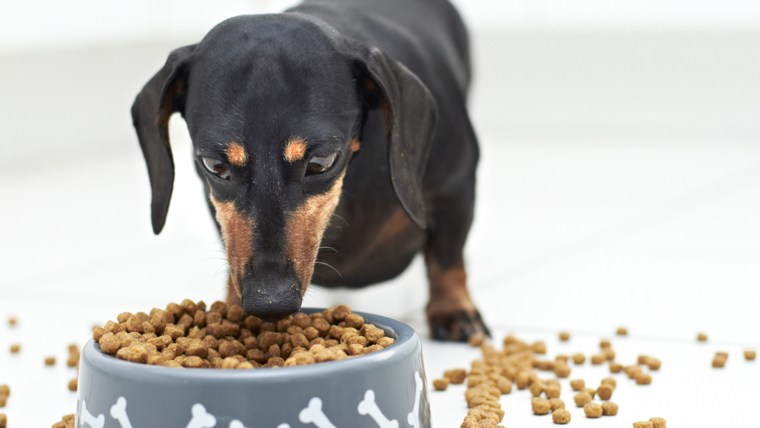 Researchers in Chapman's Food Science Program bought commercial products for dogs and cats (both wet and dry food) and used DNA analysis to determine the types of meat they contained.

Almost 40 percent of the products had a meat that was not listed on the label. Of the 52 samples, 31 were labeled correctly, 20 were potentially mislabeled and one had a meat ingredient that could not be identified.
Assistant professor Rosalee Hellberg, co-author of the study, told TODAY that both dog and cat food samples were mislabeled, and that wet food was more likely than dry to have the problem.
"We found a lot of undeclared pork in certain products," Hellberg said. "We found some products that would claim to have beef, even as a number one ingredient, and there was no beef in the product at all."
The researchers said it's impossible to know if the mislabeling was accidental or intentional, and that there was no way to know where it took place — at the supplier level or at manufacturing plants.
"It is a form of economic fraud," Hellberg said, and when you consider that Americans are expected to spend more than $22 billion on pet food this year, according to the American Pet Products Association, the economic harm could be substantial.
Hellberg told TODAY she was surprised by the high rate of mislabeling. The reason she decided to test pet-food products was to see if they contained any horse meat, which would be a concern to some people. None did.
The Chapman report did not include a list of the products tested or those that were found to be potentially mislabeled. Hellberg told us the study was done to investigate the industry as a whole rather than single out any pet food brands.
"We are hoping to raise awareness of the issue which would result in increased scrutiny to make sure pet foods really contain what they claim to contain," she said.
The Pet Food Institute (PFI), an industry trade group, told TODAY it's still trying to learn more about the Chapman study. In an email, Kurt Gallagher, PFI's director of communications, pointed out that the majority of products sampled were labeled properly.
"Pet food is one of the most highly regulated food products," Gallagher wrote. "Responsible pet food companies collaborate with FDA and AAFCO (Association of American Feed Control Officials) and work hard to ensure their products are in compliance with federal and state regulations, which include rules for proper labeling."
Who's minding the store?
The U.S. Food and Drug Administration (FDA) regulates the product labeling of both people and pet food. Hellberg told us the FDA was aware of the study. We contacted the FDA and were provided with a statement, which reads in part:
"Consumers should be able to trust that what is on the label is in the product. Pet foods do not require the FDA's approval before being marketed; however, all ingredients are required to be listed on the label using their common or usual name. The FDA has taken action in the past when ingredients are not properly listed on the label or when one ingredient is substituted for another ingredient."
Not the first time
Back in 2012, ELISA Technologies tested 21 commercial dog food products are found 12 instances of mislabeling (two products had more than one labeling issue.) As reported in PetFoodIndustry.com, eight of the products had animal protein not listed on the ingredient label. Two labeled as gluten- or grain-free, tested positive for gluten.
"As in the human food industry, this type of mislabeling is typically not intentional on the part of the manufacturer," Dr. Laura K. Allred wrote on PetFoodIndustry.com. "Rather, it is most often the result of mistakes during formulation or the receipt of mislabeled product from a supplier."
Potential health consequences
In the Chapman study, about a third of the samples (16 of the 52) had a meat ingredient not listed on the label — most often pork, which is a common food allergen for pets.
"This does not shed a very good light on the pet food industry," said Dr. Joseph Wakshlag, an associate professor of clinical nutrition at Cornell University's College of Veterinary Medicine.
Professor Wakshlag told TODAY that just a small amount of pig liver added to the product — and not disclosed on the label — would be more than enough to cause a problem for an allergic dog or cat.
If you have a pet with a food allergy, talk to your vet to make sure you're using a food that's appropriate and safe.
Herb Weisbaum is The ConsumerMan. Follow him on Facebook and Twitter or visit The ConsumerMan website.