By Matthew Moll, TODAY contributor
It is widely accepted that Ponce de León's attempt to discover the Fountain of Youth — to  rid the world of the tyranny of time — failed miserably. Modern humans seek to relieve humanity of another, equally elusive antagonist — the hangover. From popping Tylenol to gorging on French toast with bacon,  the list of remedies for the morning following an evening of excess are long. But it is a universal search, one that unites us as people.
Enter the "hangover treatment" from New York's F.S.C. Barber, an attempt by a barbershop to help allay the pain of "just one more." For $25, the treatment includes a series of towel applications and a detoxing face mask before closing with a face massage. The barber is an unfamiliar friend in the fight against the hangover, but could this spa experience be the elusive detoxifier?
Well, before one can detox, one must tox.
Instead of poppin' bottles, I stopped by a friend's upscale birthday party which served drinks in adult-sized glasses. (Hunter S. Thompson would not have been impressed, but the job was done.) Come morning, my body was prepared for the aftermath. The sunlight, my enemy; a toasted everything bagel with egg and cheese, my ally — but there would not be any time for nourishment, I was awake to be pampered.
Veteran barber Mike Sposito and his affable facial hair would be my guides on my journey back to a fully functioning member of society.
Mike started by wrapping my cabernet-weary head in a hot towel treated with tea tree oil. The vapors from the oil felt like I had dipped my face in nature's relaxing embrace. Mike said the tea tree oil is an "anti-fungal." (That sounded scientific and I know I am not pro-fungal where my face is concerned.) No matter the true intention of the steam, I felt like this towel took me on an outdoor retreat. I would have checked out and taken a nap as I basked in the glory of its scented vapors, but I was there to observe. Also, the Iggy Pop Pandora station stonewalled my mind from wandering too far.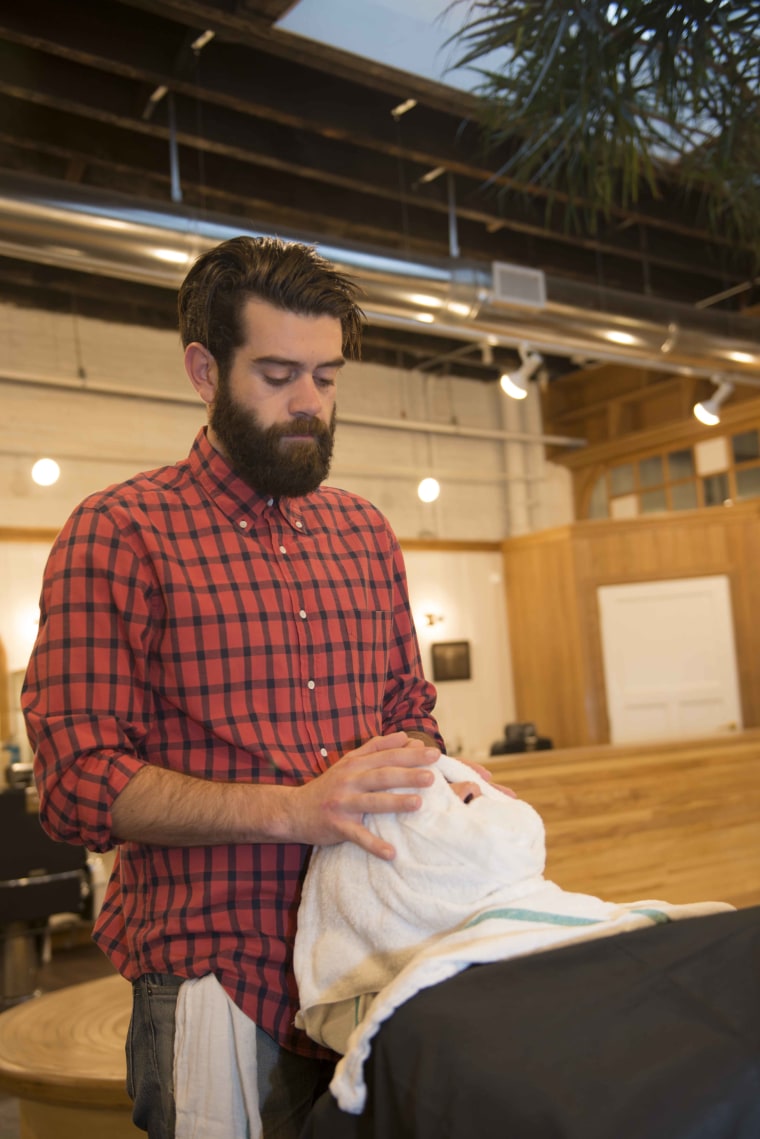 Next, I was coated with a detox face mask by Malin + Goetz. Mike told me this gets the "junk out of your pores", but after a few moments all I could really feel was burning. Not I-left-the-stove-on burning, more like I-forgot-to-re-apply-SPF mild burning. I didn't want to stand in the way of the magic that is the detox face mask (a.k.a. "sound like a wimp") so I tried to stay strong, but I ultimately needed to ask Mike to accelerate the towel cycle and cool down my face.
That was the "opening of the pores" part of the exercise. We then moved to the closing of the pores. After a series of towels — including one soaked in cold calming lavender oil — it was time to get my first ever face massage.
Mike generously applied a vitamin E face moisturizer to my face, then moved my cheeks, forehead, and jaw in uninitiated directions. My face felt brand new, but I am unsure if that was because of the treatment or because I was unaccustomed to having my face rearranged.
I was still in need of nourishment and a few hours of sleep, but I had a new appreciation for the warm water/towel combo and found a loyal confidant in tea tree.
If you are looking to completely erase your mistakes from the previous evening, you are in the wrong place. However, if you want to feel refreshed, this is a worthy use of 20 minutes. The search for the cure continues.
F.S.C. Barber's Williamsburg offers the hangover treatment, $25, at their locations in both New York City and San Francisco.
Matthew P. Moll is a multimedia journalist living in New York City. He believes hangovers were an invention to keep waffles en vogue.
What's your hangover cure? Share it with us!
More from TODAY:
Makeup tricks to hide a hangover
The best bizarre beauty trends of 2012