There's no better time than summer to break out of your manicure rut and dive into some fresh, colorful nail art! "Channel vacation vibes with bright hues and bold prints," suggests Chalkboard Nails blogger Sarah Waite, who's known for her playful designs, on-trend polish palettes and addicted fan base (she's at 110K Instagram fans and counting!) "Vivid aquas, fiery magentas, sunny yellows and brilliant peach shades look great against a summer tan, while tropical colorblocks and chevrons will have you dreaming of a day spent out on the beach." 

Pick your best look from Waite or one of our other favorite nail bloggers and get painting.
Bold tips nail art
Rathy of Petite Peinture created a sleek summer manicure by leaving just a sliver of white polish in between blocks of navy and coral.
Mix-and-match nail art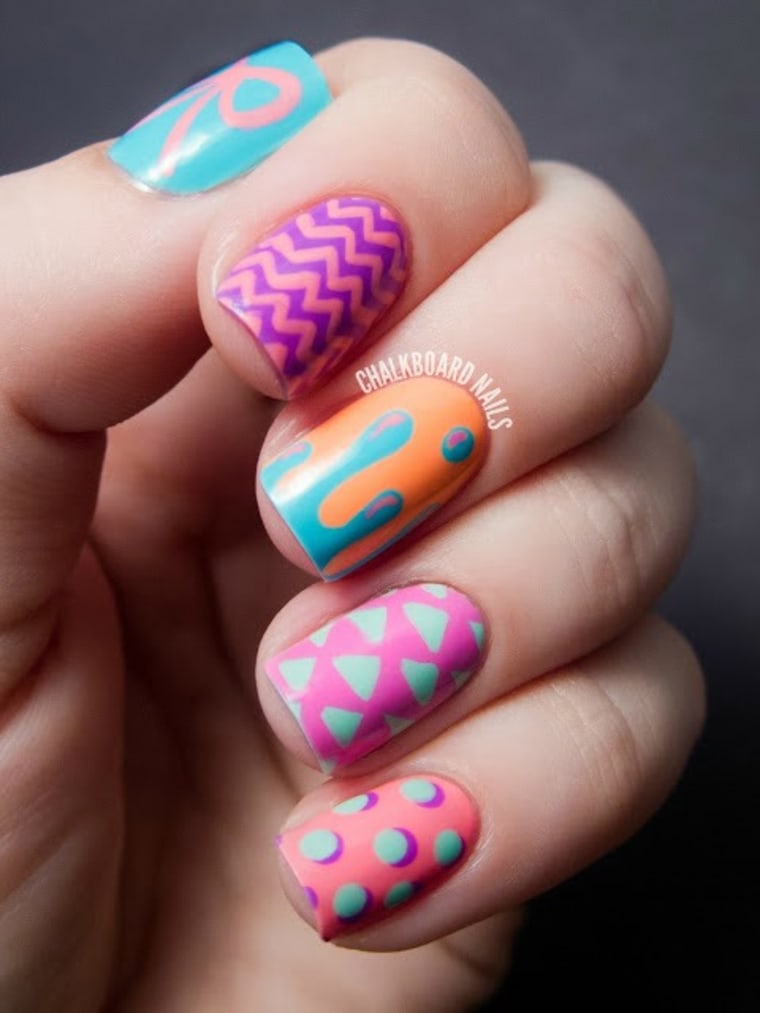 Chevrons, bows, drips and geometrics mingle in Chalkboard Nails' fun pattern play, but a consistent sorbet-inspired color palette keeps the look cute — not crazy.
Watermelon nail art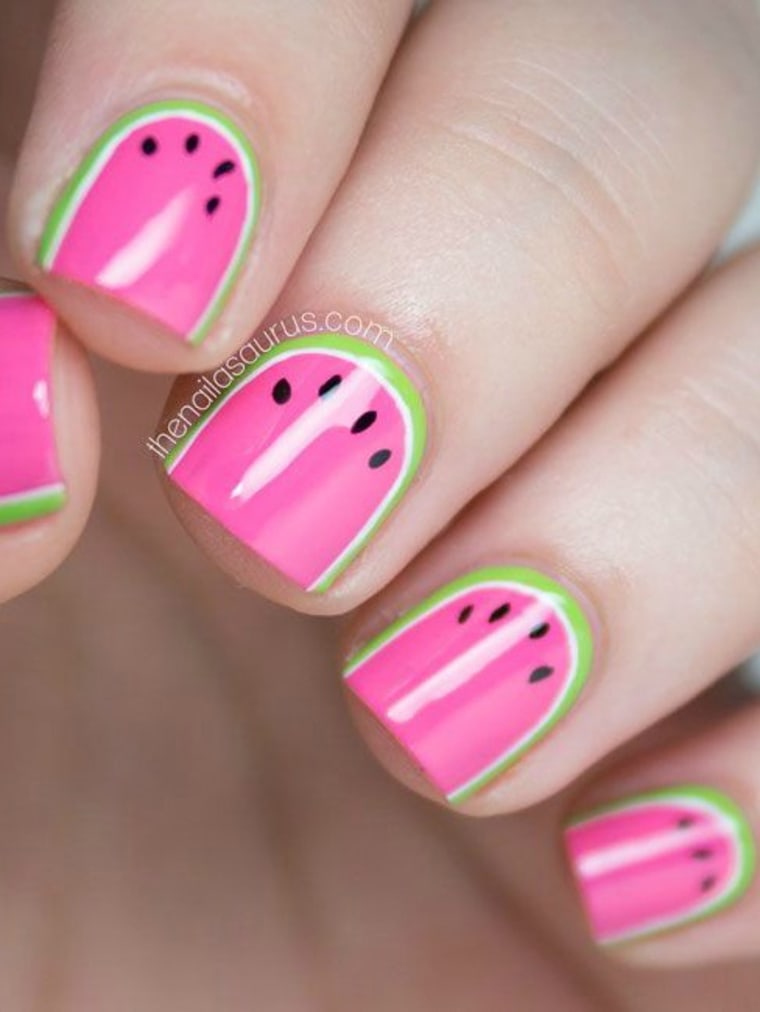 File nails into a squared-off shape (rather than rounded) before you turn 'em into juicy slices of watermelon with The Nailasaurus's tutorial. The lime green "rind" and black "seeds" look good enough to eat!
Hot pink dotted nail art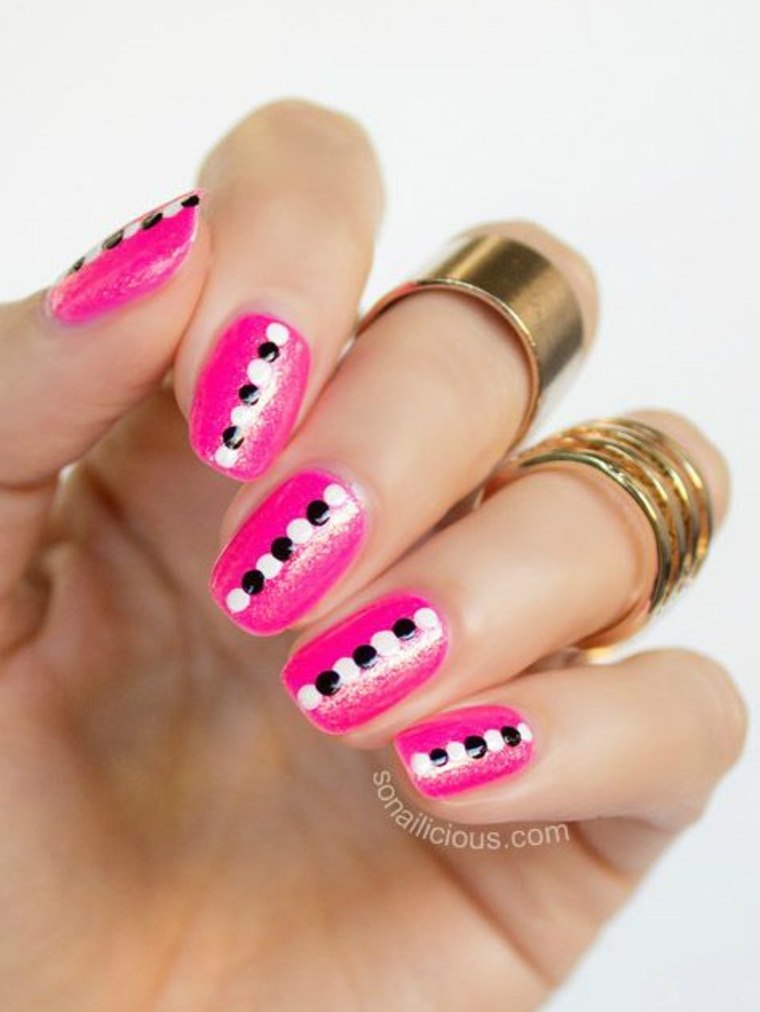 Barbie pink goes chic in this super-simple design from SoNailicious. Don't have a dotting tool? Use a toothpick or hairpin, instead.
Fan motif nail art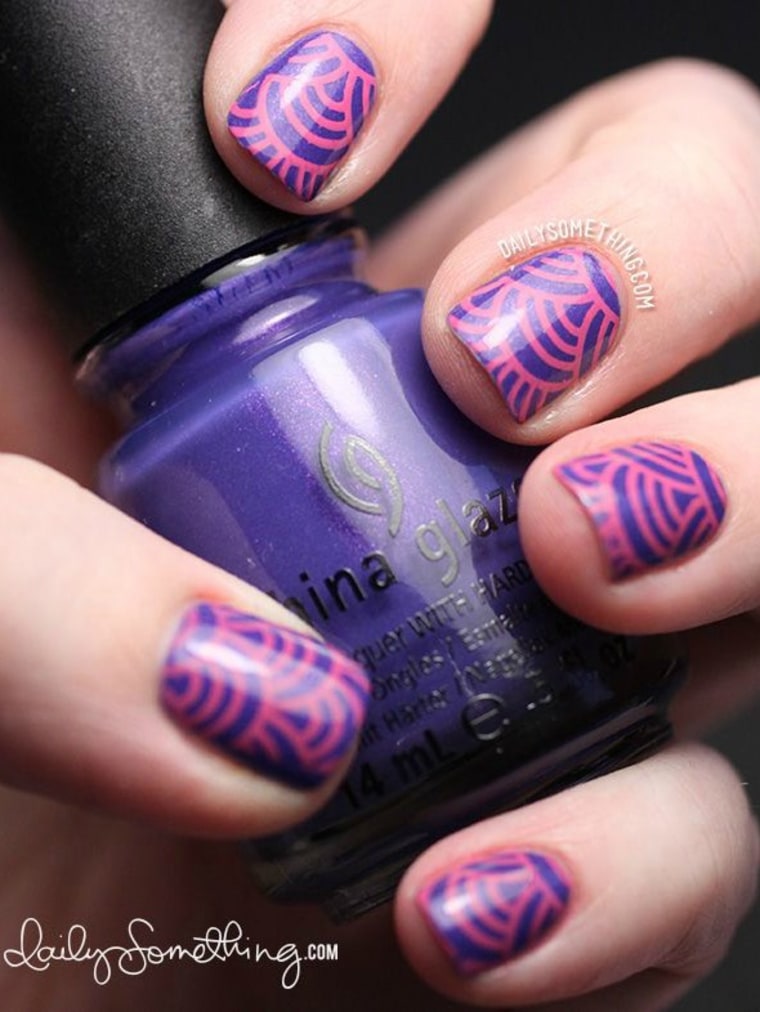 Daily Something used stamping plates to give purple polish a dose of Art Deco elegance.
Lavender-sky nail art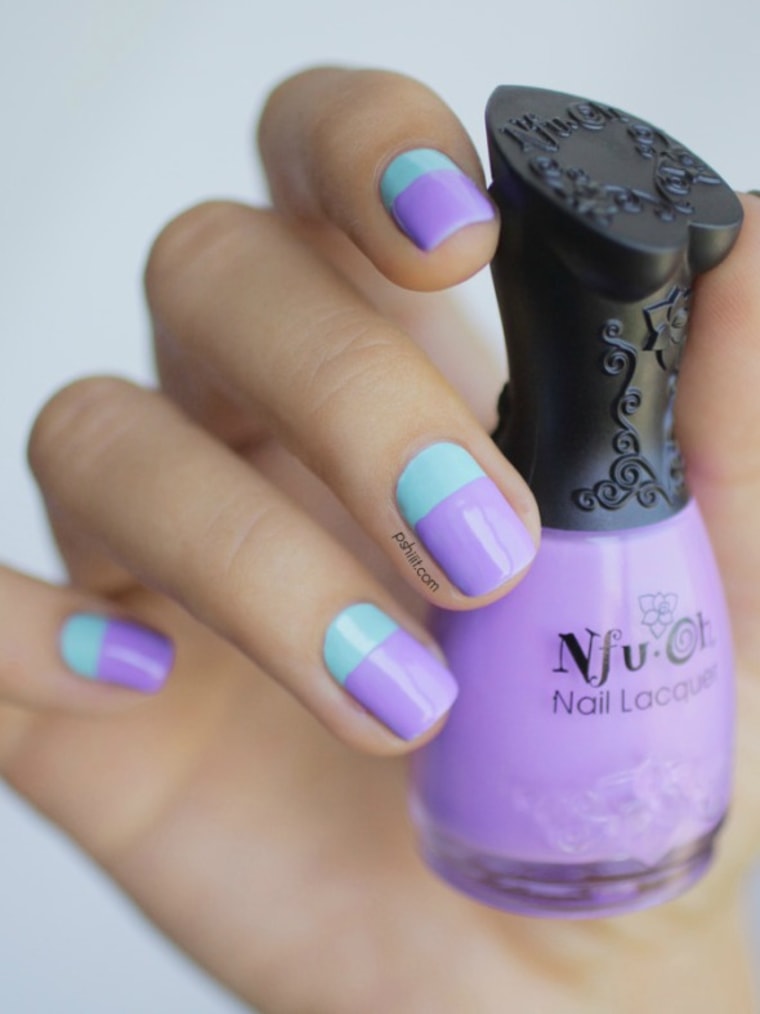 Leave it to a French blogger (Pshiiit) to create such a sublimely simple manicure in herbal shades of lavender and sky blue.
Ombre blues nail art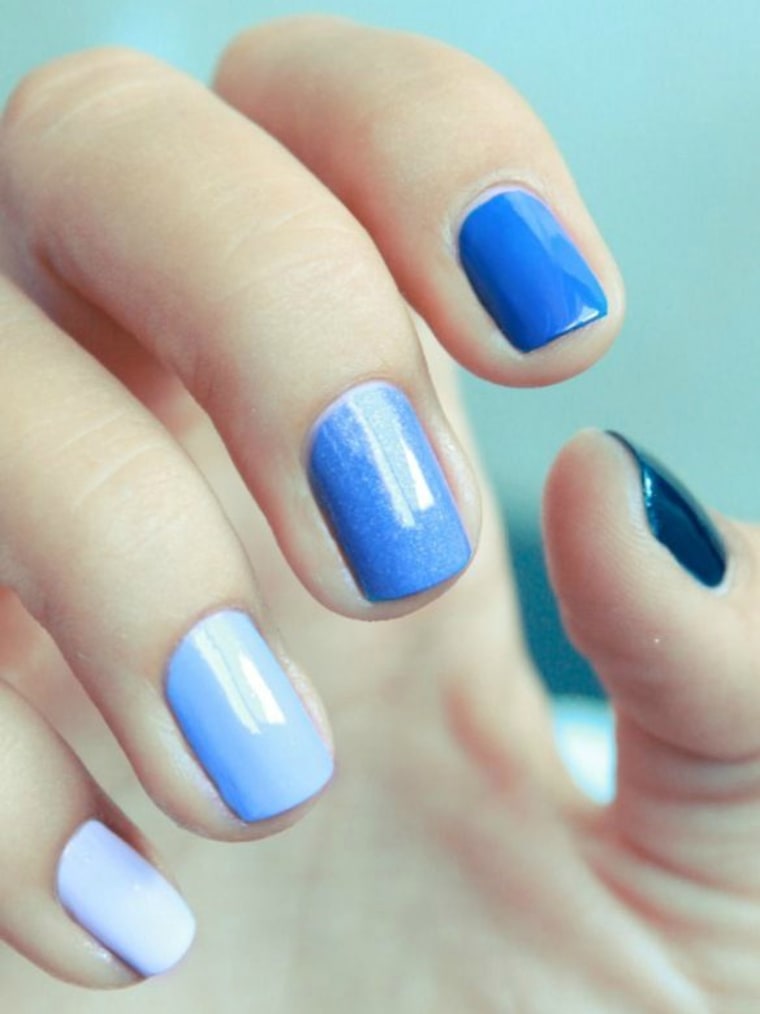 Simply genius: Paint a different shade of the same cool hue on each nail. Pshiit's gradations of color would look particularly fab with faded denim and breezy whites.
Neon chevron nail art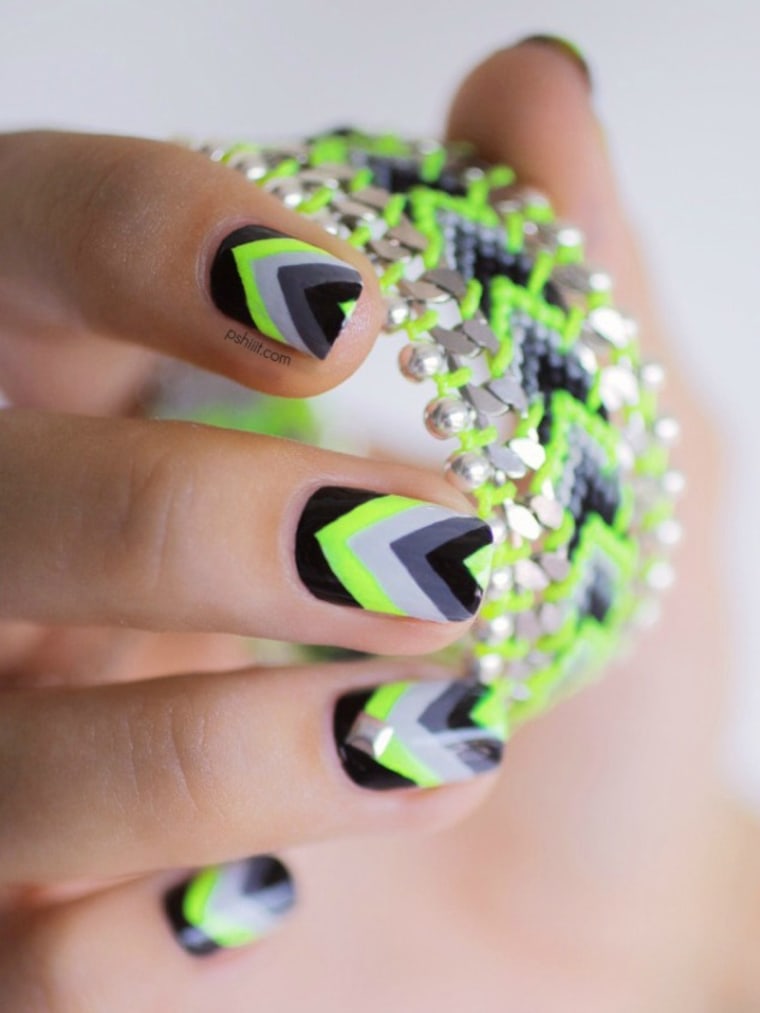 Nail art blogger Pshiiit translated the colors and textures of a favorite woven bracelet into this neon-meets-neutral manicure. It reminds us of a frosty margarita!
"Dotticure" nail art
Maria of SoNailicious started this "dotticure" with a neutral beige base, then added spirals of tropical-toned dots.  
Pastel studs nail art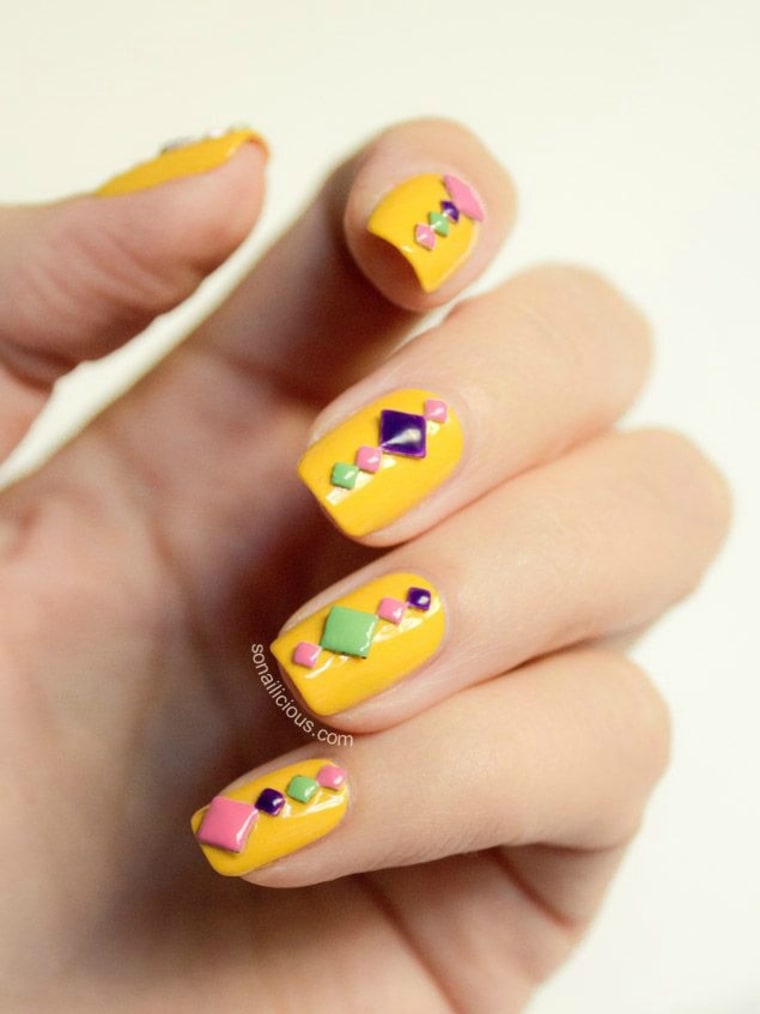 Wish we'd thought of that: SoNailicious painted metal studs for a unique take on the trendy hardware mani.
 Bright colorblock nail art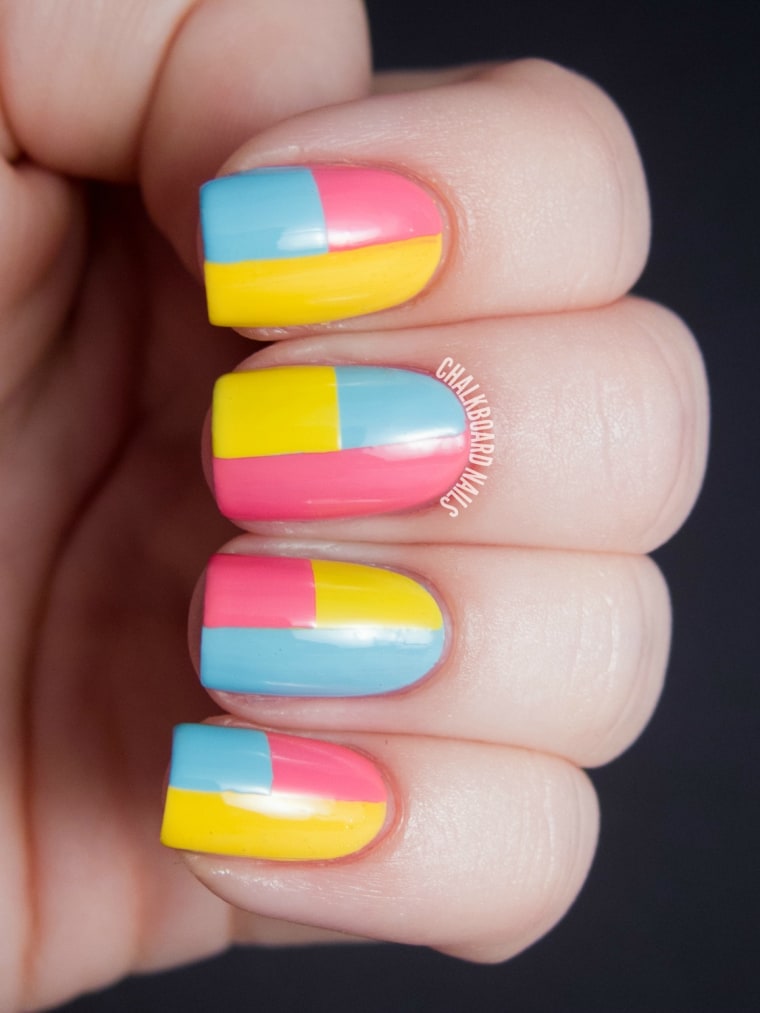 The key to this stunning summer mani? Crisp lines created with regular 'ole tape. Head on over to ChalkboardNails for the step-by-step.