The average department store lipstick can set you back a whopping $26. But, the truth is, the trendiest, most coveted items at the department store can be re-created at home with drugstore beauty buys. Yes, seriously.
Consider me, Anna De Souza, your personal beauty lab technician! For this latest episode of "Get It Together," I'll help you create some department-store quality beauty picks all with items you have lying around your bathroom and pantry. We call it "beauty cocktailing" since it's as easy and as scientific as shaking up a delicious martini.
There's a new episode of "Get it Together" every other Friday on TODAY's YouTube channel. For more great episodes, be sure to subscribe here.
1. Glycolic acid peel mask
These ingredients create a brightening, tightening and toning mask right at home — and it's so easy.
Aspirin has salicylic acid — which you may have seen used in over-the-counter acne medications — that can delve deeper into the pore to dissolve keratin plugs that can lead to blackheads and whiteheads. "It is lipophilic and absorbs nicely through fatty substances, like oil, and the 'fatty' layer of the upper skin cells," Dr. Rachel Nazarian from Schweiger Dermatology Group told TODAY Style.
Nazarian confirmed that lemon has alpha hydroxy acid, a water-soluble acid that can help unglue dead skin cells on surface of the skin.
And baking soda works its magic when you remove the mask by physically exfoliating everything the beta and the alpha hydroxy acids have brought to the surface.
The microgranules of the baking soda are so fine, it won't create any tears on the surface of your skin. It almost feels like a microdermabrasion treatment you'd get at the dermatologist for $300-400 a pop!
What you'll need:
2-3 tablespoons of baking soda
1/2 lemon
2-3 aspirins
Mixing bowls
Spoon
What you'll do:
1. Crush the aspirin with the back of the spoon until finely ground.
2. Squeeze in the juice of a half of a lemon, taking care to remove seeds from the mixture.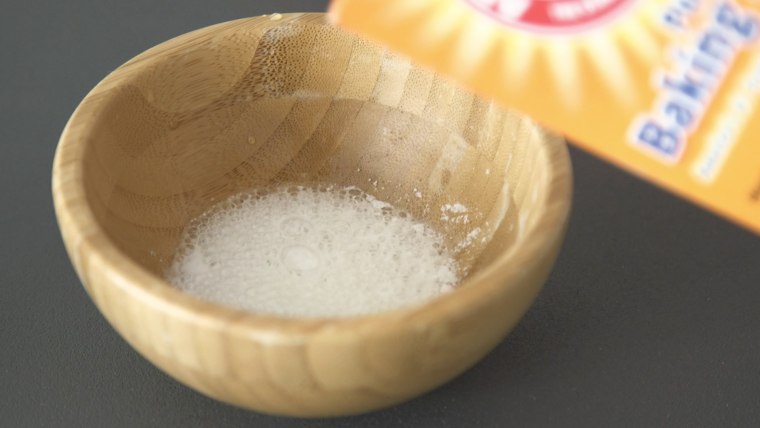 3. Slowly pour in baking soda to the mixture. You'll see that it starts to foam!
4. Apply it to clean, dry skin and allow it to set for 10-15 minutes.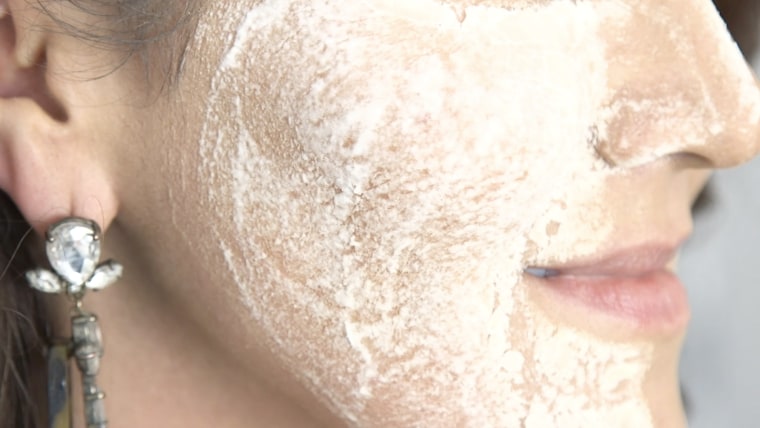 5. Remove the mask with a warm cloth moving in circular motions.
6. Rinse off any remaining mask with warm water, pat dry.
2. Colored mascara
Colored mascara can really brighten up your look. Celebrities are sporting it on the red carpet and beyond in blues, greens, yellows and even orange hues. And while this look is a fun way to spice up your typical routine, it's not necessarily something you'd wear every single day.
These trendy mascaras can run $35-45 each, but you can actually pull off the look of colored mascara with items you already have at home. Check this out!
What you'll need:
Creamy eyeliners
Spoolie brush
Eyelash curler
What you'll do:
1. Curl your lashes. Because you're not using mascara, this step is crucial since you won't get much curl and volume from the formula of the eyeliner. Alternatively, if you're using a very bright or bold color, you can chance applying a layer of mascara and allowing it to dry completely (to avoid muddying up the color) before moving on to the next steps.
2. Run the eyeliner on the spoolie brush. It's important that the eyeliner is a creamy consistency or a gel so that you can easily deposit the color onto the brush.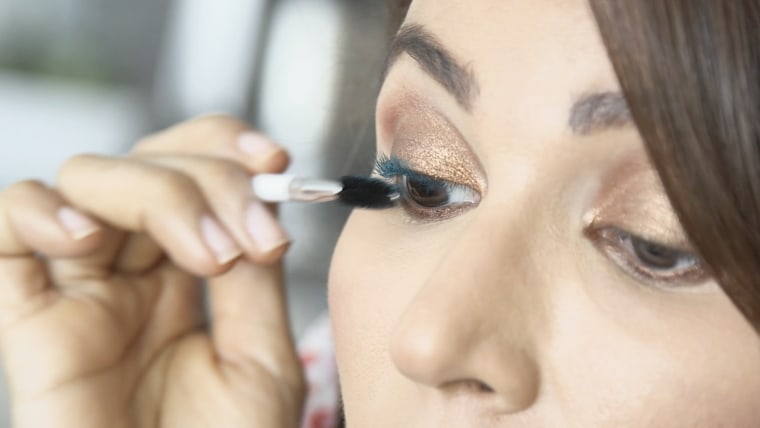 Maybelline Eye Studio waterproof gel eyeliner pencil, $5, Target
3. Brush the color directly onto your lashes. Feel free to experiment: You can paint on just the tips for an ombre effect, run the color through the whole lash or even try different colors on the top and bottom lashes.
4. Sharpen and reapply the color to the spoolie brush to intensify the color.
3. Matte lipstick
Everyone's going nutty over long-wear liquid lipstick and, indeed, they're great! Thankfully, there's a way to re-create this matte, all-day coverage without spending a fortune — or even buying a new product.
What you'll need:
Any powder makeup, blushes, eyeshadows, bronzers
Beeswax balm
Your finger
What you'll do:
1. Start off with clean, dry lips.
2. Use your finger to pick up powder pigment then pat it directly onto your lips.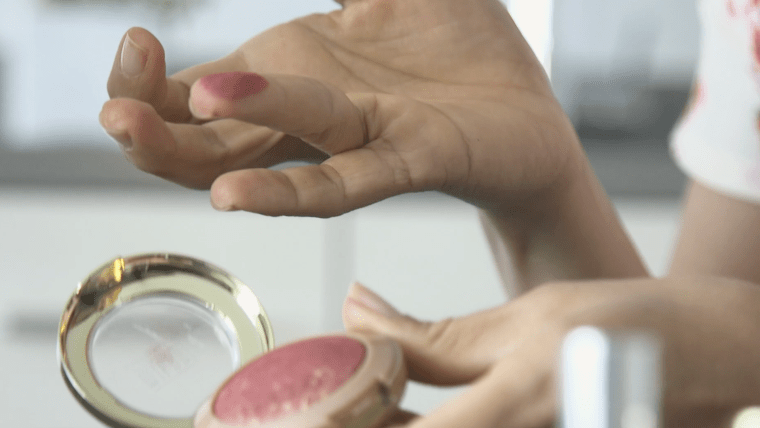 3. Finish it off with one quick swipe of a beeswax balm. (Look for one that's not too glossy or slippery to ensure the color stays put all day.)
What we love about this hack is that you can experiment with fun, funky colors like orange, lavender, green, black, you name it. These are all colors you have in powder form in palettes and compacts.
So the next time you want to channel your inner Rihanna, you won't have to invest in an entire tube of hunter green lipstick!