A private Catholic school says it will not pass out "modesty ponchos" to students at prom, following a public outcry against the idea.
Divine Child High School in Dearborn, Michigan, recently sparked controversy after students shared photos of the so-called "modesty ponchos" that popped up in the school's hallways leading up prom.
Students who did not follow school's prom dress code would have to wear one of the capes, according to a note pinned to one of the ponchos.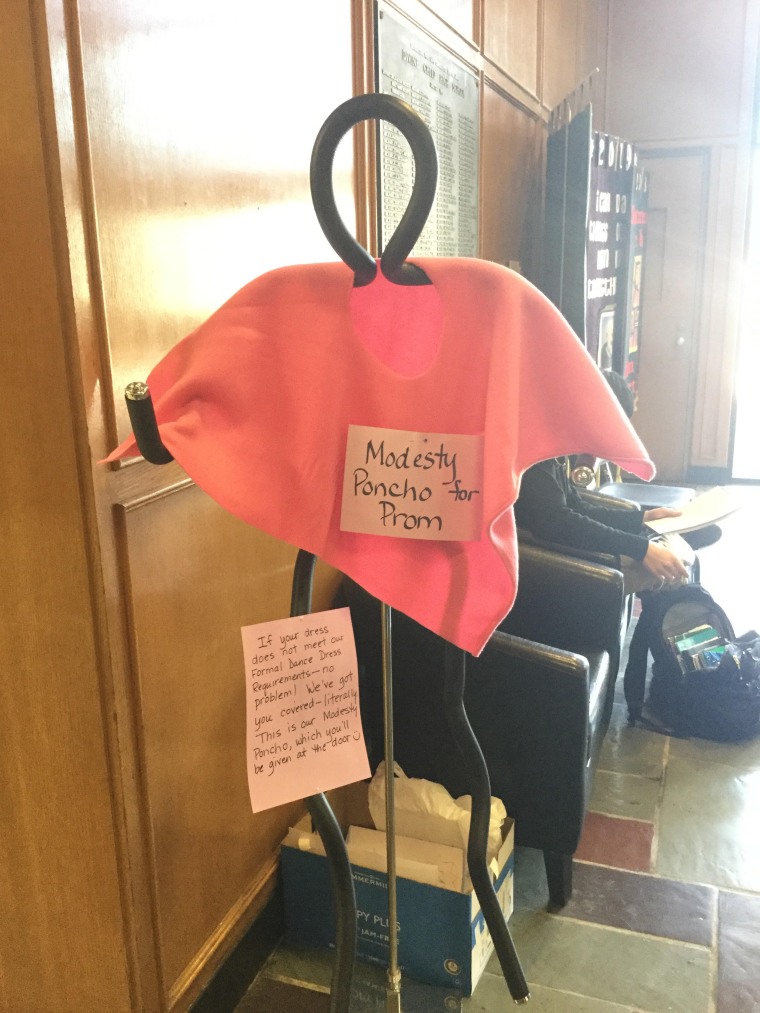 "If your dress does not meet our formal dance dress requirement — no problem!" the note reads. "We've got you covered — literally. This is our modesty poncho, which you'll be given at the door."
Abigail Witten, a junior at DCHS, said she was initially "really upset" by the idea of the ponchos.
"I felt it made too quick a judgment of our character and made the assumption that we would all show up in violation of the (dress code) policy," Witten, 16, told TODAY Style in an email. "I thought it was also unfair to certain girls, as most dresses made available by the fashion industry do not allow them to fit their body types without them being in violation of the dress code."
Other students mocked the "modesty ponchos" on Twitter.
After the ponchos went viral, the school clarified that they will not be passed out to students at prom.
"Our intention with displaying the poncho was never to make students feel uncomfortable, but to remind all students and parents of our formal prom dress policy, which has not changed for several years," school principal Eric Haley said in a letter to parents. (The Archdiocese of Detroit shared the letter with TODAY on the school's behalf.)
"To be clear: The poncho will not be passed out at prom," Haley said. "It was on display to proactively remind students of our dress code policies and eliminate any confusion prior to this special event. We recognize that it has done the opposite for some members of our community and draws away from our goal of having students adhere to the dress code policy."
Haley urged students to take their own measures to adhere to the school's formal dance dress code.
"We encourage our students to tailor their outfits or provide their own wraps or shawls that would meet our requirements," he said in the letter. "If necessary, we may also provide wraps and shawls, as we have done at school functions for many years."
In a separate letter to students and parents, school administrators responded to the media coverage surrounding the modesty ponchos.
"This evening the local news may air a segment regarding our formal dress policy for prom," the letter reads in part. "We view this as an opportunity to proclaim the counter-cultural value of modesty. We are a Catholic school committed to the faith formation of the young people entrusted to our care."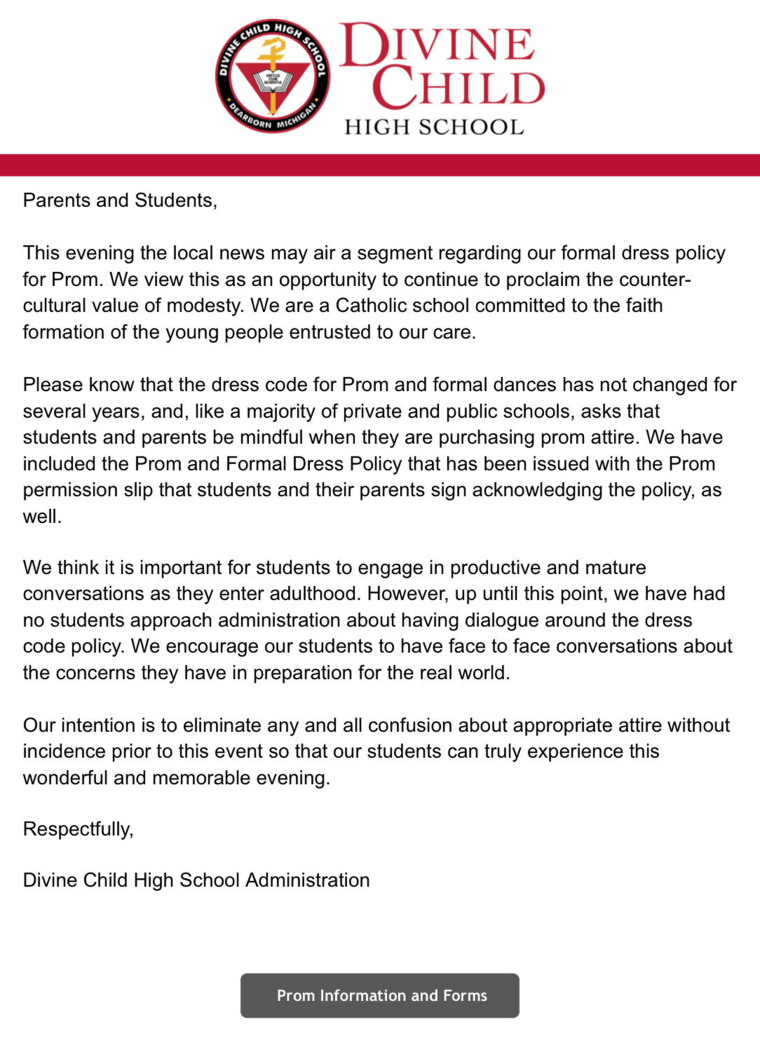 While some DCHS students have vocally protested the idea of "modesty ponchos," others feel differently, Witten said.
"I cannot attest to my fellow classmates' opinions," she told TODAY. "However, the school appears to be split 50-50."
But some of the most inflammatory comments on the issue have actually come from strangers on social media, Witten said.
"What bothers me most has been the public reaction," she told TODAY. "The assumptions being made are that we are upset that we cannot wear 'trashy' or 'slutty' dresses. This is not true. Myself and my classmates are being called inappropriate names and are being sexualized by strangers for wanting to wear reasonable dresses.
"In the age of #MeToo," she went on, "it is disappointing that many in the public view us as sex objects instead of responsible young women."
Witten also said that after speaking more with school administrators, she does not think they intended to degrade women with the poncho policy — even though that's the message many students took away, she said.
"I think as a Catholic community, Divine Child aims to foster a morally righteous atmosphere," she said. "However, in making the modesty poncho, Divine Child strayed from this message. The intentions might not have necessarily been to body shame or embarrass students, but that is the message that they sent. They are now working to reverse the damage they have done to students."