What do pink bubblegum, blue toothpaste and emerald green moss have in common?
If you're planning a visit to a Disney park, these elements could make an interesting backdrop for your next vacation photo. Fans of Disney parks who post photos of their outfits, Mickey Mouse ears and Disney adventures on their Instagram accounts have been flocking to various walls around the theme parks to snap colorful photos for the last few years.
There's the Bubblegum Wall, found outside the Spaceship Earth ride at Epcot, the Purple Wall in Tomorrowland at Magic Kingdom and the Fichwa Fellow Wall, which shows a painted Mickey Mouse along with the Swahili word for "hidden" near Harambe Market at Animal Kingdom. But the magic of Disney walls doesn't stop there.
Jill Kaplan, who posts about Disney-related fashion, makeup and beauty products on her Instagram account, @disneygirlbeauty, says as a Southern California girl, she grew up visiting both Disneyland and Walt Disney World. Still, the social media influencer only noticed wall photos popping up in her Instagram feed about two years ago. Once she saw others posting their wall photos, Kaplan went on a hunt for her own favorite photo spots.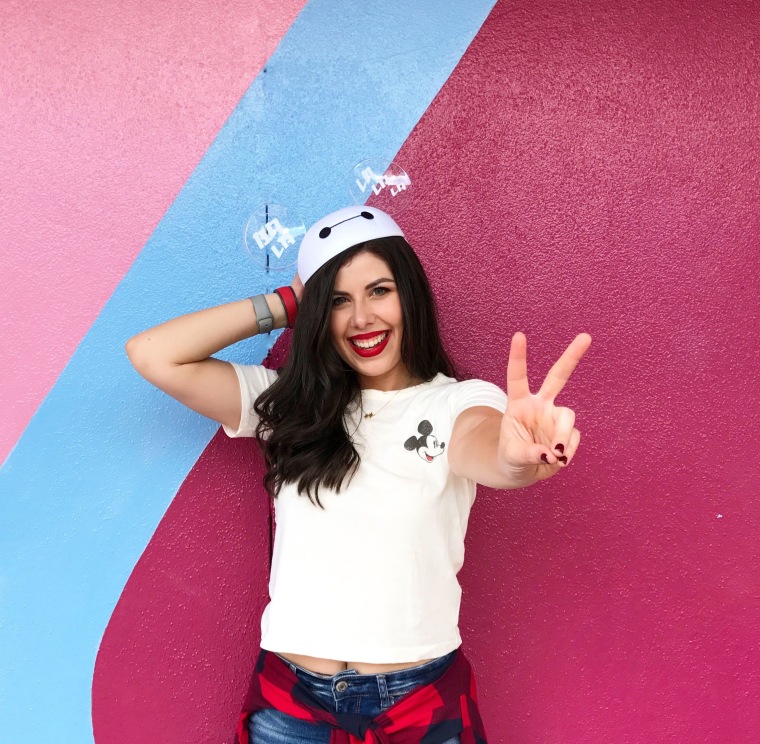 "When I started featuring my Disney outfits on my page, I investigated walls for myself — mostly in Mickey's Toontown at Disneyland since that's such a unique spot, but Walt Disney World has amazing colorful walls, too," Kaplan told TODAY Style. "A wall isn't busy like a crowd of people behind you, so it really lets you shine."
So when Kaplan and her fellow photo-posters take a photo in front of a Disney wall, what happens next?
In addition to posting on their own Instagram accounts, fans have created specific Instagram accounts for each designated wall. Disney goers simply message photos of themselves with the wall to the specific account and then wait for their photo to be posted.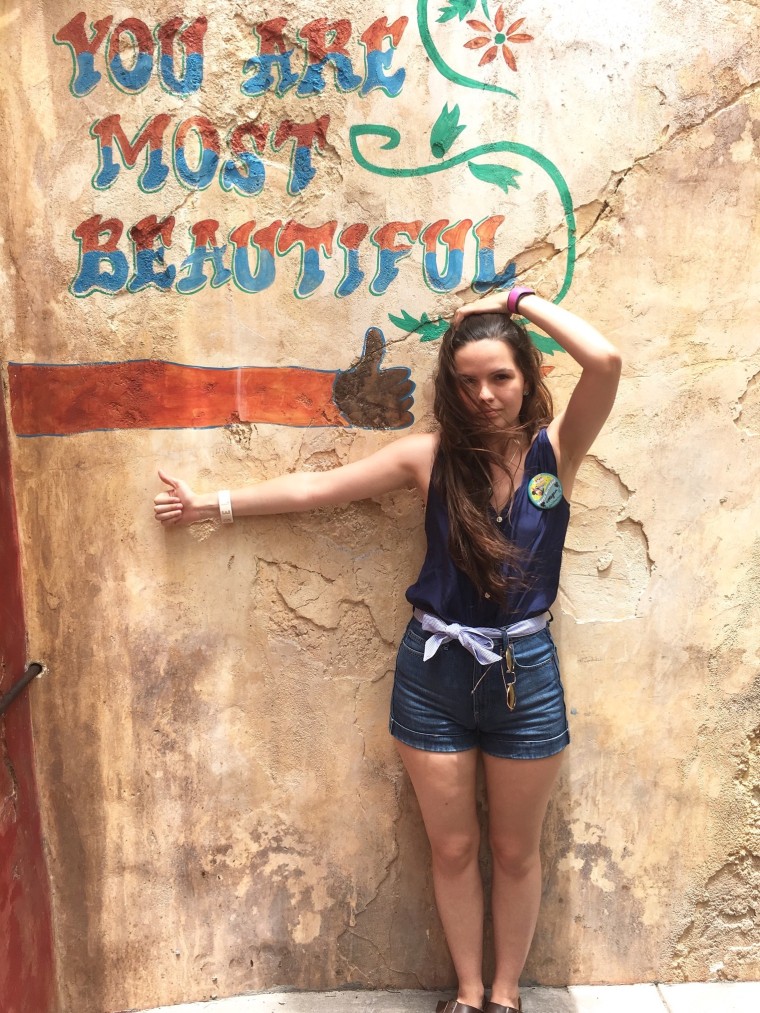 Megan Branch lives in Virginia, but is a Walt Disney World annual pass holder who maintains the Instagram account for the You Are Most Beautiful Wall, found at Animal Kingdom.
"When I was posting my other wall photos to Instagram, I noticed the You Are Most Beautiful Wall didn't have an account," said Branch, explaining that since the wall was her favorite of the whole trip, she decided to start an Instagram where other fans could submit their photos.
In just over a year, Branch has received photo submissions from 600 different Disney guests who have taken a photo with "her wall."
Florida healthcare administrator Gillian Clopton runs a relatively new Instagram account for the Figment Wall, found inside the Journey Into Imagination ride at Epcot.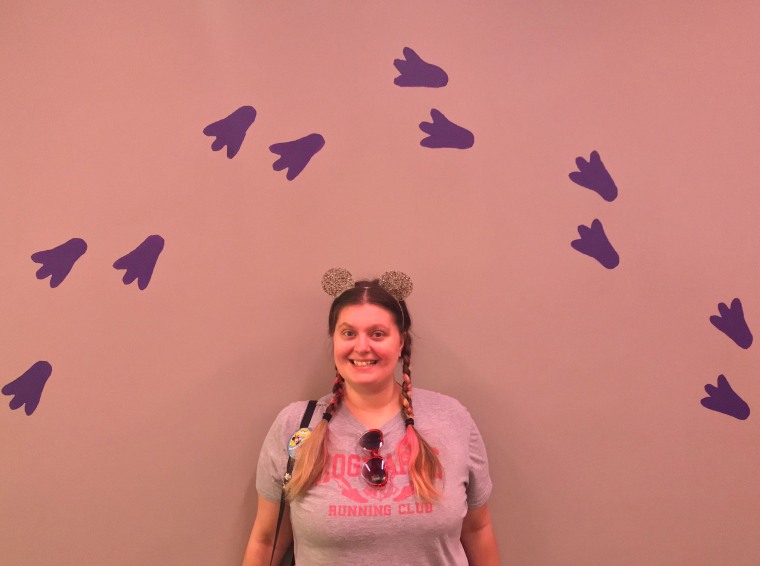 "The walls are a fun way for Disney fans to connect with each other, both online and in person," said Clopton. "I receive several submissions a week — everyone who comes across the wall just loves it. The purple footprints that Figment left behind are so fun to look at and perfectly represent his mischievous nature which is the heart of the entire attraction."
While neither Walt Disney World or Disneyland responded to TODAY's request for a comment on the walls, a post to the Disney Parks Blog calls the walls "unofficial fan-favorite photo locations" that are "a growing trend on Twitter and Instagram."
And it's not always walls that get attention at Disney — Rachel Smith, a college student in Tennessee, maintains the Instagram account for the Magic Kingdom Casting Agency Door, located on Main Street USA in Magic Kingdom. Smith says in addition to making great photo backgrounds, the walls have another benefit — helping small Disney-inspired businesses promote their merchandise.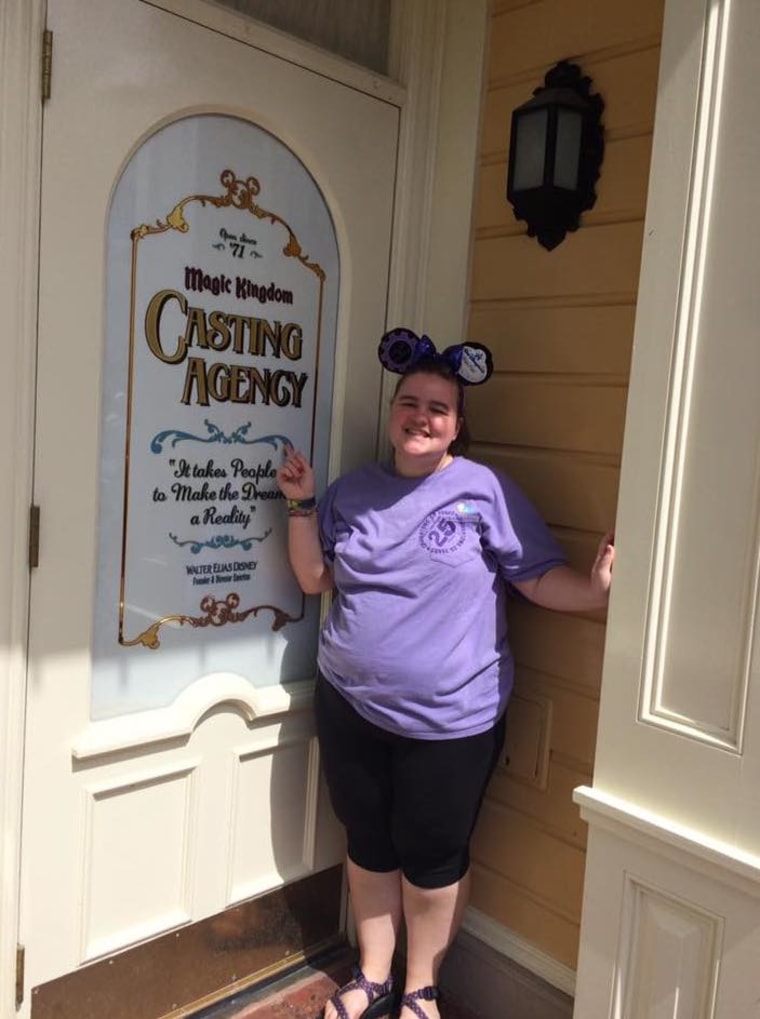 "The walls are great for the small Disney shops because they can get some cute photos of people at that wall with their merchandise," said Smith, who says she gets ten or more messages daily with photos taken at "her door."
For Kristen Lens, who owns Disney-inspired apparel company Grey Stuff & Co. with her husband, James, the walls make her feel like a Disney insider who is more closely connected with the Instagram community through her own @greystuffandco account.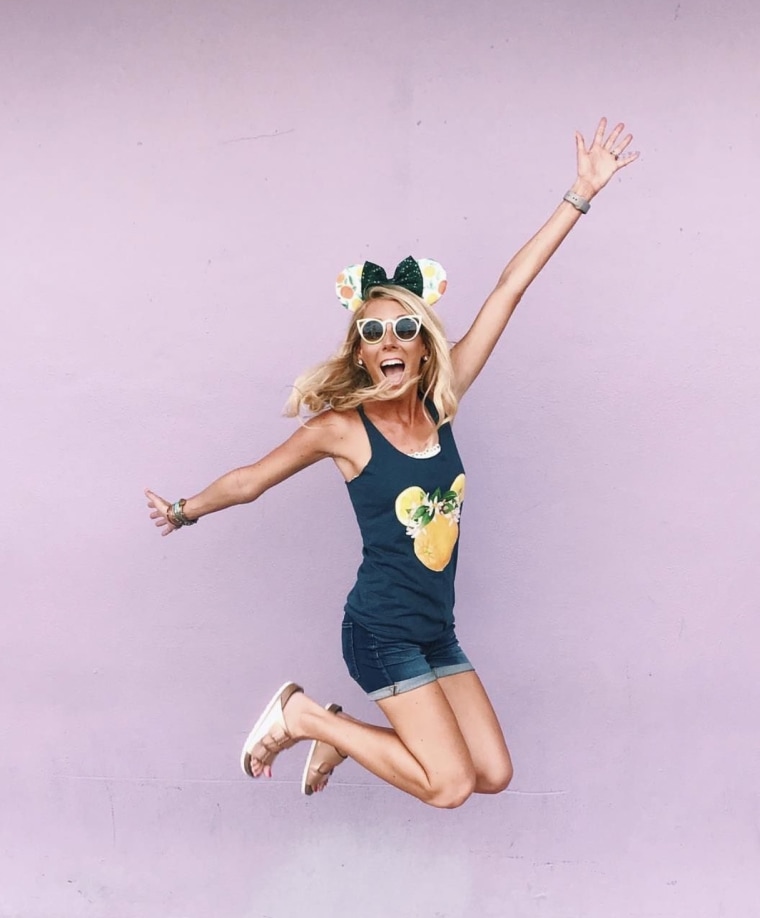 "Disney is usually very busy and finding a clean background is next to impossible," said Lens. "These walls are perfect for showing off those ears, shirts and other accessories — they let people know where you are while keeping the focus on you and your style."
Nicole White, a graphic designer who creates Disney-inspired merchandise at Happily Ever Tees and often posts wall photos on the @happilyevertees Instagram, agrees.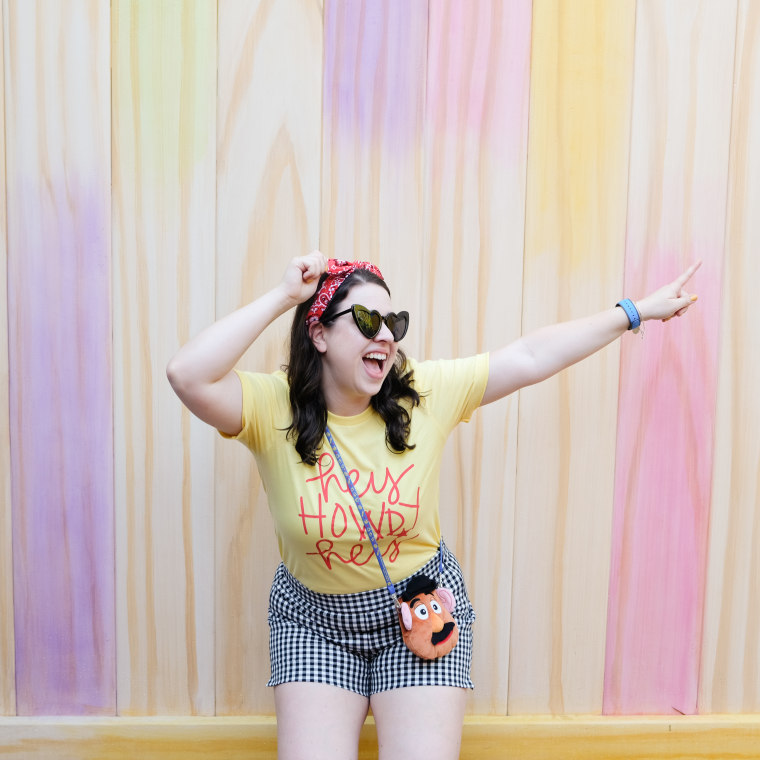 "It's just fun. Obviously there's other things to take pictures with in the parks, but you're getting a photo for your Instagram that has no people behind you," White explained. "A lot of people spend a lot of time thinking about what they're going to wear on their trip, so they're getting to showcase it with a fun wall behind them — and that looks really cute on your Insta feed."
If you're looking to brighten up your own Instagram feed by visiting one of the walls of Disney, here are some favorites in both Walt Disney World in Orlando, Florida, and Disneyland in Anaheim, California.
Walt Disney World/Magic Kingdom:
Walt Disney World/Epcot:
Walt Disney World/Hollywood Studios:
Walt Disney World/Animal Kingdom:
Disneyland:
Disney's California Adventure: