Here comes the bride, all dressed in white ... and blue? And pink? And yellow? And orange?!
Yep, you read that correctly.
Gone are the days of an all-white wedding gown — multicolored, dip-dyed and ombré wedding dresses are the latest bridal trend to emerge on sites like Tumblr and Pinterest, and the options are not only gorgeous, but endless. Whether it's a swirl of warm and cool color palettes, monochromatic ombré, your favorite color or even a combination of sorts, you can now rock your own personal rainbow down the aisle.
The good news? There are plenty of easy DIY tutorials if you're looking to add your own personal touch by hand — all you need to do is crank out the baking soda, salt and fabric dye of your choice, and then go to town.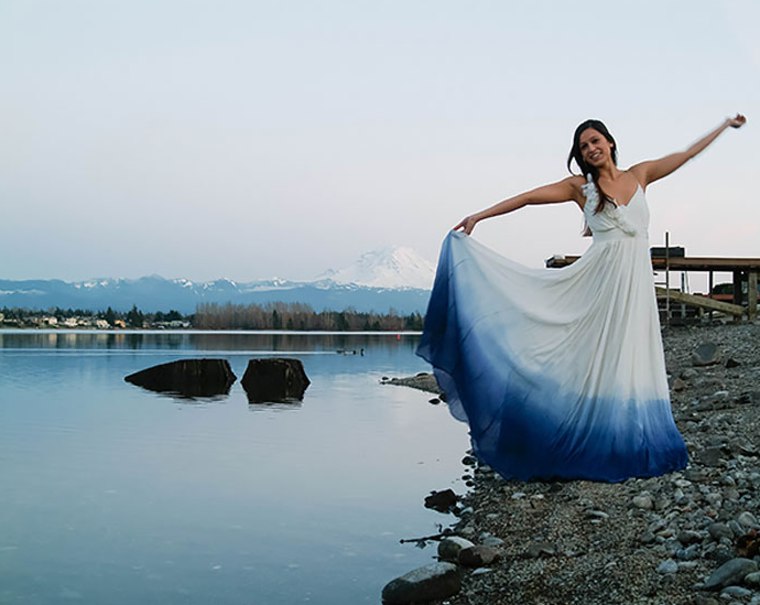 Or, if you're feeling a little bit less hands-on, have no fear: Some artists and designers actually offer customized dip-dying services for the alternative bride, because wedding inspiration has been taken to a whole new level this year, and anything is possible.
RELATED: Bride dons grandmother's wedding dress in magical engagement photos
Here's a roundup of some of the most gush-worthy dip-dyed and ombré wedding gowns to make all of your Technicolor dreams come true.
1. This fiery dress was actually airbrushed to create the appearance of dip-dye, according to artist and bride Taylor Ann Linko.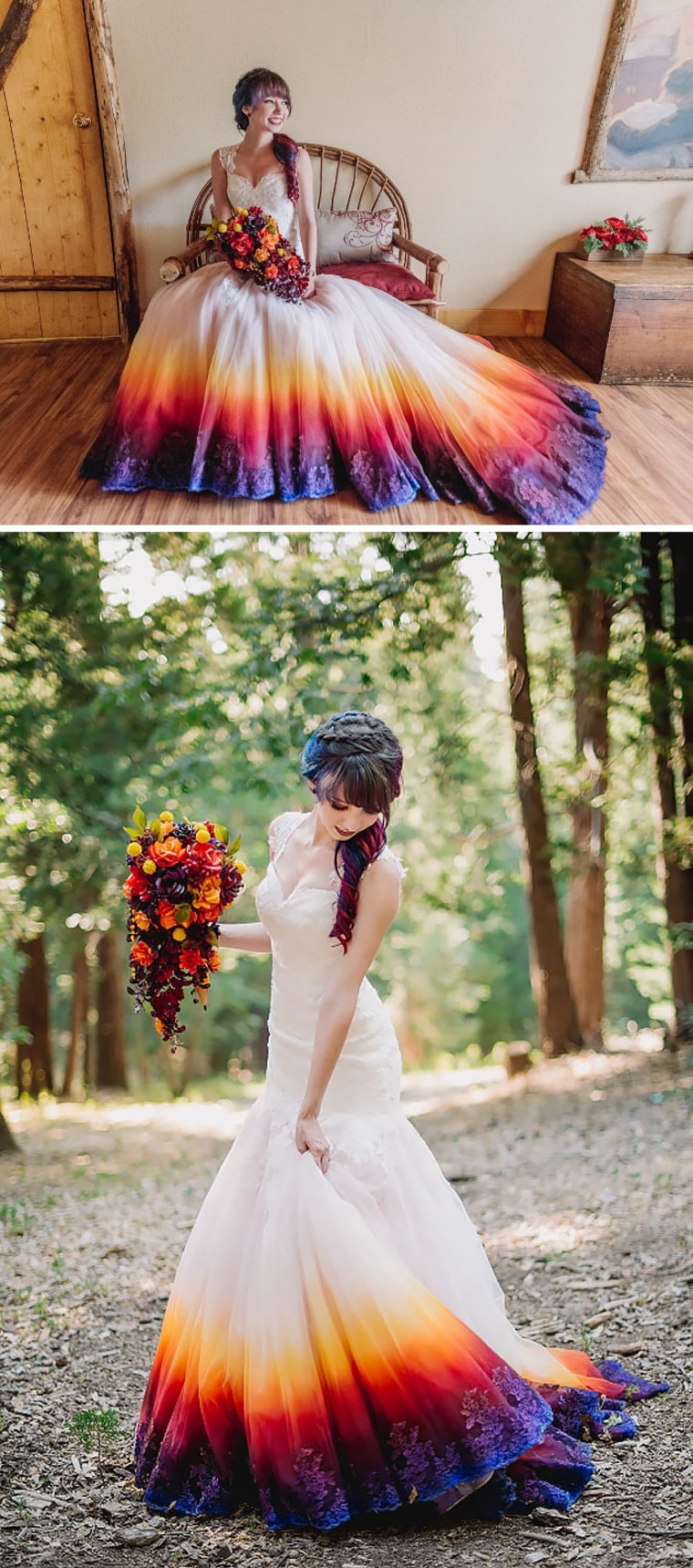 After stitching lace flowers to the bottom of her gown, Linko attempted to use fabric dye, but it wasn't working well with the material of her dress. That's when she says she turned to airbrushing to create the same effect, going with a sunset-color palette to complement her outdoor venue.
"I can be very shy, especially when in the spotlight," she told TODAY. "But something about wearing that dress made me feel confident and bold.
"In the end, I'm glad I made my wedding dress as artistic as I am."
Lucky for us, Linko takes custom orders, so you can have the same burst of color on your special day, too.
2. Lucy Scragg, a bridal designer from the U.K., created this blue ombré dress by hand. She told TODAY that she was bored of seeing the same old white wedding gown and wanted to "shake things up a bit." That's when she turned to the dip-dye trend, but notes that the process takes great precision.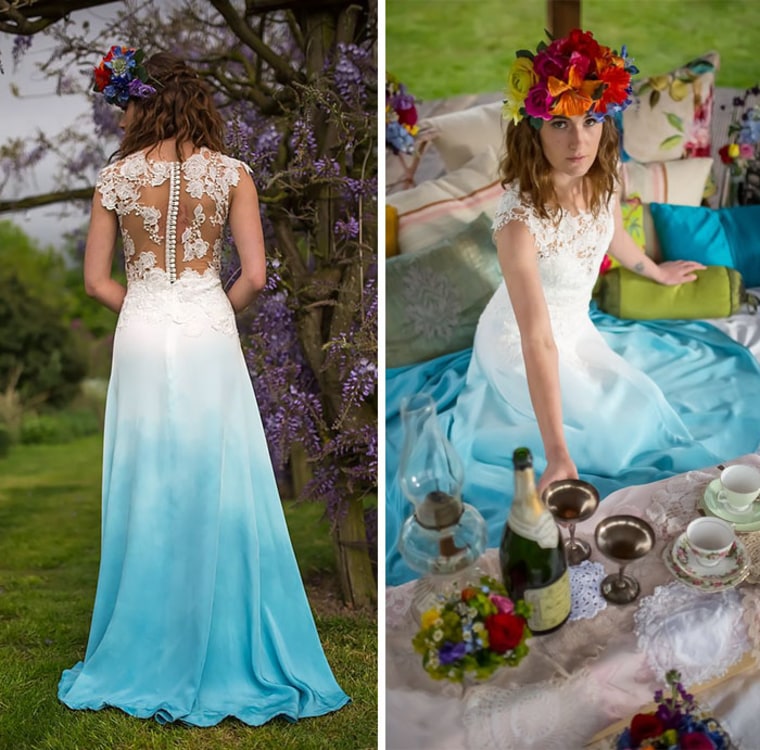 "I test to ensure correct color intensity, shade, amount of fading and graduation of the dye," she said.
As for her creation, Scragg considers her blue dip-dye gown to be one of her favorites, calling it "the most exciting dress" in her handmade collection thus far.
"The thing I love most about the dress is how it moves. The blue fabric ripples and flows almost like water," she told TODAY. "It adds beauty, excitement and creativity to the dress."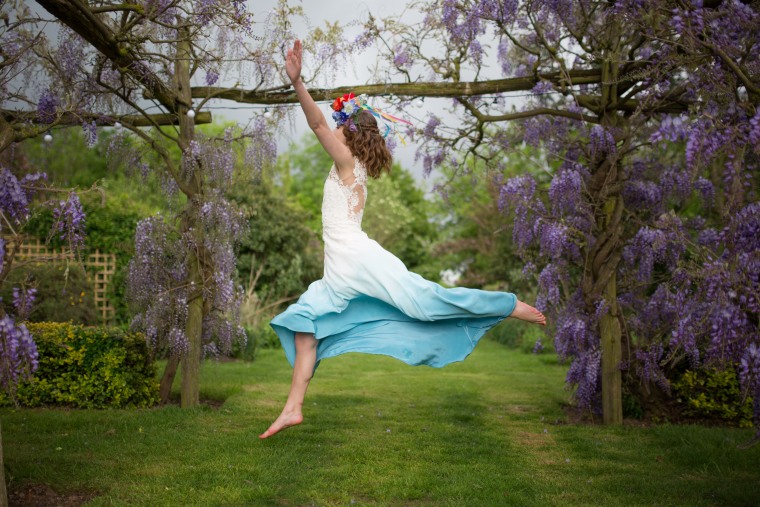 She feels it's time for brides to start expressing themselves, even if that means sacrificing tradition.
"Some brides nowadays want their day to be bright, colorful and to represent their own distinctive style," she said. "I love the fact I am able to fulfill their wishes."
Have a dream dress in mind? Scragg also takes custom orders!
RELATED: The 10 wedding dresses you must see from Bridal Fashion Week
3. The soft pink on this gown is taking us all the way back to those ballet lessons from childhood. This ombré tulle dress is custom made by Cleo and Clementine and looks like it's straight out of scene from the Nutcracker. You can find it on Etsy, but hurry, there's only one left!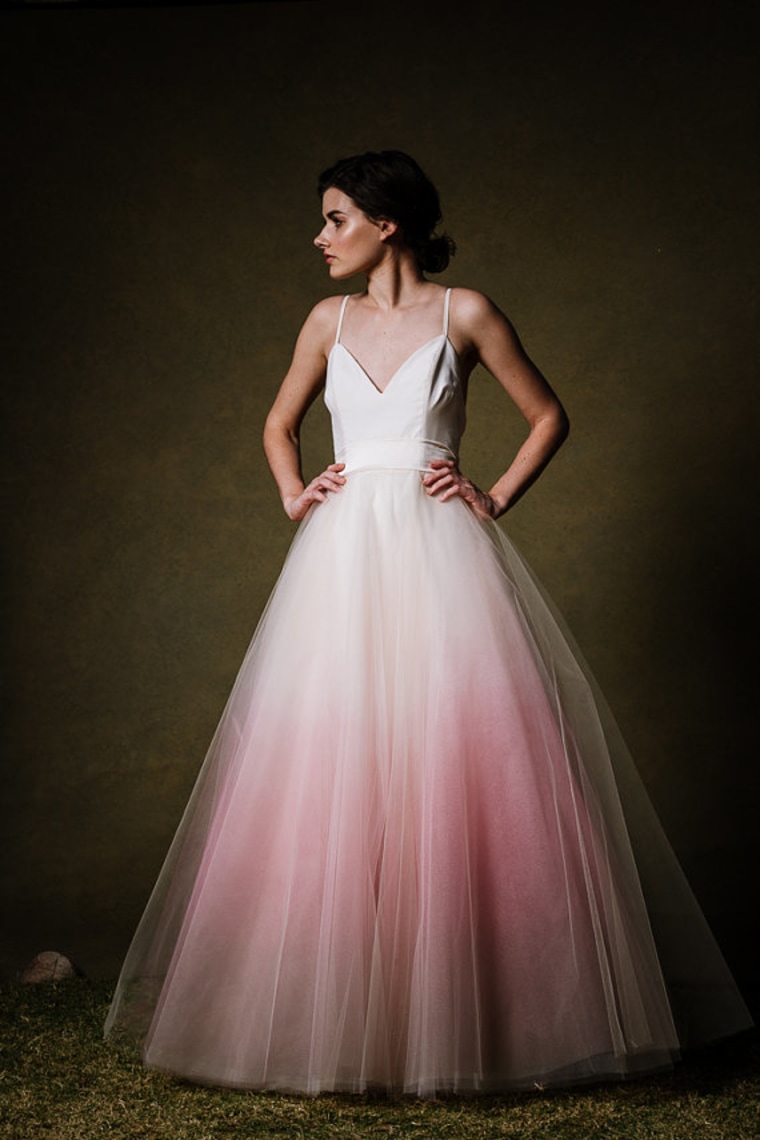 4. Who says you can't make all of your mermaid dreams come true IRL? For this photo shoot, the designer (who also happens to be modeling the dress in this photo) chose a perfectly paired turquoise fabric dye to mimic Ariel and Prince Eric's storybook romance in "The Little Mermaid." We think Sebastian would approve.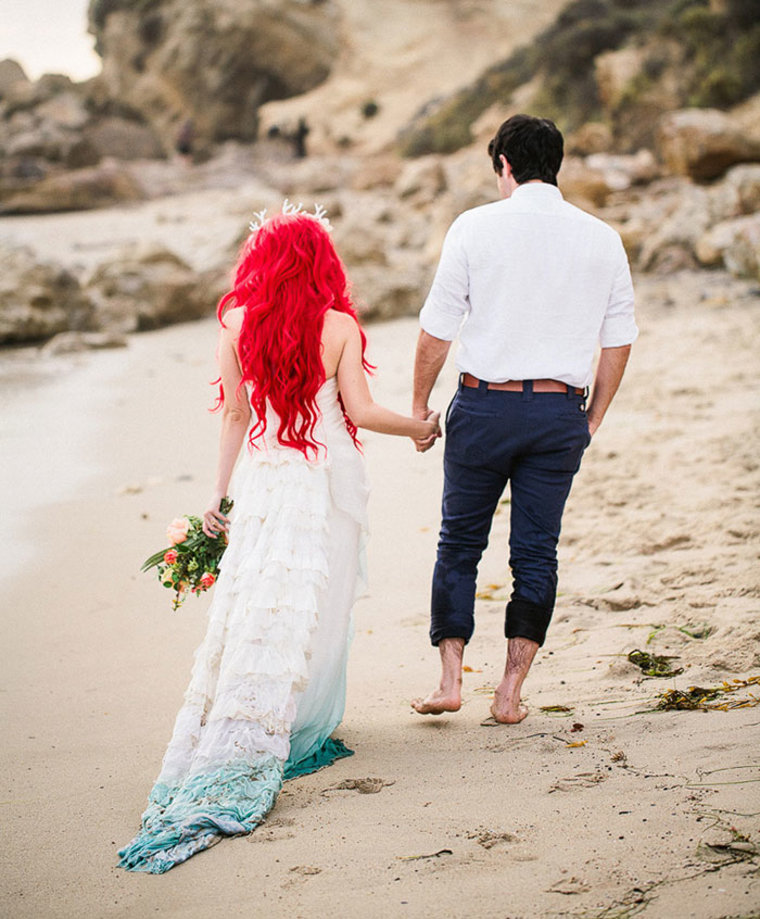 RELATEd: Toilet paper wedding dresses up the ante with feathers, flower crowns and more
5. To continue the Disney princess trend, this dress is giving us the Cinderella feels with just a hint of baby blue in the full skirt to make it all the more magical. Swoon!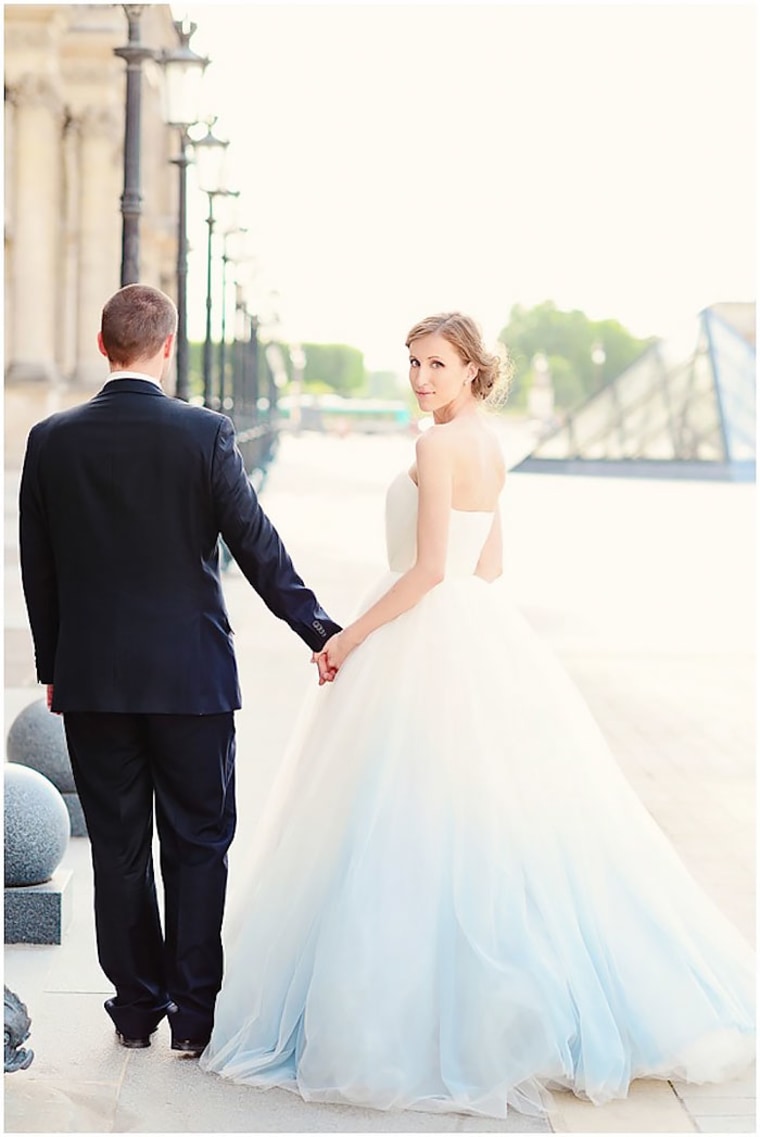 6. This dip-dyed dress adds a little bit more intensity to the look, and we love how mesmerizing the saturated watercolor blend is.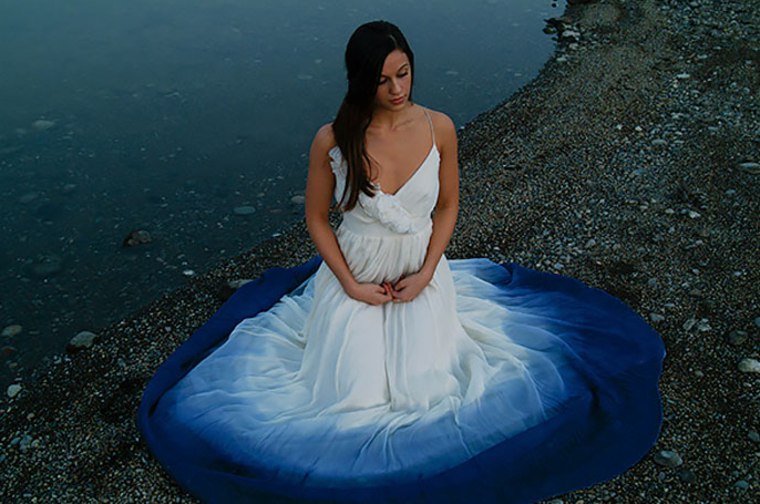 RELATED: Cake couture! You won't believe the details on this edible wedding dress
7. This dress has the perfect pink peekaboo underneath its grand skirt, adding a sweet surprise to an already dreamy gown.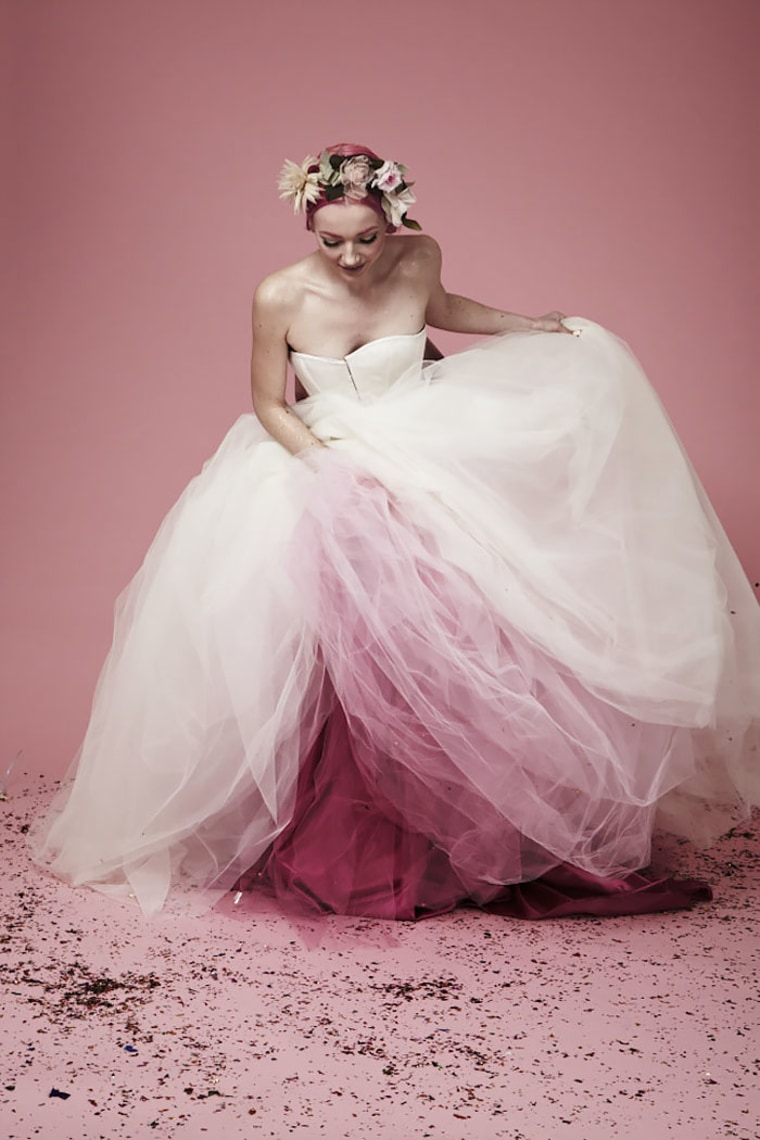 8. Last but certainly not least, this photo actually dates back to 2012, and was taken on top of a maritime museum in Estonia. The series of wedding photos is adorably charming, and the bride's yellow deep-dyed dress adds a soft, sunny touch that perfectly accents the garden backdrop.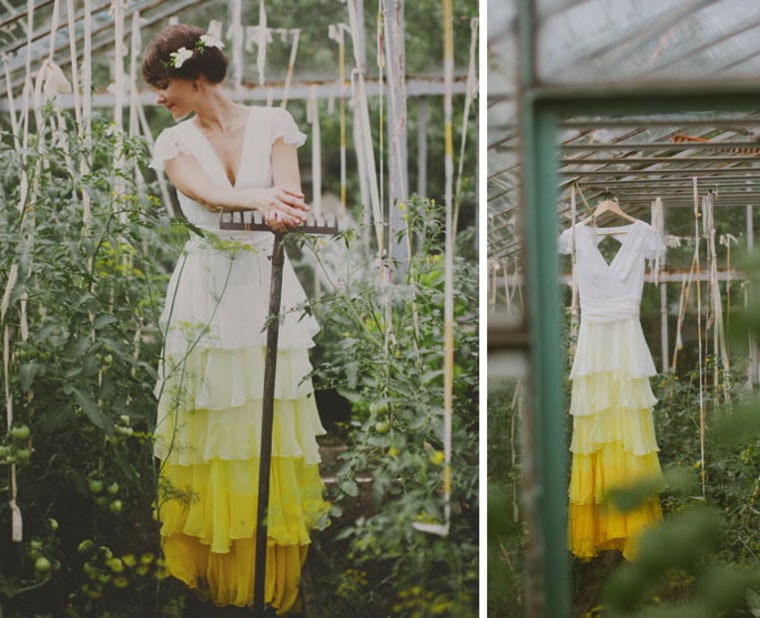 The busy summer wedding season may be coming to an end, but with all the gorgeous colors that Mother Nature has to offer in the fall, why not let your wedding dress emulate the new season?