British designer Vivienne Westwood showcased more than her fashion designs at London Fashion Week on Sunday by sporting a Julian Assange T-shirt in support of the WikiLeaks founder. British designer Westwood selected a T-shirt emblazoned with her face and the words "I am Julian Assange" to wear at her Red Label fashion show, which sent models in ribbed, woolen dresses striding down the halls of London's Saatchi Gallery.
Elsewhere androgynous designs, sheepskin and silk dominated the catwalks at the five-day fashion week.
Westwood, a leading name on the London leg of the international fashion circuit, called Assange a "hero" and said she had raised 3,000 pounds ($4,700)for him through selling the T-shirts.
"I'm a big supporter of Julian Assange," Westwood told Reuters. "He's an incredible hero because he exposes the lies of the war mafia people."
"I love people who stick their necks out," she said.
Assange incensed the United States and its allies by using WikiLeaks to leak hundreds of thousands of secret U.S. diplomatic and military cables in 2010
Assange has been holed up in Ecuador's embassy in London since June to avoid extradition from Britain to Sweden to face allegations of rape and sexual assault. He denies wrongdoing.
Over the years, designers have used London Fashion Week to make political statements, taking advantage of the international audience to garner maximum publicity for their causes.
Buyers from 39 different countries are attending and the British Fashion Council estimates orders of more than 100 million pounds are placed in London Fashion Week each season.
The direct value of the British fashion industry to Britain's $2.5 trillion economy is 21 billion pounds ($32.60 billion), the council said.
Music boomed through the white-washed corridors, where Westwood teamed purples, teals and neutral tones for her flowing skirts, simple knitwear and zebra print coats.
Canadian rock star Bryan Adams, as well British socialite sisters Peaches and Pixie Geldof were on the guest list.
"She is an original ... there's no one like Vivienne," Adams told Reuters on the sidelines of the event.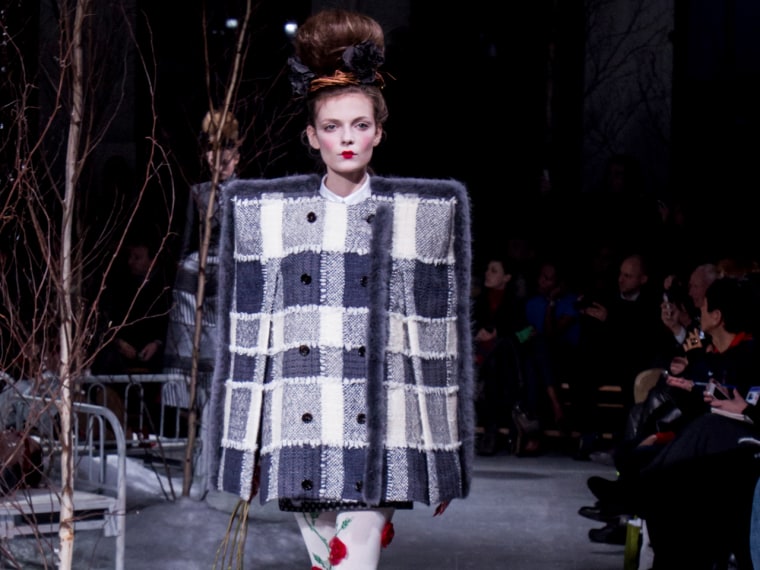 More:
Fashion designers share their favorite colors for women
Designer John Galliano's eccentric outfit courts controversy