It wasn't until she saw the models Carrie Hammer used for her New York fashion show last February that Karen Crespo cleared an emotional hurdle more challenging than any physical barrier she faces as a quadruple amputee.
Ever since losing her four limbs to a bacterial meningitis infection two years ago, Crespo had trouble accepting her new body. Until, that is, she saw a video of Hammer's show, which featured a New York Fashion Week first: A wheelchair-bound model on the runway.

"A light bulb went off. I had an a-ha moment," recalled Crespo, who lives in Los Angeles. "I thought, what a great idea to have this kind of disability awareness. I thought, this might be my purpose in life."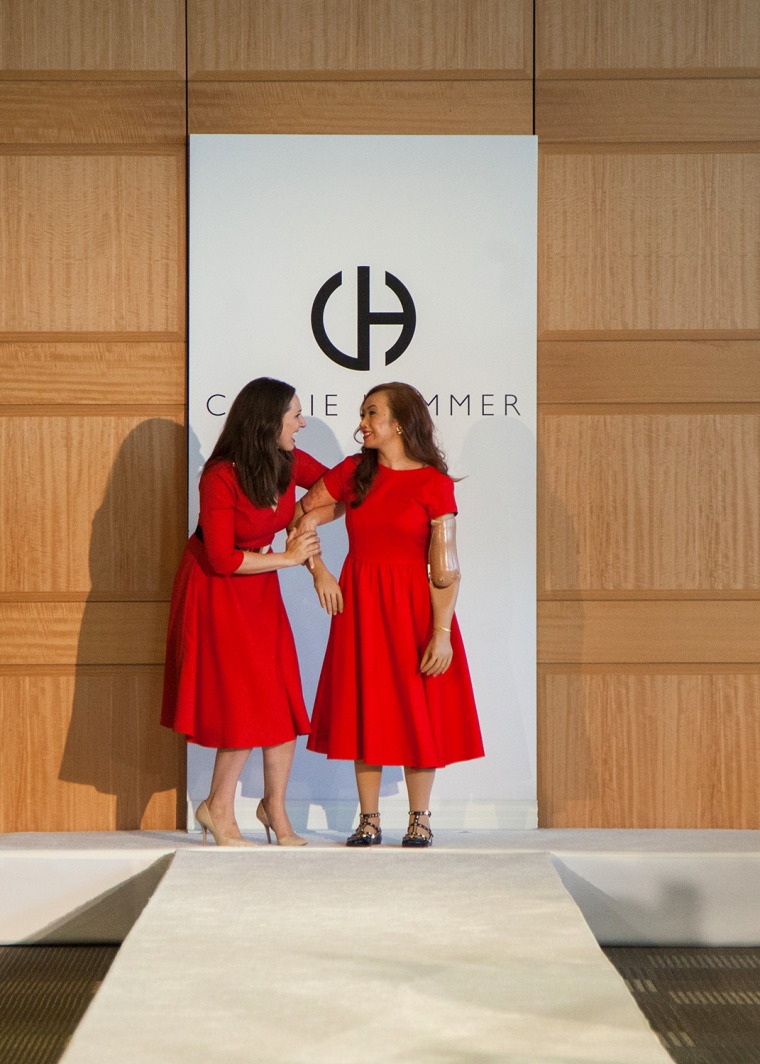 Just months later, Hammer invited Crespo, 31, to be among her next batch of "Role Models, Not Runway Models" at her second New York Fashion Week show on Friday.
"My models definitely way outshine my clothes — I don't mind!" Hammer said enthusiastically. That's because she wants her show to accentuate differences among individuals, she said.
"Beauty lies in our differences. There isn't one slim ideal beauty, but that's what fashion has become all about," she said. "My line is all about highlighting the beauty in the differences, and making sure that the women feel confident and beautiful in their individualities."
Hammer, a former advertising sales executive, designs her line of business clothing with real women in mind. Her customers are industry leaders, chief executives and other business professionals — and that's why she uses many real clients in her show.
That's how psychologist Danielle Sheypuk came to grace Hammer's runway show last February. She was among the friends and clients Hammer sought to model her line because she couldn't accept the idea of using mostly young professional models with body types that didn't reflect her clients.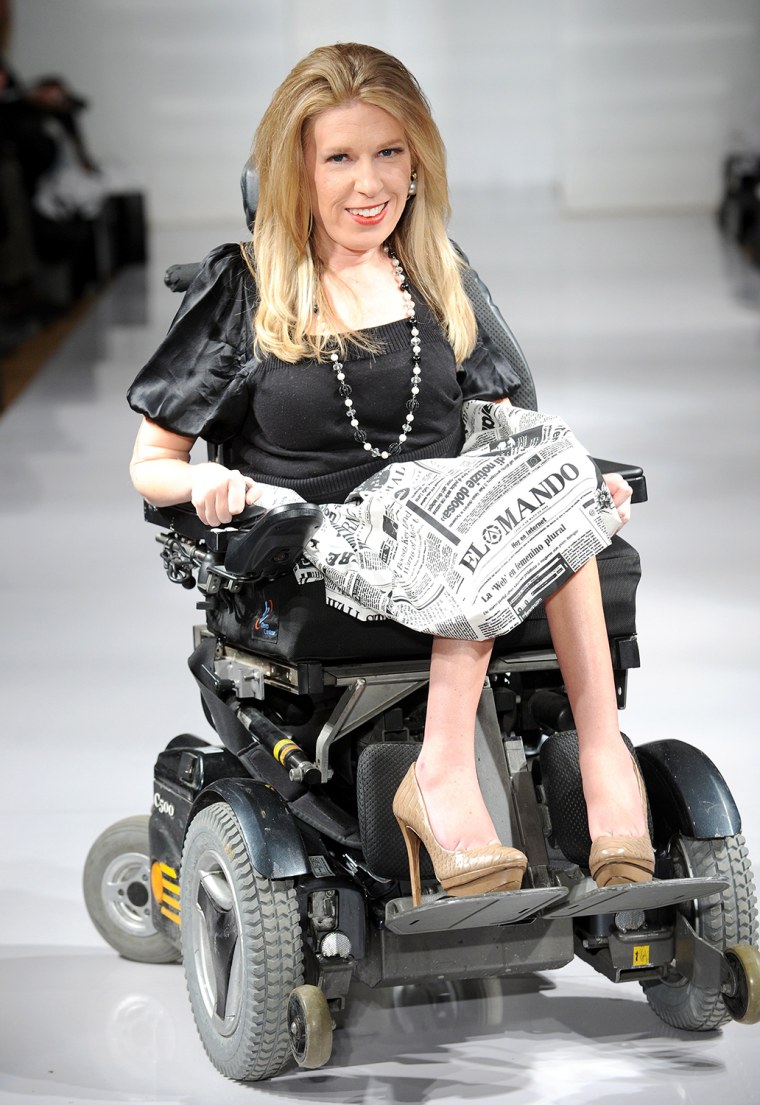 It was while watching a video of Sheypuk on the runway that Crespo reached a turning point. She quickly reached out to Hammer, sending the designer an email expressing her appreciation for including someone with a disability on the runway. That small act gave Crespo, who uses prosthetics, hope that she could be viewed again as beautiful, by others as well as herself.
"Before then, I was in a dark place where I was embarrassed about being an amputee," she said. "I was still in that transitioning phase of getting used to my new life. It was very hard."

Hammer said she "almost died" when she read Crespo's note. She was so moved by her words and appreciation that she started sobbing. She said she still cries every time she reads the note. Hammer wrote back and the two quickly developed a bond.
"The fact that she's going to be on the runway and serve as an inspiration for so many other women is so exciting for me, because Karen is an inspiration to me," Hammer told TODAY.com.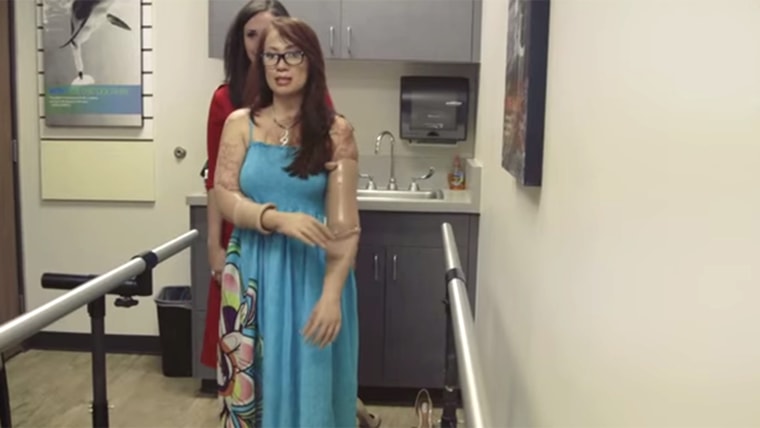 It was Hammer who helped get Crespo replacement prosthetics for the custom-made ones stolen off her front porch. Until then, Crespo had relied on basic ones she used only for aesthetic reasons after she unsuccessfully appealed to the robber through local media outlets for the return of the $80,000 set of high-tech prosthetic arms, which came in a box packed with about $20,000 worth of prosthetic supplies.
After Hammer reached out to the prosthetics company for assistance, Crespo got fitted for another set, which arrived with plenty of time before she left home this week for her first trip to New York for the fashion show.
Hammer designed Crespo's dress with Crespo specifically in mind: "The Karen" is an A-line, scoop-back, beneath-the-knee dress. It's also red, "because she and I bonded over the love of wearing red lipstick," the designer said.
In addition to Crespo, Hammer also invited a transgender women, a race car driver, a veteran and government workers to model her clothing at the fall show.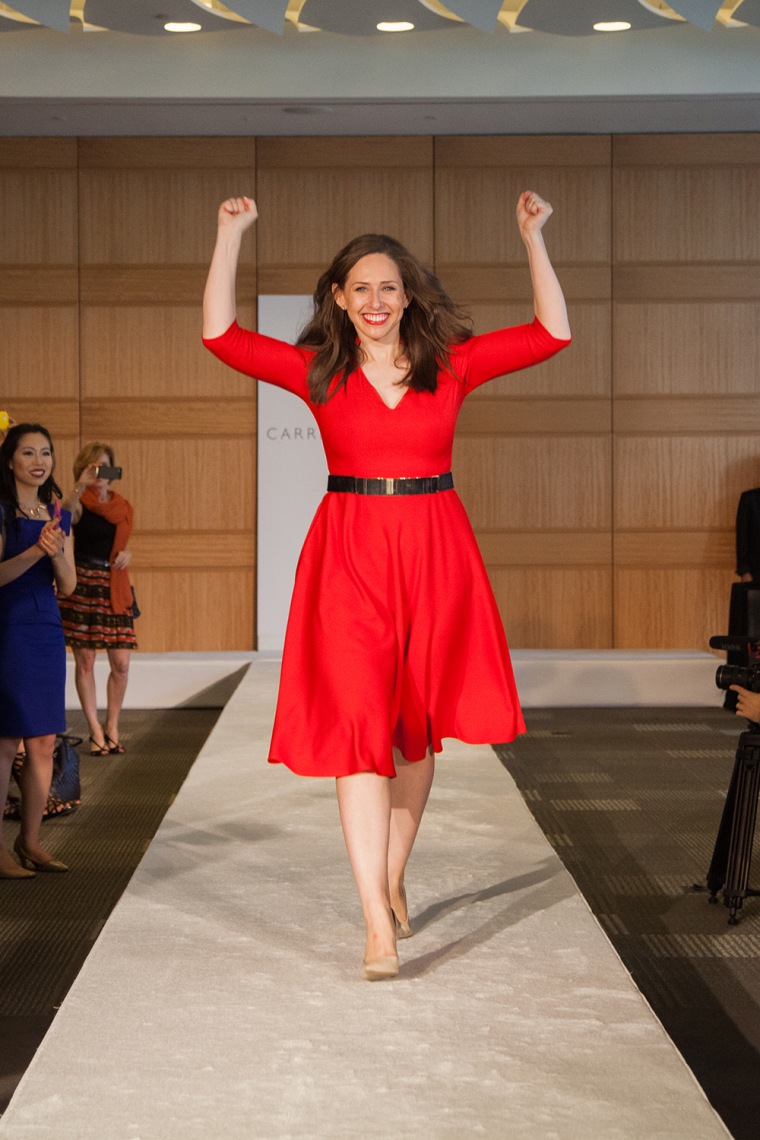 Crespo says the experience has been life-changing, "I have a totally different perspective on things," she told TODAY.com. "Maybe this is why everything happened to me. Maybe I'm supposed to inspire or make a difference in someone else's life, someone who has a disability, or maybe just someone who had a lot of self-doubt.
"I never thought in a million years I would be at New York Fashion Week, even as a spectator," she added. "And now I'm going to be a fashion role model. It's such a big deal for me."
Follow TODAY.com writer Eun Kyung Kim on Google+ or on Twitter.