Like any makeup artist, Jessica Ruiz prides herself on expertly applied eye shadow, glowing skin and the ability to transform a face and lift someone's confidence with cosmetics.
But to watch her work is like nothing else — Ruiz suffers from a condition called arthrogryposis, which affects the joints in her limbs, and so she gets around in a wheelchair and has limited use of her hands.
To apply makeup to clients, she holds the brush in between her teeth, stabilizing it with her tongue.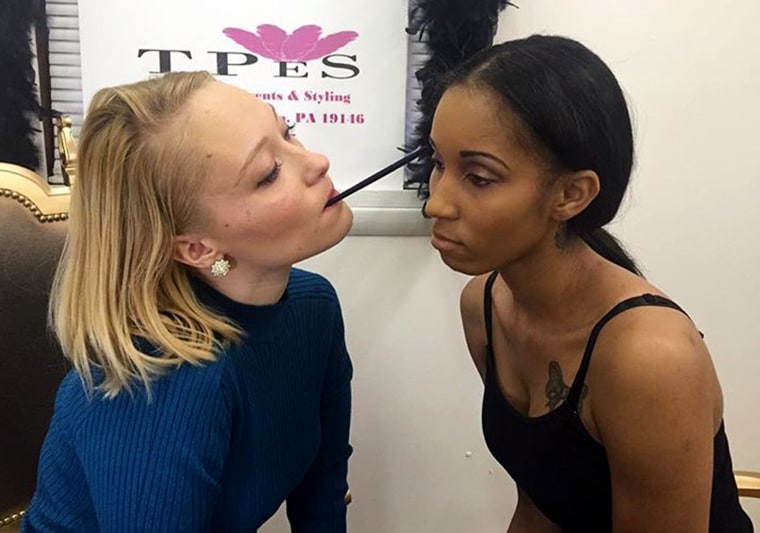 "At first, they're a little uncomfortable," Ruiz, of Philadelphia, told TODAY.com of the moment new clients discover her unusual technique. "But then they warm up really quickly, and they just want the experience!"
"A lot of times I won't let them know I do makeup with my mouth until I sit down and speak with them," she added. "I won't touch their face until we have a conversation. Trust is key with any makeup artist."
RELATED: Makeup artist Lisa Eldridge recreates 2,000 years of makeup history on YouTube
But Ruiz's journey hasn't been an easy one. The 26-year-old says she was turned down from cosmetology schools she applied to after high school, and initially struggled to find to work because of her condition.
"They denied me because of my disability and the way I apply makeup to my clients," she said. "They told me it was unsanitary, and that no one would want me that close to their face."
"I could probably talk to you for hours about all the disappointments and the hurdles," Ruiz added.
So the self-taught artist struck out on her own, blindly reaching out to designers and fashion shows to see if she could help.
Ruiz's biggest break yet came in October, when she worked for Philadelphia Small Business Fashion Week, after contacting founder Dawane Cromwell.
RELATED: Madeline Stuart, model with Down syndrome, will walk at NYFW
"I explained to him, 'Listen, I'm not just a makeup artist. I'm a disabled makeup artist, and this is how I do makeup,'" she said. "His reaction, surprisingly, was alright, that doesn't matter to me, come in and show me what you can do."
"That was the door I really needed," added Ruiz, who works under the name Dreamy Eyes Artistry.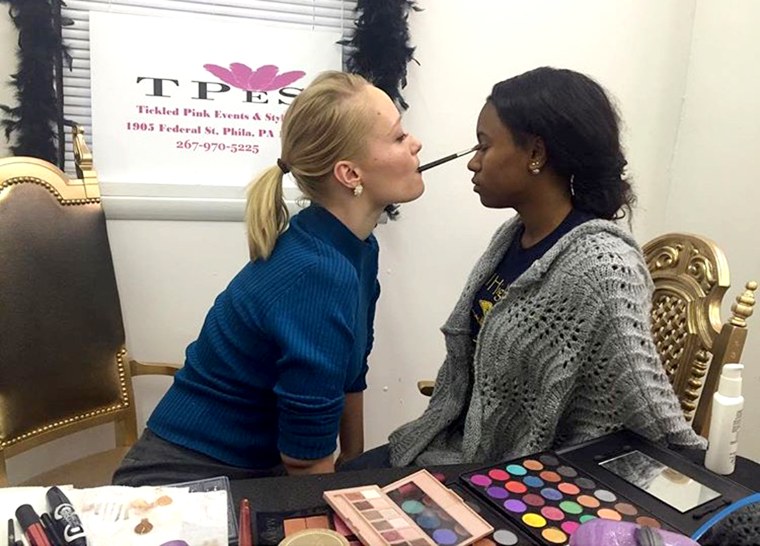 Cromwell told TODAY.com that if he hesitated at all, it was only to make sure the venue was handicapped-accessible, adding that she did a "fabulous job" that week, doing makeup for more than 20 models.
"I was actually excited to witness it for myself, and the makeup room was the first place I visited when I walked into the venue," he said.
RELATED: Kylie Jenner's wheelchair photo for Interview magazine cover stirs backlash
Cromwell hired Ruiz to come back as a lead makeup artist next year, for both the small business fashion week as well as Philadelphia Kids Fashion Week, which he also runs. In the meantime, she's working on building her client list, doing about three to four appointments a week, and attending casting calls for other fashion shows.
"As the holidays approach, the calendar is filling up really quickly," she said. "I'm actually getting a little bit nervous, to be honest."
Ultimately, Ruiz would love to open up her own glam bar where customers can get their hair, nails and makeup done. And because she runs through brushes more quickly than a traditional makeup artist, she wants to launch her own brush line, too, as well as a makeup brand. She's set up a GoFundMe page to help her get started.
"When people see the brushes that are all bit up, they're like, uh-oh, what is this," Ruiz said of why it's important to keep her supplies looking neat. "Presentation is the most important thing to me."
To accomplish her dreams, Ruiz knows there's still lots of work to be done, and she's OK with that: "It's been an amazing journey, and it's just begun."