Welcome to our new series for TODAY Shopping: Deal of the Day!
Every day at 10 a.m. EST, we will reveal an exclusive deal of 20 percent off or more. This deal can only be found on our Shop TODAY Facebook page and will run for just 24 hours. There will be a new deal every day, so be sure to act fast!
Also, be sure to like the new Facbook page, so you can be the first to know about deals that you can't get anywhere else on the internet!
Please click on the website links to be directed to the offers from the companies featured, and be sure to read the details. Conditions and restrictions may apply. If you have any specific questions about the details, the products' websites or inventory, please check with the retailers making the offers. You can find their contact information on the sites.
Deal of the Day: December 11
This necklace is normally $250, but Amrita Singh has generously agreed to give an 80 percent discount to TODAY readers!
Use the code TODAYSTEAL to get the discount!
We love Amrita Singh's Hamptons Star bib for more reasons than we can count. For starters, it's reversible with gunmetal on one side and a sparkling black on the other. For $40, you are getting two different necklaces in one! It's also the secret to turning any outfit into a sophisticated fashion statement. Wear it with your favorite sweater and black pants for your office holiday party, or layer it with a simple dress for date night. The look is so versatile! We bet this necklace will become your new go-to for all special occasions.
Amrita Singh started her namesake fine jewelry company in 2003. Based in New York City, Singh infuses fashion-forward pieces with the most beautiful traditions of Indian jewelry. Her pieces have appeared in Vogue, Cosmopolitan, Marie Claire, O Magazine and more.The Hamptons Star bib has been seen on both stars of the Real Housewives and Modern Family.
Plus, this gorgeous necklace could make a beautiful gift for mom or even your most fashionable friend.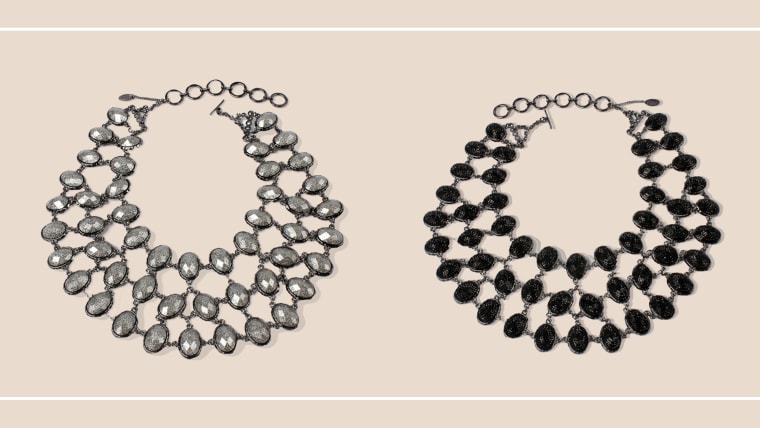 For more gifts, check out our gift guide for mom, grandma, fashionistas and the beauty-obsessed.