Daylight saving time is finally here to mark our slow and steady march toward spring. The only downside? Losing an hour of all-too precious sleep. Not to worry — we've gathered nine easy beauty tricks to help you fake fresh-faced restfulness.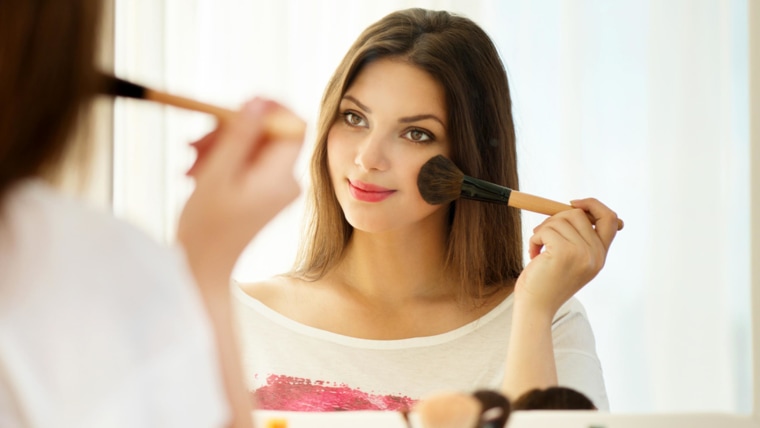 1. Go easy on the foundation:
Always remember that less is more when it comes to using foundation. Celebrity makeup artist Adora Tokyo of Borghese makeup suggests using a creamy formula with light-reflecting particles to keep skin from looking dull. Apply sparingly with your fingers to let it melt into the skin and allow your natural tone to shine through.
2. Fix dark circles:
Here's a quick fix for dark circles: Blend highlighter with your eye cream before applying, suggests Tokyo. The eye cream addresses the fine lines while the highlighter adds a necessary dose of color correction.
If you're feeling really bold, you can always try the red lipstick trick featured on TODAY.
3. Reduce puffiness:
Puffy, swollen eyes are the surest way to look tired and run down. To fix, give your eyes a quick chill that will shrink capillaries and stimulate lymphatic drainage, says Dr. Thomas Sterry, a New York City-based plastic surgeon and exercise physiologist. Pick your poison whether it be cold cucumber slices, an eye gel pack from the fridge or even a bag of frozen peas. Throw it on your eyes for about five minutes while you make a morning cup of coffee and then go on your way!
4. Get moving:
There's hardly anything worse than waking up bloated. So, what's the solution? Get moving! "Vessels in the lymphatic system lack their own muscles, so the body relies on external movement and breathing to keep fluids from pooling in areas like under the eyes," Sterry said. For a quick fix, try doing 10 jumping jacks followed by 10 deep breaths.
5. Bronze away!
A lack of sleep can make your skin appear sallow and yellow-ish in tone. To automatically brighten skin, be choose a bronzer that's only slightly warmer than your skin tone. To keep it looking natural, "apply on areas where the sun would naturally hit, like the forehead, cheeks and bridge of the nose," said celebrity makeup artist Mally Roncal.
6. Stay hydrated:
Splashing your face with very cold water sounds rough in theory, but there's nothing more effective when it comes to waking up skin. "Lack of sleep interferes with proper blood flow to the skin, making the complexion sallow," said celebrity esthetician Renee Rouleau. "The cold water will give a quick boost of circulation to get your skin looking fresh."
As an extra pick-me-up, choose a skincare product that includes mint as an ingredient. Studies show that spearmint or peppermint can increase mental alertness and stimulate blood circulation to bring new nutrients to skin cells.
7. Build up the brow:
To fake a wide-eyed appearance, build up your eyebrows with powder to form a soft and natural arch. This will make your eyes appear lifted and more awake, says Lori Leib, creative director of Bodyography cosmetics.
8. White out:
Trust us on this one: white eyeliner can save the day! Applying a white pencil liner to the bottom water line and inner corner to lift and separate your eyes, "like a great push up bra!" Leib said. The white liner also makes the whites of your eyes appear larger.
9. Start sleeping:
It seems obvious, but the best way to look well rested is to actually ... get some rest. The problem is actually getting sleep! "I'm all about VitaFusion's chewable melatonin. It's a late-night gummy candy mini-dessert and knocks me out within an hour!" said Amber Katz of beauty blog Rouge18.com.
This story was originally published on March 7 at 11:23 a.m.