David's Bridal gave plenty of brides a near heart attack this morning.
The leading wedding dress retailer confirmed it has filed for reorganization under Chapter 11 of the United States Bankruptcy Code today, and left many brides wondering: What will happen to my dress?
The filing is part of a restructuring support agreement ("RSA") that will reduce the brand's debt by more than $400 million, according to a press release from the brand. It will also help the company significantly restructure its finances and support long-term growth goals.
The brand hopes that filing for Chapter 11 will allow them to stick around for many years to come, but in the meantime, current customers can rest assured that their dresses will arrive safe, sound and on time.
"For more than 60 years, David's has delivered beautiful, high-quality dresses and accessories for our customers' most special occasions, and the actions we are taking will enable us to build on that tradition," said Scott Key, chief executive officer of David's Bridal, in a statement sent to TODAY Style. "Our team is laser focused on providing brides and their families with the five-star service and experience they deserve and have come to expect from us."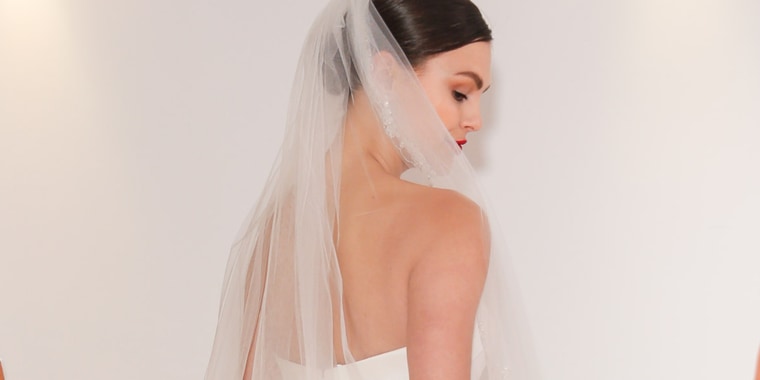 The court-supervised Chapter 11 reorganization is expected to be completed by early January. For now, customers can still make a bridal appointment and shop at more than 300 David's Bridal stores and online.
"Today's announcement is just the next step in our efforts to proactively secure David's Bridal for a long, successful future. We are implementing our consensual restructuring plan from a position of strength and, with the support of our lenders, noteholders and equity holders, the plan will allow us to reduce our debt significantly while continuing to run our business as usual. We will be able to move through the Court process very quickly, and in the end, we will be able to allocate even more of our resources towards making strategic investments in digital technologies and talent that will drive long-term growth and operational excellence at David's Bridal," Key wrote.
To help them along the way, David's Bridal has secured $60 million in new financing from its current-term loan lenders. The company has also filed several motions to ensure operations — employee wages and benefits, customer orders etc. — are supported during the restructuring.
Looks like you can keep those dreams of a David's Bridal dress alive for now, ladies!