It was an unseasonably warm Thursday on the TODAY plaza as we kicked off the first week of November. As a result, the plaza was packed with plenty of eager fans looking for a chance to get revamped by our Ambush Makeover team of celebrity hairstylist Louis Licari and fashionista Jill Martin along with their glam squad of Edin O'Sullivan, Arsen Gurgov, Adrian Sanchez, Ismael Rodriguez and Britani Nagle.
The first deserving lady our team spotted was Colleen Prescott. The mom of three girls was visiting New York City for the first time with her 12-year-old daughter Hannah. Colleen, who works as a nurse in a doctor's office, was ready to trade in her scrubs for a glammed up look.
Hannah's face said it all when she saw her mom. Her jaw quite literally dropped to the floor and she instantly got the biggest smile on her face.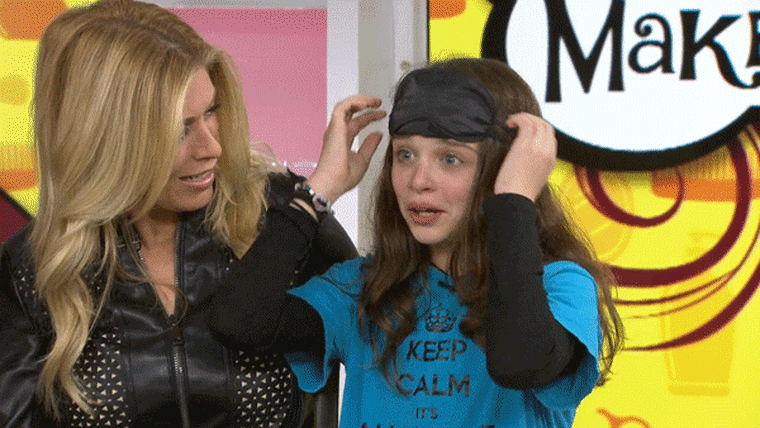 "Are you serious?!" said a very shocked Colleen when she saw her gorgeous self for the first time.
RELATED: 'She looks like a movie star': Daughter wowed by mom's Ambush Makeover
The second lovely lady for today's Ambush Makeover was Barbara Gill Bailey who after dealing with some heart problems was ready to let our team give her some much needed TLC. The stepmom to two children works hard to stay fit and take care of her health, but when it comes to her hair and makeup she could use a little assistance.
"She's gorgeous! I don't even know you," said Barbara's friend Linda upon seeing her. Linda was stunned.
"Wow!" said Barbara multiple times as she got a look of her new 'do. She loved it so much she had to keep making sure she was seeing things correctly.
RELATED: Husband moved to tears: Wife's Ambush Makeover 'takes me back 20 years'
It's safe to say these two ladies looked radiant thanks to our Ambush Makeover team and glam squad!