Is there such a thing as a cute, comfortable shoe?
We've got the good news: Yes! There are sandals, flats, and pumps that won't kill your feet, says Kirsten Borrink, who has reviewed more than 1,000 comfortable shoes since 2007 on her blog, barkingdogshoes.com.
"When I was first diagnosed with rheumatoid arthritis in the 1990s and needed to find a comfortable, supportive shoe that didn't look like my grandmother's orthopedic sandal, I had a very hard time!" Borrink told TODAY.com. "My choices were clunky tennis shoes or clogs. But now certain shoe companies realize women aren't willing to sacrifice comfort for style! By utilizing comfort technologies such as raised arch support, memory foam cushioning, roomier toe boxes and anatomical lasts, it's much easier to find a pretty shoe that won't leave your dogs barking at the end of the day."
Three cheers to that! Read on for some of TODAY.com and Borrink's favorites.

Flats
"The main rule here is simple: A comfortable flat should never be completely flat," reveals Borrink."Look for one with at least a half-inch heel or hidden wedge to prevent plantar fasciitis, heel pain caused by inflammation of the plantar fascia ligament that connects the heel bone to the toes. If you need arch support, look for a flat with a cushioned arch insert or more pronounced support. Soft leather uppers and a rounded toe box are important features if you have bunions or hammertoes."

French Sole 'Zeppa' flat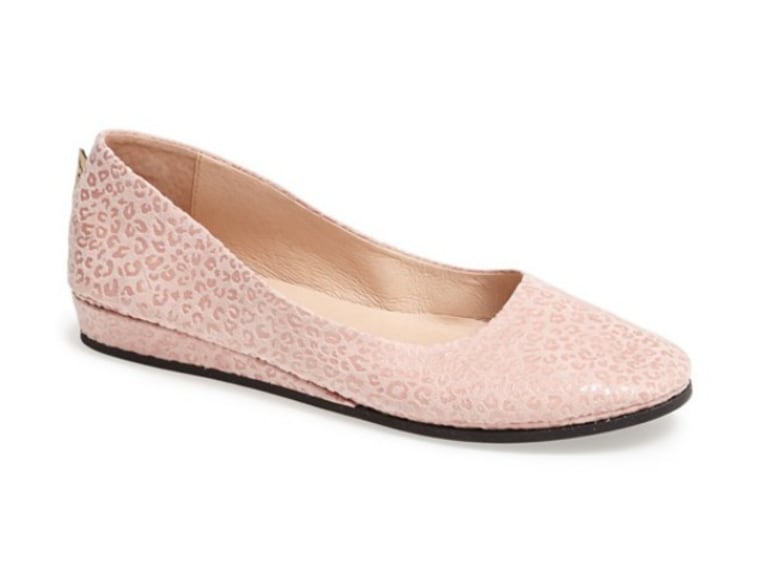 "This pretty shoe is an example of a ballet-style slip-on that isn't completely flat," says Borrink of the supple, Italian-made style. "The covered wedge provides a little lift." (French Sole 'Zeppa' shoe, $139.95, nordstrom.com) 
Gentle Souls 'Lily Moon' flat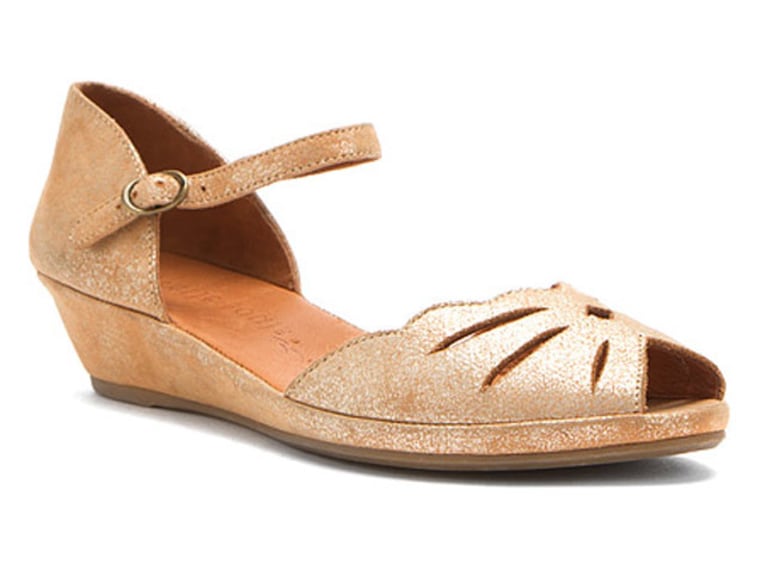 Equal parts fancy and comfortable, these golden shoes with a barely-there wedge feel like heaven as you walk, block after block. (Gentle Souls 'Lily Moon' flat, $210, gentlesouls.com)
Earthies 'Bindi' flat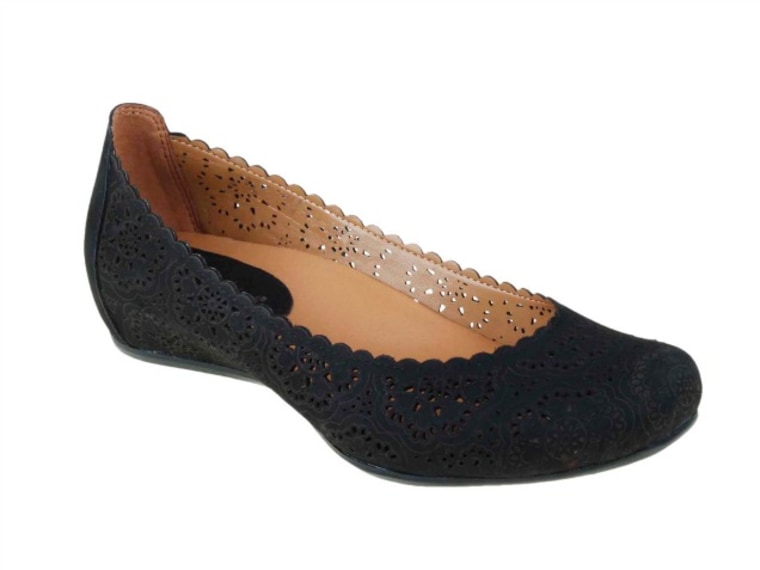 Earthies' Bindi is a perfect example of a comfortable flat with arch support, raves Borrink of the style that incorporates cupped heels, cradled toes and touch points within the soles. And the color selection is downright covetable, from turquoise to tangelo to always-elegant black. (Earthies 'Bindi' flat, $148.95, shoebuy.com)
Pumps
"Watch that toe box!" warns Borrink. "Is there room for your toes to spread out? If they feel just a bit pinched, steer clear of that shoe. Keep the heel to around two and a half inches or lower, unless there's a platform —then you can go a little higher. I realize pointy-toed pumps look chic and elongate the leg, but you'll put yourself at risk for painful bunions down the road. Look for a pump that features extra cushioning at the ball of the foot and heel."

Naturalizer 'Lennox' pump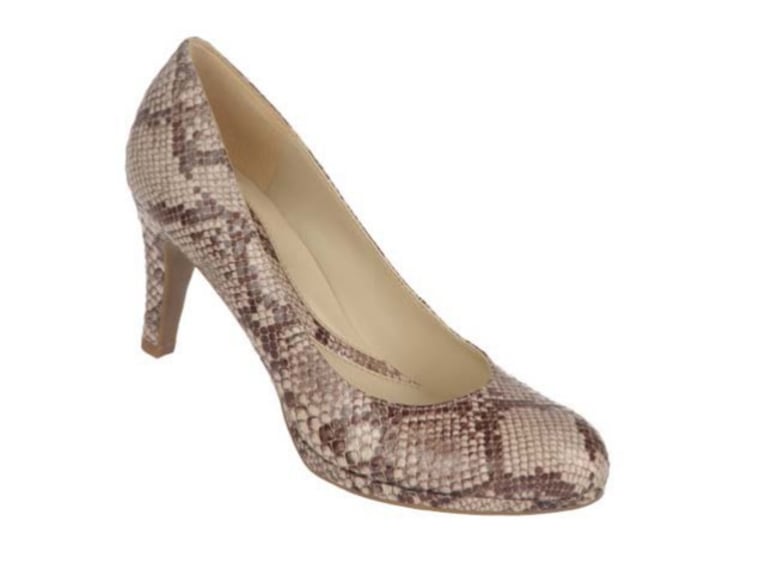 Here's a timeless, sophisticated pump you can actually walk in from Naturalizer's N5 Comfort Elements line. Key features include flexible insoles, featherweight outsoles, breathable linings, ergonomic heels and traction grips...but we're most excited by the sexy-but-neutral snake print. (Naturalizer 'Lennox' pump, $23.70, naturalizer.com)
Aerosoles 'Foxy Lady' pump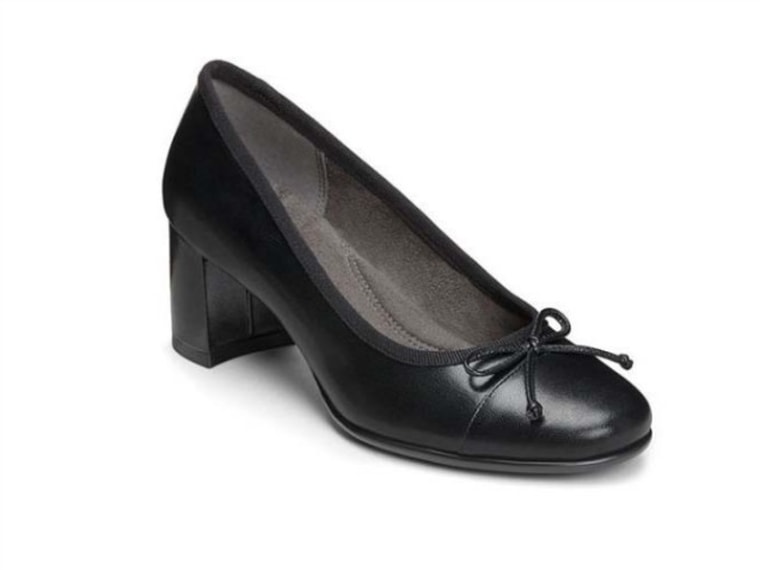 This classic, bow-detail pump will never go out of style — or make your feet ache, thanks to "Heel Rest" technology that eliminates pressure on the ball of your foot. (Aerosoles 'Foxy Lady' pump, $79.99, boscovs.com)
Easy Spirit 'Parnella' pump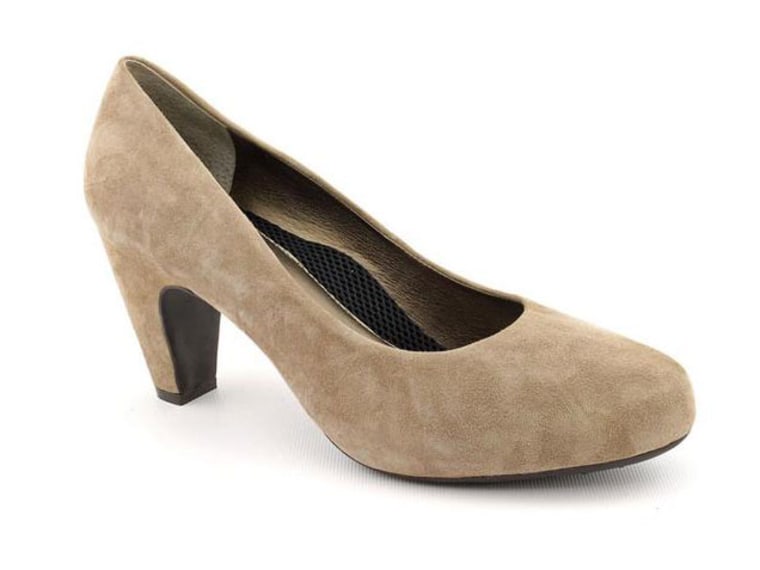 Nothing slims your legs like nude heels, and this suede pair is more elegant than standard leather. Part of Easy Spirit's "Anti-Gravity" collection, they feature rounded toes, flexible outsoles and a hidden platform that sneakily makes the heel look taller than it is. And they're on super-sale. (Easy Spirit 'Parnella' pump, $46.79, overstock.com)
Sandals
Borrink can't emphasize enough: "No flimsy flip-flops! You're just begging for a painful attack of plantar fasciitis. In choosing a walkable sandal, look for one with a substantial sole that doesn't flex too much — a semi-rigid to rigid sole will protect the forefoot joints. Adjustable straps across the instep allow you to customize the fit which is helpful if your feet swell on hot days."

Vionic 'Cancun' sandal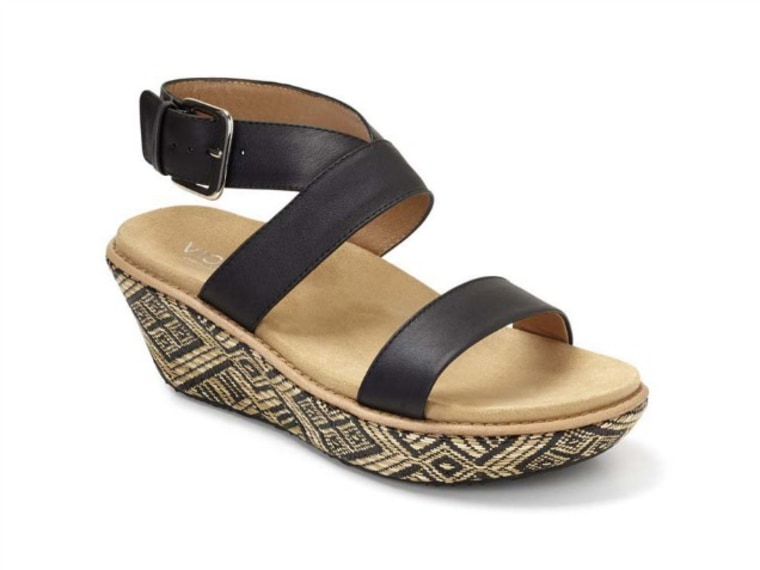 An ergonomic sandal that's chic enough for the trendiest club in South Beach and the most pristine resort in Bali? Yep, these wedges are something special. Equipped with "Orthoheel Technology," they're designed with more contour toward the front of the shoe for hours of wearability compared to a regular wedge. (Vionic 'Cancun' sandal, on sale for $104.99, vionicshoes.com)
Clarks 'Plamdale Dasha' sandal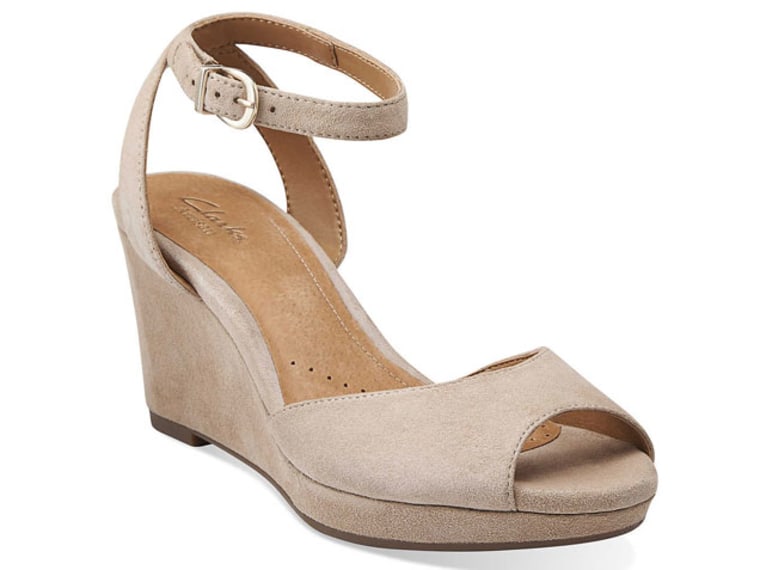 With a feminine silhouette and cushioned OrthoLite foot bed, this platform sandal from Clarks creates the illusion of height without sacrificing comfort. (Clarks 'Palmdale Dasha' sandal, on sale for $69.99, clarksusa.com)
Gentle Souls 'Break My Heart' sandal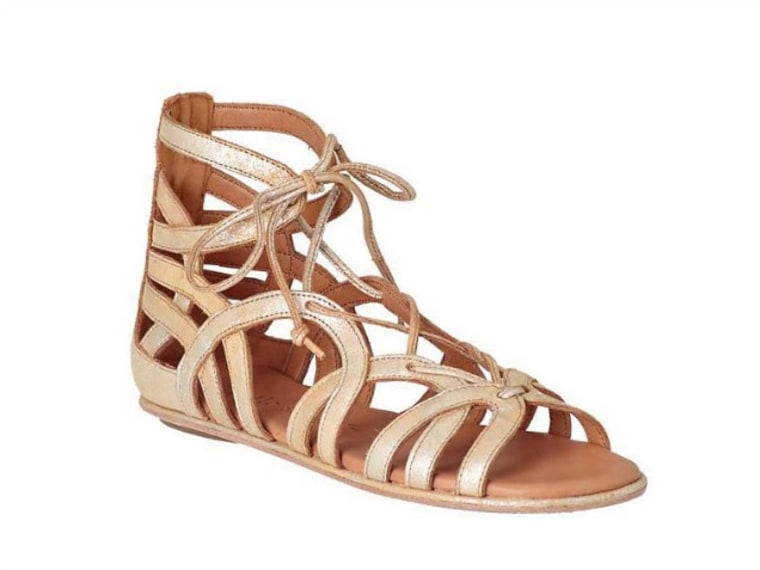 These strappy sandals are downright gorgeous, and the color selection (goddess-y gold, edgy gunmetal, electric blue) can't be beat. More importantly, the company's motto is "Walking doesn't have to be so hard" — and their patented technology includes many unique features, including flax seed pillows in the insoles! (Gentle Souls 'Break My Heart' sandal, on sale for $136.99, piperlime.com)
Clogs
"These European imports are popular with women who are on their feet all day (restaurant, retail or medical professions) because of the roomy fit in the toe box," says Borrink, and they're getting more comfortable every season. "Softer materials such as cork, latex, and memory foam are being utilized to provide needed cushioning in the footbed or insole of clogs. Look for a clog with a padded footbed and either a polyurethane or rubber outsole for good shock-absorption. Extra points for rocker soles, which propel the foot through the stride while taking pressure off the heel and forefoot."

Restricted 'Cate' clog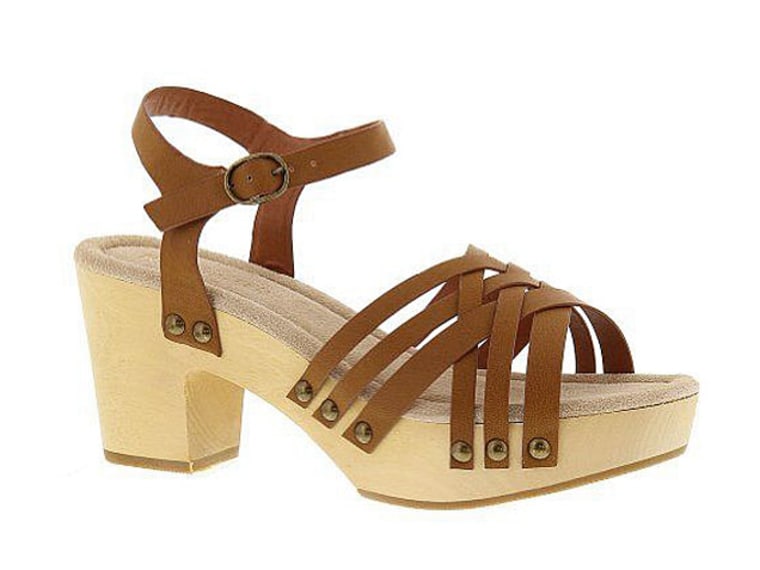 If you're used to wearing towering heels and want to try something equally high, but comfier, these clog sandals are a great option. The insole is well-cushioned and the stretchy straps offer flexibility, all for less than $50. (Restricted 'Cate' clog, $59.95, amazon.com)
Dansko 'Trista' clog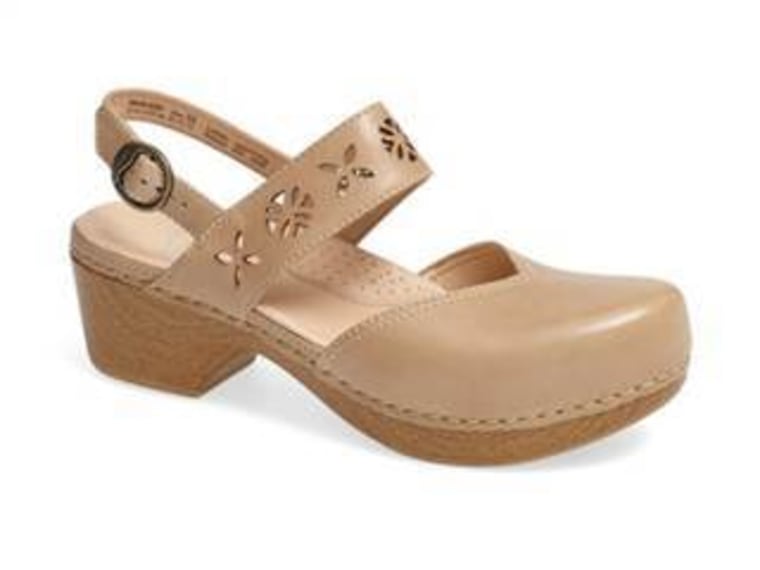 Mary Jane-style clogs are a great option for summer, with all the ergonomic benefits of a clog with the breezy feel of a strappy sandal. This pair is from Dansko, the brand that brought the clog craze to the U.S., and a particular fave of Borrink's. (Dansko 'Trista' clog, $129.95, nordstrom.com)

SoftWalk 'Murietta' clog
"This brand makes comfortable shoes with eggcrate-like footbeds for 'pillow top' cushioning," says Borrink. "And many styles are available in widths from narrow to extra wide." (SoftWalk 'Murietta' clog, $118.95, nordstrom.com) 
Tip! More brands to try when shopping for clogs: Sanita, Klogs and Alegria.