There are two options curly girls face daily: leave your hair natural, or straighten it.
For many women, that decision carries a lot of weight — how you wear your hair can say a lot about your personality. So what happens when a woman who normally goes curly tries a straight look for the day, and vice versa?
We asked a group of women to change their signature hairstyle for three consecutive days, keeping track of the reactions they received as well as their own feelings about the experiment. TODAY's Hoda Kotb, who has firsthand experience at having naturally curly hair that she wears professionally straightened, sat down with the women to hear more about their experience.
Here, two of the women also shared their hair transformation diaries:
Karen Hall, 36, physical therapist
Dr. Karen Hall of Washington, DC usually leaves her ringlet curls natural and bouncy. For our three-day experiment, however, Hall tested out the life of a straight-haired girl.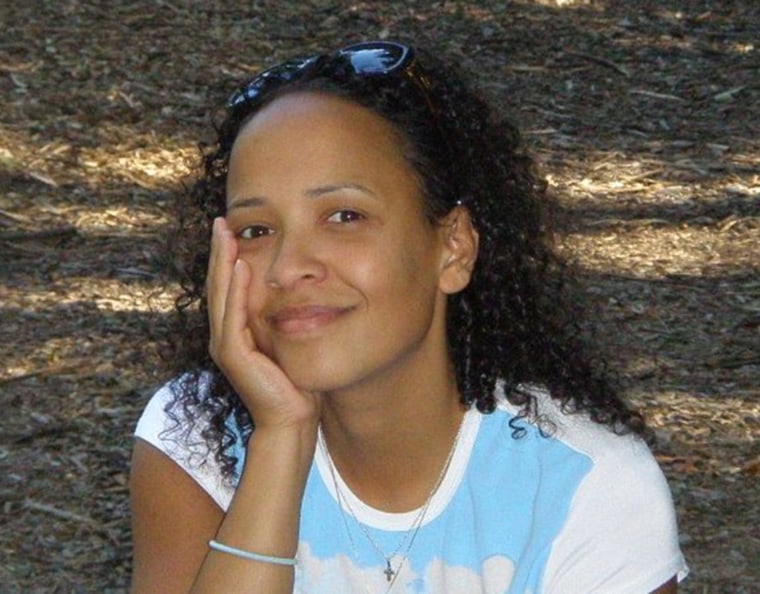 Day 1:
Woke up with my curly hair this morning looking like a mess, but that's normal. Today, I'm going to straighten my hair. It's been almost a year since the last time I straightened it. Yikes, that means I haven't trimmed my ends in almost a year! So sad. My sister is excited for me for many reasons, including seeing what my hair looks like straight these days. My brother, typical male, doesn't care. Lol.
Off to the salon I go ...
2:00pm: Left my house at and arrived at the hair salon at 2:45. Sat around waiting to be seen for another 20 minutes. 

3:05 : Time to get my hair washed and I think I'll do a deep-conditioning treatment today. That means another 20-30 minutes under the hair dryer.

3:35: Only one person working in the salon today, so I must wait.

3:50: Time to wash again and set my hair in rollers.

4:00: Back under the hair dryer with rollers in my hair! This shouldn't take so long, but there are still two people waiting to have their hair blown out.

5:10: Out from under the dryer. Had to reset the hair dryer two times while the stylist helped the other two ladies.

5:35: FINALLY DONE!!!! 

6:15: Home sweet home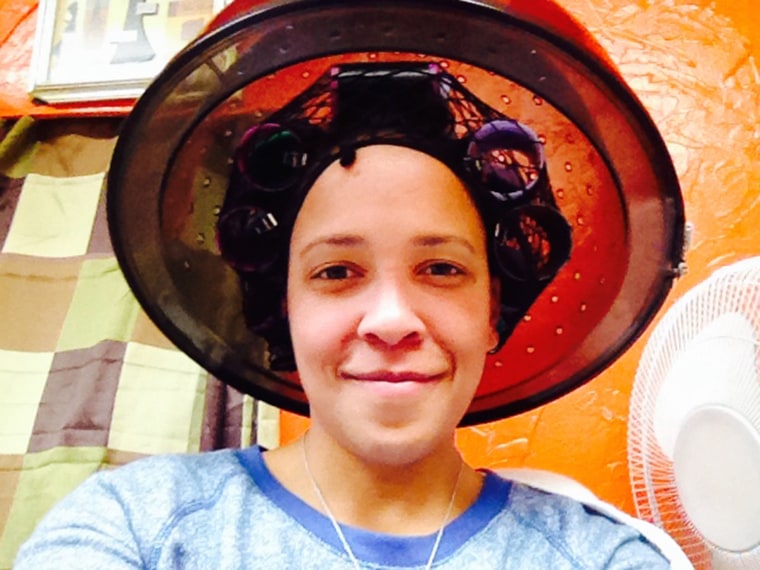 Sheesh — that was exhausting. My head hurts. It's actually a little tender from the blow dryer. I can't stand how hot that blow dryer feels on my head. It's definitely something I could do without.
When I walked in the house, my father immediately reacted. He is NOT a fan of the straight hair. We got into a long discussion about the natural me and what makes me beautiful. Dads are the best.
Now, it's time to think about tomorrow. Ugh, I can't find my shower cap so I have to resort to using a plastic bag. Can you picture it? Hair wrapped, pinned up, bandanna covering my hair and a grocery store plastic bag on top. Shaking my head. Goodnight.
Day 2:
Here we go again. I had to get up extra early today because I remembered my hair is not curly. My usual low-maintenance self has to take a little more time to primp. Plastic bag, check. Blow dryer, check. Anti–frizz serum, check. 
Work today was pretty good. I received a lot of compliments from patients and coworkers. One person in particular did not recognize me. It's funny how the style of my hair changes people's interactions with me. I'm the same person today as I was yesterday … I think? The only thing that changed was my hairstyle. 
I have been called "Doctor" more today than I have since I started here. All of a sudden, the straight hair made me official. One physician told me that he likes my hair straight and that it makes me look more professional, more serious and older. What?? What is that supposed to mean? Am I not professional or serious with curly hair? 
The more I thought about it during the day, the more I realized that I was only giving those comments life and validity by allowing them to bother me. If it takes a change in my hairstyle for someone else to take me seriously, then perhaps that is a problem within themselves. My hair does not change my passion for what I do, it does not change what I have to say, my actions or how well I do my job. So, I decided to just let it go and enjoy the experience.
Day 3:
I woke up this morning to rain. Not just light rain. RAIN RAIN. So much rain. Why would Mother Nature be so cruel? I think someone told her that I was participating in this experience and wanted to test me. She wanted to make sure that I gave everyone a real experience and true insight into what I go through with straight hair. Thank you very much, Mother Nature! It probably took me an extra 45 minutes to get myself ready today with all of those minutes fully dedicated to my hair. Unacceptable. My hair is not something I should have to, nor want to dedicate so much time, thought and energy toward. 
My kids (patients) were not big fans of the change. No curls or springs to play with. One of my children didn't even recognize me. I must have spent 10 minutes trying to convince him that I was still Ms. Karen. Bless his little heart. He stared at me the entire time. 
I went out for happy hour with a group of friends after work today. That was hysterical. My best male friend may have made me laugh the most. He said, "Man, any guy would be lucky and happy to have you as his girlfriend. It's like hitting the jackpot with you. He'd be dating two women at the same time, but it's the same woman. Cheating would be OK. He'd be cheating on curly-haired you with straight-haired you." LOL!!! What in the world? That made me laugh so hard. 
What is it with men and hair? I remember the first time I straightened my hair in school, I think just about every guy in the school came up to me. Suddenly, I had become the new girl in school.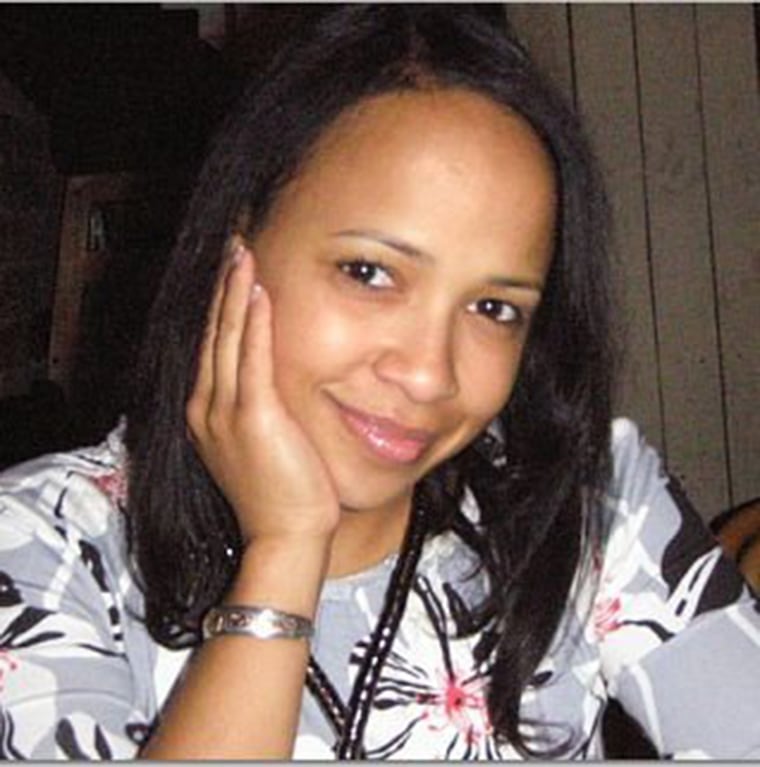 The takeaway:
It's truly been an eye-opening experience. I never realized how much I actually care about my hair, how it looks, how it makes me feel and what I will or won't do for it. Even though I have my own thoughts on my curly hair (like how it makes me feel like a Chia pet as I watch it grow throughout the day, especially when it's raining or humid outside), it's me. Curly-haired Karen is natural. 
It's like my parents and sister tell me: It brings my personality to life and adds to my beauty. It took me years to get there, but I love my curly hair. Tomorrow, I'll be back to curls! Straight hair, we shall meet again...someday.
Claribel Jimenez, 26, sales associate
Claribel Jimenez of Ridgefield Park, NJ straightens her hair for work because she thinks it makes her look more professional. For our three-day experiment, Jimenez wore her natural curls to see if her assumption was right.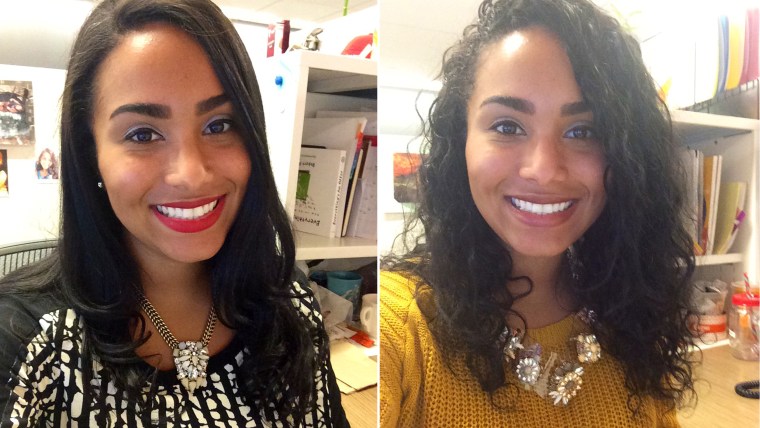 Day 1:
The first thing my mom asked when she saw my curly hair was whether I'd be going to the salon. When I responded no, she asked whether I realized that it was Sunday — meaning that I'd be going into work like that.

She was persistent, asking in Spanish, "Y esa greña?" — which translates to "mop of hair" or "bird's nest. In her eyes, straight hair is seen as more professional than curly hair, which I know is an ignorant way of thinking. Naturally, that's what I feel too, but only to a certain extent (I think keeping it tamed is what matters most).
Day 2:
Normally, I style my hair straight for work so it was interesting to see the different reactions. There were three types of responses:
"Nice hair! You have a Bohemian look going on."

"I wish I had curly hair."

"Curly today! Is it because it's raining out?"

The assumption in the third response is that the rain was the only reason I styled my hair that way.
Day 3:
The pattern I've seen these past three days proves why people don't expect me to wear my hair curly for work ... It's because I choose not to style it that way! And that's because I don't have the beautiful curls that I once had before I straightened my hair so often. I grew up thinking that having curls was not a professional look and I found that it's not the case. 
The takeaway:
We shouldn't change how we look to please anyone but ourselves.