We never would have expected crocodiles to hold the secret to great skin.
But beauty buffs are touting crocodile oil as the new "it" product in skincare — a perfect moisturizer for dry, scaly skin (ironic, isn't it?), which is a common concern in the colder months. The leading brand schilling the trendy oil, recently reported on by The Telegraph, is Repcillin, a South African company that makes lip balm, shampoo, conditioner, soap and more all from Nile crocodile oil.
"Crocodile oil is derived from the fat of a crocodile — let's start with that, because everyone wants to know what's going on here," Helen Lebedeva, the brand's London-based managing director, told TODAY.com.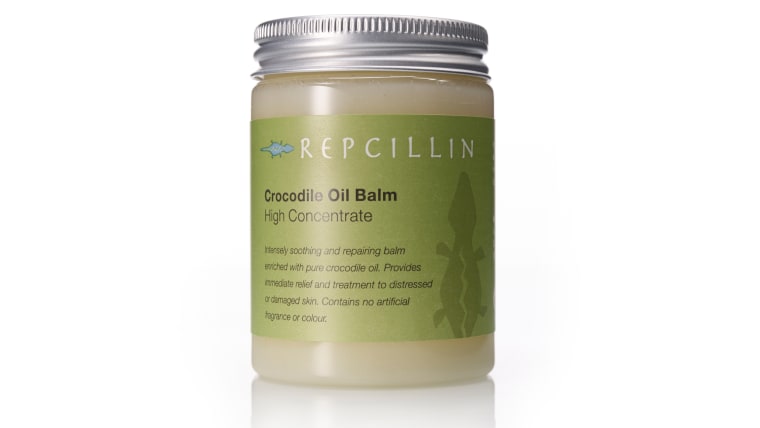 "Nile crocodile oil contains natural anti-inflammatory and antibacterial properties and a wide range of omega fatty acids that are known to facilitate good health," she added. "It's a powerful skin moisturizer."
Repcillan works with a factory "that breeds thousands of crocodiles a year" to export their meat and skin, Lebedeva said, but would otherwise throw away the fat.
RELATED: Snail slime and donkey milk? Bizarre beauty ingredients get put to the test
"Crocodile fat is an animal byproduct," she said. "Until very recently it has been discarded. This fat from the crocodile is collected when the meat is prepared, then the fat is sent for rendering."
The oil that comes from the process is all tested by the South African Bureau of Standards and makes up Repcillin's products, which range from about $4 for a tube of crocodile lip balm to about $104 for a large jar of pure crocodile oil balm.
"We're making products that are luxurious and all-natural," Lebedeva said.
RELATED: Jane Birkin asks Hermès to remove her name from crocodile handbag
A handful of natural brands are now selling crocodile oil, and fans say the products can cure skin conditions like eczema.
But does the oil really work magic? Perhaps, but not that much more than any other skin-care oil, dermatologist Doris Day said.
While there's no doubt crocodile oil will nourish dry skin, the active ingredients in products that contain it "are also present in other products on the market," she explained. "This doesn't necessarily fill something that wasn't there before."
Day added that fats in general — from crocodiles or elsewhere — are moisturizing.
"Duck fat, duck oil, you can take any lard," she said. "Pure lard is very hydrating. Crisco is fabulous! If you're in a bind, you can use Crisco to moisturize."