Two of the most commonly asked beauty questions are: "How do I look more awake" and "how do I look less tired?"
We've all heard the basic answers, like drink more water or get more sleep (duh!), but now we've asked the experts for tips that really will help. These somewhat odd ingredients will help you brighten, de-puff and moisturize your way to a full night's sleep ... at least look that way.
1. Exfoliate your body with strawberry seeds or even quinoa
"A tired and haggard appearance can often be a result of dull and dry skin," explained Dr. David E. Bank, director at the Center for Dermatology, Cosmetic & Laser Surgery in Mt. Kisco, NY. "To create more awake and youthful complexion it is important to exfoliate at least once a week."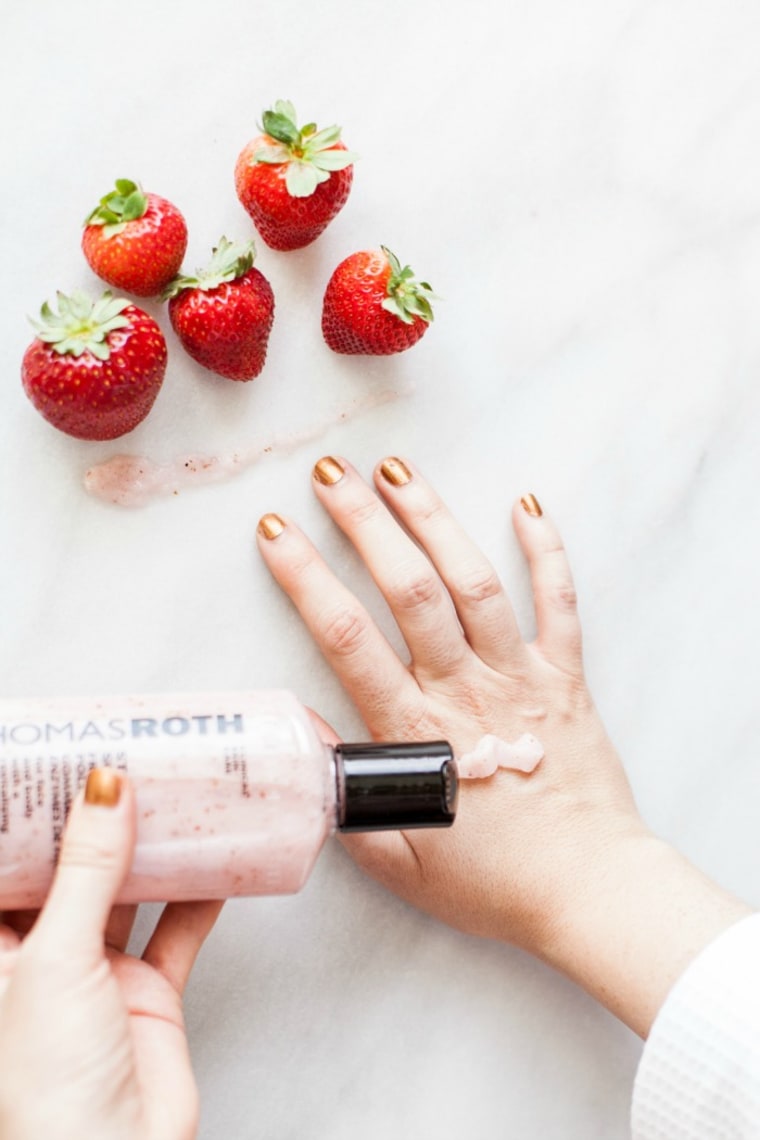 A strawberry-and-almond combination might sound more like a smoothie than a beauty product, but this fruit-enzyme scrub will instantly brighten the skin on your body and hands. Yes, it's about more than your face!
2. Look for a sleeping mask with hyaluronic acid
"Sleeping masks help hydrate your skin, which can help with tired and dry skin," said Bank. "These cushion-y hyaluronic acid molecules are known to attract and retain up to 1,000 times their weight in water, which causes them to restore our skin's moisture thus creating a dewy, fresh, and more awake look."
4. Scrub your face with cranberry seeds
Dull and lackluster skin is a dead giveaway of a late night. Energize your skin with an invigorating treatment. For example, this new tumeric-infused mask will help boost your skin's rosy and radiant appearance. Meanwhile, the cranberry seeds will exfoliate as your scrub the formula off.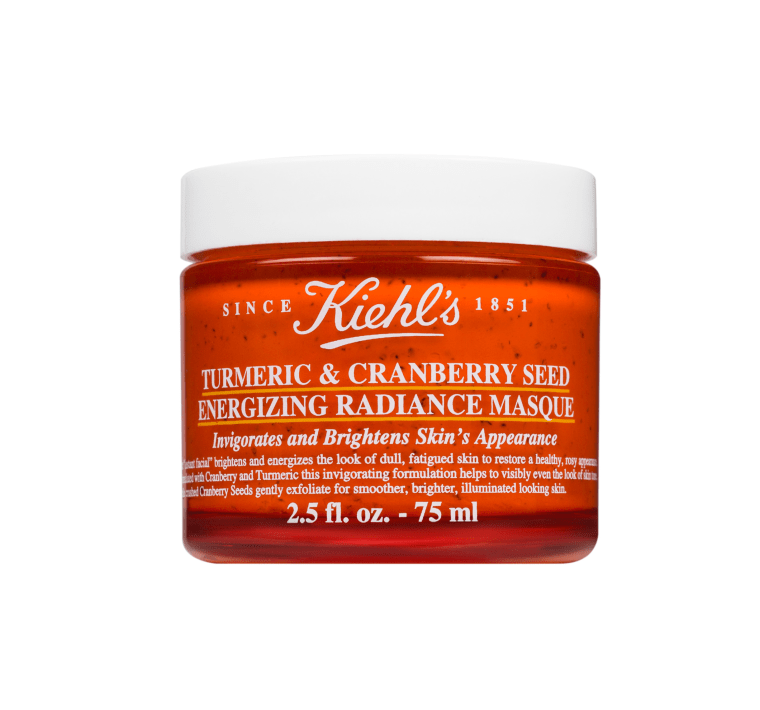 5. Then, slather on some olive oil
"If your skin is on the drier side, I'd recommend sleeping with olive oil on your skin (it's also good for your hair and scalp, which is a bonus)," said Jerry Johnson, global makeup artist for Laura Mercier. "This is something another makeup artist taught me years ago — it's super moisturizing and makes skin vitalized, hydrated and glowing. However, it works best for dry, dull and lackluster skin. I wouldn't recommend this for those with oily skin."
6. Accentuate your 'aegyo-sal'
"A fun tip (to look more awake) is to accentuate your 'aegyo-sal', a Korean word for charming/baby eye fat," said Charlotte Cho, co-founder of Soko Glam and a board-certified esthetician. This international trick is all about using the makeup you already own in a surprising way.
You start off by using a light brown shadow to contour right beneath the eye-pudge area. Then, smile hard with to see where you should contour. The next step is to use a champagne pink shadow or highlighter to line the inner corners of your eyes and right underneath your lashes up until where you contoured in the first step. Finally, using a mirror (and plenty of sunlight), use a blending brush or your finger to make sure the brown blends in naturally with the champagne pink.
7. Make sure to wash ... your eyes
Eyebright — an herb that helps with many eye maladies — can help reduce the look of bloodshot eyes and make your eyes appear clearer (and you seem more awake and alert). "To make an eyebright wash, mix 5 drops tincture in 2 cups of cool, filtered water and use it to wash the eye only for one day. It is not recommended for long-term use," explained Dr. Lamees Hamdan, founder of SHIFFA skin care.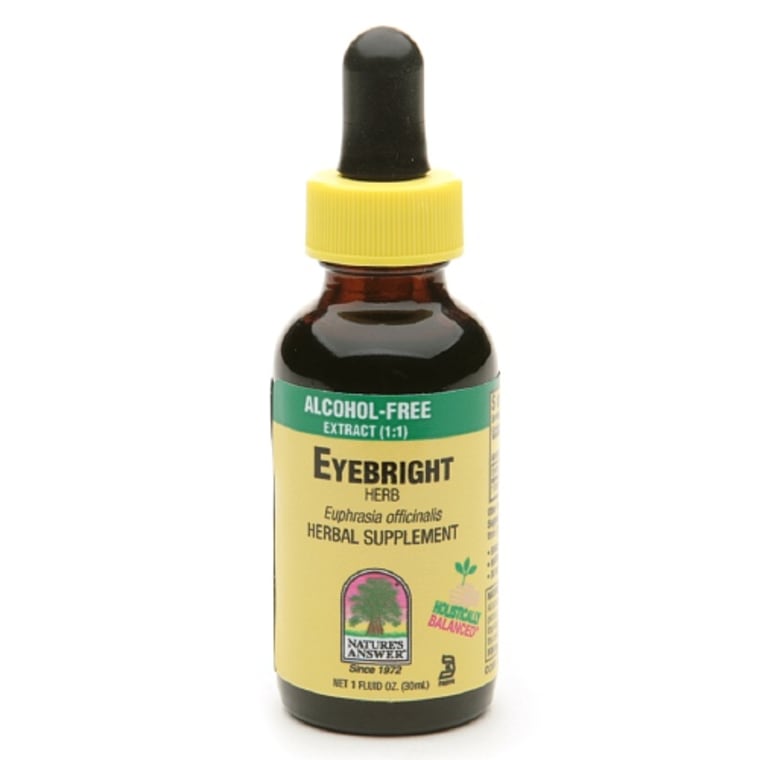 8. Honey-freeze a spoon
"I recommend placing two metal spoons that are dipped in Manuka honey in the freezer on a small plate," said Neutrogena makeup artist Amy Oresman. "In the morning, to de-puff, apply the frozen back of the honey spoon underneath your eye and leave for 10 seconds on each eye. The honey, coupled with the ice cold metal, reduces inflammation and redness within seconds."
9. Soak a washcloth in chamomile
"Get a soft baby washcloth and soak it in chamomile tea because it is full of antioxidants and will refresh your face. Plus, it's anti-inflammatory," suggested dermatologist Dr. Debra Jaliman.