Passengers on an Alaska Airlines flight traveling from Los Angeles to Seattle on Friday were treated to some free in-flight entertainment.
When Kristy Stratton's mom, Billie Jo Stratton, 70, was diagnosed with stage 4 lung cancer in September 2014, she told her daughter that she wanted to see where she works, lives and, of course, wanted to be there to watch her marry the love of her life.
Kristy Stratton, 41, who has been an Alaska Airlines flight attendant for 11 years, met her soul mate, Jim Larsen, 39, while on a layover traveling from Los Angeles to Seattle, where they both now live together. Six years later, they tied the knot on that very same flight.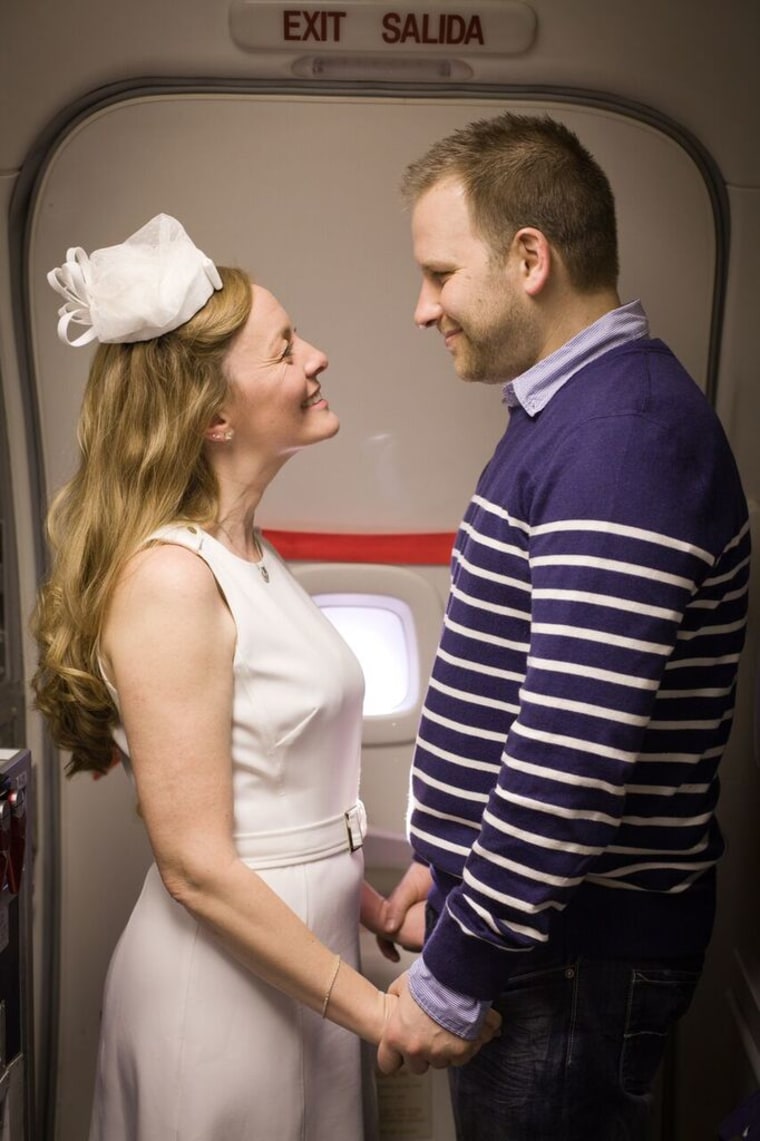 "I was thinking of unique wedding ideas while driving home from a red-eye about a month before the wedding and thought it'd be a cool idea to get married on that exact flight," Kristy Stratton told TODAY.com.
RELATED: A couple's love takes flight in this real wedding
After receiving the airline's blessing, she ironed out the details and got her pastor, Scott Wetzel; photographer, Christina Frees, who is also a fellow Alaska Airlines stewardess; and mom on board — literally.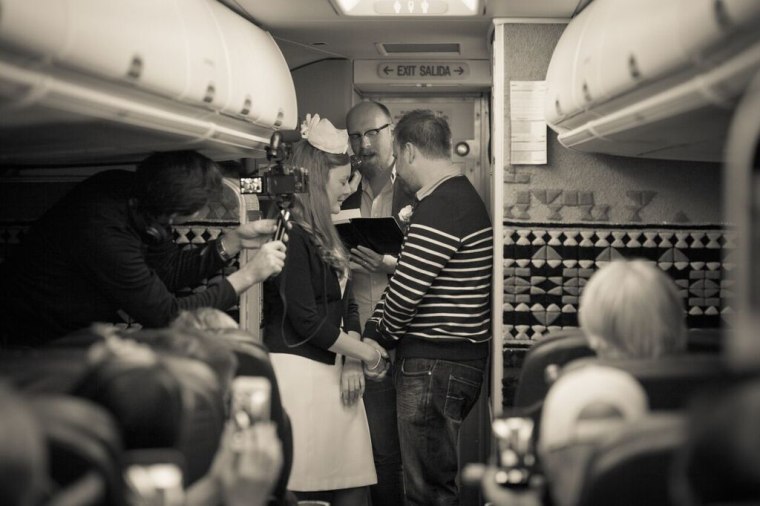 "It was definitely the most unique wedding I've ever got asked to photograph," Frees told TODAY.com. "Everyone's wedding is up to their own personal preference, but this was obviously special for many reasons."
While boarding the flight that day, passengers started to wonder what was going on and grew even more curious when the in-flight crew passed out bubbles, chocolate roses and candy sweethearts — the first candy Larsen ever gave her.
RELATED: New York mom thanks Southwest flight attendant for calming her fussy baby
About an hour into the flight, a stewardess got on the loudspeaker to give a little background information on the couple. They then exchanged rings and pilot wings to pin on each other's shirts, as Billie Jo Stratton watched from the front row.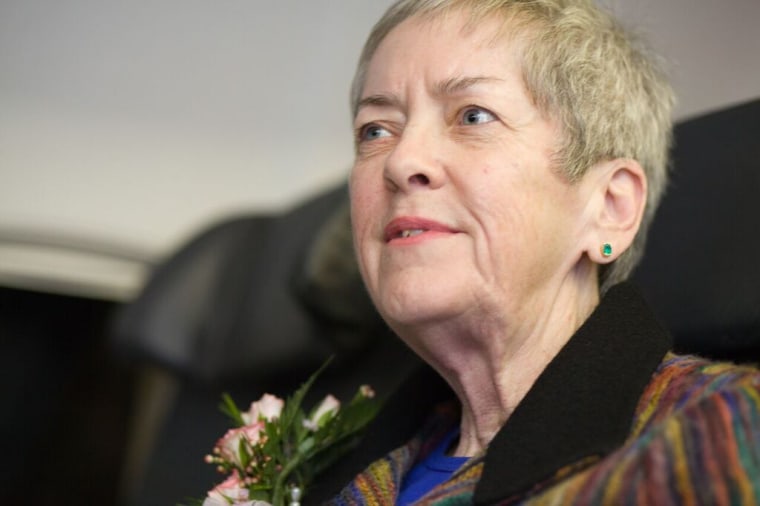 After saying "I do," the couple made their way down the aisle as people clapped and blew bubbles to celebrate the occasion.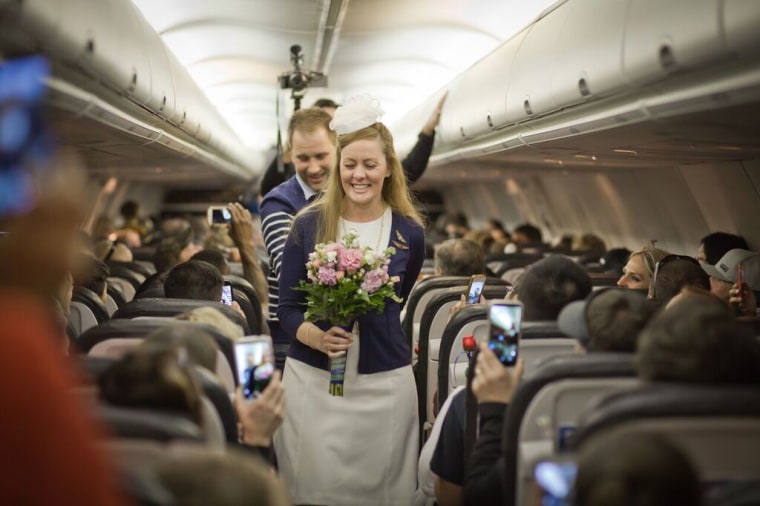 "It was really cool to see people coming together to celebrate total strangers," Frees said.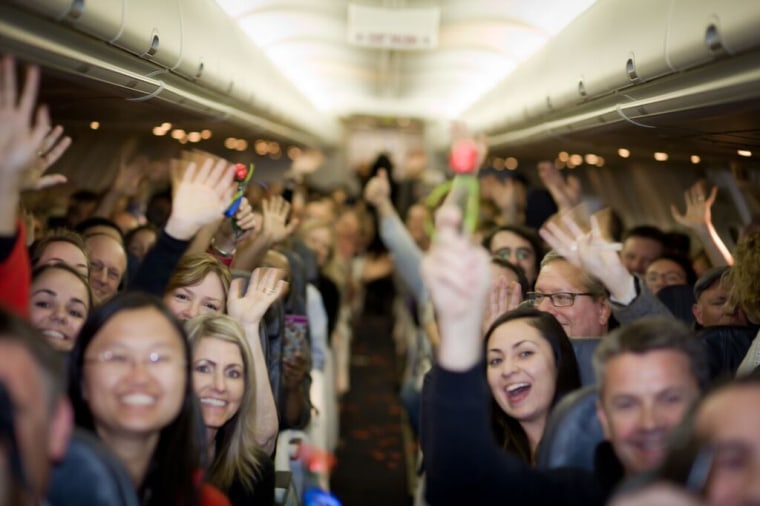 The bride's passion for traveling came from her mom, who spent her life taking trips all over the world. They were planning a mother-daughter excursion to Italy, but had to cancel following the cancer diagnosis.
RELATED: Watch airline passengers help serviceman pull off surprise proposal
"My mom has been smiling for weeks — I love it," Kristy Stratton said. "The wedding really lifted up her spirits and she even got to spend time with us in Seattle after, too."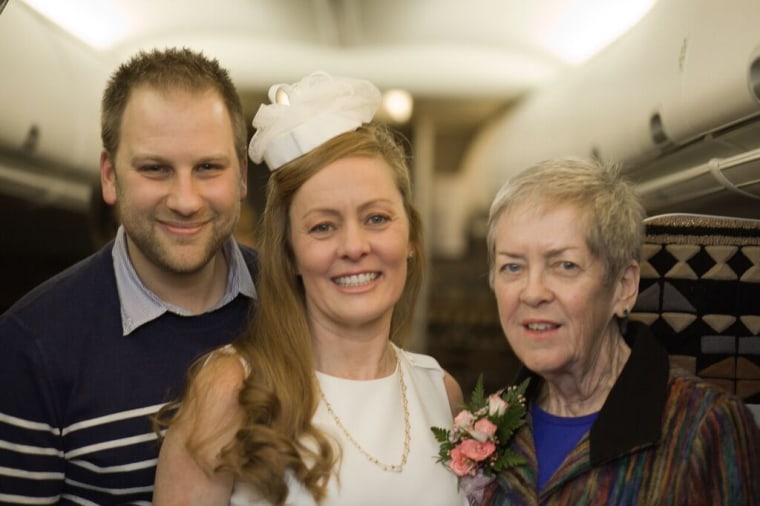 The following day, the couple invited about 60 people over for a wedding reception and they spent the next few days showing Billie Jo Stratton around the city before she headed back to Los Angeles.
RELATED: What's the most romantic hotel in the world?
The newlyweds plan to honeymoon in Iceland, but for now they're still on cloud nine from their midflight wedding, 35,000 feet in the air.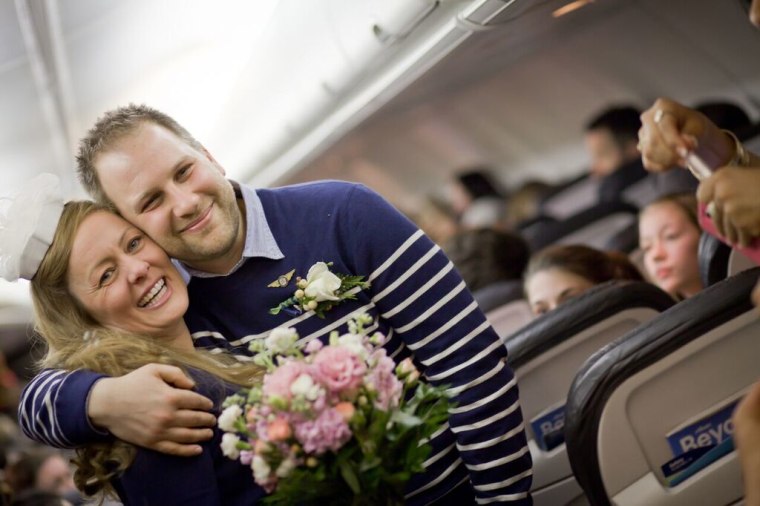 "I was really touched and overwhelmed by the amount of love and joy flooding through the cabin," Kristy Stratton said. "Not only did they make the day even more special for me, but for my mom as well."