There's something magical about being engaged. And for Michele Matthews and Jared Grunwald of Boca Raton, Florida, that magic will live on forever in engagement photos shot at the equally enchanting "Wizarding World of Harry Potter" theme park.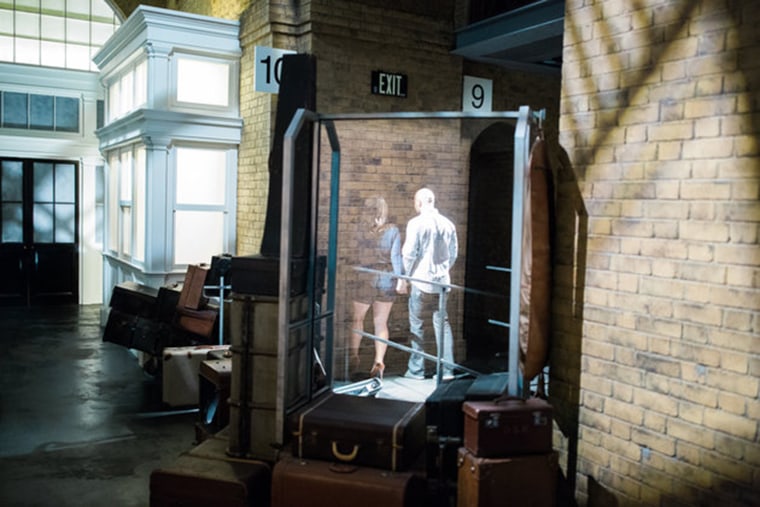 "I'm obsessed with 'Harry Potter' and I always have been," Matthews, 29, told TODAY. "Jared loves them too, but he's not as crazy as I am. He doesn't read the books over and over. But he'll watch the movies with me any time."
RELATED: 'Harry Potter'-themed wedding charms fans and skeptics with magical setting
"Crazy" or not, Grunwald, also 29, is fully supportive of Matthews' obsession — so much so that he had initially planned to propose to her on a trip to the park. After considering logistical issues like long lines and antsy crowds, he abandoned the idea, popping the question at a family party on a cruise ship instead.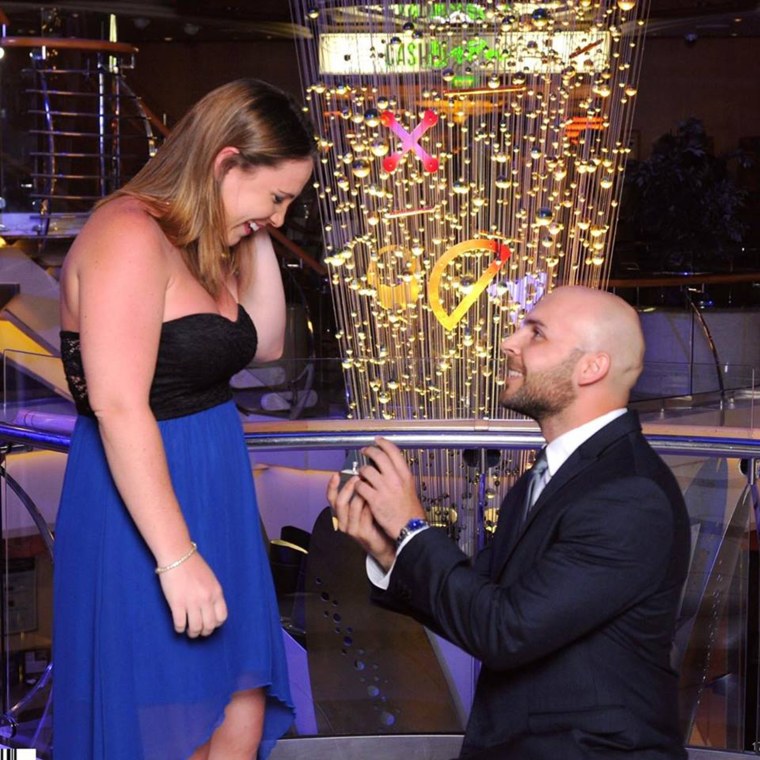 Like any good Potter plot twist, the idea to do a photo shoot at the park took time to reveal itself. "One of my best friends got her engagement photos taken at the South Florida Fair, and they were so pretty," said Matthews. "I wanted something like that — that could show us being ourselves with this beautiful, interesting background."
RELATED: Disney's '101 Dalmatians' comes to life in endearing engagement photo shoot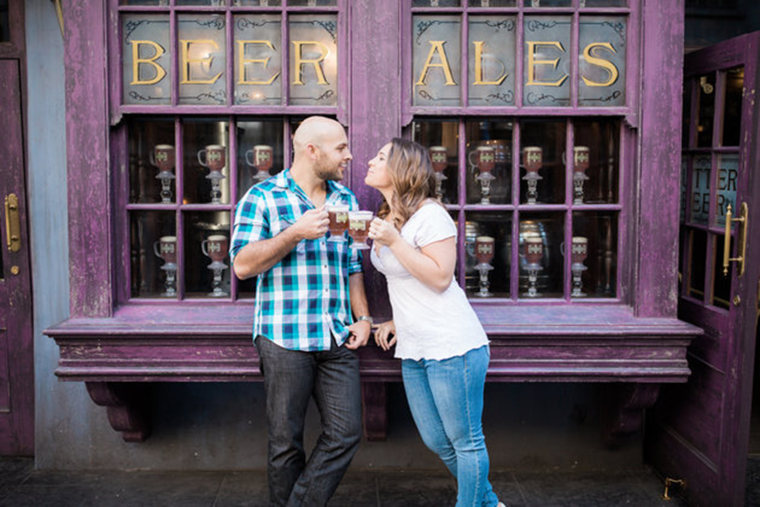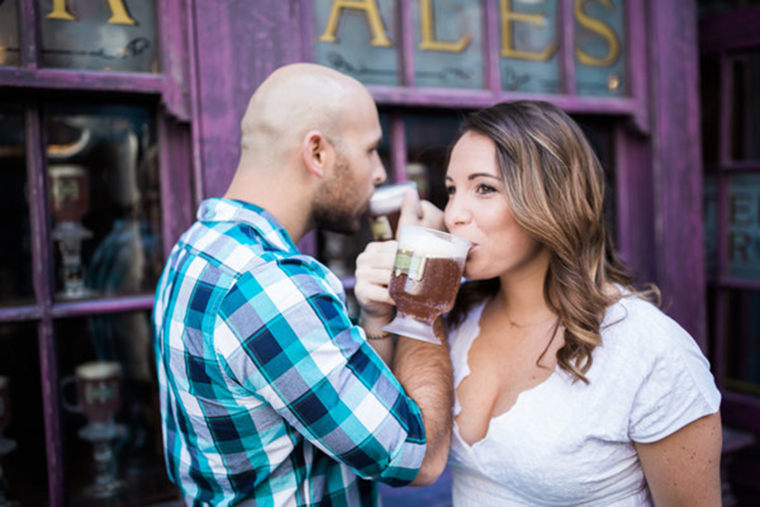 The couple had been planning a trip to the Orlando, Florida, park in late February, along with a friend who happened to be a photographer. Just like magic, Matthews had her "aha!" moment. "I was in the process of telling Jared my idea, and he finished my sentence," she said.
RELATED: Here's how much it costs to get married at Cinderella's Castle at Disney World
Since the group was staying at an on-site resort, they were able to get into the park an hour early, making lines and crowds a nonissue. They posed at all the hot spots — Diagon Alley, Hogsmeade, Platform 9 3/4 — but Matthews' favorite photo is a simple shot of them, sitting on a bench, holding a handmade sign that says "Always." (She dyed it herself with a teabag!)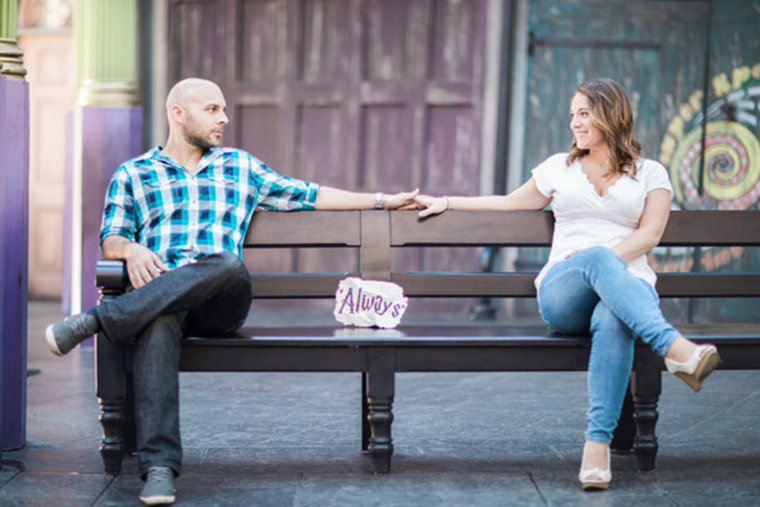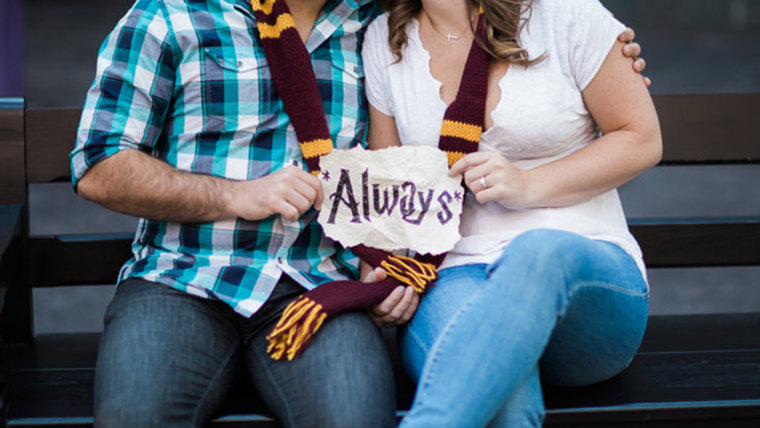 While the couple isn't currently planning a themed wedding, Matthews hopes to include small favors or decorative touches that fellow Potter fans would recognize.
RELATED: Couple holds 'discreet' engagement shoot at Costco
"I definitely want to make another sign that says 'Mischief Managed' for us to hold up at the end," she said.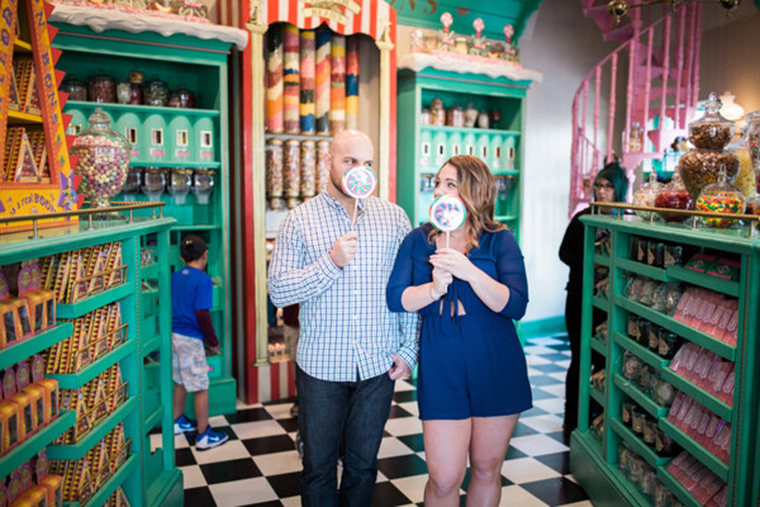 And whether or not "Harry Potter" is part of their wedding, it will always be part of their lives.
"We can relate to the books," she said. "I'm like Hermione — very book-y, did well in school. Jared's kind of a Ron — more street-smart, and very personable and funny."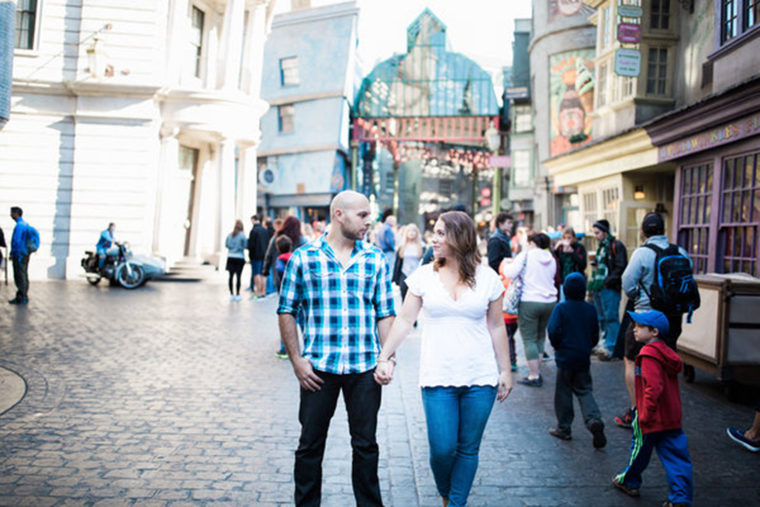 But there is one thing that separates them from the iconic Potter couple. "I'm always mad because when we take those quizzes that tell you what Hogwarts house you should be in, I get Hufflepuff," she said with a sigh. "But he's a total Gryffindor."