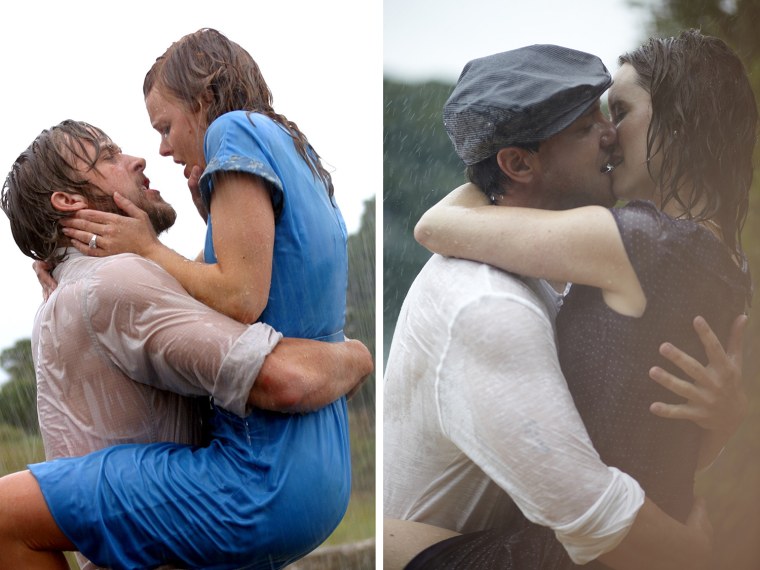 Four years ago, a Canadian couple's engagement photos, inspired by the 2004 movie "The Notebook," took the Internet by storm.

But, to quote the film, "It wasn't over. It still isn't over."
Fast forward to today, when the photos of Cindy Gauthier and Jean-Nicola Barile have gone viral once again, thanks to the 10th anniversary of the movie's theatrical release.
Perhaps another reason for the popularity of the photos? Gauthier is a dead-ringer for "Notebook" star Rachel McAdams.

"I get that pretty regularly, especially when I wear red lipstick, for some reason," Gauthier told TODAY.com. "I got it a bit [before the shoot], but a lot more afterward."
Back in 2010, Chelsea Gray, the owner and head photographer of the Montréal-based Blushing Bride Studio, recommended an adventurous engagement shoot to counterbalance more traditional wedding plans for Gauthier, a pediatric nurse, and Barile, an electrician. In an email to Gauthier, she linked to a Washington state photographer's engagement photos that had been inspired by the Pixar movie "Up." That's when Gauthier suggested a "Notebook"-themed shoot take place at her Barile's cottage in Chertsey, Québec.
"We were touched by the story," Gauthier said.

Considered one of the most romantic movies of the 21st century, "The Notebook" chronicles the lives of Allie (played by McAdams) and Noah (Ryan Gosling), a young couple that falls in love in the years leading up to World War II. Their bond is tested when Allie becomes a war nurse and meets a handsome soldier in Lon Hammond (James Marsden), who proposes.
Gray — who hadn't even seen the flick before Gauthier suggested it as inspiration — rented the movie, then joined fellow photographer Roberto Ugarte and the happy couple at Barile's cottage for the shoot on July 23, 2010.
"We didn't know what to expect," Barile said. But the results were jaw-dropping, largely due to the attention to detail.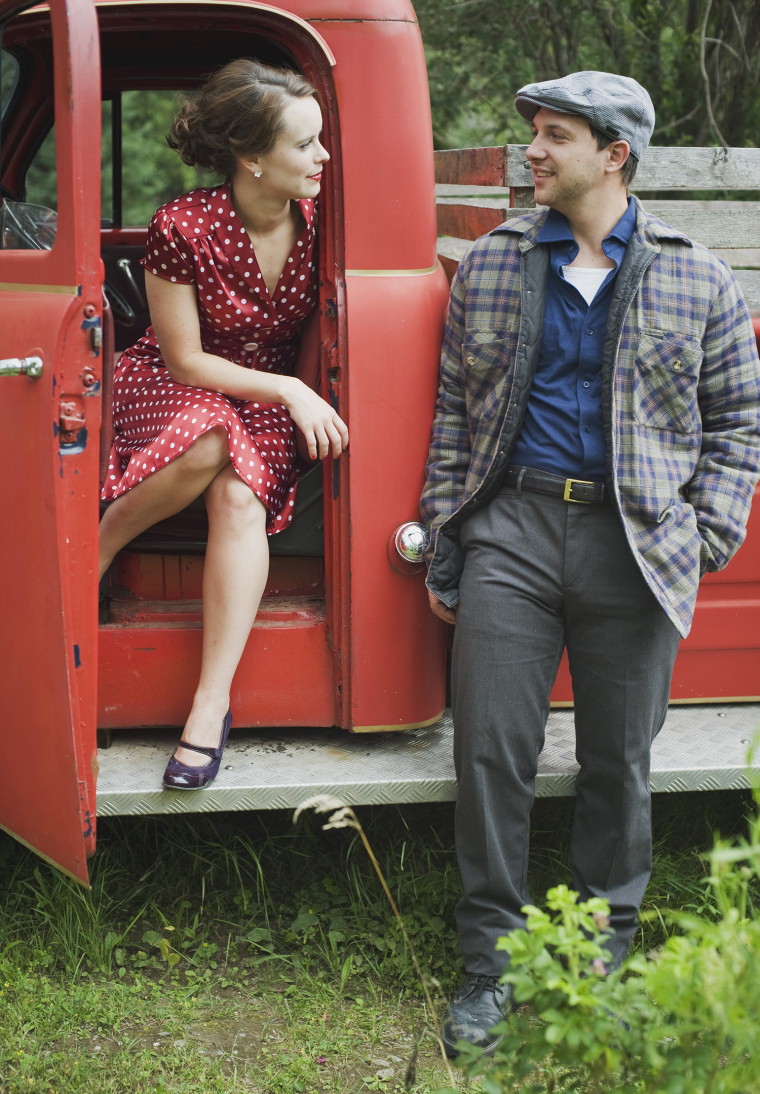 There's the parody of the movie's newspaper clipping, which called upon Barile to channel his inner Gosling, and, in the final edit, replaced the headline "Old Seabrook Home Fully Restored" with "Chertsey Home Fully Restored."
There's the series of photos of the couple in, around and beside a vintage red truck, with Gauthier taking the wheel. There are the pictures of Gauthier and Barile, entwined atop a mattress; of Gauthier, holding a stack of letters (an homage to the 365 missives Noah mailed to Allie); and of Gauthier and Barile, kissing in the rain, evoking McAdams and Gosling's signature smooch from the movie poster.

But when it's not actually raining, well, you have to improvise.
"We actually did it with a hose," Gray told TODAY.com. "We just hosed them down. It was so much fun."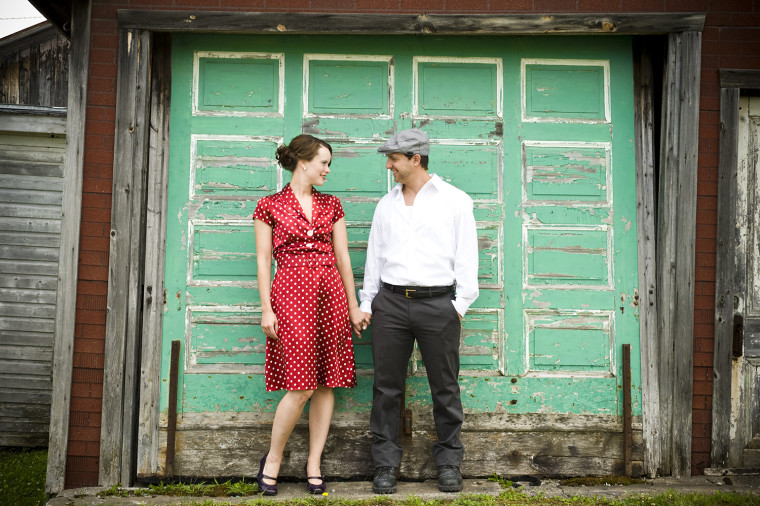 Gauthier's brother-in-law was in charge of the nozzle. "We even have this wonderful picture: It's my brother-in-law, hosing us down," she said. "It's just the back of him, but you can tell he's smiling from ear to ear, enjoying every moment."
It helps to be lucky, too. "That red truck? We literally came across it [by coincidence]," Gray added. "It was just sitting on the side of the road. It was for sale, so we proceeded to help ourselves and sort of remove the sign for a few minutes, and just get in there and take pictures. That was an amazing fluke."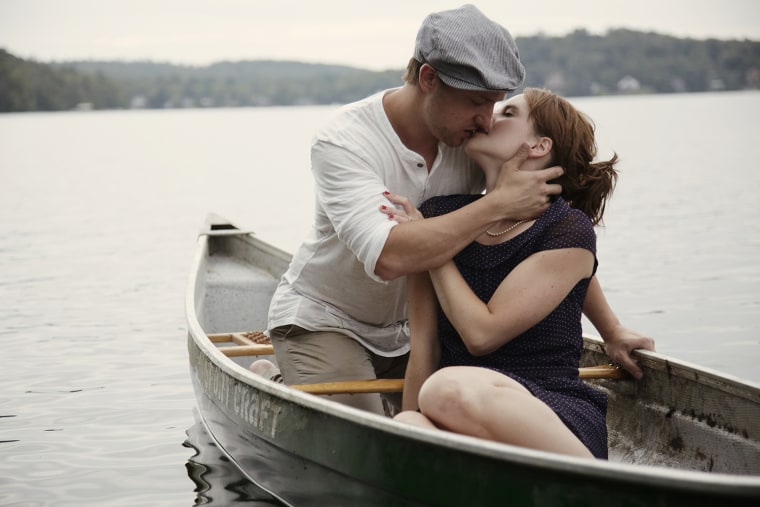 A month after Gray posted the collection to her website, a nuptial-oriented blog by the name of Green Wedding Shoes picked up on it. In the months that followed, the press picked up on it. And by April 2011, even Nicholas Sparks, the author of the novel that inspired the movie, offered his endorsement. In an April 7, 2011 post on his official Facebook page, a link to the Green Wedding Shoes story described the engagement photos as "absolutely amazing!"
That's when Barile realized just how far-reaching the moment had become. "We're two regular people, with regular jobs and a regular life," he said. "So, when you do a photo shoot like that, and get so much attention, yeah, it's pretty cool."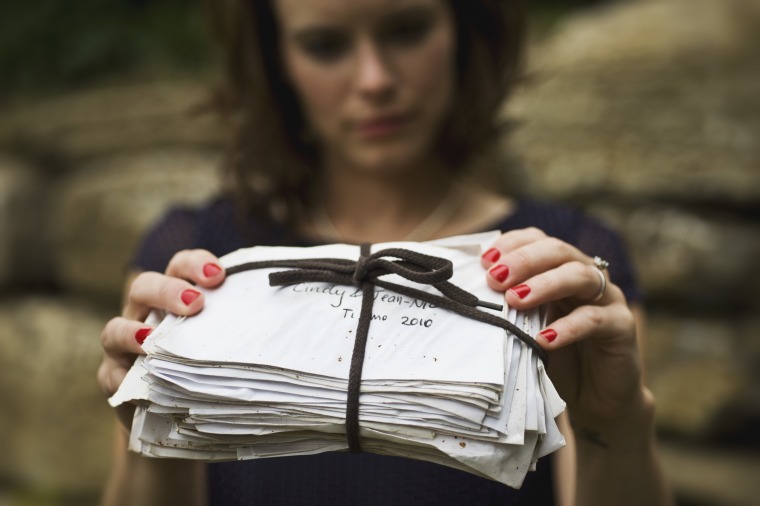 Gray also has fond memories of the shoot, even if one is bittersweet in retrospect: Ugarte, who joined her behind the lens for that assignment, lost his battle with sarcoma cancer last June, dying not long after his 30th birthday. He took perhaps the most resonant photo of the entire set: Gauthier and Barile's kiss in the rain.
"I'm happy that his images will live on, forever," she said. "He was a very, very talented photographer."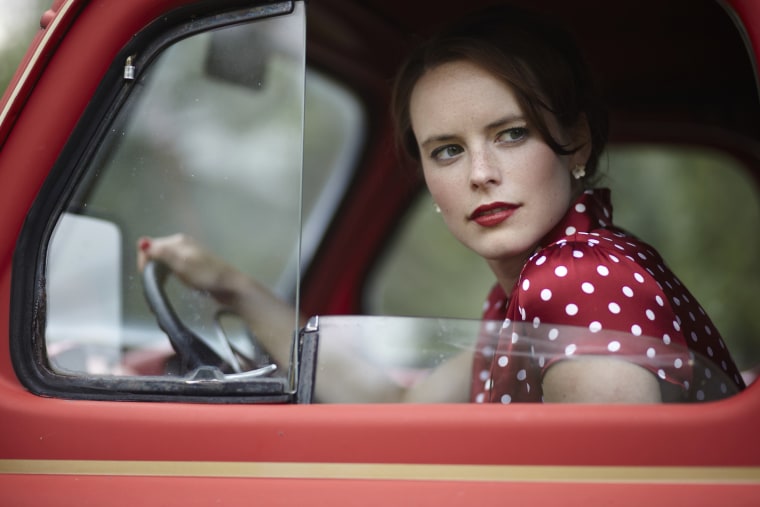 The "Notebook"-inspired photos found new life on the Internet this month, in part due to the movie's 10th anniversary; the movie's wide theatrical release was June 25, 2004.
"It's just funny that it's, all of a sudden, resurfacing," Gauthier said. "People that I didn't know then, particularly at work, are like, 'Oh, my God! You're in those pictures!'"
One might figure the popularity of the shoot would inspire Gray to continue with her cinematically themed sessions, but, as is often the case at the box office, people tend to fear sequels.
"Frankly, I haven't even photographed any other movie-themed engagement session since," she said. "I just loved the way it turned out, and I just moved on."
As for Gauthier and Barile, it's been happily ever after. In addition to celebrating four years of marriage, they're smitten with their 2-year-old son, London. And, reminiscent of a scene from the end of the movie, the couple falls asleep while holding hands.
"It's out of control," Barile said, laughing.
Follow TODAY.com writer Chris Serico on Twitter.