/ Source: TODAY Contributor
The young groom put his hands on his bride's face and looked deep into her eyes, a tender moment that showed her just how much he loved her. Fifty years later, he's still got that special look that says it all.
The serious pose was captured in a photograph just after Carol and Mike Anderson were married on June 3, 1967, when they were both 21. It's always been one of her favorite wedding photos.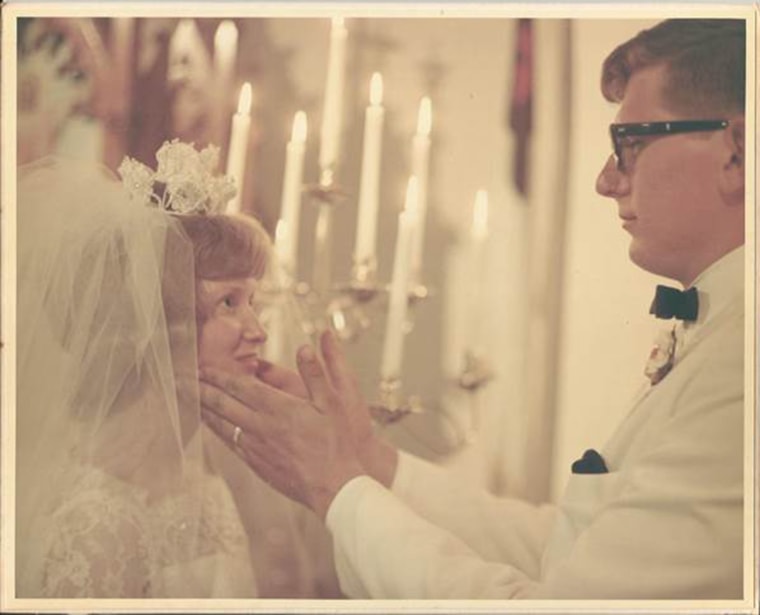 "The look in his eyes, I just knew he loved me, and I just felt like he was always going to love me," Carol, 71, told TODAY. "It was just a dreamy part of that day. I knew he was romantic, but he just doesn't always show that, and the picture to me just showed that he loved me."
As their golden anniversary approached, Carol asked her photographer friend to recreate the pose.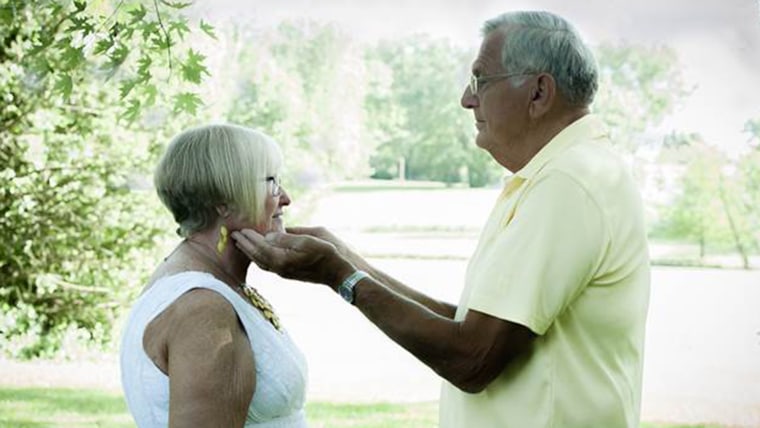 While she and Mike giggled during the outdoor photo shoot last month in Washington, Indiana, Carol was teary-eyed when she saw what photographer Jenilee Counsil had done.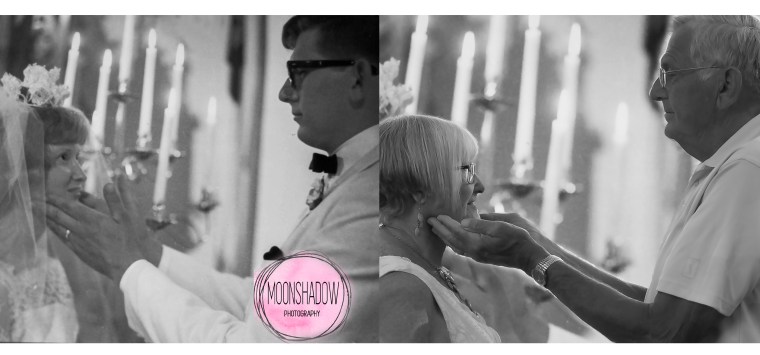 Counsil, the owner of MoonShadow Photography and granddaughter of the Andersons' best friends, surprised the couple by superimposing the recreated image into their wedding photo in front of the church candelabra, and created a black-and-white image of the two photos side-by-side.
"I got goosebumps and tears in my eyes," Carol said. "It was very emotional."
"To me, it just told it all," she added. "That 50 years later, that man still loves me as much as he did 50 years ago. It was just awesome. It was awe-inspiring."
Her reserved husband says that in the two photos, he sees "the same thing."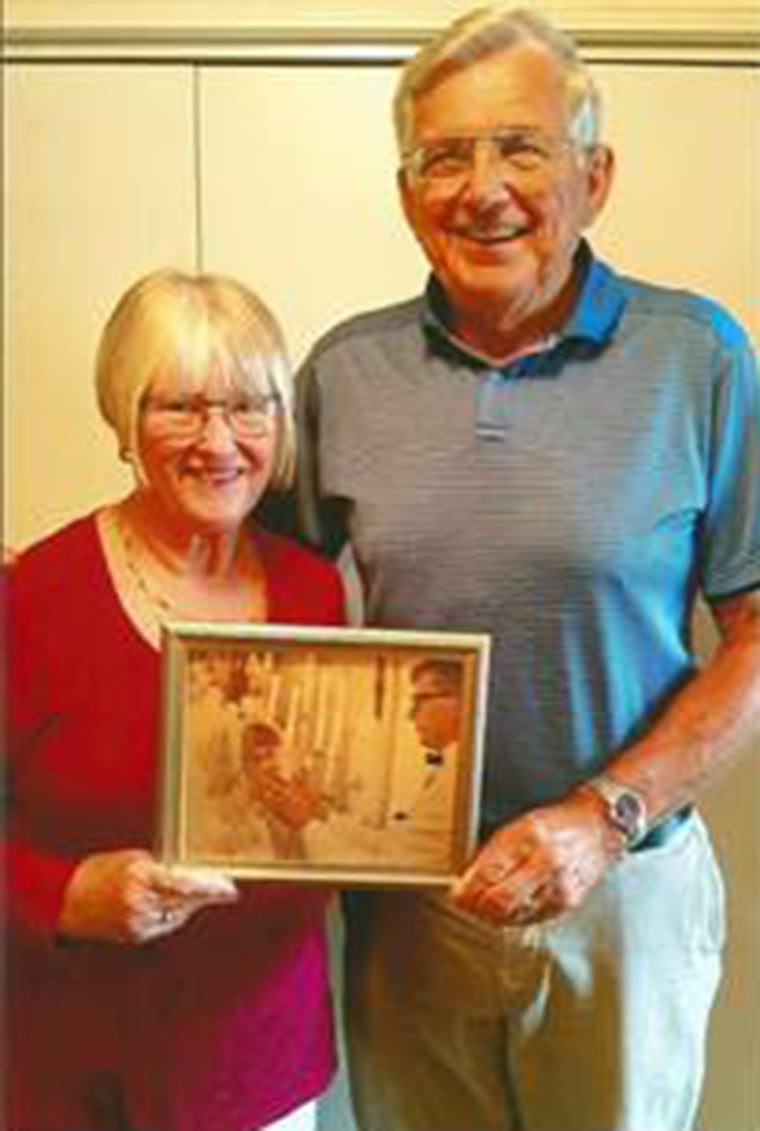 "I saw a girl who loved me, then and now," said Mike, also 71. "Makes me feel good."
As the decades passed, Carol accepted the fact that her husband isn't the type to constantly say, "I love you." But, she's always known it's true. The photos are just one more reminder.
"When I look now at the recreation, I think wow, 50 years later, he still has that look," Carol said. "He doesn't have to say anything. I know he loves me and he'll always love me. It just hasn't changed. It hasn't shrunk. If anything, it's more each day that we have together."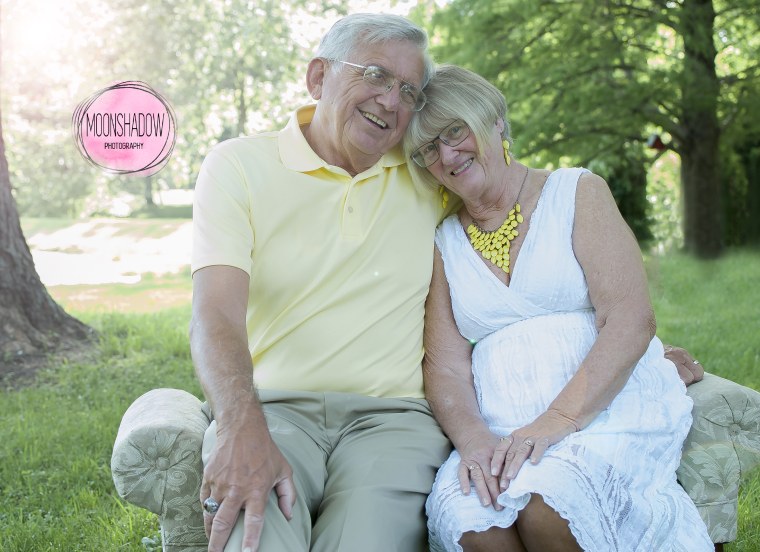 Back in 1964, Mike Anderson and Carol Lovig both graduated from Iowa Falls High School in Iowa, but as Carol says, the two had different interests and "didn't run around with the same group of kids." They went their separate ways to college and reconnected a few summers later.
That was when Carol hosted a housewarming party and the man she was dating asked to bring a friend. When Carol opened the door at 10:00 p.m. to find Mike, who was the friend, the man she was dating was nowhere in sight. "The rest was history," Carol said.
The next Saturday night, Mike took Carol to a drive-in movie. They were engaged by the fall and tied the knot nearly a year after the party. "It was just fate I guess," she said.
Now with six children, 21 grandchildren and one great-grandson, they are happy, though they've felt the bumps along the road. Through it all, their commitment to their marriage never wavered.
"We just don't hold grudges," Carol said. "We've always gotten through it knowing it's a life commitment."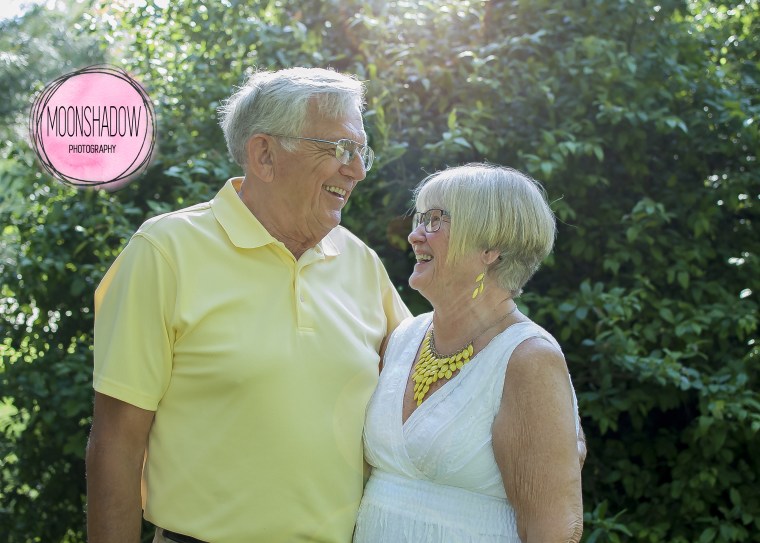 The couple are celebrating their anniversary with a party on June 3, complete with a first dance and cake-cutting. Recreating the wedding pose, Carol said, made her realize that "we were still as much in love as we were 50 years ago."
Noting that many marriages end in divorce, they feel joyful to be reaching their golden anniversary. "We have done it," Mike said. "We have kept our love. It's been a journey and hopefully it's not done yet."
RELATED:
TODAY.com contributor Lisa A. Flam is a news and lifestyles reporter in New York. Follow her on Twitter and Facebook.