Long-lasting couples often agree that marriage is a wild ride of ups and downs. So what better way to really prove that you're in it for the long haul — from the highest of highs to the stomach-dropping lows — than to say "I do" at the top of a crazy roller coaster?
That's exactly what an adrenaline-loving couple, Ashley and Thom Marchetti, did in July at a Six Flags in Massachusetts.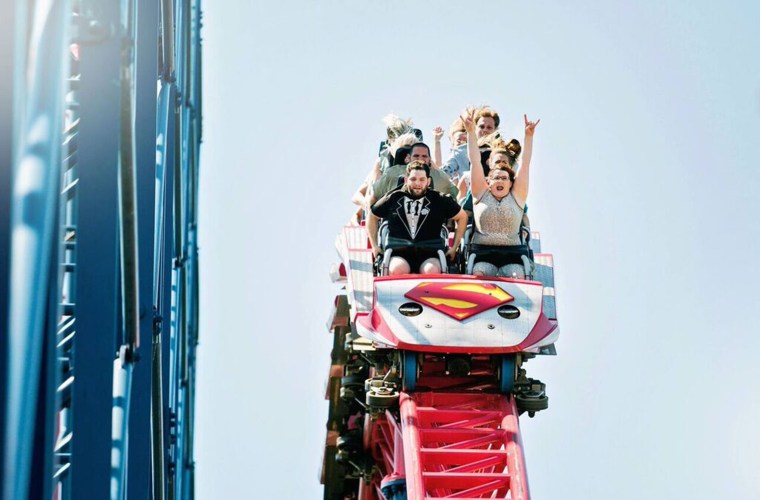 Ashley, 25, and Thom, 29, tied the knot at the very moment most amusement parkgoers scream for dear life.
The Rhode Islanders boarded cart No. 1 of Six Flags New England's Superman ride with their officiant, J. Chris Quint, their bridal party and 30 other seat-buckled and celebratory riders filing in behind them.
The ceremony unfolded exactly as planned. At the 208-foot peak, Quint shouted the vows, and as the roller coaster sped downward, the Marchettis screamed in unison, "I do!"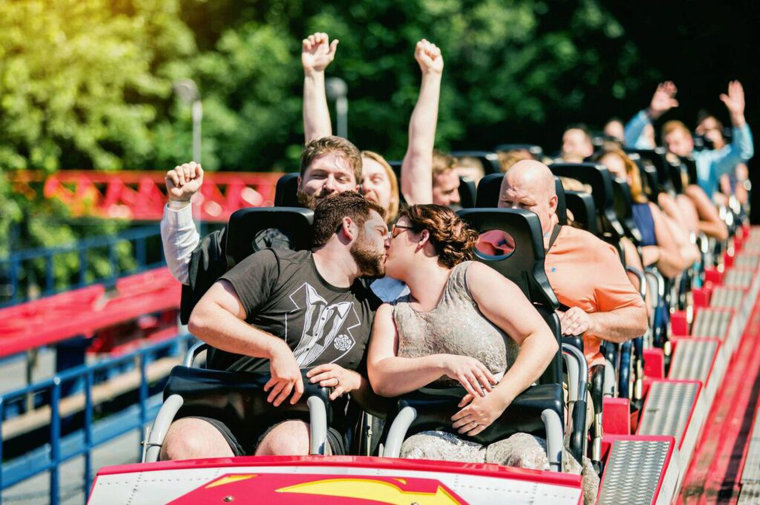 According to Thom and Ashley, no normal ceremony would have properly fulfilled their crazy love. The couple started dating eight years ago and the pair has never cared much for tradition.
"I tried to propose to Thom myself! I wanted to surprise him but somehow he found out and popped the question before I could do it," Ashley told TODAY.
The amusement park ceremony was not spontaneous; the couple spent two years planning their special day.
"Ashley started reaching out to Six Flags, our favorite park, pretty much as soon as I proposed. We went to the park 12 or 20 times last year and practiced to make sure we could land a kiss on the ride," said Thom.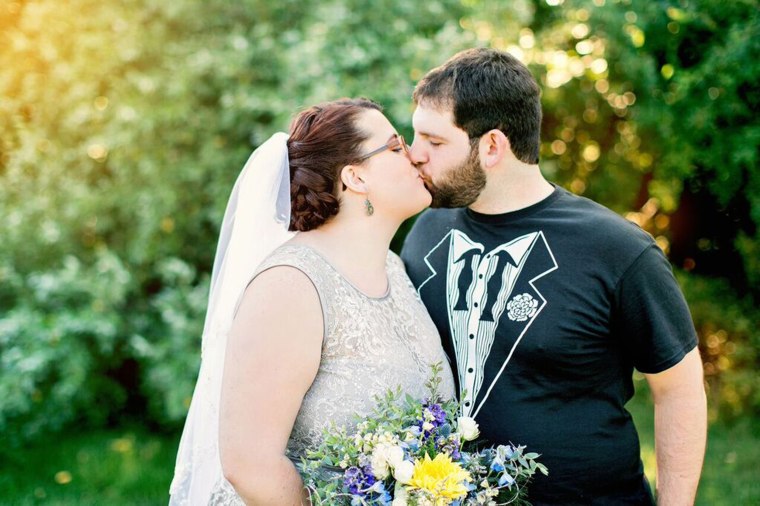 On July 10, the 140-person wedding party arrived to Six Flags at 9:30 a.m. and, Ashley said, "I just took charge!"
"There was no wedding rehearsal. I basically organized a field trip and that's what I wanted," she explained. "I wanted to give people a trip, a vacation."
The bride remembers the day as a disorganized blur of excitement and joy. According to her husband, "It went fantastic. It exceeded every expectation."
The happy guests and their proud leader, Ashley, paraded through the park to the Superman ride. At that point, Thom and his groomsmen filed up the entrance ramp. Ashley and her bridesmaids lined up along the exit ramp, and the guests filled in the waiting space.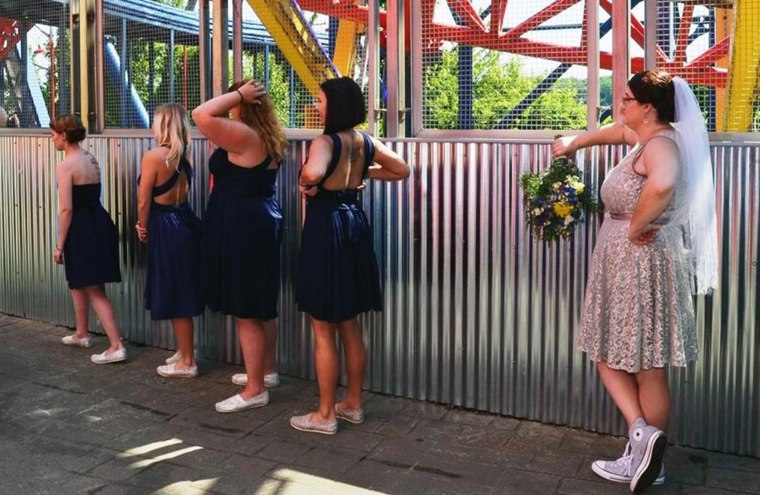 People cheered as Ashley walked down the exit-ramp aisle with her father. The couple exchanged rings and boarded the "biggest, baddest roller coaster in the park," Thom said.
As the cart began its climb, Quint had about 30 seconds to shout the vows.
"He timed it perfectly. That's the only thing we couldn't practice and he did it perfectly. We screamed 'I do!' right as our stomachs dropped," Thom told TODAY.
Ashley went on the roller coaster a few more times so she could ride with all of her guests, and she screamed "I do!" each time. Thom bowed out after the second time around because he was feeling a little dizzy.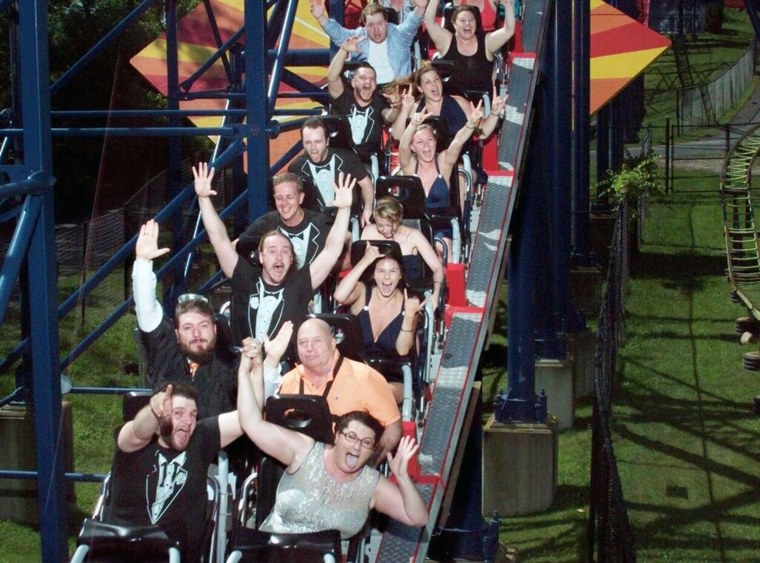 By 1:30 p.m., after a reception of cake and dancing in the park, the group dispersed to explore the rest of Six Flags.
"Everybody thought I was crazy at first but at the end of the day I got so many compliments. Everyone said it was the best wedding they'd ever been to," said Ashley.
The newlyweds both agree that they'll never experience another ride like their wedding one. For Ashley, the roller-coaster ride was a dream come true.
"I've wanted to get married on a roller coaster since I was 8 years old. I saw it once on television and I knew that's what I wanted. If you can dream it, you can do it," Ashley told TODAY.