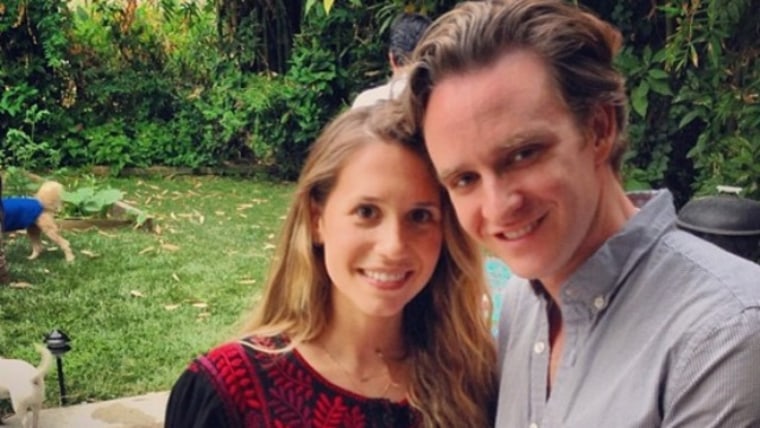 It's a story as ancient as time immemorial: Boy meets girl, they fall in love, boy proposes marriage via a specially-created Instagram feed, they live happily ever after.
OK, so maybe there's not actually much of a precedent for such a love story—but it happened just that way for one couple. Jenna Caine, a recruiter by day and wedding singer by night, and Neil Parris, a digital media exec, met at the Coachella music festival through friends a couple of years ago. At that time, Parris, now 35, was living in Los Angeles and Caine was a resident of New York City, so their courtship began on social media. 
"After our first Facebook chat, it was on," Caine, 32, told TODAY. "The fact that we had social media to communicate through made the whole flirting situation less dramatic. It wasn't a text, it wasn't a call, it was Facebook chat. Something about it seemed easy and carefree."
The pair both knew they were destined to end up together, and that the relationship was headed for marriage. And then last month, Parris popped the question by way of an elaborate Instagram feed, @thestoryofjennaandneil, in which he'd carefully curated 42 images and videos from the couple's history.
It includes photos from the day they met at the festival, screen grabs from their bold social media romance and even a stop-motion video Parris commissioned to kick off the set. He instructed Caine to sit down (amid petals, candles and pre-set cameras to capture the moment) and scroll through the feed. 

Printed on the last image was the text, "Will you…?" and a caption that prompted Caine to look up from the device. There was Parris on bended knee. The moment was simultaneously totally traditional, and totally modern. 
"Him proposing this way made so much sense," Jenna said. "I am known as the queen of Instagram from my friends and family. I love sharing fun and beautiful stories via my Instagram account, and so does Neil, so him proposing to me on Instagram was the ultimate feel-good story in our eyes."
Jenna explained that no one had seen the feed before Neil presented it to her, and the couple had initially kept the account private. Eventually, she said, "We thought, 'Why not share this with the world?' I love that strangers can see it. It's a beautiful story."
So could this utterly modern approach to proposing marriage take hold as a trend?"
Jenna thinks so: "Goodbye, YouTube flash mob proposal," she said, "hello Instagram proposal!"
See Jenna and Neil's story, as told by Instagram:
The first image in the feed was a stop-motion version of their love story Neil commissioned from illustrator and animator Rachel Ryle.
The next images were taken the day the couple met at Coachella.

The feed chronicles the pair's early social media correspondence. 

It stands to reason that the hashtag-loving couple would weave social media into their marriage proposal story.

The last image in the feed prompted Jenna to look up for Neil's live proposal—to which she responded, "Yes!" 

Alesandra Dubin is a Los Angeles-based writer and the founder of home and travel blog Homebody in Motion. Follow her on Facebook, Google+ and Twitter.