I'm a fully grown adult without children and I use Disney's "Frozen" sunscreen — complete with packaging that features the animated characters from the movie. (My boyfriend has also been known to use it.)
It's not for my love of the movie — though I did think it was pretty cute — but because of the product's high rating in Consumer Reports' recent review of top sunscreens: It got a score of 98 out of 100 and only costs about $6 for an 8-ounce bottle, compared to the top-rated La Roche-Posay Anthelios 60, which costs $36 for a 5-ounce bottle.
I still like the more traditional adult brand, but now reserve it for my face. But I happily apply — and just as important, reapply — the inexpensive "Frozen" stuff on the rest of my body. It's creamy without being greasy, rubs in well and has very little scent (unlike Coppertone WaterBABIES, which has a high Consumer Reports rating but a cloying baby powder smell that gets old fast).
Elsa and Anna sunscreen might be the funniest kids' product I use, but it's not the only one. I've found that kids' shampoo and body lotion are great for my sensitive skin. And an informal poll of friends and family revealed that I'm not the only adult who's a fan. I interviewed three dermatologists and TODAY Style Squad member and beauty expert Bobbie Thomas, and they all gave the thumbs up to certain kids' products for adults — with a couple of caveats.
Adults who are acne prone should look for products labeled as noncomedogenic. And, beware, some kids' products will be too greasy and pore-clogging for those skin types.
Some products marketed toward kids are actually too harsh for adults with sensitive skin. If you have ultrasensitive skin, check with a dermatologist before trying any new products, and always spot test any new ones.
In general, it's a good idea to look beyond the target market when choosing skin care products.
"I recommend products based more on skin type than age," says Dr. Margaret E. Parsons, a dermatologist based in Sacramento, California. "Many of the products marketed to the 'kid' section are sensitive-skin friendly. I care less about the age labeling than what is in the product, or not in the product — such as fragrances. I often tell patients to look for things labeled for sensitive skin or check the products marketed to the baby/kid age, since many of those are for sensitive skin."
In addition to skin type, Parsons also recommends figuring out which vehicle you prefer to use (cream, lotion or stick when it comes to sunscreen, for example) rather than the marketing focus. "Many kids products are great for adults, and many adult products are totally fine for kids!" she adds.
Likewise, Dr. Lauren Eckert Ploch, an Augusta, Georgia-based dermatologist, says she recommends "baby" or "sensitive skin" products to her adult patients with eczema, dry skin or a history of allergic contact dermatitis. "Several brands that I recommend for children with eczema, such as Vanicream, Cerave and Cetaphil, are great for adults," she says.
Read on for more dos and don'ts of shopping in the kids' aisle at the drugstore.
1. Rash and diaper creams
"Like magic," is how one mom and Ironman triathlete friend of mine describes Weleda Baby and Child Calendula Diaper Rash Cream. "It works for every skin irritation — baby and parent."
Weleda Baby and Child Calendula Diaper Rash Cream, $7, Amazon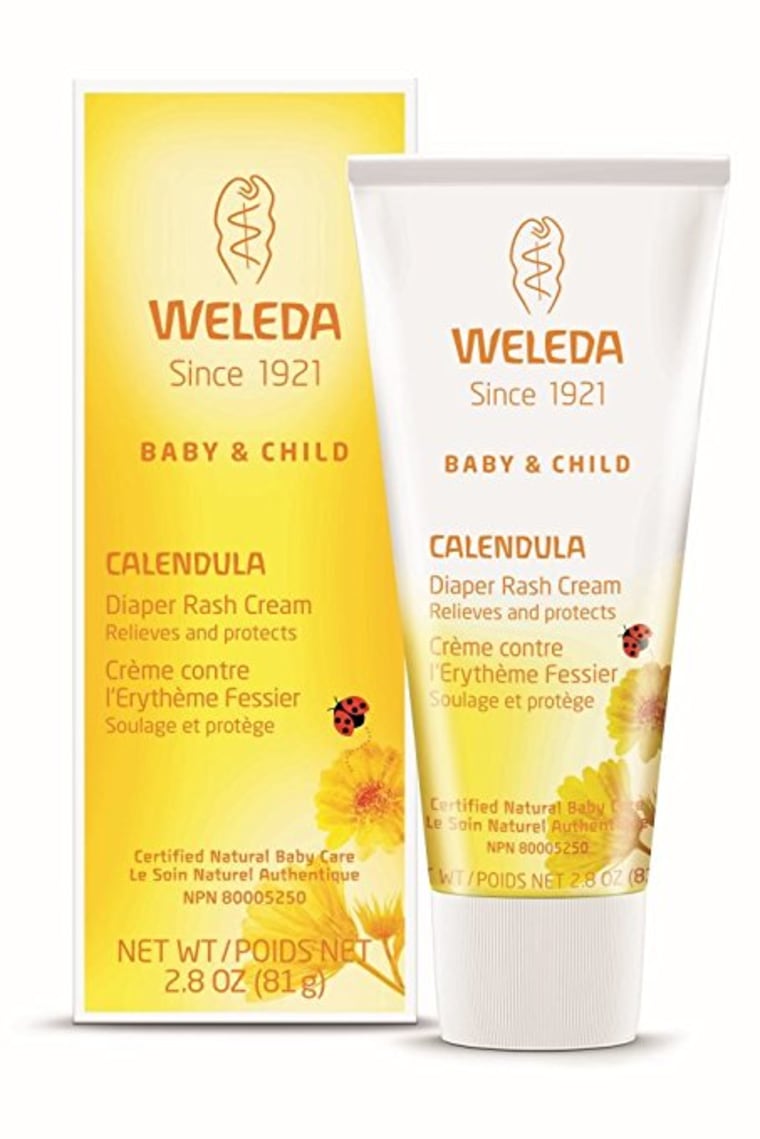 Other friends speak in glowing terms about Aquaphor Healing Ointment "for any kind of cracked skin, lips or cuticles in addition to diaper rash."
Aquaphor Healing Ointment, $12, Amazon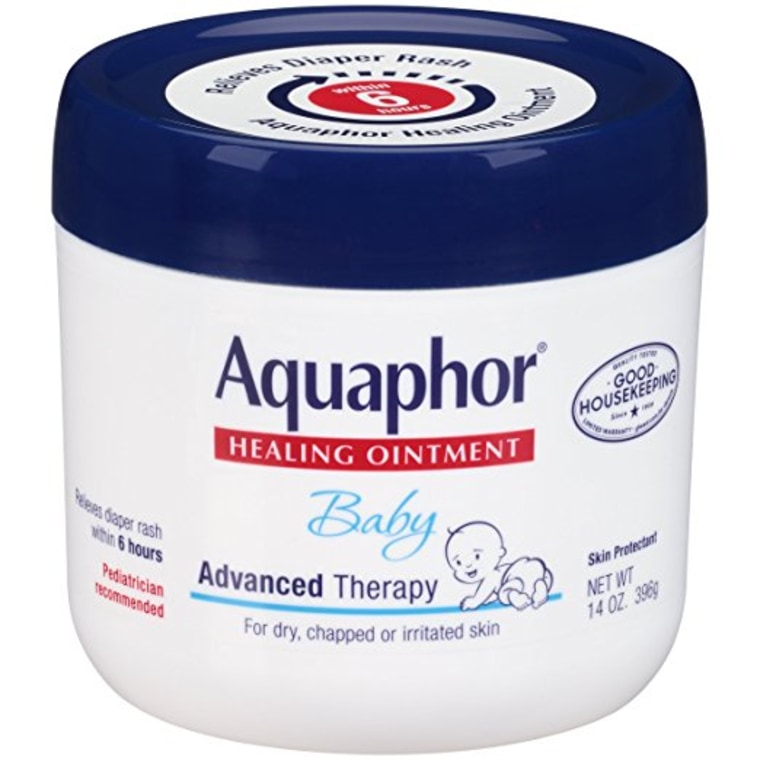 Cerave Healing Ointment andA&D Diaper Rash Ointment are also popular for chapped and dry skin, irritations, minor burns (e.g., if you burn your neck with a curling iron, as in one of Bobbie Thomas' examples), to prevent chafing during exercise and for razor burn — especially in the bikini area, says Thomas.
Cerave Healing Ointment, $9.50, Amazon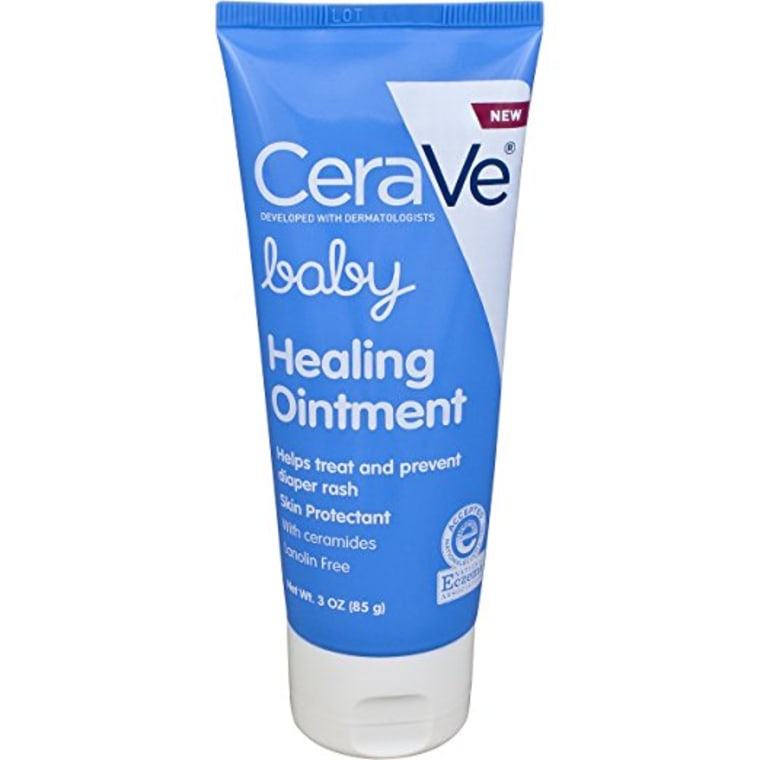 A&D Diaper Rash Ointment, $13 for 2-pack, Amazon

2. Lotion
I'm a fan of California Baby Super Sensitive Everyday Lotion, which is unscented (I hate the smell of most lotions, even those that are supposedly unscented) and rubs in easily.
California Baby Super Sensitive Everyday Lotion, 16, Amazon

Other kids' lotions, including Mustela Hydra Bebe and Li'l Goat's Milk Moisturizing Lotion, got big thumbs up from various dermatologists and friends.
Mustela Hydra Bebe, $16, Amazon

Li'l Goat's Milk Moisturizing Lotion, $8 price, Amazon

3. Shampoo and conditioner
Perhaps even more versatile than diaper cream, baby shampoo gets rave reviews from friends and experts, but not just as a shampoo. One friend uses baby shampoo to clean makeup sponges and brushes, while another washes her cashmere sweaters with it.
Tear-free formula baby shampoos can also be used as an eye wash. "I have recommended baby shampoo for patients who have blepharitis, which is inflammation of the eyelids, or a stye, which is an infection of the eyelid," says Dr. Marie Jhin, a board-certified dermatologist who practices in San Francisco and San Carlos, California. "Gentle shampoos are needed to clean the eyelashes."
California Baby Super Sensitive Shampoo, $23, Amazon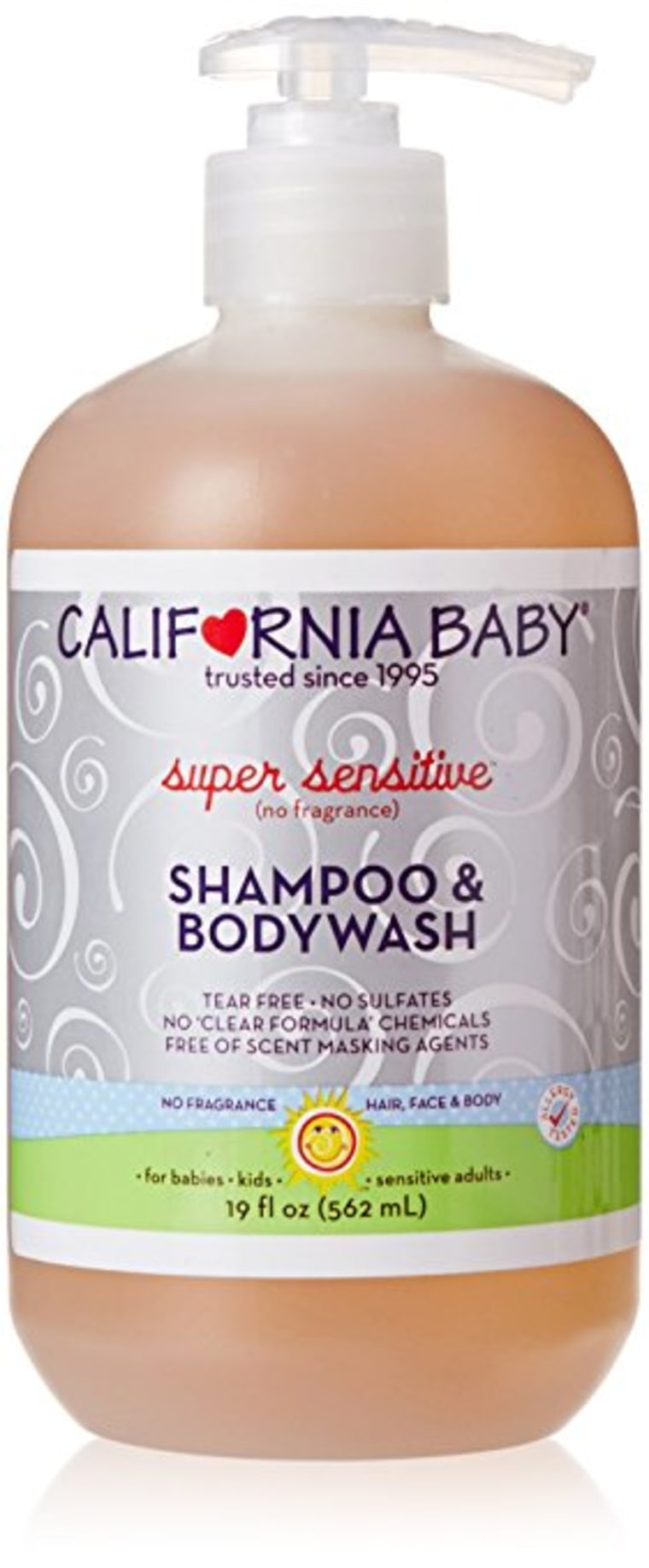 Meanwhile Bobbie Thomas loves Aden and Anais shampoo and conditioner, which are scented with sandalwood. "It smells just as good as a Tom Ford perfume!" Thomas says.
Aden and Anais Shampoo, $15, Amazon

4. Body wash
"I have been know to pilfer some Honest Company body wash," says a friend, who admits to rummaging in her kids' bathroom. "It's gentle and it smells good." And California Baby shampoo can double as a body wash — it's great for traveling or toting to the pool.
Honest Shampoo and Body Wash, $10, Amazon

5. Wipes
"I will buy wipes forever!" says one friend, who calls them "good for everything," including wiping tables at self-serve cafes and wiping off sinks before guests come over, in addition to all the regular kid uses.
"I don't know how I existed before wipes," agrees Thomas. "I have wipes hanging from the stroller, in the kitchen, everywhere. I can get makeup off my shirt in four seconds. I use them if I have gooey hands from lip gloss. They're the best."
Given the number of times I've been happy that a friend with kids had a wipe to give me, I should probably just buy my own. Thomas and all of my pals just recommend choosing unscented wipes of any brand. One popular pick is Pampers.
Pampers Sensitive Wipes, $14, Amazon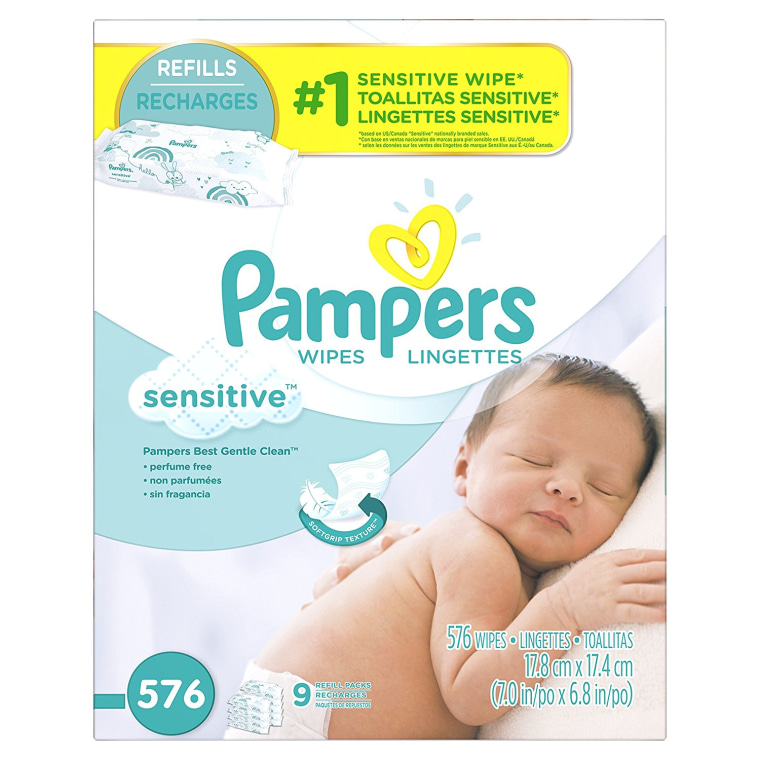 6. Sunscreen
The "Frozen" sunscreen I've fallen for is made by a company called Pure Sun Defense that was founded by a group that includes actor Hugh Jackman, who has been treated multiple times for skin cancer and is on a mission to get people — especially kids — to use sunscreen.
And if "Frozen" isn't their thing, the same formula which Consumer Reports gave such a high rating is available with Minions, Mickey Mouse, Star Wars, Teenage Mutant Ninja Turtles and Marvel Avengers packaging. Parsons, whose advice when it comes to sunscreen is, "Find one you like and use!" tried the Frozen sunscreen and says she thinks it is fine for any age.
"It goes on with a nice creamy feel, but spreads on well and does not look pasty," she notes. "I have not swim-tested it, but overall I think it is perfectly fine.
"If a kid will use the 'Frozen' sunscreen because it has Anna and Elsa on it, I'll go with the gimmick as it seems to be a well-made product. But I'm pleased to say, my husband might also use it because it blends in well!"
Pure Defense Disney Frozen Sunscreen Lotion, $6, Amazon.com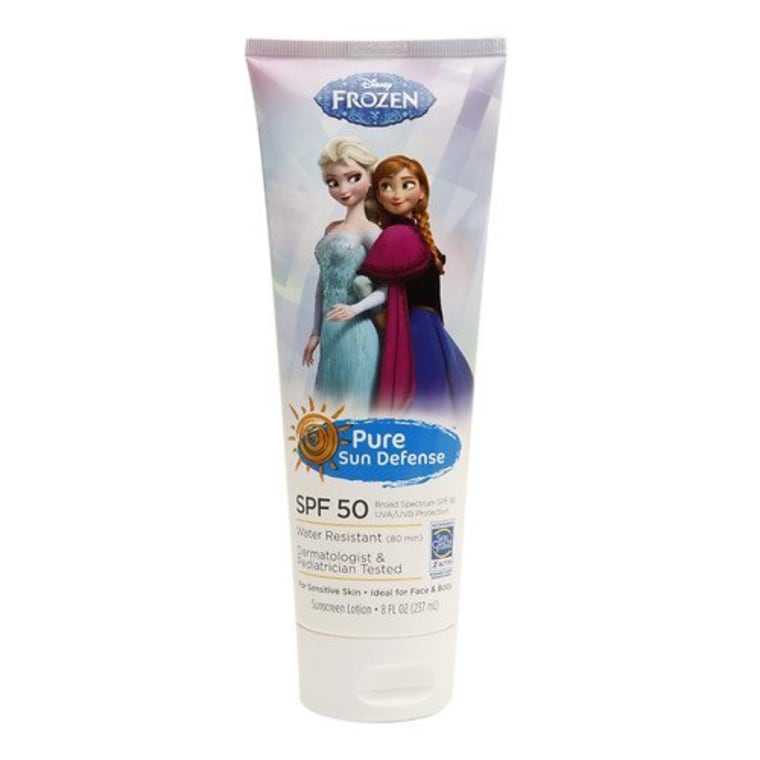 "Personally, I use a zinc oxide and titanium dioxide formula at the beach," says Ploch, who uses Blue Lizard Sensitive Sunscreen and prefers physical sunscreens to chemical. "It's difficult to spread and has to be reapplied often, but I don't have to worry about my health or the health of my family in the future."
Blue Lizard Sensitive Sunscreen, $26, Amazon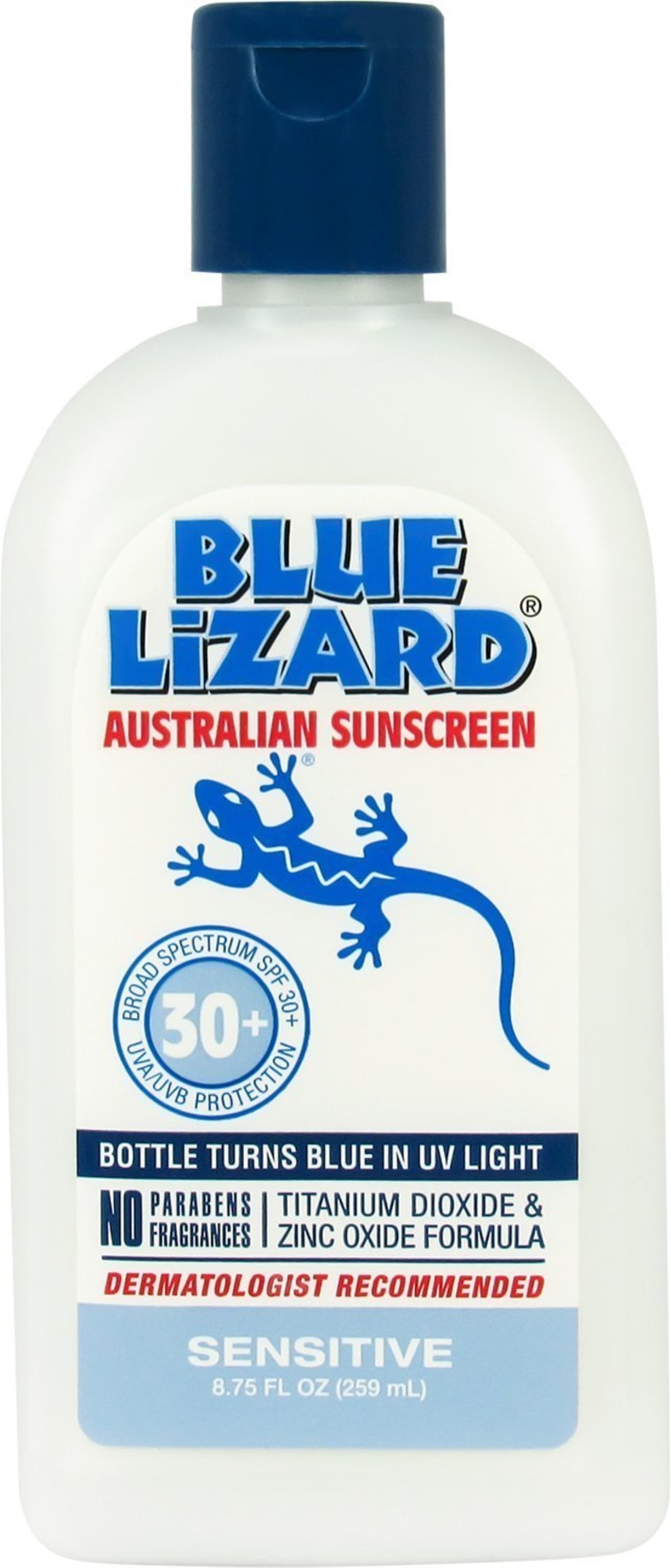 On days when I don't need full-body coverage from my sunscreen, I like to use kid-marketed, chemical-free Babo Botanicals Clear Zinc Sunscreen on exposed skin, like my neck and chest. It's a little chalky but easy enough to rub in and has a nice apple-like smell.
Babo Botanicals Clear Zinc Sunscreen, $12, Amazon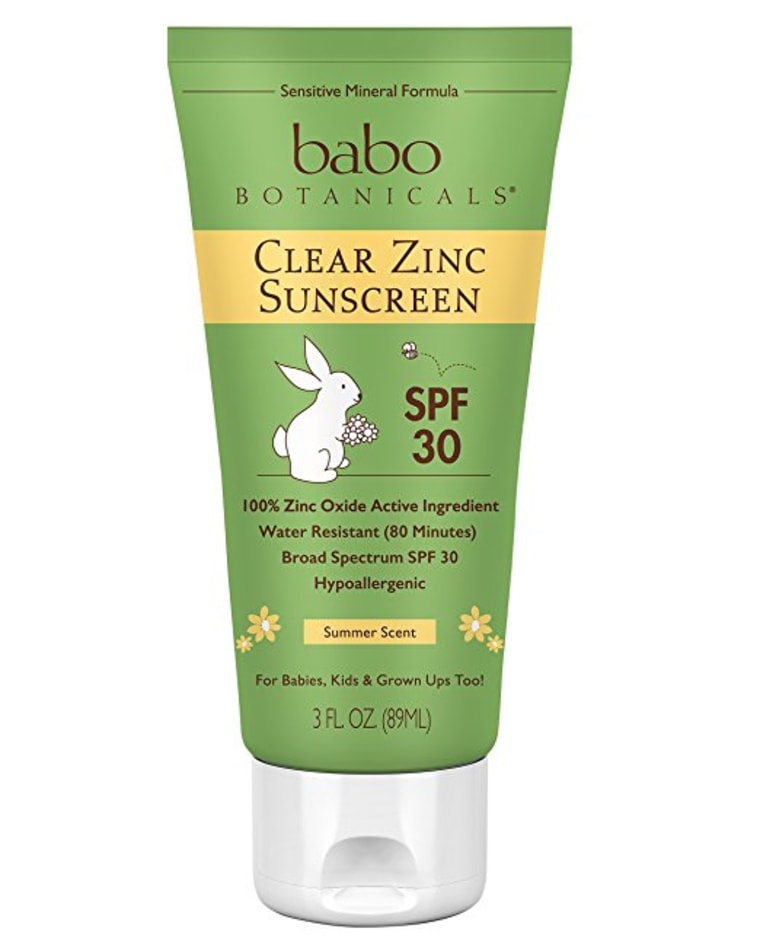 A couple other physical-blocker sunscreens my friends nab from their kids include Neutrogena Pure & Free Baby Sunscreenand orange-y scented ThinkBaby.
Neutrogena Pure & Free Baby Sunscreen, $20, Amazon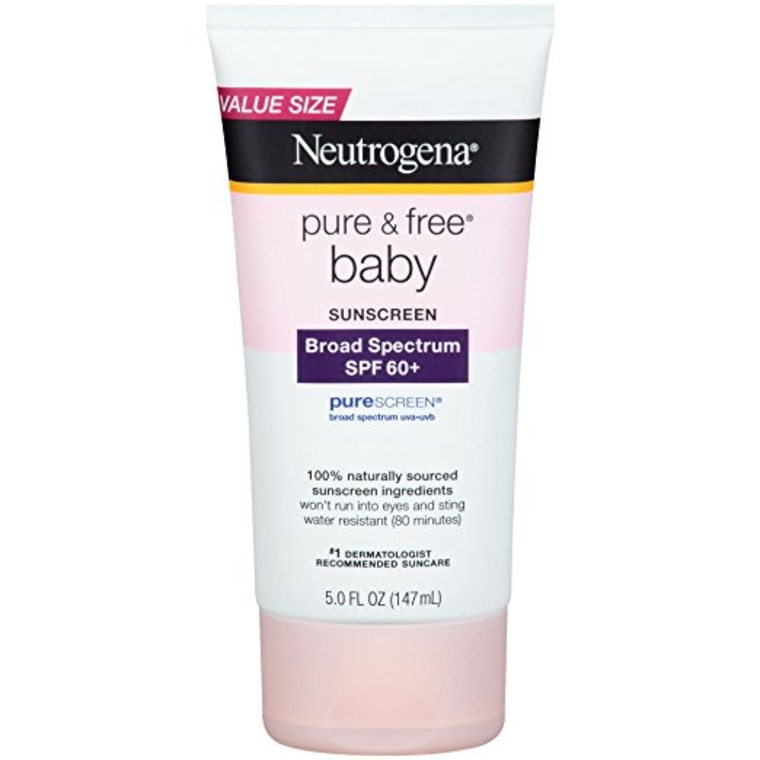 ThinkBaby Safe Sunscreen SPF 50+, $10, Amazon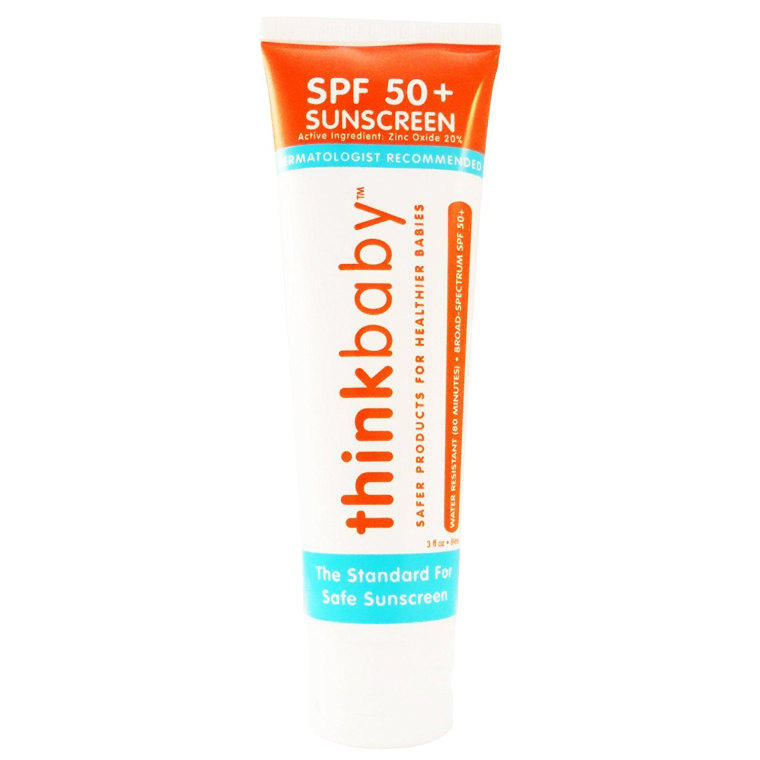 Keep in mind, even doctors, like Ploch, who favor mineral sunscreens say that any sunscreen is better than none. "The risks of chemical sunscreens are still theoretical, but we know that skin cancer can be fatal," she says.
Whether you prefer to have Anna and Elsa on the packaging is up to you.
This story was originally published on June 14, 2017 on TODAY.com.