By now you know — or at least have heard about — all the many, many wonders and uses for coconut oil. It's more than just a basic fatty oil: You can cook with it! You can clean your house with it!
And perhaps, most importantly, it's the most versatile beauty product you could keep in your cabinet. Packed with vitamins D, E and K, the miracle worker can transform your skin, face and hair in minutes. Here, TODAY Style tapped some professional beauty buffs to break it all down for you.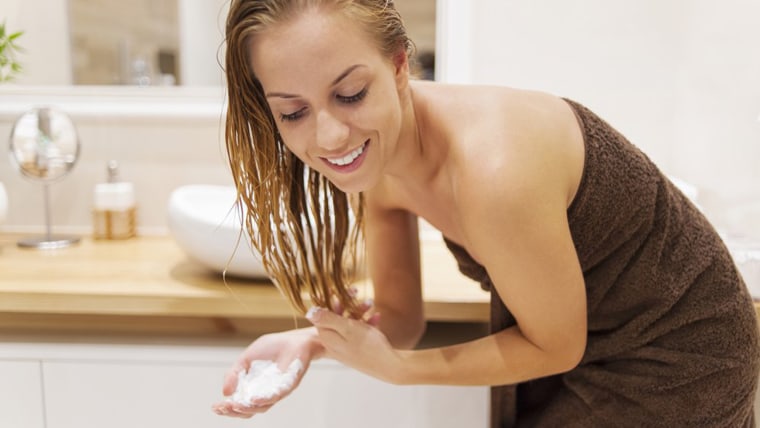 Hair
1. Deep conditioner:
A thick coat of coconut oil, left on for several hours under a shower cap, will transform dry, damaged hair. Nunzio Saviano, who has an eponymous salon in New York City, told TODAY Style his routine includes warming the oil up, glossing it over dry hair (this is important — the oil penetrates better when your hair is dry), covering overnight and shampooing in the morning. Voilà!
2. Frizz fighter and curl tamer:
"The greatest thing about coconut oil is it's a natural anti-humectant," or anti-humidity product, according to Saviano. "The molecules are small enough to penetrate the hair shaft, and the benefits are amazing." He advises warming up the oil, emulsifying a tiny bit between your hands and scrunching it onto the ends.
3. Scalp conditioner:
Per Saviano, using coconut oil on your scalp is a great conditioning treatment. Rub directly onto the roots of your hair to calm itching and help stimulate hair growth.
Body
4. Moisturizer:
"When it comes to your body, where the concentration of oil glands is less intense compared to your face, coconut oil is better suited as a body moisturizer," Dr. Shereene Idriss, a New York-based dermatologist at Union Square Laser Dermatology, told TODAY Style. "Its occlusive and waxy nature combined with it being rich in vitamin E and omega-3 fatty acids allow to form a barrier on skin while delivering deep moisture for dry skin in areas not prone to breakouts." Smooth it on dry spots to protect the skin's moisture barrier, and you'll be good to go all day long.
5. Mosquito bite and sunburn remedy:
Dr. Debra Wattenberg, a board-certified dermatologist, suggested mixing coconut oil with a bit of oatmeal for a quick way to soothe itchy bug bites and sore sunburns. "It even has some antibacterial effects," she added.
6. Body scrub:
For a natural, moisturizing exfoliant, Wattenberg recommended combining equal parts brown sugar and coconut oil. Hello, smooth skin!
7. Cuticle cream:
Rub the oil into your cuticles to prevent dryness, Wattenberg advised.
8. Foot cream:
Be gone, cracked heels! Wattenberg suggested slathering your feet in coconut oil to really tackle those dry areas.
9. Cellulite treatment:
Joanna Vargas, celebrity facialist and founder of Joanna Vargas Salon and skin care products, likes to use coconut oil as a body "detox" treatment that also helps with the appearance of cellulite.
"Rubbing coconut oil all over the body serves not only to hydrate and restore the lipid layer with omega-3 fatty acids, it also increases the metabolism at the cellular level so you will be detoxed and hydrated," she said. She recommends going all out with a full-body detox by covering yourself head to toe in coconut oil, and wrapping yourself in ace bandages for 45 minutes.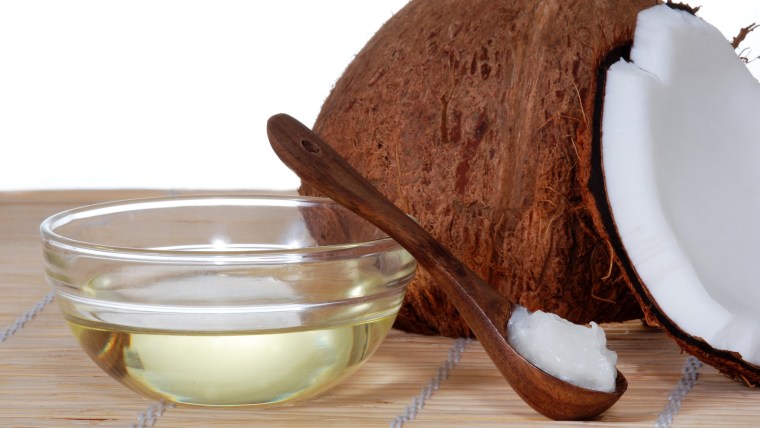 Face
10. Makeup remover:
"Coconut oil is rich in omega-3 fatty acids, making it a powerful lubricant capable of dislodging makeup particles," said Idriss. "However, given the fact that it is extremely comedogenic, I recommend following it up with a gentle cleanser to wash away any oily residue." In other words, the waxiness of coconut oil could potentially cause breakouts for acne-prone skin, so if that sounds familiar, be sure to cleanse after using.
11. Lip balm:
No chapstick, no problem — coconut oil can serve as a natural lip balm, according to Wattenberg.
12. Teeth whitener:
Chicago dentist Zack Zaibak previously told TODAY that, in addition to teeth whitening, swirling coconut oil in your mouth for about 15 minutes can also remove bacteria in your mouth and help improve conditions like gingivitis. You can also concoct a natural toothpaste by mixing coconut oil with baking soda.