A Los Angeles store is cashing in on Mexican drug lord Joaquin "El Chapo" Guzman's colorful fashion sense.
On its website and Facebook page, men's clothing retailer Barabas boasts photos of "El Chapo" in shirts identical to ones it sells, including the striped design he wore in a now-famous photo with Sean Penn, part of the actor's recent Rolling Stone article.
Sure, it's an interesting marketing tactic (a drug lord to sell shirts?) — but apparently one that works, store owner Shawn Esteghbal told TODAY. As he explains, any publicity is good publicity.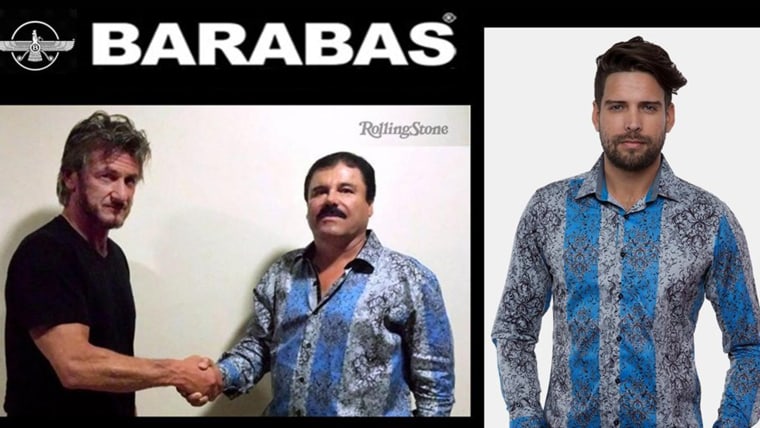 RELATED: How 'El Chapo' escaped prison — and why it's an 'astonishing lapse of judgment'
"I understand he's a most wanted man, but everybody knows him!" Esteghbal said.
Esteghbal and his brother own the Los Angeles shop and also sell their products to other retailers throughout the U.S. and at trade shows, so they're not sure how Guzman, who was recently captured after escaping from prison for the second time, got his hands on the shirt — but they are certain it is their design.
"We noticed on Saturday night," he said. "I was sleeping in bed and got a lot of phone calls and messages; my customers and friends were telling me, this is your shirt that El Chapo is wearing!"
And while most of us wouldn't consider the expert escapee a trendsetter, the $128 shirts are now on back order, Esteghbal said: "Orders keep coming in; people really want that shirt!"