After hat head, static-induced fly-aways and dull, dry ends, whose hair isn't ready for a weather change? We asked top beauty pros for intel on everything from luxe DIY home treatments to easy ways to prevent — and heal — split ends. Damaged, dull and lifeless? We're leaving that behind.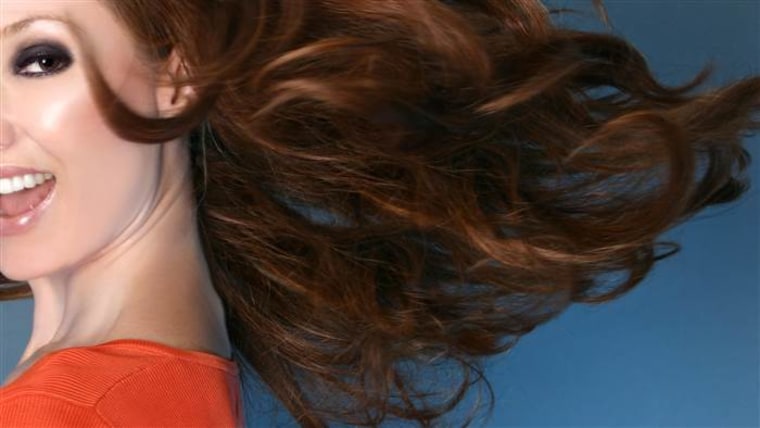 Identify enemy no. 1
Sizzling-hot styling tools top the list of hair damage culprits says George Gonzalez, owner of George the salon in Chicago. "For example, people often put their blow dryer directly against the hair because they think that's the way to get it straight," says the celebrity stylist, who spent a decade working behind-the-scenes at Oprah Winfrey's HARPO Studios. "That can do real damage."
The higher the heat, the more likely the proteins that make up hair will weaken, leading to split ends and other breakage. The simplest solution (aside from jettisoning your dryers, curlers and flatirons)? Keep temps under 375 degrees Fahrenheit. Doing so could make a tremendous difference in the long-term health of your hair, so experiment with using the lowest possible heat setting that still gets the job done.
RELATED: Hot scissors are sizzling new hair trend
Mend your split ends scientifically
Worry that scissors are the only solution to split ends? There are now professional remedies that can repair them. Brazilian Blowout's in-salon Split End Repair Treatment, for example, mends and seals broken hair fibers back together using amino acids. "It's a really quick service, and anybody can get it," explains the brand's international artistic director Tyler True of the 10-minute process that costs between $20 and $30 and can last up to four weeks. "The treatments add a certain density to the ends, so it appears that you just got a fresh cut."
Be pig-headed about brushing
The hairbrush you're using might be a secret source of hair damage. "I recommend round natural boar brushes and a small to medium size paddle brush when styling," says Giles Robinson, director of training and education for Color Wow and senior hair stylist at John Frieda. Not only are the flexible bristles less likely to tug and break strands, their porous nature holds onto your own protective oils, distributing minute amounts through hair as you brush. The result? "Boar bristles really add shine. You will be amazed when you switch over. Just the act of brushing makes your hair feel better."
Make your waves do the work
As sexy as they are simple, beach waves are one of the perks of warmer weather, and getting them couldn't be easier — no trip to the seashore required. Just mist towel-dried hair with a DIY salt spray, scrunch strands and dry allow to dry naturally.
For those mornings when there's just no time to air-dry, spritz damp hair with a product like John Frieda Frizz Ease Go Curlier Heat-Activated Spray, which is formulated to amplify curls when activated by heat. Blow dry with a diffuser to lock in the style.
RELATED: Burning your hair to get rid of split ends? Some women are trying candle cutting
Iron your braids
True says that you can also fake beachy hair by running a flat-iron over braids prepped with heat-protective spray. "It will create an instant wave." The larger the plait, the looser the texture.
Grab an avocado
Start stocking up on the avocados to DIY a hair treatment that feels as luxe as anything you'll find in a salon. "Oils from an avocado are light and moist, and, like our natural skin secretions, also boast proteins which help smooth out unruly, frizzy hair," explains True. His recipe: Mash up half an avocado and massage it into clean, damp hair. Let it sit for 15 minutes before rinsing with water. All our experts agree that treating hair regularly with a deep-conditioning treatment is key to preventing damage caused by dryness.
Step out on your old-standby
"Anything from wearing your ponytail or bun in the same place to always flat ironing can cause hair strands to weaken," says Gonzalez, who encourages women to change up their hairstyle to keep hair healthy. Love a low chignon? Try a top knot from time to time, or swap your go-to high-pony for the occasional side braid.
RELATED: Split ends? Roots? Easy styling tips to make your haircut last longer
Cut back on coloring
The longer you're able to go between touch-ups, the healthier your hair will be. Switching from a solid, single-process hair color to a head of highlights could allow you to stretch appointments to eight weeks or longer (and save a bundle in the process).
Disguising regrowth can also extend time between touch-ups. Pigmented mineral-powder products like Color Wow Root Cover Up compacts let you paint super-saturated but natural looking temporary hues over roots with a few quick sweeps.
Take a cold shower
Want to increase shine naturally? Agua is the answer. "Hair cuticles lie flat when splashed with cold water," True says. "The smoothed cuticles reflect more light, making hair appear shinier and healthier." When you're finished showering, blast your hair with cold water for 5 to 10 seconds, he suggests. Towel dry hair and style as usual.
This article was originally published April 21, 2014 on TODAY.com.