We know and love Christina Hendricks as a bold redhead, but the actress and Clairol spokeswoman recently ditched her signature shade to return to her natural golden blonde color.
And we have to admit, the "Mad Men" beauty looks great. If you haven't changed your style in a while, spring is the perfect time to try a new hair color, Clairol color director James Corbett told TODAY.com.
"Since our skin gets a little darker in the summer, even when we wear sunscreen, a lot of women feel their darker hair washes them out, so they like to get a glow glowing on their hair, too," he said.
"I also think that the mindset of lighter hair gives us a playful, relaxed, carefree summer vibe," Corbett added.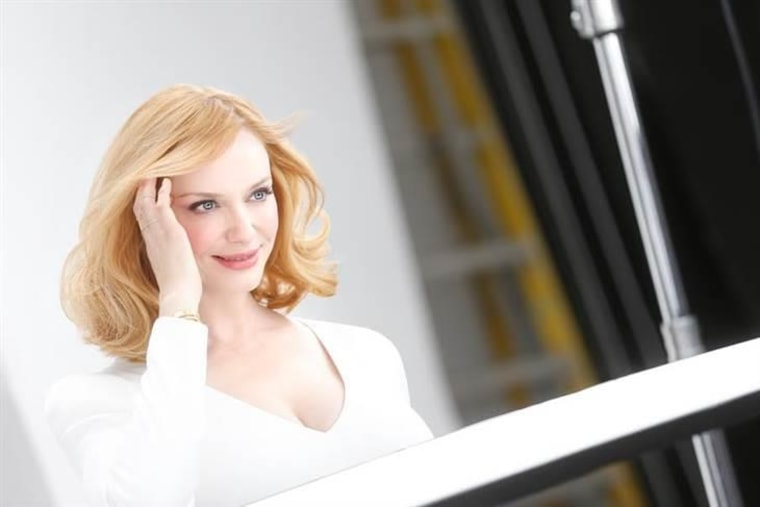 But it's no secret that hair color can be daunting, so here's a how-to guide of what to do based on your current color:
If your hair is dark brown or black:
Don't reach for the platinum color just yet.
"For women with very dark hair, I recommend lightening up with a warm caramel hue," Corbett said.
If your hair is light brown or dark blonde:
If your hair falls in this category, there's room to have some fun.
Corbett recommends ash blonde shades for all-over color, "which work against the natural brassiness in dirty blondes and light brunettes."
Or try ecaille (pronounced eh-cay-eh) highlights, which are applied by hand in multiple tones, hence the nickname that means tortoiseshell in French. You can even buy a hair-painting kit for a DIY job at home.
"It's a great way to add brightness to face-framing strands for a high-fashion, low-cost color," Corbett said. "Because ecaille highlights are hot right now, don't worry about picking random pieces—the messier the better."
Read more: The most famous celebrity hair color chameleons.
If your hair is light blonde:
Adding more blonde won't do much, Corbett said. Instead, think of adding slightly darker pieces to make the bright hair you already have pop.
"The lighter the base, the more difficult it will be to notice lighter pieces," he explained. "Adding a few lowlights will add contrast, which can make lighter pieces appear brighter."
If your hair is red:
If you're a redhead, take a tip from Hendricks' hairdo.
"Subtle copper or strawberry blonde hues are best for this shade," Corbett said.
And if you're opting for highlights, "go for the gold," he added, explaining that the "yellow tone will make colors appear brighter."
Of course, warmer weather usually means more time in the sun, so don't forget to protect your newly colored hair with a hat, scarf or SPF spray. In a crunch, you can even apply regular sunscreen to your hair—just don't forget to wash it out later, Corbett suggested.
"Another great tip is to think of your hair like a sponge," he added. "If you wet your hair with tap or bottled water before swimming, it will absorb less chlorine or salt water since it is already moist. This will help protect color from any harsh chemicals in the water."
This article was originally published Mar. 19, 2015 at 5:06 p.m. ET.