We've chosen the bride and groom's wedding day looks, the rings, the favors and more, which leaves one very important element undecided for Kaitlin Roseman and John West: the flowers. Like the rest of our TODAY wedding, this decision is completely up to YOU.
RELATED: America says 'I do!' Meet the happy couple of TODAY's Wedding
"When choosing decor and flowers for your wedding, you really need to think about, not only how you want your wedding to look, but mainly how you want it to feel," said Jes Gordon, owner and creative director properFUN by jesGORDON event planning and design.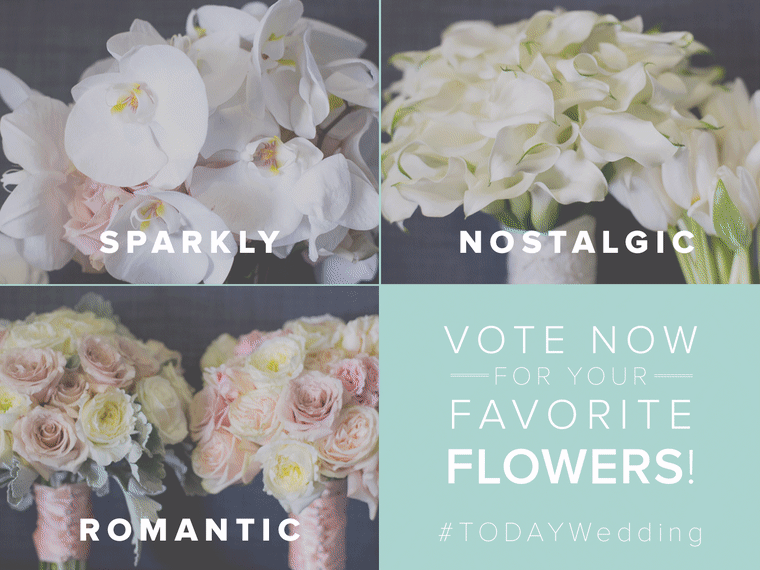 Whether you want to keep things simple with greenery or make a bold statement with color, flowers can set the tone for the entire event.
"It's also so incredibly important to realize that it's not just about the wedding, but about the marriage and how you want to express who you are as a couple in a digestible and beautiful way," added Gordon.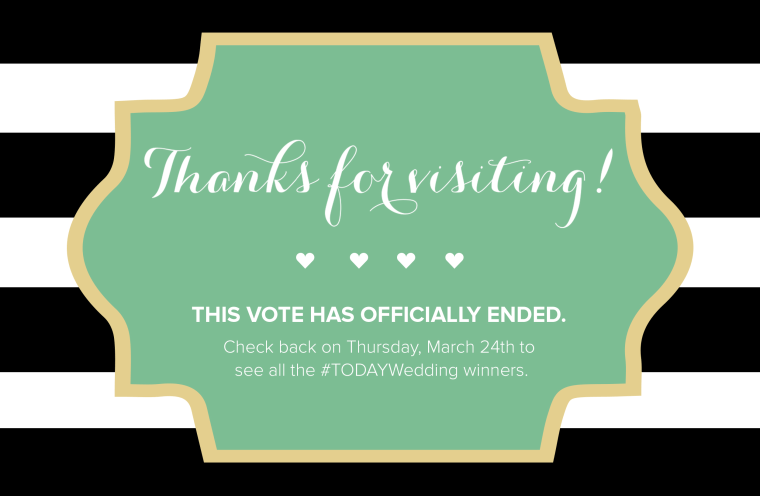 RELATED: Toast the happy couple! Vote for TODAY Wedding's signature cocktail
And with so many different options, Gordon understands that the process of choosing what you want for your big day can feel overwhelming. She advised visiting your local floral market to see what's available in that season.
"Knowing what you don't like is just as important as knowing what you do like. So educate yourself on these different types of floral categories before committing to them ... just as you did when choosing a life partner!" Gordon said.
RELATED: Which design should take the 'cake' for the TODAY Wedding? Vote now!
From the bridal and bridesmaid bouquets to the boutonnieres, it's your choice as to what will be featured at the TODAY Wedding. Take a look at the different options and vote on your favorite, then don't forget to tune in on March 24 to see all the winners in action!
1. Sparkly
Bride: White phalaenopsis
Bridesmaids: Blush and ivory garden roses, white phalaenopsis
Boutonnieres: White phalaeonopsis, white and blush roses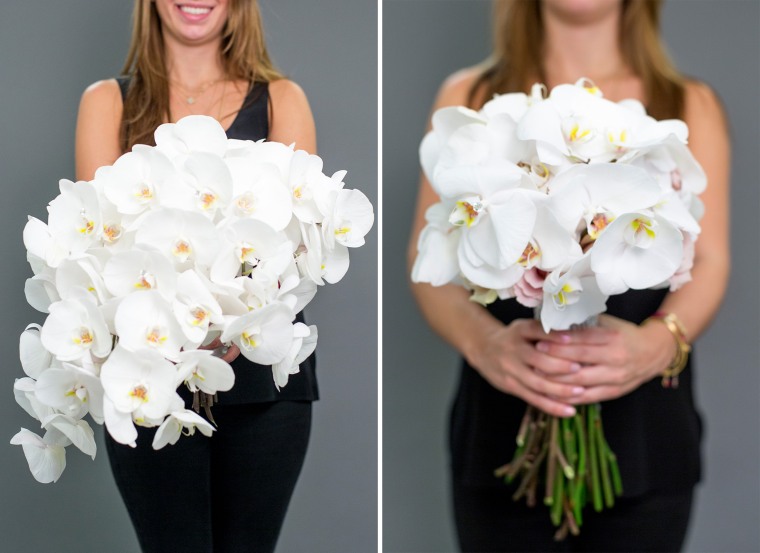 "We always tell our couples that their wedding day is who they are times a thousand! It's a day when they will sparkle and shine from inside out. Bling is a great way to raise the bar," said Gordon.
White and blush is already a beautiful combination, but you can also add a little sparkle into the mix to make something even more special. The bridal bouquet, made out of orchids, is truly unique and will make a statement that feels timeless. Gordon added roses into the mix for the bridesmaid bouquets and boutonnieres, allowing them to still match the bride's without stealing her thunder.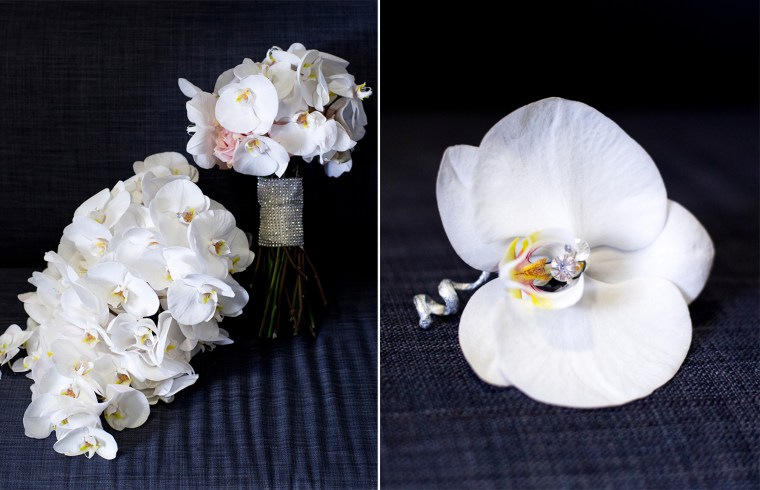 "We love to express this special day with noble and timeless flowers that exude this feeling of greatness," explained Gordon. "A special occasion demands a little bling! We love to complement these flowers with the sparkle and shine of a beaded or crystal stem wrap to really bring out the reflective beauty of the wedding party."
RELATED: Put a ring on it! See which rings the TODAY Wedding couple might wear
2. Nostalgic
Bride: White calla lilies
Bridesmaids: White tulips
Boutonnieres: White calla lily, white tulip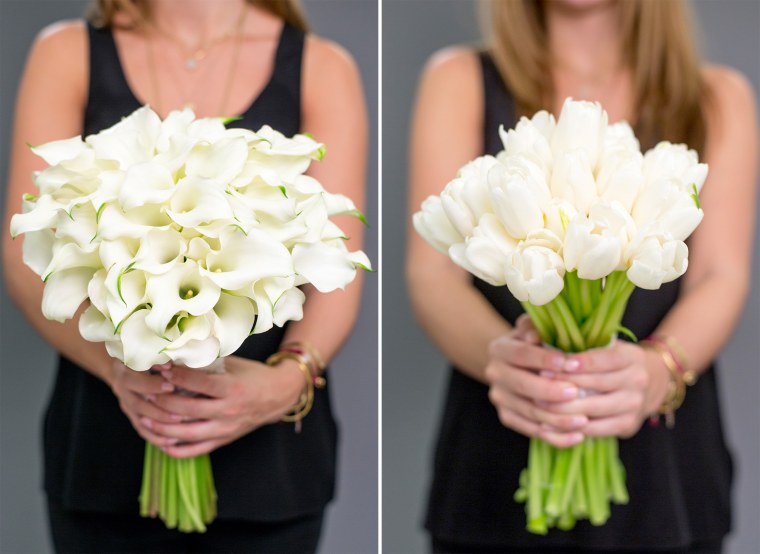 "Styles change from generation to generation, but there are ways of carrying over traditions to make everyone feel happy and familiar with their surroundings," noted Gordon. "Calla lilies are a spectacular flower choice to express this timeless connection, and tulips represent deep friendship and respect."
Gordon decided to go with a mini version of the calla lily, which she said, "is a modern interpretation of the old-school, long-stemmed calla that many women carried on their wedding day years ago."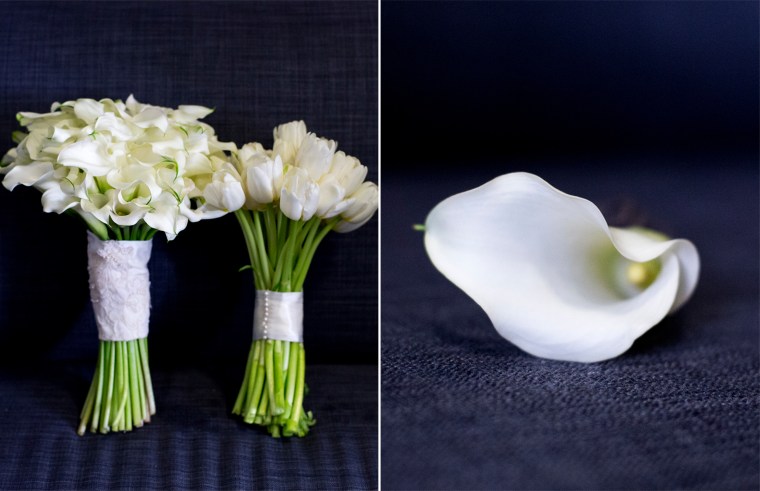 These arrangements give a sophisticated, modern and fresh twist to classic flowers.
RELATED: 'My Big Fat Greek Wedding 2' stars reunite and reminisce on TODAY
3. Romantic
Bride: White and blush garden roses, pink spray rose, white and blush tulips
Bridesmaids: White and blush garden roses, blush spray roses, dusty miller
Boutonniere: White garden rose, blush garden rose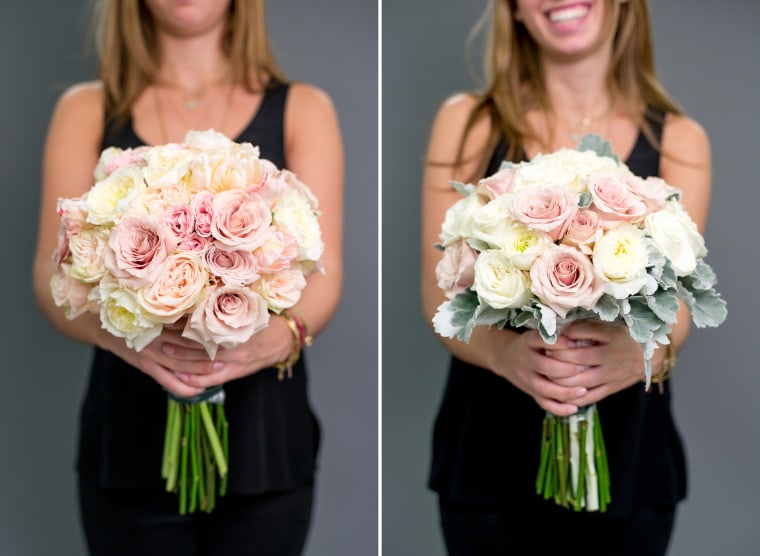 "Romance flowers such as peonies and garden roses personify romance, beauty and passion. They are lush and take up a lot of real estate in order to make a grand statement," explained Gordon. "These flower breeds tend to create a dream-like and romantic ambiance without even trying. Their beauty is so strong, you hardly need to introduce other elements since they can easily stand on their own."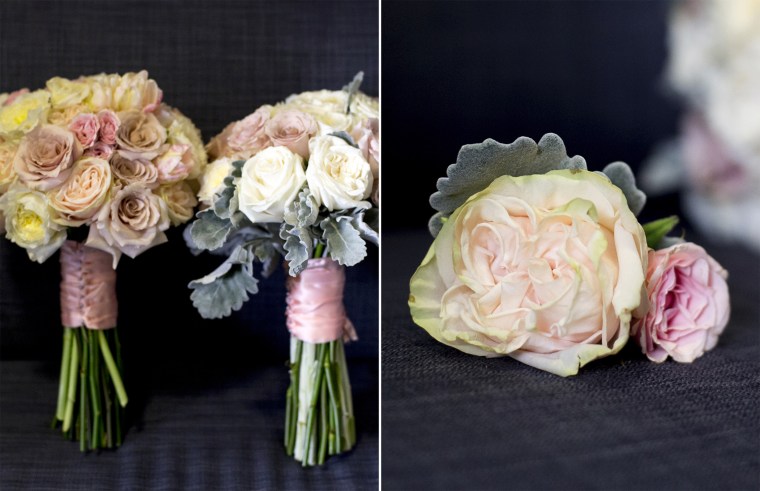 The soft colors in these arrangements are truly classic when it comes to wedding flowers. The blush tones will complement any wedding gown or bridesmaid dress and will pop against any tuxedo color.
RELATED: Say 'yes' to the TODAY Wedding dress (and tux)! See the options
Want to see the other options you've been voting for "My Big Fat TODAY Wedding?" Visit our Pinterest page.