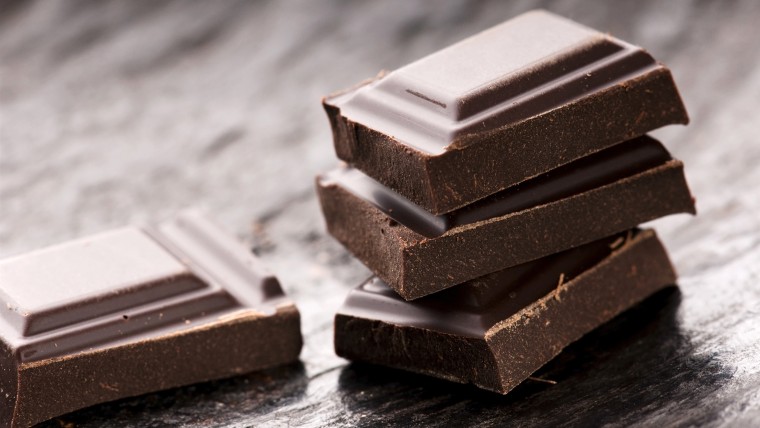 You've changed all your light bulbs to energy-efficient LEDs. Heck, you even started biking to work (well, you've thought about it, anyway.) Next on your eco-friendly agenda: Creating your own all-natural, organic and still totally luxurious DIY beauty products at home. Here are 10 easy — and completely affordable — treatments that address everything from cracked heels to dull hair color. See, it really is easy being green!

Chocolate beauty mask
Besides tasting pretty darn delicious, dark chocolate is chock full of vitamins and antioxidants, making it an excellent foundation for a DIY face mask. It also contains caffeine, a de-puffing ingredient often added to skincare products. Simply mix equal parts yogurt, honey and dark cocoa powder and apply evenly to face and neck. Relax for 20 minutes. Rinse and enjoy the sweetness, calorie-free (though we won't blame you if a few tablespoons end up in your mouth rather than on your face).

Plumping lip scrub
Stir together a tablespoon of brown sugar, a few big squeezes of honey, a teaspoon of olive or coconut oil and a teaspoon of ground cinnamon (which acts as a natural lip plumper and just plain tastes good). Then simply rub it onto dry, cracked lips, using an old toothbrush to gently scrub.

All-natural bronzer
To imbue skin with a sun-kissed glow that smells aah-maze-ing, grab an old, empty compact and fill it with a mixture of cinnamon or cocoa powder (or both!) and powdered sugar (baby powder works, too). Play around until you get the perfect blend, brush it on as you would store-bought bronzer and go ahead and blush at how easy — and cheap — this DIY trick is. 

Foot exfoliator 
Spring means sandals, which also means it's time to get back to those pedicures you've been putting off for months. Mix up a custom foot-scrub that's nail salon-worthy at a fraction of the cost. Stir a quarter cup of coconut oil (soften it first for a few seconds in the microwave, if necessary) or olive oil with a cup of sugar, a teaspoon of vanilla and several drops of an essential oils like orange, lemon, lime or grapefruit. Store your scrub in a mason jar and when you're ready for a pedi, massage it into your feet, and rinse with warm water. Bring on the flip-flops!

Custom bath salts
Turn your bathroom into a spa day with this relaxing treatment: Mix a cup of sea salt with half a cup of Epsom salt, and then add in a few drops of your favorite essential oil — lavender is a soothing option. If you want extra moisture, stir in a teaspoon of olive oil. Pour the concoction into a pretty jar that can be sealed with a lid. When you're ready for a bath, spoon a few tablespoons under running water and soak your cares — and not your paycheck — away. 
Beach-waves hair spray
Wind tousled waves are one of summer's sexiest (and simplest) hairstyles, and it seems like every beauty label is now selling a bottled sea spray. Make your own voluminous, just-spent-the-day-surfing version at home for a few cents, rather than a fistful of dollars. Dissolve a teaspoon of sea salt in one cup of hot water, adding in a squirt of leave-in conditioner. Pour into a spray bottle, shake it up, spritz and say hello to a fab hair day.

Teeth whitener
Coffee is great. Red wine is divine. But our two favorite drinks can leave teeth stained. Save on whitening treatments with oil pulling, an Ayurvedic remedy that stars such as Gwyneth Paltrow have made trendy. Just take a teaspoon of melted coconut oil and swish it around your mouth for 20 minutes — yes, it's a long time, but multitask by cleaning up the kitchen or just veg in front of "The Mindy Project". When time's up, spit (trust us, you don't want to swallow this stuff you've been swishing), rinse and brush.
Hair color shortcut 
To enhance your hair color in an all-natural way, head to the grocery store. Blondes can concoct a brightening rinse using the juice of a lemon combined with two cups of chamomile tea. Apply and let it sit for five minutes. Brunettes can darken their locks with a coffee-based version. Just brew up a pot and, after it cools, massage it into hair and let sit for 15 minutes or so before rinsing. Redheads can deepen their hue by gently rubbing tomato juice in the hair and letting it absorb for half an hour or more. Um, is anyone else hungry?

Brighten nails
If dark polish has left your nails looking yellow, whiten them naturally in a soak that combines a cup of warm water, the juice of half a lemon and a tablespoon of baking soda. 

Homemade shampoo
Whether you've run out of your regular hair wash or are just keen on trying a natural alternative, mixing up your own "green" shampoo is easier than you might think. Combine a quarter cup or so of organic coconut milk with a third cup of liquid castile soap, adding in several drops of your favorite essential oils (we like a rosemary and mint combo). Shake it up in an old bottle and lather up as usual. 

Lesley Kennedy writes for ShopAtHome.com. Follow her on Instagram and Google +