As if you needed another reason to love Asos, the online retailer just released a stylish new jumpsuit that's also wheelchair-friendly. And the backstory behind the design is pretty awesome.
The Asos Design Tie-Dye All-in-One Jumpsuit ($64) was designed with BBC reporter and Paralympic hopeful Chloe Ball-Hopkins, and features an all-inclusive design that's perfect for summer festivals. In fact, that's how Ball-Hopkins came up with the idea for the jumpsuit in the first place.
Last summer, the BBC reporter was attending a festival when it started to rain. To keep dry, she improvised by wrapping herself in a plastic sheet from the boot of the car — that's when inspiration struck.
"Over the following week, I decided something needed to be done and that's when I came up with the concept for the all-in-one and the features it has. Next, I had a look online and thought about which companies I would like to approach with my idea. I was so happy when Asos replied not long after and said they would love to know more!" Ball-Hopkins told TODAY Style.
The result? A snazzy jumpsuit that's perfect for wheelchair users and non-wheelchair users alike. The jumpsuit features adjustable cuffs and hood as well as a jacket and pants that zip together (and are totally waterproof). The soft, jersey-lined jumpsuit also features a hem that's slightly longer at the back so it won't ride up on you. In other words, it's pretty genius!
"I think the zip around the waist is my favorite feature because, not only does it make it easier to get on and off, but it also means you could wear the jacket and bottoms separately," Ball-Hopkins said.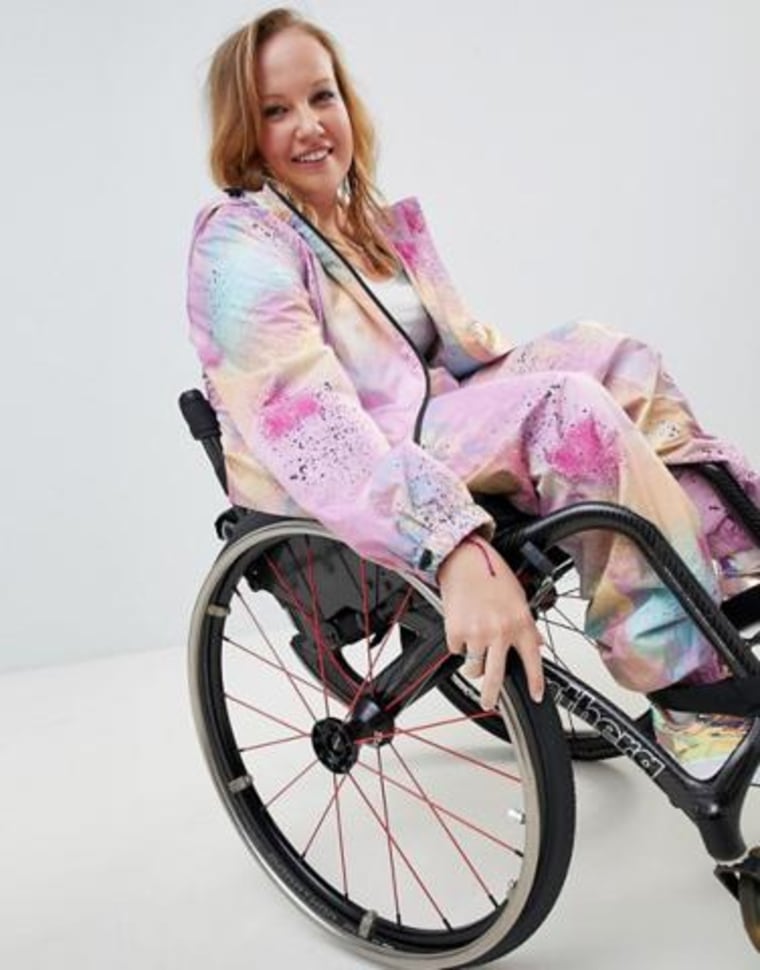 The new Asos ads featuring Ball-Hopkins are going viral, but this isn't the first time the brand has made an inclusive fashion move. Last month, Asos featured an ad with a model's adorable back rolls on full display. This spring, the fashion powerhouse also released new technology that allows shoppers of all sizes preview how clothing will look on different body types. And who can forget the brand's stunning bikini ads last summer featuring women's fabulous stretch marks. In fact, the brand even has a page on the Asos website detailing their commitment to diversity and including people with disabilities.
In a statement, Asos shared their excitement about the new jumpsuit: "We really enjoyed working with Chloe on this project, she has so much energy and enthusiasm."
Ball-Hopkins hopes that other brands will take note. "I​ hope more of this is what comes next, and I am looking at ways to progress into doing more of this," she said.
It looks like consumers want the same thing, too. After Ball-Hopkins tweeted about the jumpsuit, she received plenty of positive responses.
Many fans urged other fashion brands to create similar designs.
One user even said the clothing collaboration made her year.
As a disability and lifestyle blogger based in the U.K., Shona Louise told TODAY Style she was thrilled when she heard about the latest Asos design.
"To then find out that the jumpsuit Chloe was modeling was in fact designed to work for both wheelchair users and abled people was a huge surprise. It felt a little like a dream!" Louise said. "I think for a while I'd given up on fashion representing me so this has really given me more hope."
Louise is also pretty excited to see how other brands respond to Asos' move. "I hope that other brands will see the reaction to this and understand that disabled people being a minority doesn't mean that we can't be marketed to, that our needs can't be met. Make the clothes and we will buy them," she said.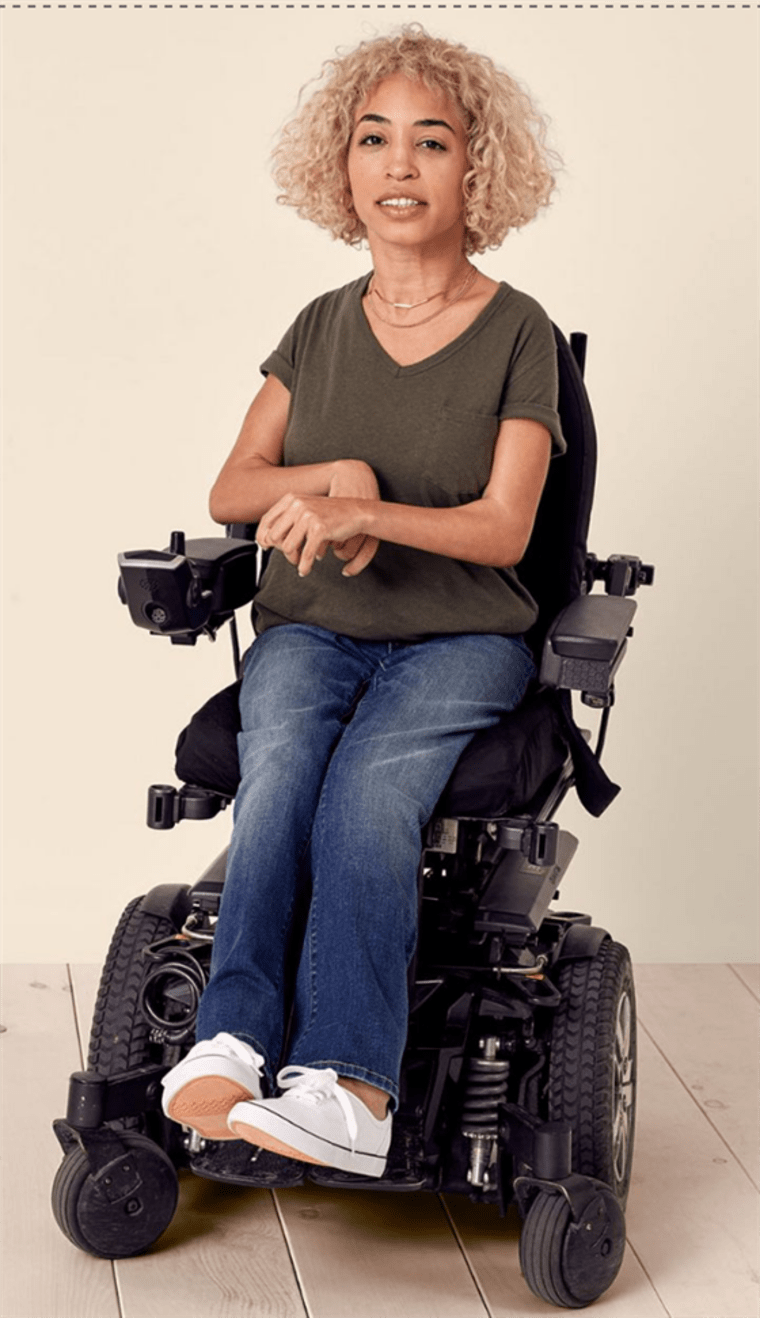 There's still a lot of progress that needs to be made, but the good news is Asos isn't the only brand to create accessible clothing. This January, Target released its Universal Thread clothing line, which included several sensory-friendly and adaptive clothing items.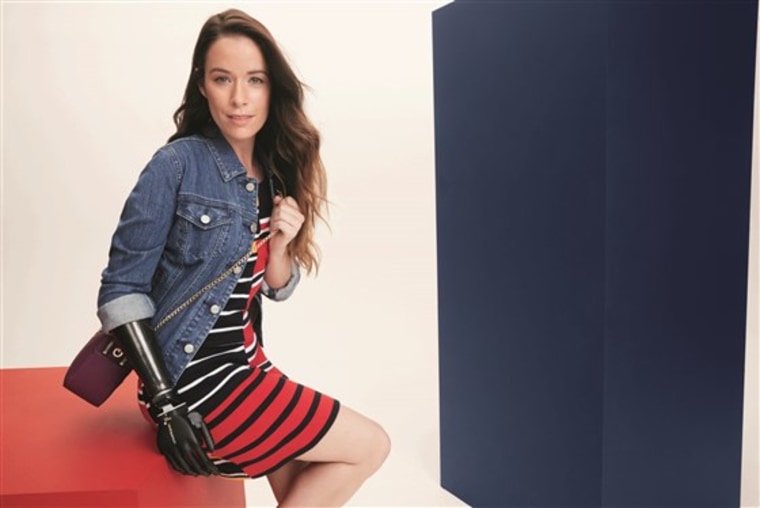 Tommy Hilfiger also launched an adaptive clothing line for adults with disabilities last fall. And The Guardian announced that online clothing retailer Zappos will sell items from IZ Adaptive, an adaptive brand made for a wide range of disabilities this fall.
If anything, Asos' sassy new jumpsuit might just ignite a discussion about the need for more stylish adaptive clothing. In the meantime, Ball-Hopkins is tickled pink by all the love and support she's received in such a short period of time.
"I cannot believe the response it's had. I knew people like myself would response well — at least I hoped — but the bigger response to A) my design and collaboration and B) the fact that someone like myself modeled for a site like this, I think I underestimated how big a thing that was," she said.