/ Source: TODAY staff and wire
What's involved for Chelsea Clinton and her fiance, investment banker Marc Mezvinsky, in throwing the so-called wedding of the century?
According to estimates and reports, the $2 million to $5 million event on Saturday includes:
$750,000 for catering, according to Brides magazine deputy editor Sally Kilbridge
$11,000 for the cake, which is reportedly gluten-free
$250,000 worth of jewelry for the bride
$109,000 for the tables and crockery for around 400 to 500 invitees
$600,000 in air-conditioned tents, complete with glass walls
$200,000 in extra security, paid for by the Clintons
$15,000 in high-class toilets, according to online gossip site TMZ
$500,000 in flowers arranged by Jeff Leatham, who's worked with Madonna and other celebrities
Wine as a party favor from Clinton Vineyards (which has no relation to the presidential family)
A Federal Aviation Administration-enforced no-fly zone from 3 p.m. Saturday to 3:30 a.m. Sunday over Rhinebeck, the small New York town that includes Astor Courts, a picturesque mansion that's hosting the event and overlooks the Hudson River.
"It's going to be very understated, elegant, but befitting a royal wedding for the U.S.," wedding planner Claudia Hanlin said on TODAY.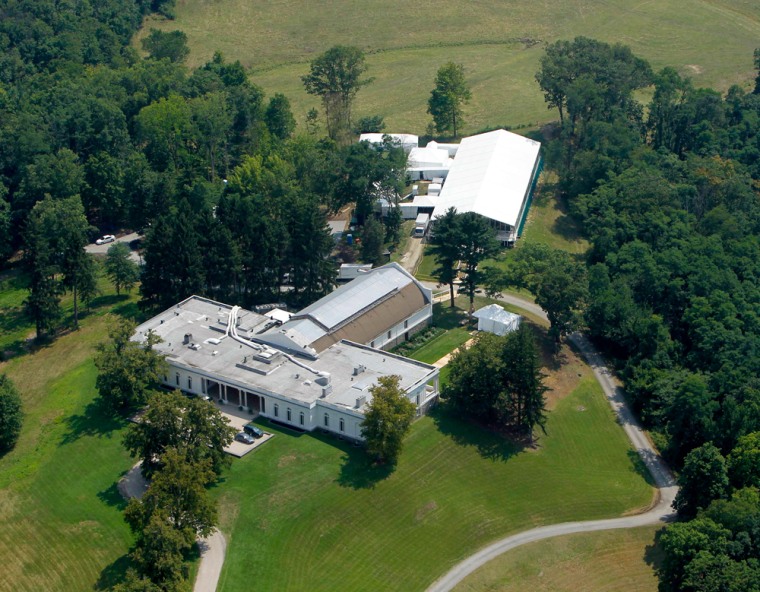 A longtime Clinton family friend denied that the wedding would cost more than $1 million. The friend, who spoke on condition of anonymity in keeping with the family's desire for privacy, said the cost will not exceed six figures. Wedding experts told The Associated Press the wedding could cost $2 million to $3 million, while other outlets said it could hit $5 million.
Some of the biggest speculation — from both a cost and style standpoint — has revolved around Chelsea's dress.
After widespread reports that her gown would be designed by Oscar de la Renta, the bride-to-be was was spotted outside Vera Wang's New York City bridal shop Tuesday afternoon.
Clinton was attempting incognito in a large, floppy hat, but she and her mother, Secretary of State Hillary Clinton, did not escape the notice of Women's Wear Daily, which featured her on its front page Wednesday with the headline "Here Comes the Bride." Appearing on TODAY Wednesday, WWD writer Rosemary Feitelberg said that it looks like Wang will be the chosen designer for the wedding of the century.
"All signs seem to point to Vera at this point, and we've also been told she's doing the bridesmaids' dresses and the flower girls' dresses," Feitelberg told Meredith Vieira.
Wang has become renowned as a leading wedding gown designer for the rich and famous, including Jennifer Lopez, Mariah Carey, Ivanka Trump and, perhaps most significantly, Karenna Gore — daughter of Al Gore, who was vice president during the administration of Chelsea's dad, former President Bill Clinton.
Multiple designers?
Adding intrigue to the situation, however, is news that Hillary Clinton has also been spotted at Oscar de la Renta's Manhattan showroom — and observers have reported seeing both mother and daughter there in recent weeks.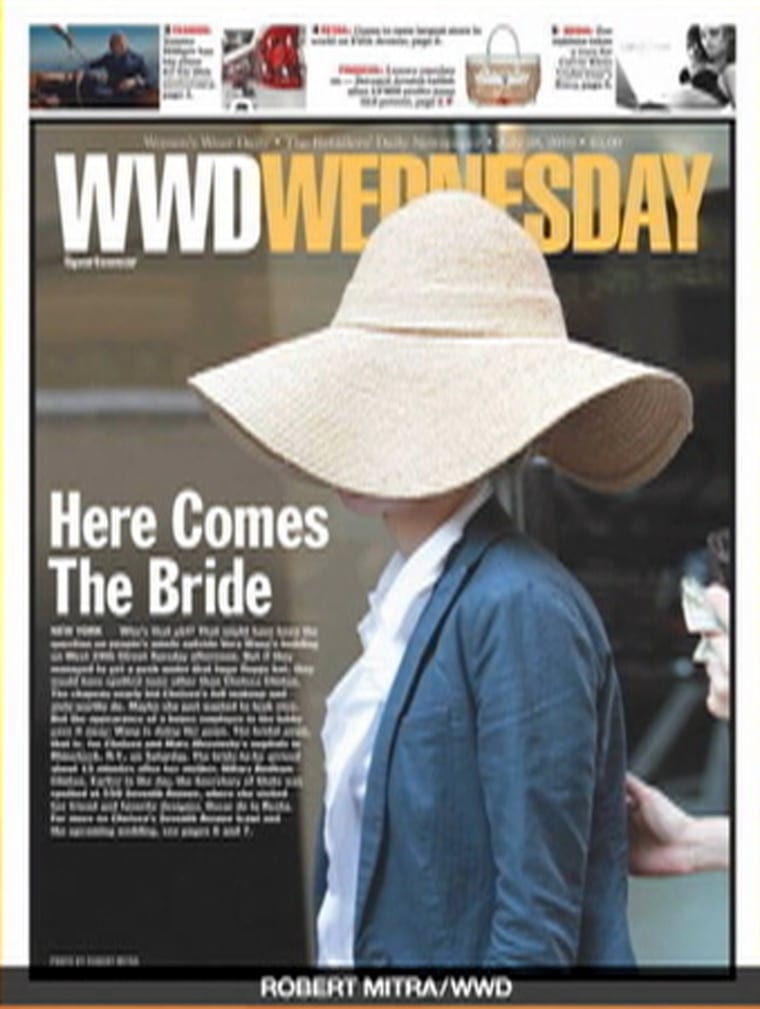 Feitelberg said she believes de la Renta may well be doing the mother-of-the-bride dress, along with other formal wear for what is planned as a three-day wedding affair. "There's a rehearsal dinner, a brunch on Sunday supposedly, so there would be plenty of opportunities for wardrobe changes," she told Vieira.
As this is the closest thing America has to a royal wedding, the former first daughter's big day is the subject of avid attention, even in a summer in which such stars as Penelope Cruz, Carrie Underwood and Orlando Bloom have all tied the knot. Tabloids have breathlessly reported each morsel of information that comes out of the bride's and groom's camps.
Even though her father Bill has been out of the White House for 10 years, Feitelberg told Vieira the public still seems to feel attached to the only Clinton child. "It seems as though they know her," she said. "Chelsea was only 12 when her father was first elected; they've seen her grow up through the years, become a confident young woman. And it's a great gift to the country, to celebrate something."
Wedding welcomeRhinebeck, the tiny upstate New York town, with a population of a few thousand, is closing down more than a mile of its main thoroughfare to accommodate the wedding. But Feitelberg said the locals are far from irritated.
"The townspeople seem to be very excited; they've decorated their stores, they're eager to welcome people to the community, and they hope it will have a residual effect down the road," she told Vieira.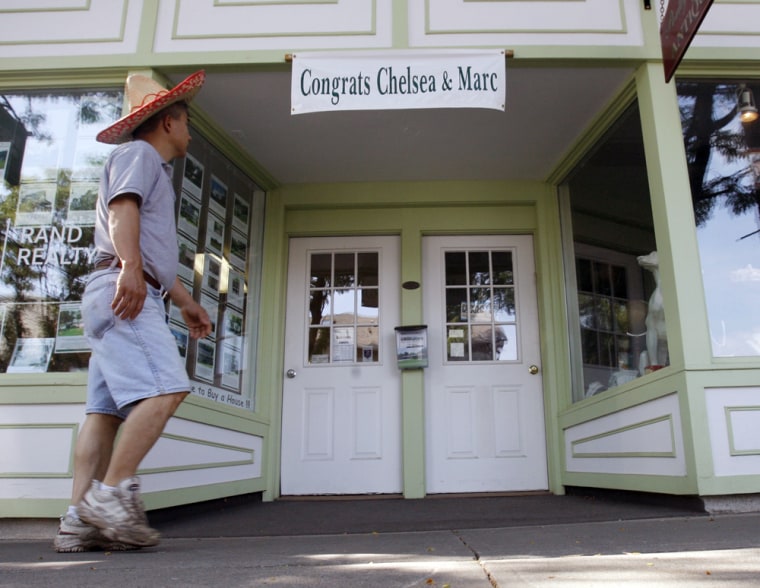 Chelsea, now 30, first met her 32-year-old fiance some 14 years ago, and the pair attended Stanford University together. Mezvinsky, the son of former congressman Edward Mezvinsky and former NBC reporter Marjorie Margolies-Mezvinsky, has been dating Clinton since 2007. The pair announced their engagement in November.
Chelsea's future father-in-law, who was convicted of fraud and sentenced to seven years in prison, told CBS' "Inside Edition" that he's a "proud papa."
He says in comments to be aired on Thursday's show that "the family's excited." He says Chelsea and Marc have a sensitivity about life and a warm regard for family.
He tells "Inside Edition" he has rebuilt his relationship with Marc and Chelsea since his release from prison in 2008.
For their part, Chelsea and her politician parents have been tight-lipped about the wedding. But the former president did speak about his future son-in-law during an appearance earlier this year.
"It's a great thing because they really do know each other," Bill Clinton said. "It's the best kind of relationship — it's a warts-and-all deal. Not only do I like him, I admire him. I really caught a break."
Chelsea's lavish ceremony is a far cry from her own parents' wedding. Bill and Hillary married in 1975 at the modest brick house Bill had purchased as their first marital home. Hillary wore an off-the-rack cotton dress she bought just the day before the wedding.