Why pay $300 for a designer swimsuit? When you know how to shop, you can score all the hottest trends for under $60. We asked Julia DiNardo, editor of Fashion Pulse Daily, to spill the most flattering trends you'll be seeing on the sand. Keep reading to see our affordable picks and Julia's best buying tips.
Trend: Tropical florals
"From lush green rainforest prints to vibrant hibiscus flowers channeling a Hawaiian beach scene, bright allover florals are a big trend for summer 2014," says DiNardo. "These prints automatically put you in a good mood and get you beach- or pool-ready in a jiffy — and, when you're lying on the sand, you'll be easy to spot in a sea of people."

Blue Hawaii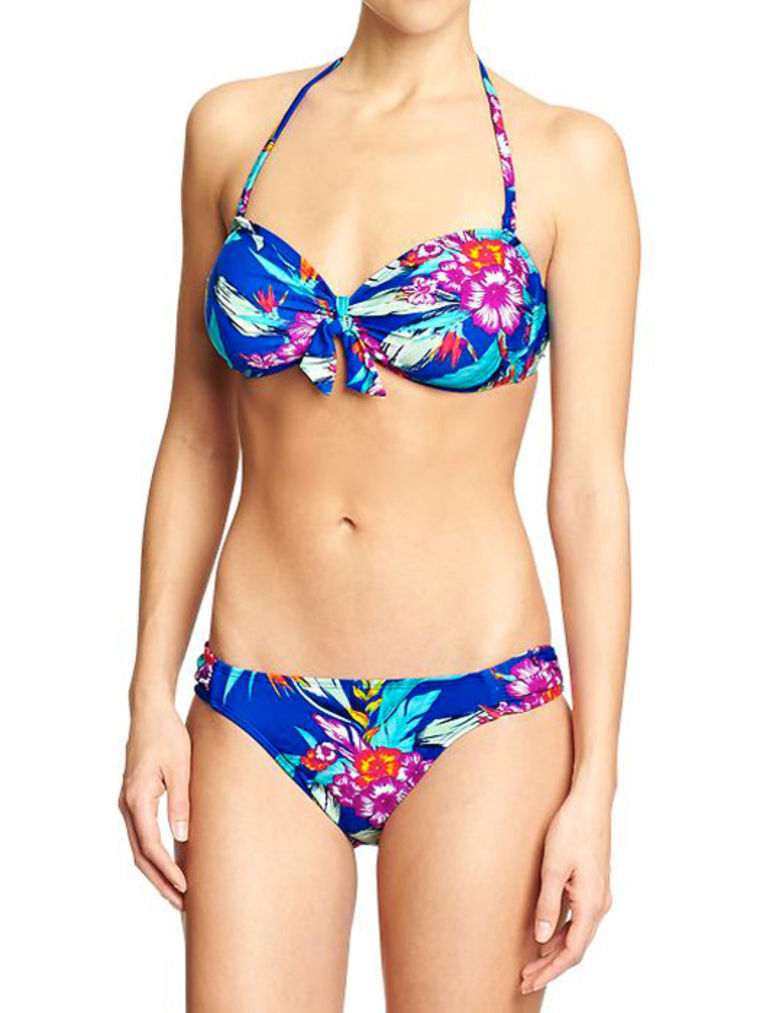 Whether you're paddle boarding on Oahu's North Shore or sunbathing in Coney Island, this bold bikini will have you suited in style. (Old Navy bandeau-bikini top, $16.94, and bottom, $16.94, oldnavy.com)
Fan me with fronds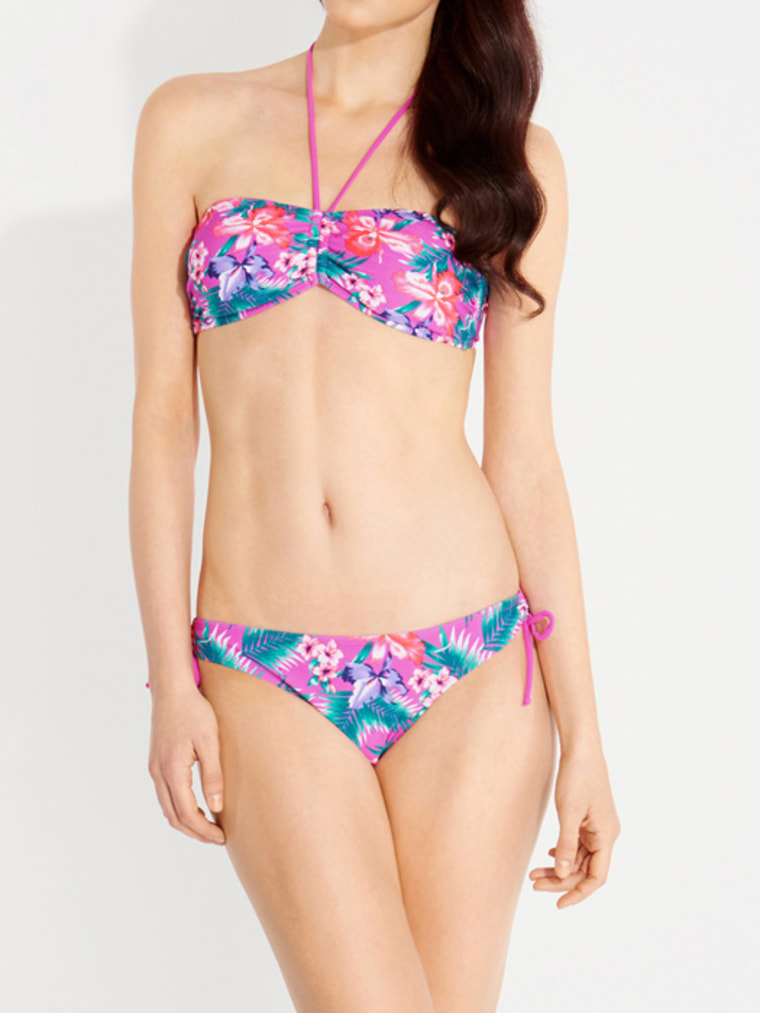 We're loving Oasis's mix-and-match palm print bikinis. They even sell a matching coverup for head-to-toe Hawaiian glam. (Oasis tropical fern print bikini top, $28, and bottom, $25, oasis.andotherbrands.com)
Tip: A cute print can be tempting, but don't forget the cut: "A great print that you feel comfortable wearing may be hard to pass up, but first consider the silhouette and evaluate if it works best for your body shape. Swimsuit shopping needn't be painful, if you think about what cuts do and don't work for you before hitting the dressing room."
Gather round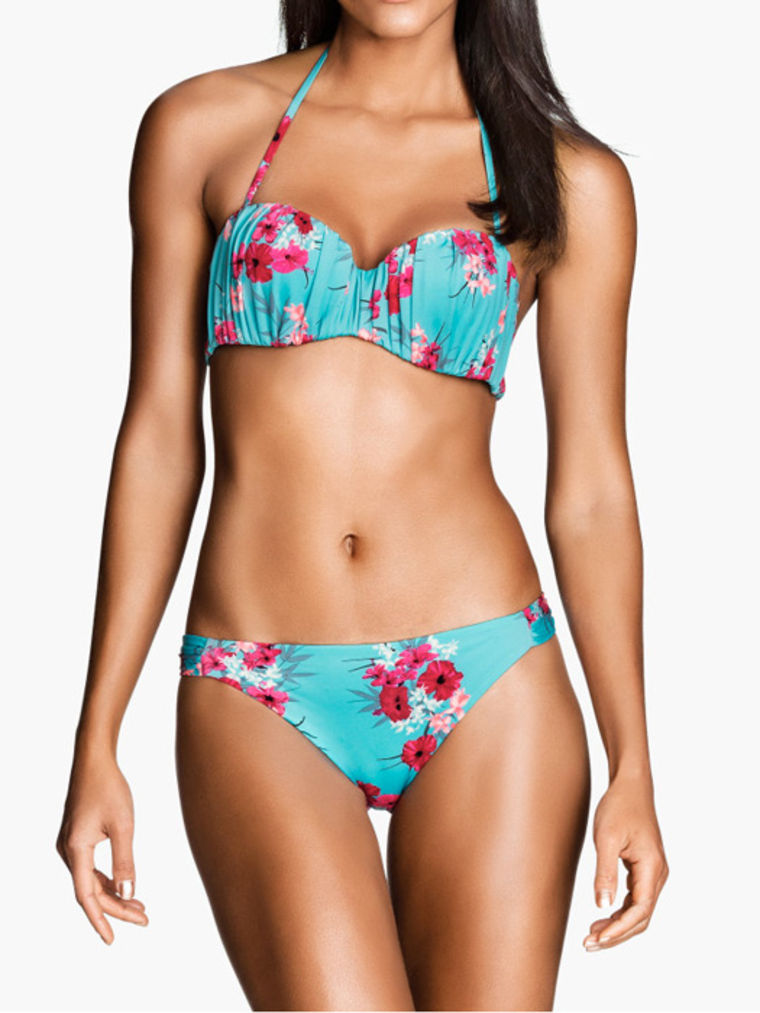 The artful ruching on this bikini top boosts small bust-lines — and adds even more retro appeal to the nostalgic print. (H&M bikini top, $17.95, and bottom, $12.95, hm.com)
Trend: The sleek one-piece
After years of tankinis, customers are returning to sleek one-piece suits, says DiNardo. "They can be just as sexy as any bikini; just remember that it's all about the fit and color. Pick a solid color that pops against your skin tone and hair, instead of washing you out. There are so many style varieties to pick from, including unlined slinky maillots to seamed under-wire bra options, one-shoulder, bandeau, and more, that you're sure to find the one that looks best on your bod." One last thing: To nail this minimalist look, the less embellishment, the better.

Deep-sea dressing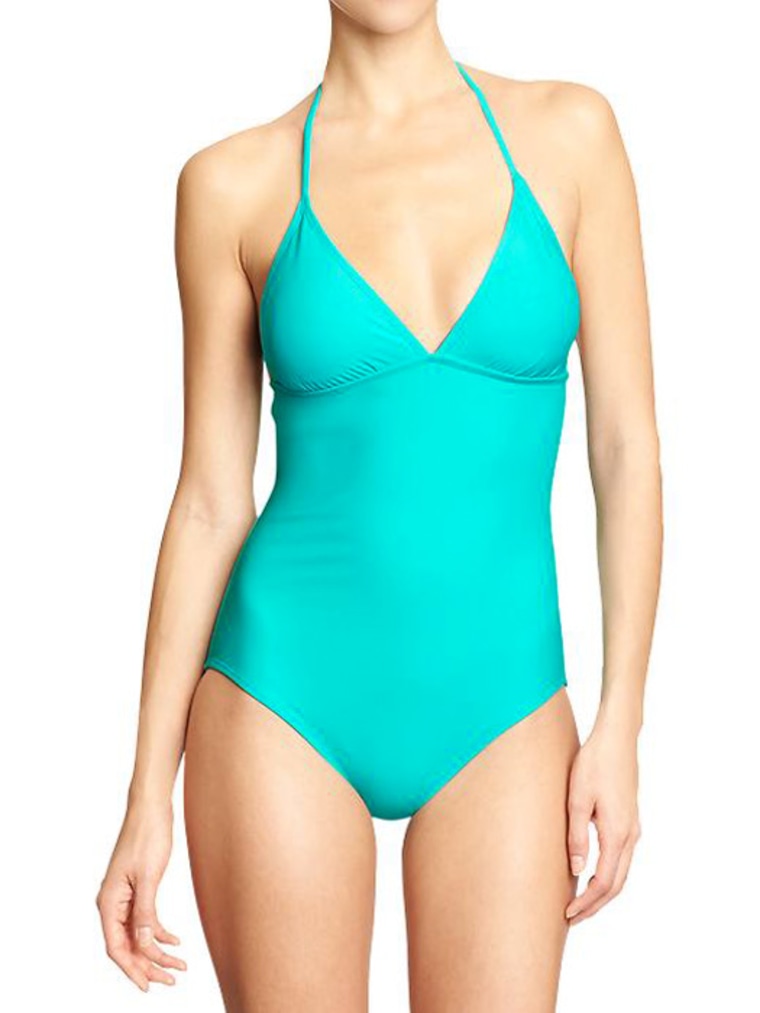 The color of this sleek halter maillot is as refreshing as the Caribbean. Spotlight it with metallic sandals and a simple straw tote. (Old Navy classic string top swimsuit, $29.94, oldnavy.com)
White nights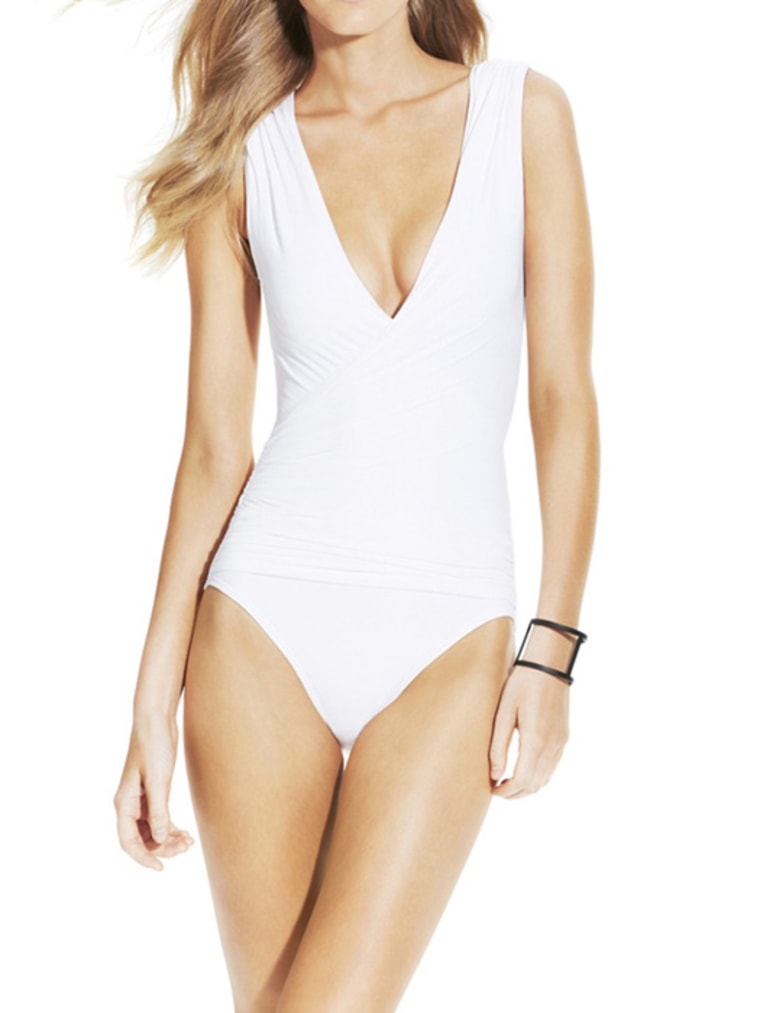 This pristine white swimsuit is so chic, we're tempted to wear it to dinner with a long black skirt or carefully secured sarong. (Vince Camuto maillot, on sale for $49, shoptheshoebox.com)
Screen siren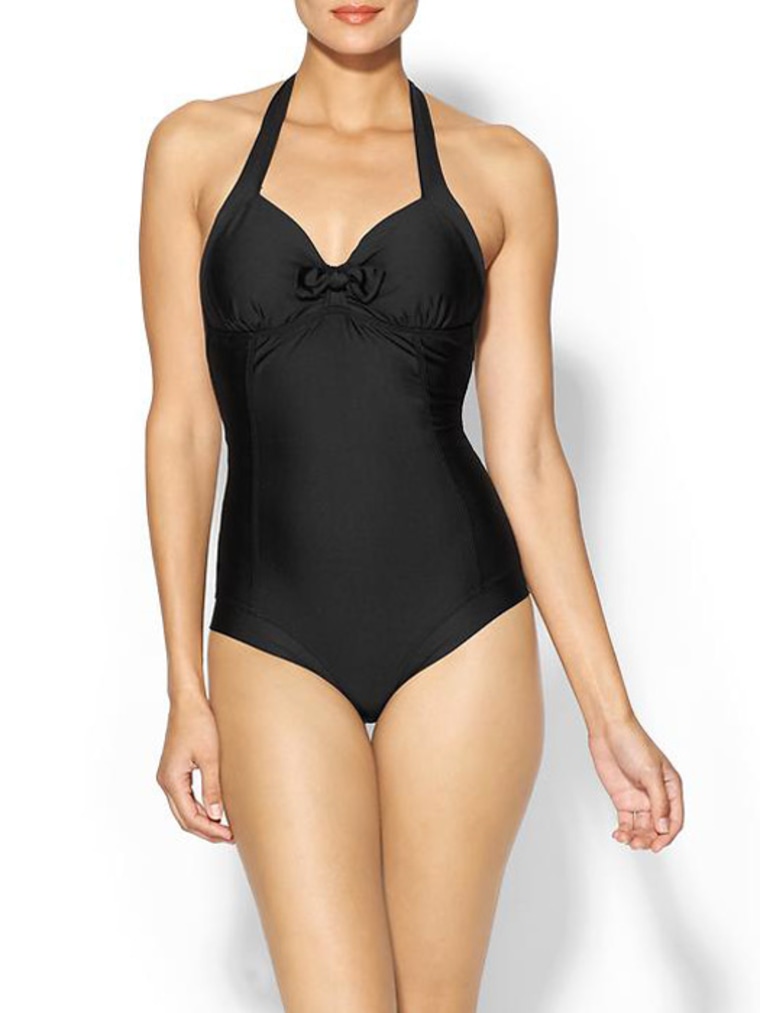 Finally, proof that a flattering, supportive swimsuit doesn't need to be dowdy. (Ella Moss one-piece, on sale for $49.97, piperlime.com)
Trend: Colorblock
This look is unabashedly borrowed from the '90s, says Di Nardo. And you can choose how much colorblock you're comfortable with — from a touch of contrasting piping to full on color clashes.
Blast from the past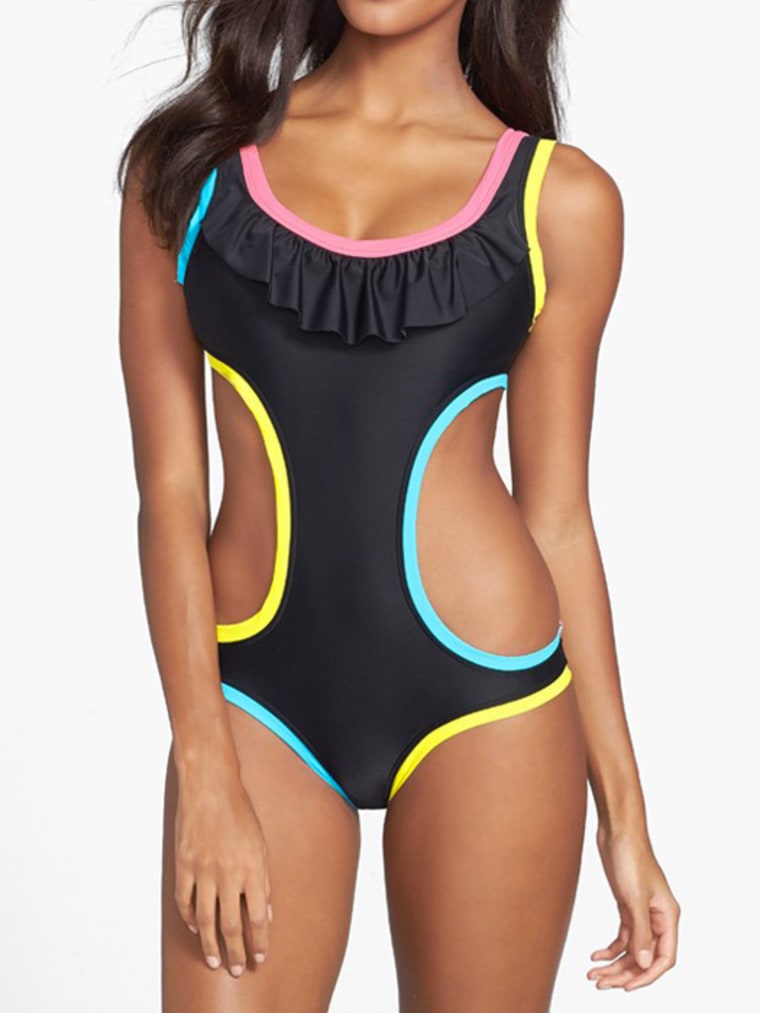 This neon-trimmed monokini begs to be worn with that other '90s-era staple: jelly sandals! (BC colorblock monokini, on sale for $38.86, nordstrom.com)
A side of sexy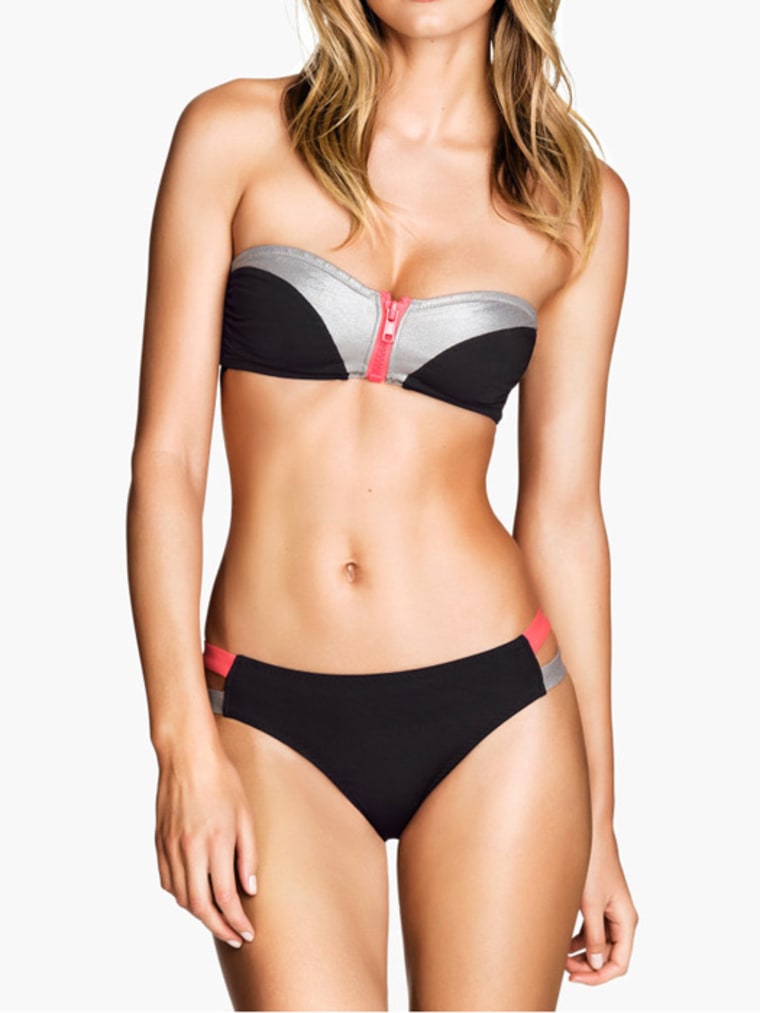 Cutout detailing at the sides makes this one of the sexiest suits we've seen — but the sporty color and hipster bottoms prevent the look from going overboard. (Forever 21 cutout bikini top, $12.80, and bottom, $12.80, forever21.com)
Deep breaths
Scuba-inspired suits are filling the racks right now, but some can look a bit too…pressurized. This one gets the trend just right, artfully mixing black, silver and pops of coral. (H&M bikini top, $17.95, and bottom, $12.95, hm.com)