/ Source: The Associated Press
New York Fashion Week opened Friday amid an international debate about too-thin models, yet the first major runway show of the event featured women of all shapes, sizes, ages and colors.
And the crowd loved it.
The Heart Truth show, part of the Red Dress project, a federal initiative spearheaded by first lady Laura Bush, is an annual event at the Bryant Park tents to raise awareness about heart disease. Famous designers pair with famous faces, who then wear red dresses on the catwalk.
It's not a fashion show by traditional standards, but the standing ovation that tennis great Billie Jean King received might be a sign that fashion industry insiders are more willing to accept women who exceed the size 0s that have become the standard.
The Heart Truth show, which was attended by Bush, accompanied by designers Michael Vollbracht of Bill Blass and Carolina Herrera, followed the official kickoff to Fashion Week: John Bartlett's menswear show.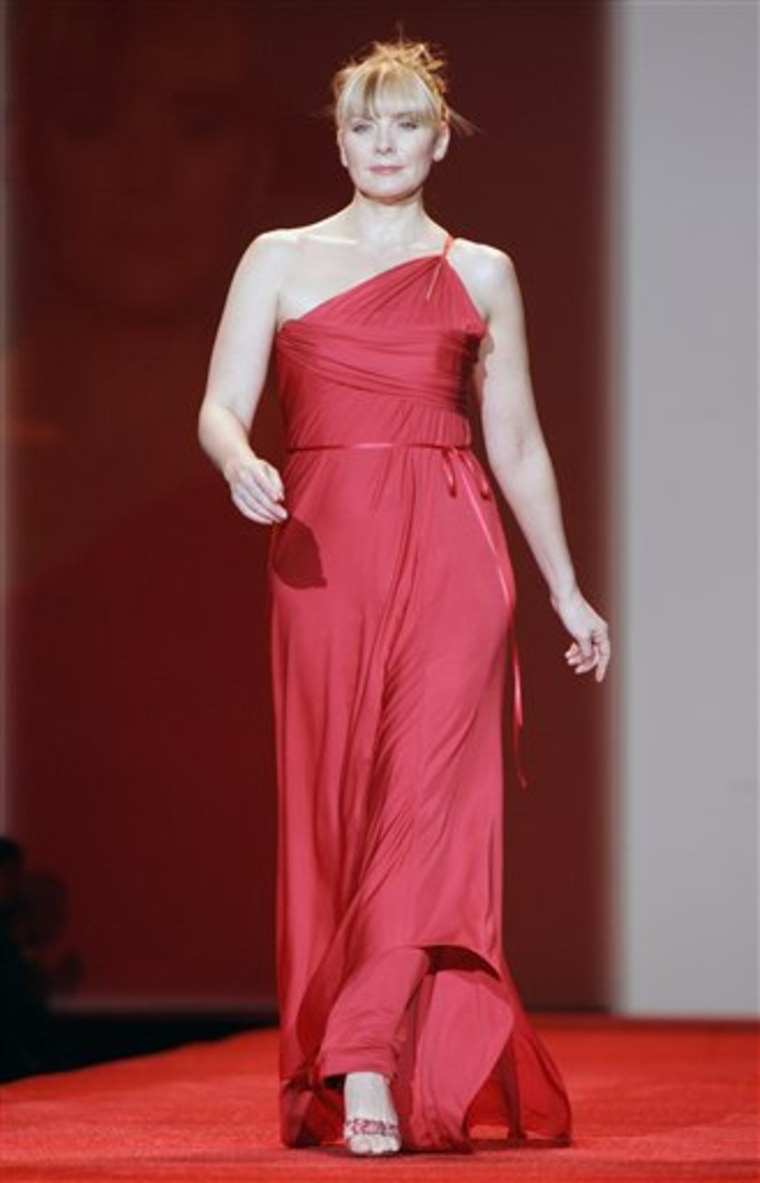 Fashion Week continues through Feb. 9, with designers such as Oscar de la Renta, Ralph Lauren, Marc Jacobs and Vera Wang slated to preview their fall styles.
Red Dress Collection: Most audience members had their eyes on the celebrity models — including Kelly Ripa, Lauren Hutton and Angela Bassett — but there was some real fashion on the runway, too.
One-shoulder goddess gowns were worn by Kim Cattrall for Carolina Herrera and Rachael Ray for Donna Karan, while Marlee Matlin wore a sweetheart-neck strapless gown by Douglas Hannant. Miss Universe Zuleyka Rivera's Gustavo Cadile dress paid homage to Rivera's Puerto Rican roots with a fiery red color, tiered dance skirt and ruffled bolero jacket.
Paula Zahn's V-neck draped gown by Bill Blass flowed beautifully behind her and Lauren Hutton was the perfect model for Narciso Rodriguez's architectural gown with sheer short sleeves.
Kelly Ripa wore her Diane von Furstenberg beaded wrap dress well; race-car driver Danica Patrick looked like a modeling pro in her loose short-sleeve gown by Jovovich-Hawk that featured a heart embroidery at the center of its empire waist.
But the audience favorite did indeed seem to be tennis star King, whose outfit was designed by Gustavo Cadile. She shunned the high heels that most of the other celebrities wore in favor of Adidas sneakers — accented with red, of course.
BCBG Max Azria: Max Azria and his design partner, his wife Lubov, defied early expectations that fall would bring a slimmer silhouette. The BCBG collection, considered slightly younger and less expensive than the Azria signature line, was a series of short, loose dresses — but not the tent and sack dresses that were all over the spring runways. These were flirty and more feminine.
Jake Johnson and Damon Wayans Jr. on the "Let's Be Cops," red carpet, Selena Gomez is immortalized in wax and more.
Some of the best looks had interesting appliques, such as chain mesh, leather or snakeskin, or patchwork fabric, which at least on the first day of Fashion Week was emerging as a trend. There also was a sexy nude- and gray-colored gown made of silk and satin.
The dominant colors were soft neutrals with plum and green as accents. Accessories included men's-style oxford shoes and knit hats.
The most puzzling look was a quilted multi-color zip-front jacket that possibly could have been a ski parka, expect for the two big flaps of extra quilted fabric in front.
Perry Ellis: Designer John Crocco must have spent a peaceful day on a Hamptons beach last fall — or he dreamed of it from his office window.
If he gets to go this October, he can have his choice of stylish coats and cozy sweaters, the best ones long cardigans with self-tie belts.
"For me, it was all about the beautiful knits," said Tim Gunn of Bravo TV's "Project Runway" and soon to be creative chief at Liz Claiborne. "That was what the collection was all about."
The palette was sandy, too, with most garments falling between winter white and cognac.
There were two styles of men's pants, either straight leg with a cuff or more fitted jean-style pants with a skinny leg.
John Bartlett: This collection was a parade of camel- and oatmeal-colored clothes that would look right on an urban hipster or suburban dad. Menswear generally takes fewer risks than womenswear does, but it's also harder to incorporate real style or flair.
Bartlett did it here.
The pant legs were narrow, jackets fitted and sweaters full of texture, especially cable details. Color-blocking added energy to ski-style turtlenecks and subtle patchworking, accomplished by mixing tonal fabrics, was enough to make suits stand out without seeming gimmicky.